These gluten-free and dairy-free vegetable patties with kale and sweet potatoes are super versatile and can be served as a veggie main or side dish, for breakfast with a fried egg or added to your lunch box. They are nutritious, rich in starchy, fibrous carbohydrates and great as an alternative to bread, rice or pasta.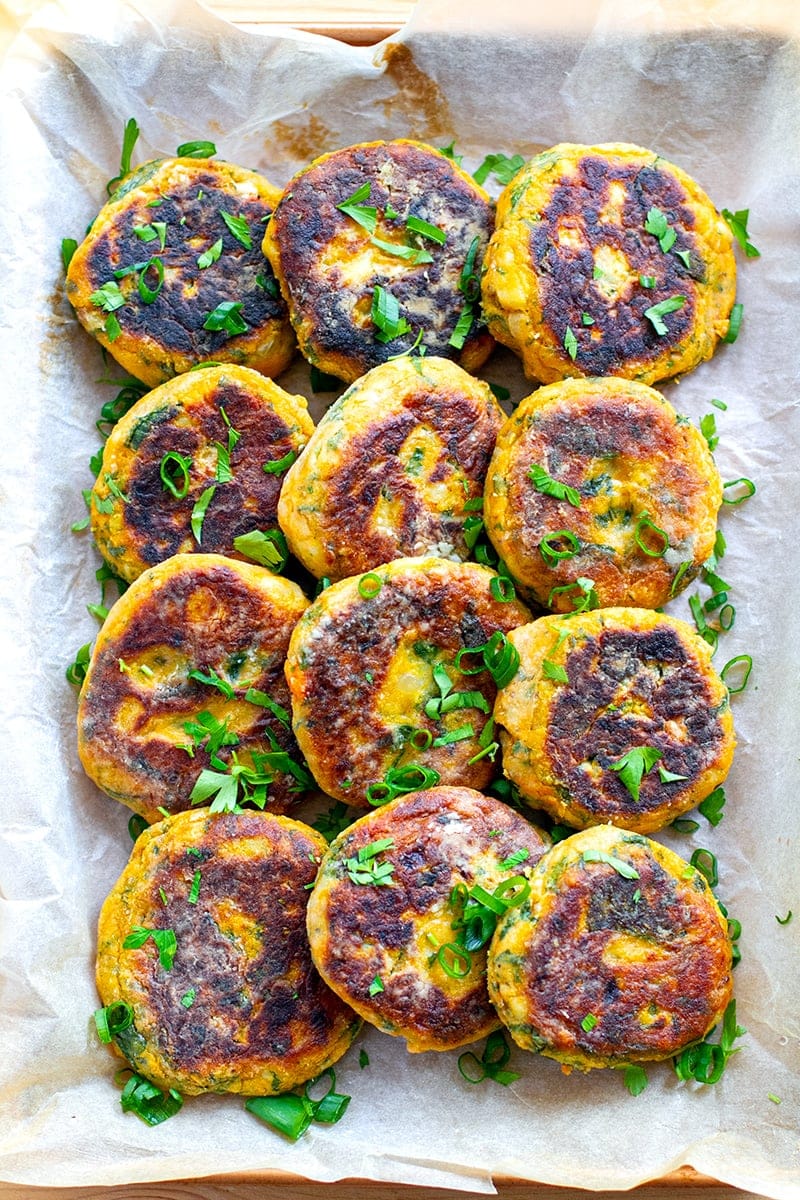 The reason I love these kale and sweet potato vegetable patties (they also have some white potatoes) is because they make for a nutritious source of carbohydrates and energy and can be served in a variety of ways. They can be made ahead of time and will keep for 3-4 days in the fridge and even longer in the freezer.
They are crispy on the outside and soft on the inside, quite sturdy. You can also have them as veggie burgers or add some cooked lentils to the mix to make burger patties. For protein-rich patties, you can add some shredded chicken or cooked ground beef mince to the patty mixture.
WAYS TO ENJOY THESE VEGETABLE PATTIES
I would often heat them up to serve with eggs for breakfast (a great alternative to bread or toast).
Heat them up and serve with a green salad or coleslaw for lunch or dinner.
Grab one as a snack with some tomato sauce, salsa or aioli – I like them before a workout. Or have them after your workout with a side of protein.
Serve as a veggie side dish with your favourite protein dish, kinds of like mashed potatoes but in a patty. 
Throw them in your lunch box or have as a quick on-the-go meal. Great for road trips, camping, hiking etc.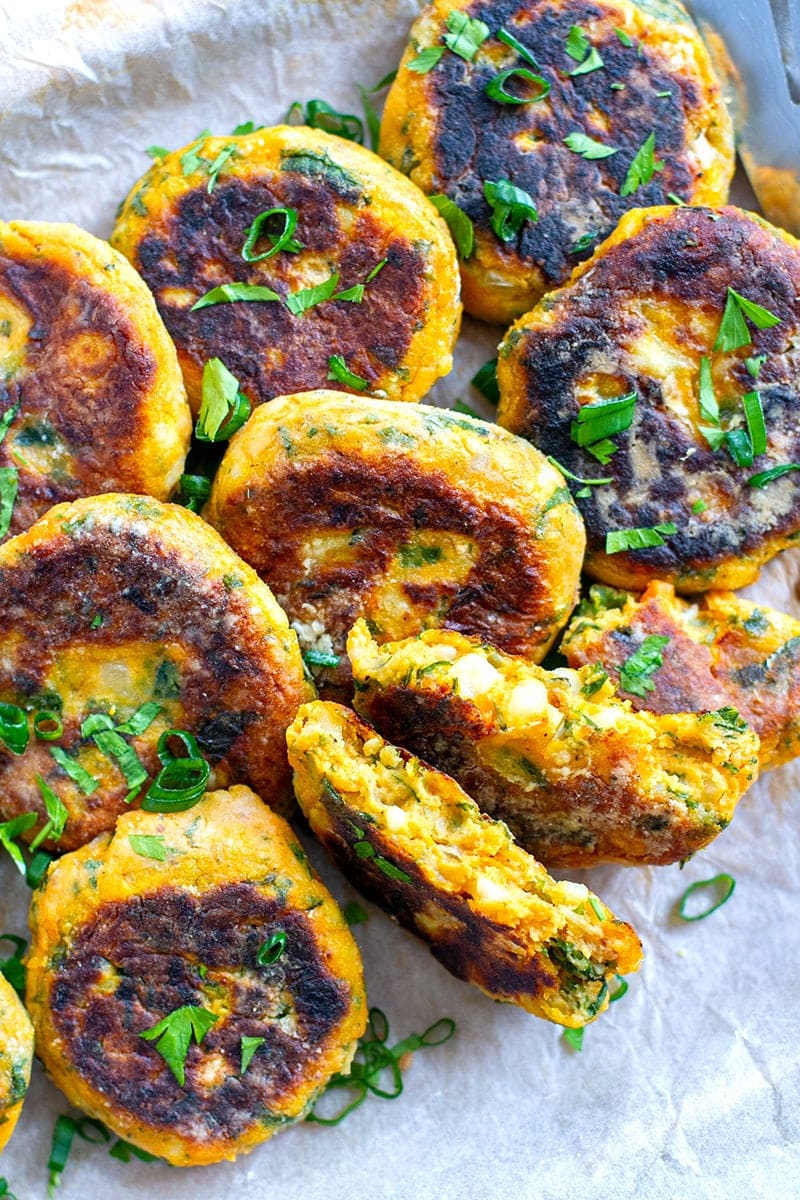 HOW TO MAKE VEGGIE PATTIES
So, there are a few steps to making these vegetable patties and it might seem like a bit of effort but everything is pretty straightforward and I will guide you step by step with some photos and also a video. You will find the full list of ingredients, instructions and nutritional breakdown in the recipe card below and you will see that I have broken the recipe into 4 parts.
Part 1 and Part 2 will take you through how to prepare the potatoes and kale to make the veggie patties with.
Part 3 is mashing the cooked potatoes, making the batter and shaping the patties. Make sure to set them on a flat, flour-dusted tray so they don't stick. Dust the top of the patties as well.
Part 4 is pan-frying the patties for about 4 minutes each side. They will get nice and crispy on the outside and will keep a lovely, soft texture on the inside. You could also bake these at 200 C/395 F for maybe 20 minutes or so, although I haven't tested this method (yet!)
Print
---
Description
Versatile veggie patties with kale and sweet potatoes are gluten-free, dairy-free and nut-free. Great as a vegetarian main, side dish, snack, pre or post-workout food, lunchbox item and more. Paleo & Whole30 friendly options provided in the notes.
---
---
Part 1. 
Cut white potatoes into small cubes and sweet potatoes into slightly larger cubes. They need slightly different cooking times and by cutting them at different sizes, we can use the same pot and cook them together.

Add potatoes to a medium pot and cover with cold water. Make sure to add just enough water to cover the spuds. Add the salt and stir. Put the pot over high heat, cover with a lid and bring to a boil. As soon as potatoes start boiling, turn the heat down to simmering and cook for 10 minutes. Strain and leave the sieve to cool down slightly. 
Part 2.
Place kale leaves on a cutting board and chop roughly with a knife. Prepare the onions and garlic.

Place a large frying pan over medium-high heat and add the olive oil and onions. Cook for 1-2 minutes until softened, season with salt.

Add the kale and garlic to the onions and cook together for 3-4 minutes. Remove from the heat and set aside. 
Part 3.
Add the potatoes to a large bowl and mash slightly. Add the onion and kale mixture and mash together with the potatoes. You can use an immersion blender or a food processor, or a simple potato masher. We don't want to mash the mixture too smooth as you want to retain some texture and body. 

Add the egg, salt, pepper and thyme and mix through. Add the flaxseed, 1 cup of the flour and baking powder and fold through. The mixture should thicken and start to get firmer. Add 3-4 more tablespoons of flour and mix through. Cover the bowl and place in the fridge for 1 hour to set.

Take the mixture out of the fridge and prepare a tray or a platter sprinkled with a little flour. Using a spoon and wet hands, make round patties and place them on the floured tray. Once you finish the mixture, sprinkle the tops of the patties with a little flour as well. 
Part 4. 
It's time to cook our vegetable patties. Heat 2-3 tablespoons of oil over medium heat. The bigger the pan, the quicker you can cook up all the patties, I had to do mine in two batches. Dust off any excess flour from the patties and add them to the frying pan. Cook for 4 minutes on medium heat, until golden brown. Turn over and cook for 4 minutes on the other side. Reduce the heat if they start to brown too quickly, or leave them longer if they take a bit more to get golden brown and crispy.

Remove and cool slightly before serving. Cool completely before storing in the refrigerator or freezer. 
---
Notes
Flour: You can use regular store-bought gluten-free flour, quinoa flour or make your own mixture. For a paleo/Whole30 version, use a mixture of cassava flour and almond meal. You could also all cassava or tapioca flour for a nut-free version. I quite like a mix of cassava and quinoa flour together.
Nutrition
Serving Size:

2 vegetable patties

Calories:

349

Sugar:

5.4 g

Sodium:

730.5 mg

Fat:

12.8 g

Saturated Fat:

1.9 g

Carbohydrates:

52.7 g

Fiber:

7.4 g

Protein:

8.1 g

Cholesterol:

31 mg
MORE RECIPES YOU MIGHT LIKE
SAVE THESE VEGGIE PATTIES TO PINTEREST