This website may contain affiliate links and advertising so that we can provide recipes to you. Read my privacy policy.
These chicken patties are crispy and perfectly browned on the outside and juicy and tender on the inside. They are a delicious addition to any meal for any occasion!
Chicken is a go-to meal in our house. There are so many delicious recipes out there but a few of my favorites are this caramel chicken, my delicious lemon garlic chicken, or this mouthwatering balsamic chicken!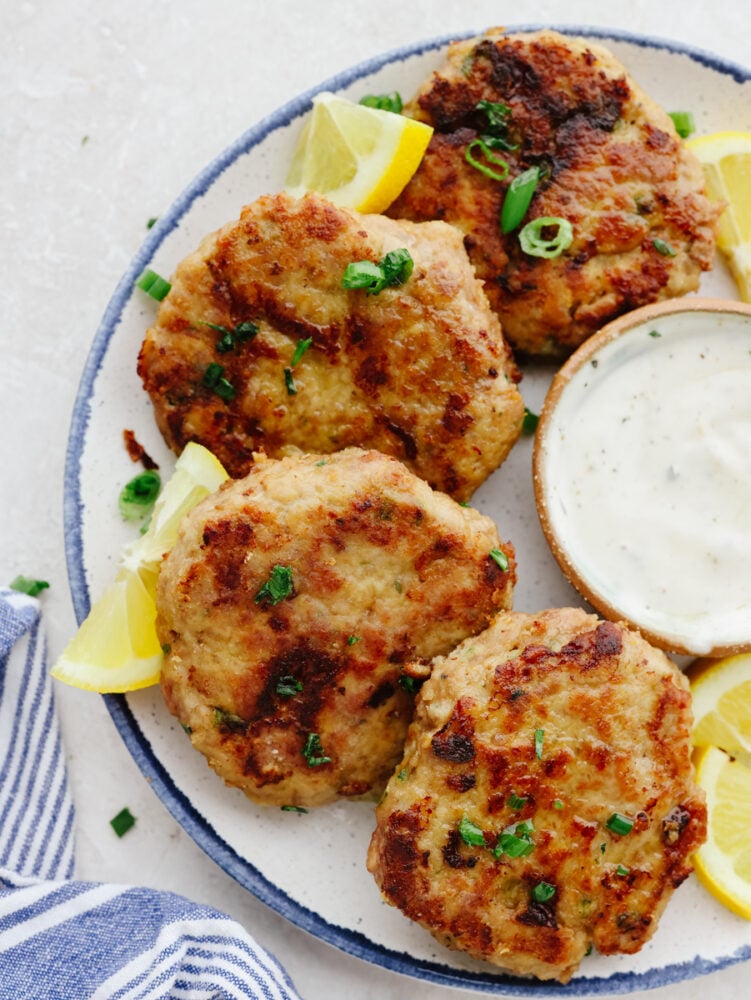 Chicken Patties
I am SO excited about this recipe and do you know why? These chicken patties are not only insanely delicious but they are so versatile! A chicken patty is basically a crispy chicken burger without the bun. This means that you can eat it so many different ways! Want to dip it in some delicious tartar sauce and serve it as an appetizer? It's delicious! Need an option for a side dish at a potluck? Chicken patties are the answer!
You can also serve these as a main dish along with some mashed potatoes, green beans, and rolls. Do you see why I am so excited about them? You can use them anywhere, anytime and they will be a hit! Plus, they are the perfect texture with a crisp outside and the inside is juicy and flavorful. You really cannot go wrong with this amazing chicken patty recipe!
Ingredients to Make Chicken Patties
Ground Chicken: Ground chicken can be tricky to know when it's done just by looking at it. Make sure to use an internal meat thermometer and check to make sure that it's 165 degrees before you eat it!
Breadcrumbs: You can use regular breadcrumbs or Italian flavored breadcrumbs in this recipe.
Garlic Powder: This adds a lot of delicious flavor into the meat.
Salt and Pepper: These will enhance all of the flavors in the recipe.
Egg: I always try and use large eggs when I am cooking.
Mayonnaise: The mayo keeps the patties moist.
Worcestershire: I love adding some depth with this sauce.
Green Onions: Use these to add flavor in the patties and also to garnish the top!
Flour: I used all purpose flour in this recipe.
How to Make Homemade Chicken Patties
These chicken patties are a quick recipe to put together that yields insanely delicious results! Give them a try and you will soon have your new go-to recipe for any occasion!
Combine: Add ground chicken, breadcrumbs, garlic, salt, pepper, egg, mayonnaise, Worcestershire sauce, and green onion. Mix until incorporated.
Form: Shape into 6-8 patties and heat oil in a large skillet over medium-high heat.
Cook: Coat the patties in the flour and then add them to the skillet and cook for 2-3 minutes on each side or until golden brown.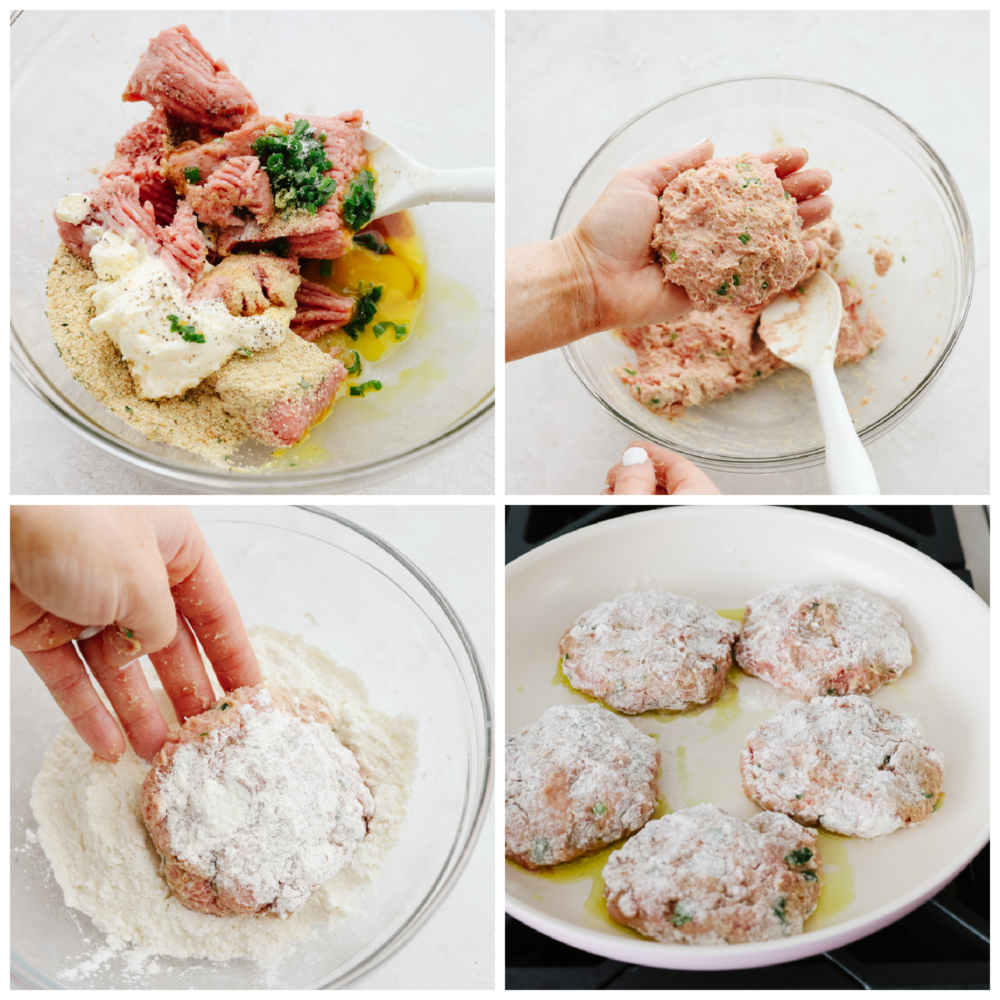 Cooking Tips
To help you make sure that your chicken patties turn out perfectly, I have a few tips for you to try out! But beware, once you cook these once, you will be hooked!
Don't crowd the skillet: Don't try to cram too many patties in to cook at once. Just do 2-3 at a time and they will be easier to flip.
Use a meat thermometer: When you are cooking with ground chicken it can be tricky to tell when it's done just by looking at it. Use an internal meat thermometer and when the chicken reaches 165 degrees fahrenheit then they chicken patties are good to eat!
Medium heat: Don't let your stove get too hot or your patties will burn. Taking a little more time to cook them on a medium heat setting instead of high will be worth it for that crispy, juicy crunch!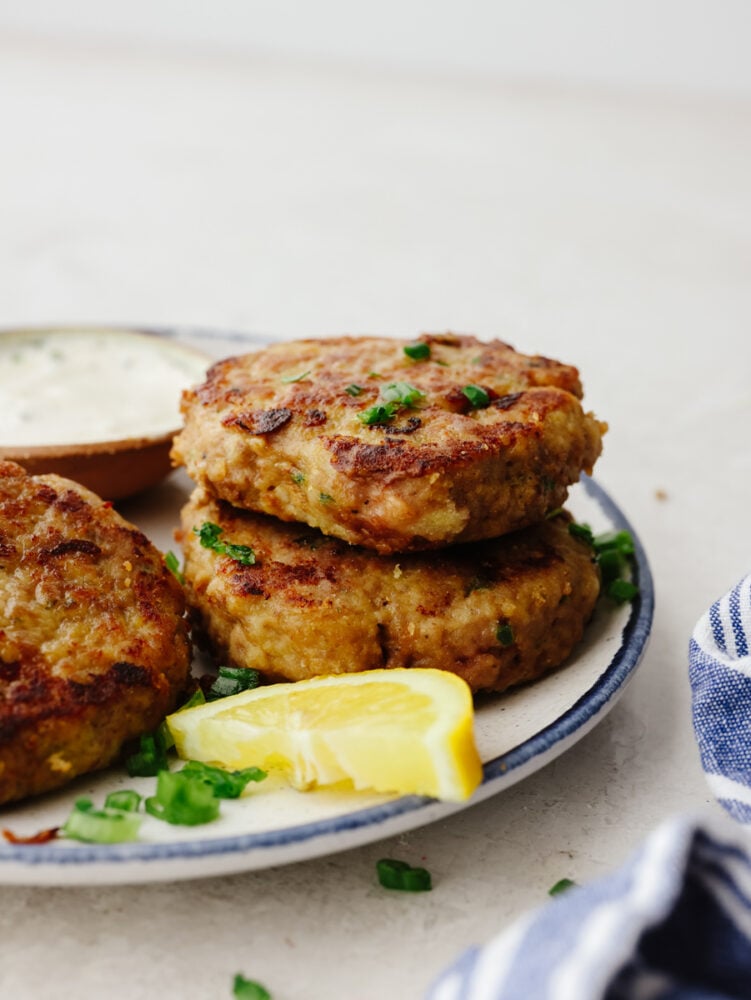 How to Store and Reheat Leftovers
In the Fridge: Once they have cooled, you can store your leftover chicken patties in an airtight container in your fridge for 3-4 days.
To Reheat: I like to reheat my patties in the air fryer so they are nice and cripsy again! Cook them for 3-4 minutes at 350 degrees, flip and then cook for another 3-4 minutes. You can also reheat them on the skillet for a few minutes on low until they are heated throughout.