This dairy-free cream of mushroom soup is one of my favourite healthy soup recipes. Made with lots of mushrooms and veggies plus a sneaky creamy ingredient, this delicious, velvety soup is perfect for a light dinner, lunch or as a starter dish. It's gluten-free, paleo, Whole30 and vegan-friendly.
---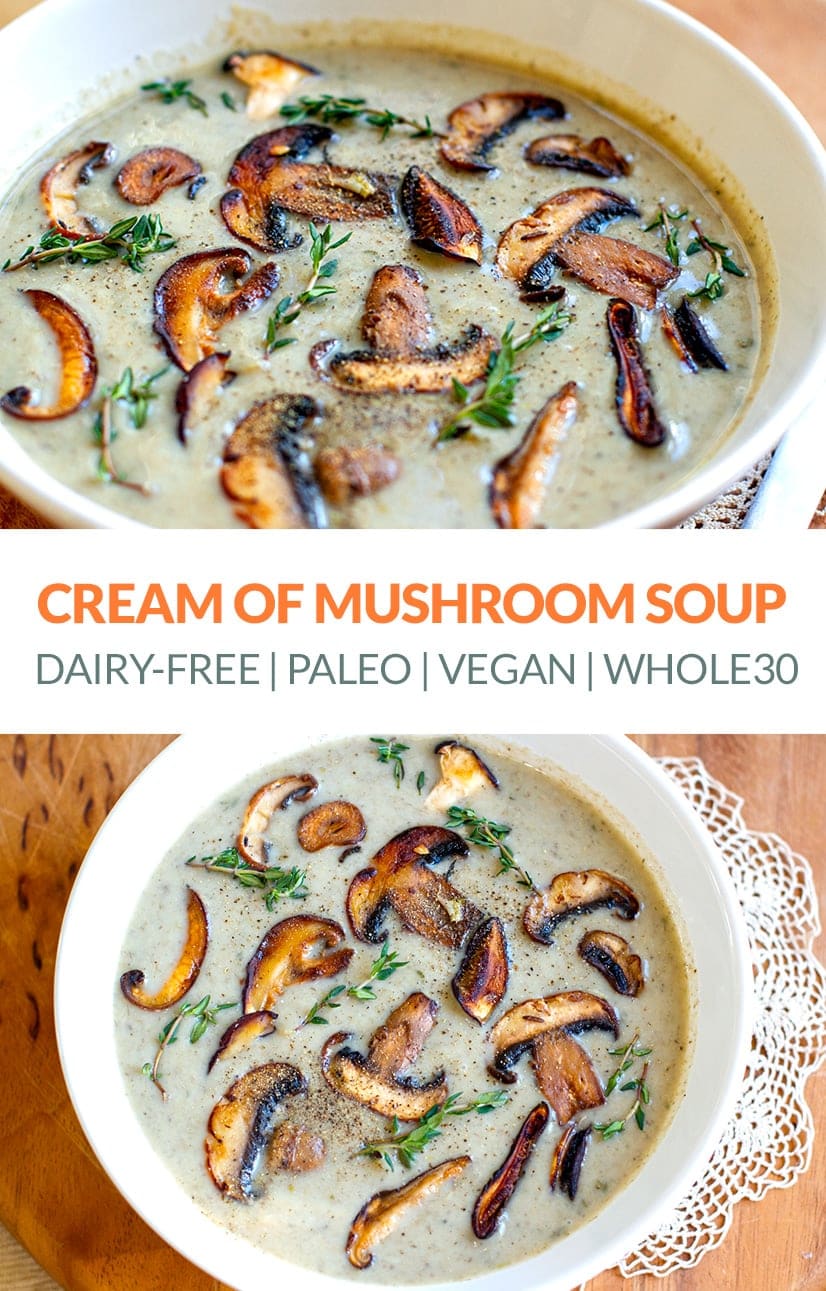 There is something very comforting about a bowl of creamy, rich mushroom soup. I love the umami flavour of mushrooms: savoury, salty and hearty taste. While it's easy to pop open a can of ready-made cream of mushroom soup from the store, it's much healthier to make your own.
In this recipe, I am making a dairy-free cream of mushroom soup made with all-natural ingredients and some sneaky nut butter to add that desired creaminess and body to the finished pureed soup. As it is made with all plant-based ingredients and no dairy, gluten, sugar or additives, this healthy soup is perfect for those following a vegan, paleo, or Whole30 diets.
CREAM OF MUSHROOM SOUP INGREDIENTS
To add that real forest mushroom flavour to the soup, I am using some dried porcini mushrooms. They can be purchased in most supermarkets and delis, although they are a little pricey, they are totally worth it. I love to have some on hand to add to stews, casseroles and sauces as they add a lovely woody and forest taste and aroma.
You can use a variety of fresh button mushrooms but I prefer Swiss Brown or crimini mushrooms to the blander white button mushrooms. You can also throw in some meatier Portobello and exotic oyster and shiitake mushrooms for a more complex flavour. Basically, use this as a base recipe and adapt it as you please.
Peeled white potato can be used instead of sweet potato for those who are not avoiding nightshades…or white potatoes. I used the white sweet potato (the one with purple skin) and that's why the soup of my colour didn't go yellow or orange.
A lot of the flavour also comes from the leeks, garlic and thyme, which are easily accessible and really make this soup.
Finally, instead of using heavy cream, I blended the soup with some nut butter. You can use cashew or almond butter (unsweetened), which will make your dairy-free cream of mushroom soup feel like the real deal. The starch in the potato also adds a lot of body and creaminess.
CAN YOU FREEZE MUSHROOM SOUP?
Yes, you certainly can! You can make a bigger batch and freeze the soup in small portions to pull out and warm up whenever you need a quick meal or a dinner starter. 
READER'S COMMENTS ON THIS MUSHROOM SOUP
I just made this and it is delicious! It's actually much better than I was even expecting it to be. Thank you so much for sharing this recipe!
A beautifully balanced recipe that avoids the common mushroom soup flavour profile of bacon-cream-mushroom-garlic with a much richer flavour. I made mine with chicken bone stock and also only blended half the mix (at the step where I added the nut butter) to keep some of the lovely texture. A great recipe! Officially now my go-to mushroom soup recipe.
MORE HEALTHY DAIRY-FREE, VEGAN & PALEO SOUPS
Print
---
Description
This gluten-free, vega and paleo friendly mushroom soup is made without any dairy. It's a tasty and healthy substitute to cream of mushroom soup that is loved by so many.
---
---
Place the dried porcini mushrooms in a small bowl with boiling water and soak for 10-15 minutes. Once softened, strain but reserve the liquid, and dice the mushrooms.
While the porcini mushrooms are soaking, heat oil in a large heavy saucepan and sauté the diced leek and celery over medium heat until soft and golden, about 5-7 minutes.
Add the garlic, thyme, fresh mushrooms and sweet potatoes and stir for a minute until slightly golden as well.
Add the soaked porcini mushrooms together with about half a cup of the reserved mushroom-infused liquid. Follow that with the stock, Tamari sauce, mustard, bay leaf, pepper and lemon zest. Add a little bit more water if the saucepan is overcrowded or if you like your soup on the thinner side.
Stir, cover with a lid and bring to a boil. Reduce the heat to simmering and cook the soup with the lid on for about 15 minutes. After that, remove the lid and cook uncovered for a further 5 minutes.
Finally, transfer to a blender or food processor or use a hand-held immersion stick blender right in the saucepan (off the heat though). Add the lemon juice and nut butter and process until well pureed. Taste and season with extra sea salt if needed (depends on the type of stock you used). You can also add a little extra lemon juice, if you like a bit more zing. If the soup is too thick, you can dilute it with a little warm water.
One last step! Slice the remaining 4-5 mushrooms and panfry them in a little coconut oil or butter until browned and season with a little sea salt. Use those and the fresh thyme sprigs to garnish the soup when served.
---
Notes
Two medium white potatoes can be used instead of the sweet potato.
Nutrition
Serving Size:

2 cups

Calories:

300

Sugar:

9.1 g

Sodium:

1088.5 mg

Fat:

18 g

Saturated Fat:

3 g

Carbohydrates:

31.5 g

Fiber:

4.8 g

Protein:

9.2 g

Cholesterol:

0 mg
|