We should all be eating fish regularly, and this collection of Low-Carb and Keto Fish Dinners has 70+ recipes to give you plenty of ideas! No matter the season or what preparation method you prefer, this round-up will help you make amazing fish dinners; enjoy!
PIN Low-Carb and Keto Fish Dinners to try some later!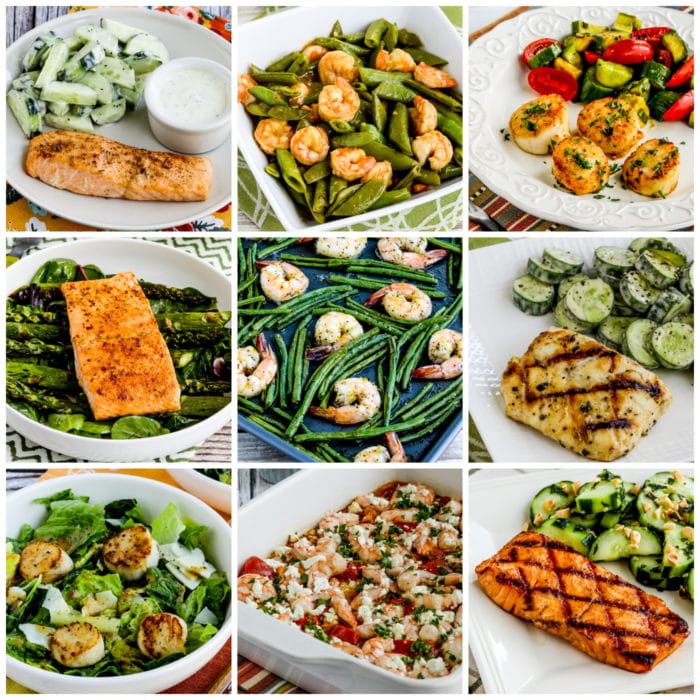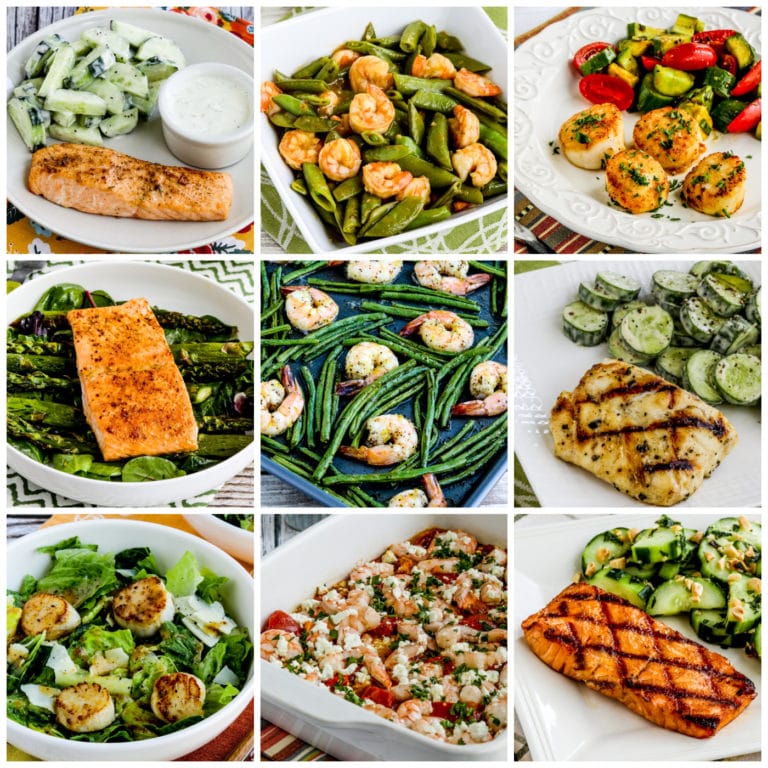 Fish is definitely a healthy menu option any time of year, and for quite a while now I've been trying to include more fish in my diet. But when I decided to round-up all my seafood recipes into this collection of Low-Carb and Keto Fish Dinners I was definitely surprised to find more than 70 recipes for dinners with fish on my site! I actually had fun looking back through them and remembering how tasty some were that I hadn't made for a while!
So if you want to make a goal of eating more fish, I've got you covered with more than a year of different dinners with fish or seafood once a week! There are also lots of tasty ideas here for things like The Feast of the Seven Fishes on Christmas Eve or those times of year when some people avoid eating met on Friday.
And every recipe in this newly-updated round-up is a low-carb or Keto dinner, and almost all are gluten-free as well. (See diet-type icons at the top of each page to make sure a recipe is gluten-free.) I hope you enjoy trying some of the tasty options here!
What kinds of Fish or Seafood Dinners will you find here?
When I started looking at fish and seafood dinners on my site, truthfully I was kind of amazed. Right away I decided there were so many options I had to leave out Appetizers, even though some of my appetizers with seafood could be eaten as a meal. This post will give you ideas for sheet pan meals with seafood, baked or roasted fish, Air Fryer fish or seafood, stir-fried or stovetop cooked seafood, fish and seafood cooked on the grill, and seafood salads of many kinds!
Do you love to cook fish and seafood?
Just click any recipe title to see the full recipe on my blog. You might want to bookmark or PIN this page so you can find it later. And I'd love it if you share on Instagram with the hashtag #kalynskitchen to show me your pics!
Sheet Pan Meals with Fish or Seafood: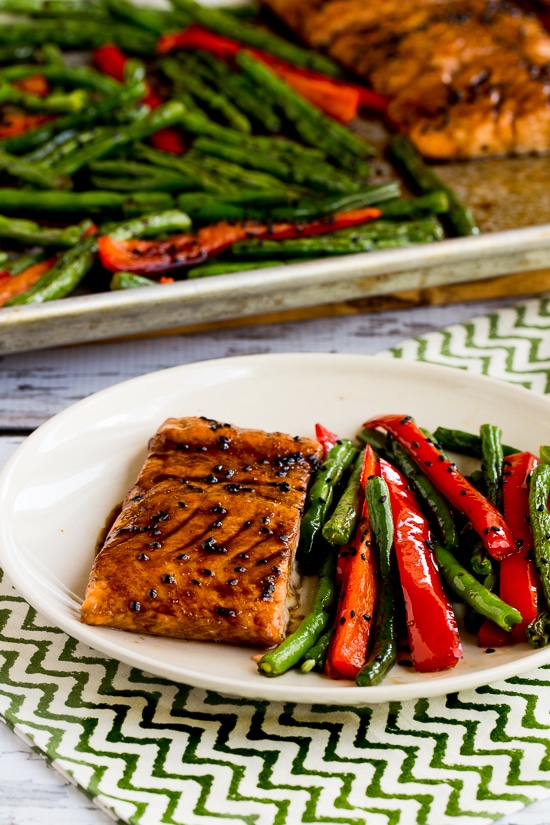 Asian Salmon and Green Beans Sheet Pan Meal is colorful, and this is delicious and easy to make! (Use gluten-free soy sauce.)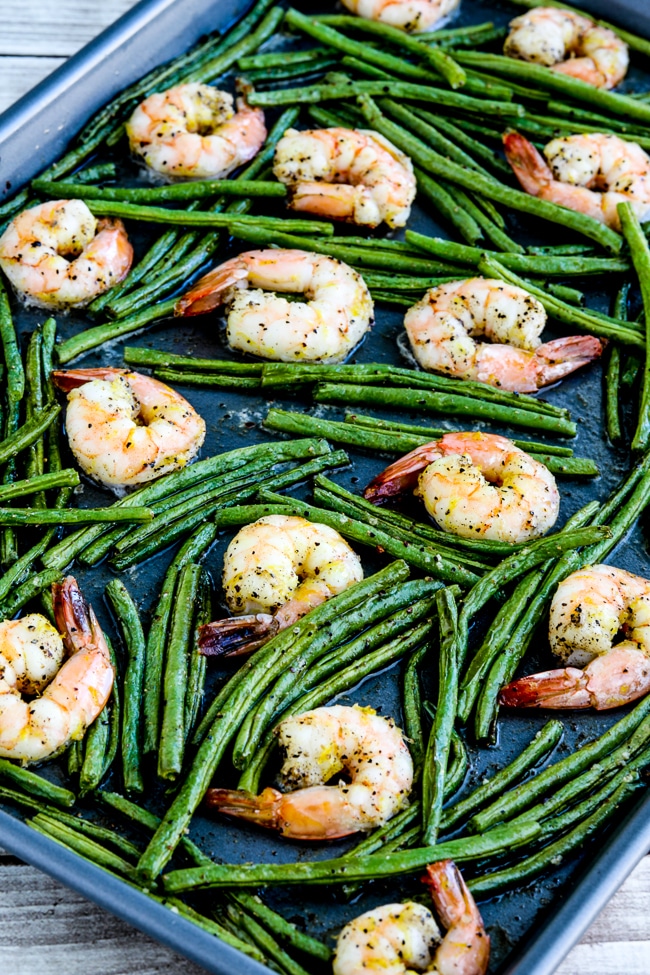 Spicy Green Beans And Shrimp Sheet Pan Meal is a recipe that was a big favorite of my dad, and now I think of him whenever I make this.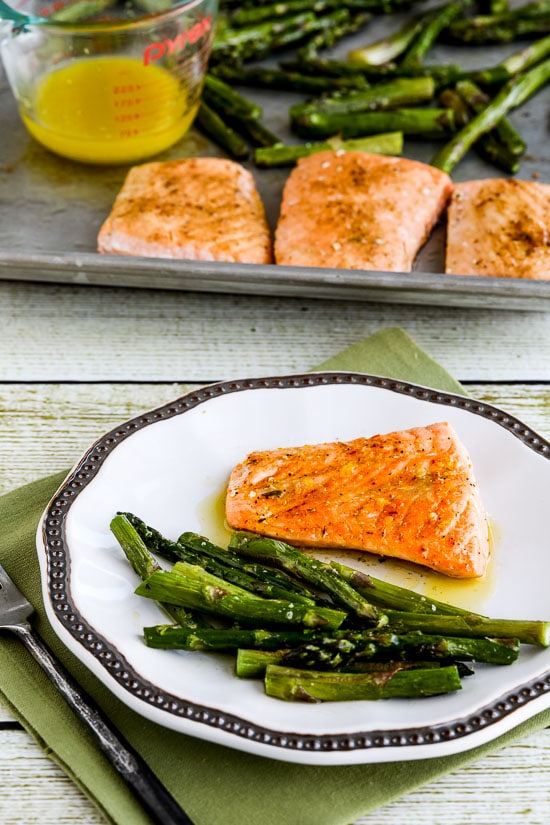 Roasted Lemon Salmon and Asparagus Sheet Pan Meal is perfect for a special meal when you don't mind splurging on asparagus!
More Fish and Seafood Sheet Pan Meals:
Roasted Brussels Sprouts and Salmon Sheet Pan Meal
Roasted Asian Shrimp and Brussels Sprouts Sheet Pan Meal 
Sriracha-Spiched Shrimp and Broccoli Sheet Pan Meal
Oven-Baked or Roasted Fish or Seafood: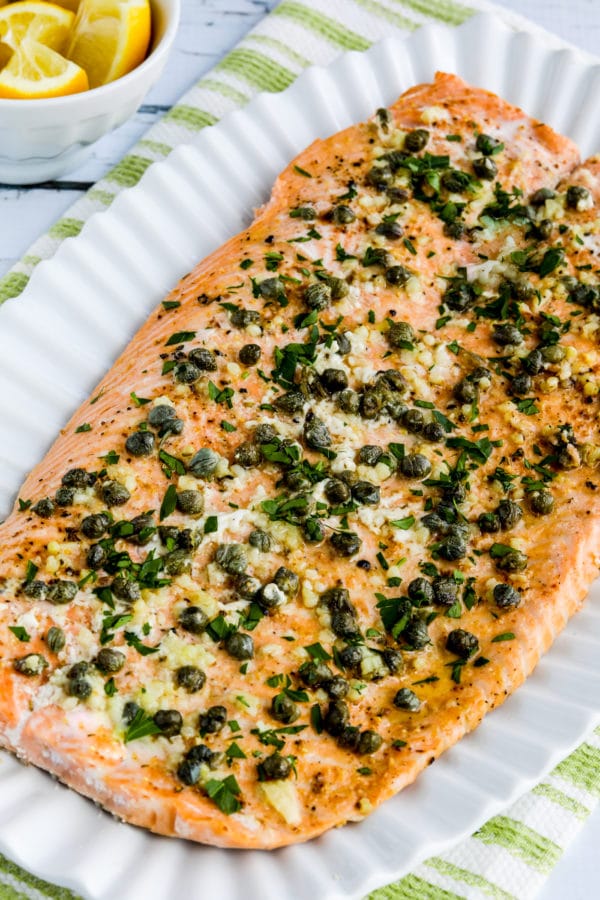 Slow Cooked Salmon with Butter, Garlic, Capers, and Lemon is the perfect way to cook those large fresh salmon fillets from Costco, and this is absolutely amazing for a special dinner!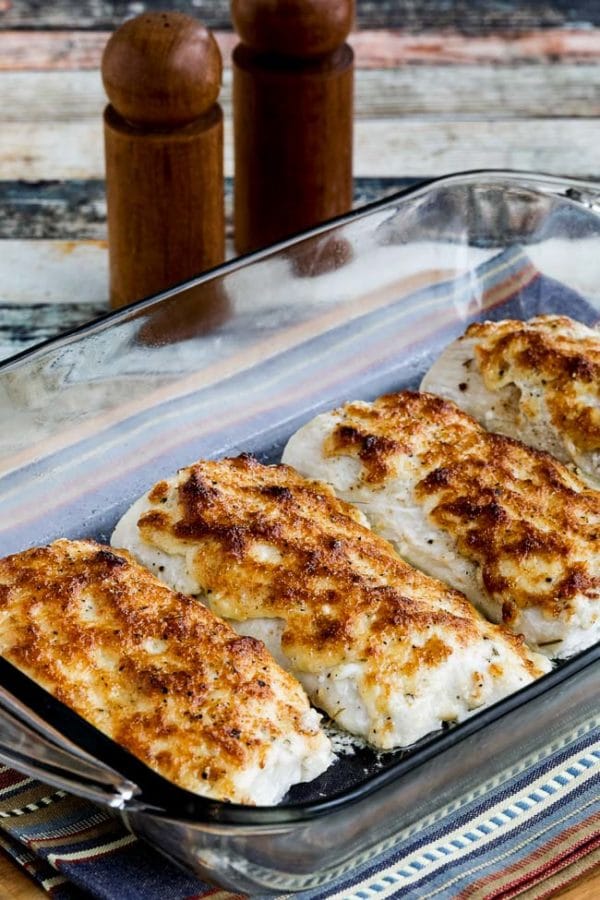 Baked Mayo-Parmesan Fish has been just as popular as the chicken dinner that inspired it! Even people who "don't like fish" will devour this, I promise!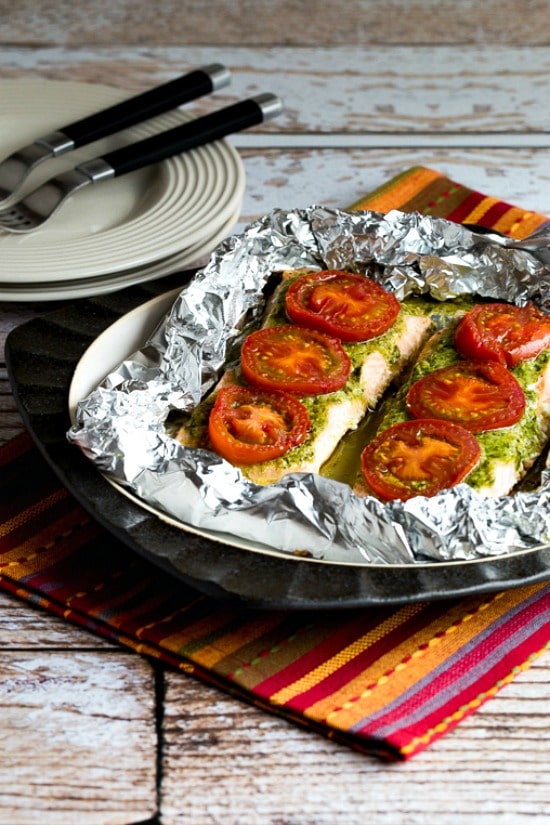 Baked Salmon with Pesto and Tomatoes is always a wow, and you can definitely use pesto from a jar for this.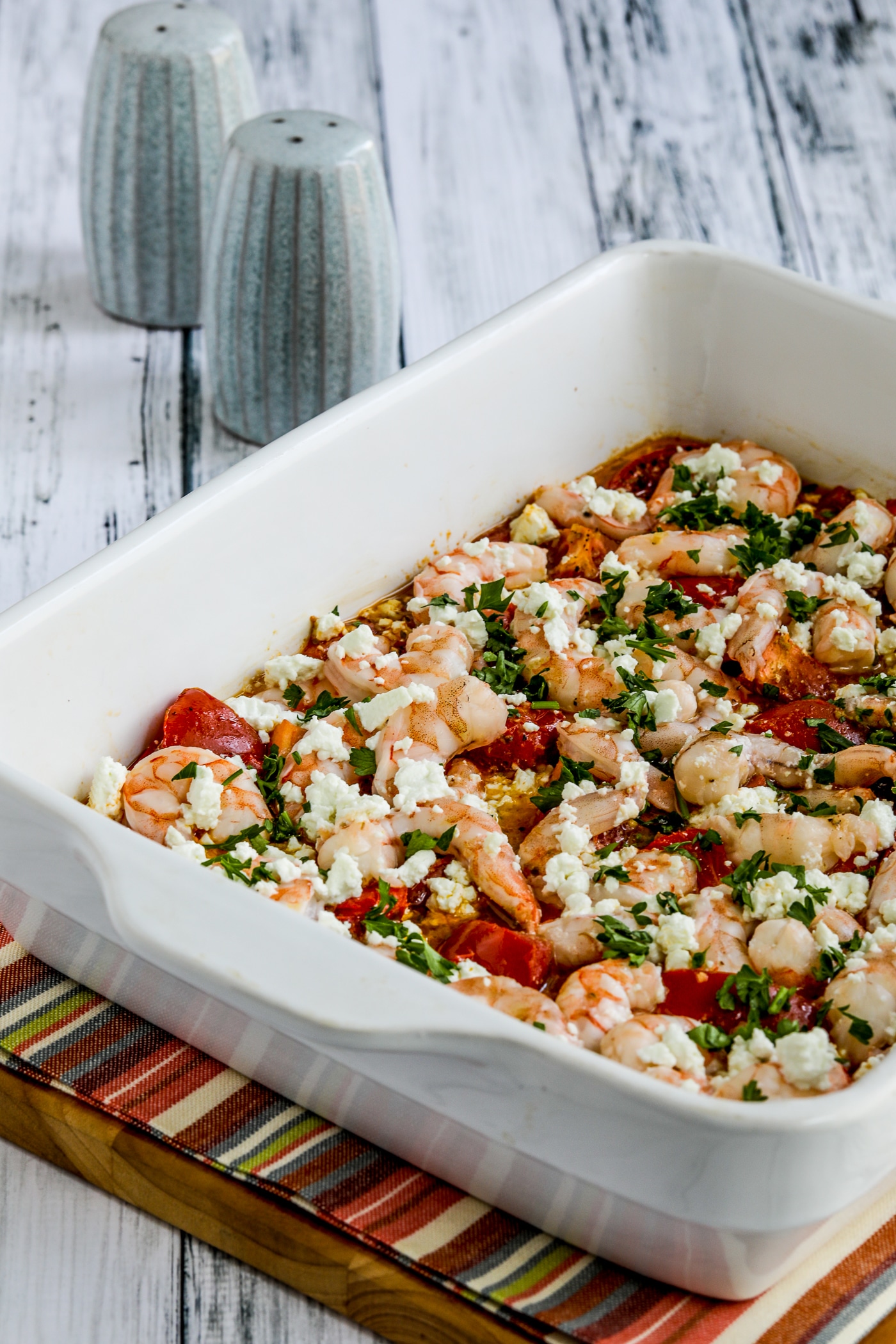 Roasted Tomatoes and Shrimp with Feta is absolutely a wow any time of year!
More Oven-Baked or Roasted Fish:
Baked Halibut with Sour Cream, Parmesan, and Dill Topping
Roasted Barramundi with Tomato and Olive Relish
Mahi Mahi with Mediterranean Salsa and Feta
Baked White Fish with Onions, Peppers, Olives, and Feta
Almond and Parmesan Baked Fish
Pecan-Crusted Dijon Salmon
Baked White Fish with Pine Nut, Parmesan, and Pesto Crust
Spicy Baked Shrimp with Garlic
Salmon Roasted in Olive Oil
Spicy Broiled Shrimp
Roasted Salmon with Avocado Salsa
Baked Fish in Foil with Pesto and Tomatoes
Air Fryer Fish or Seafood: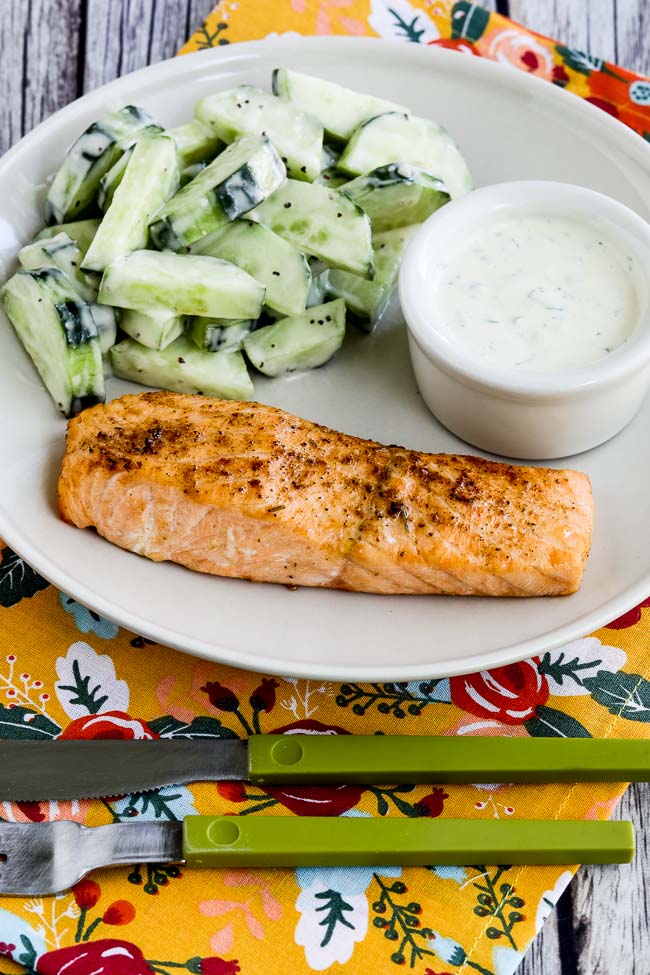 Air Fryer Salmon with Mustard-Herb Sauce is so delicious and easy, you should make this for dinner regularly!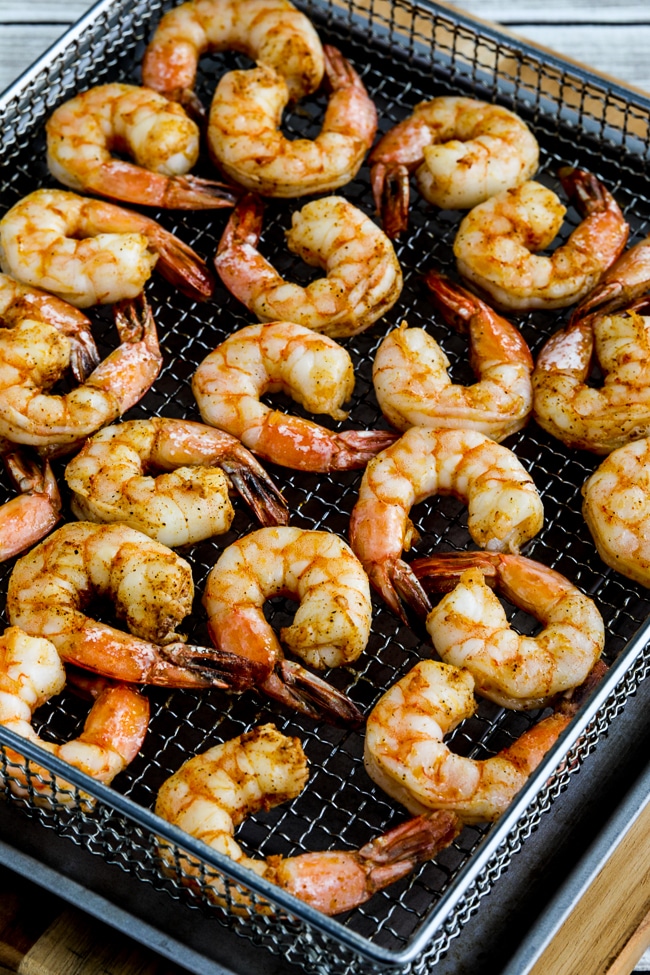 No matter whether you serve them hot as dinner or cold as an appetizer, Air Fryer Shrimp are going to be a hit! This recipe also includes a tasty mustard-horseradish sauce.
Spicy Air Fryer Fish with Remoulade Sauce also has instructions for the oven, and this fish recipe has New Orleans flavor notes!
More Fried or Air Fryer Fish or Seafood:
Greek Salmon with Tzatziki Sauce
Salmon with Tomato Olive Relish
Air Fryer Fish Sticks
Stir-Fried or Stovetop Cooked Fish or Seafood: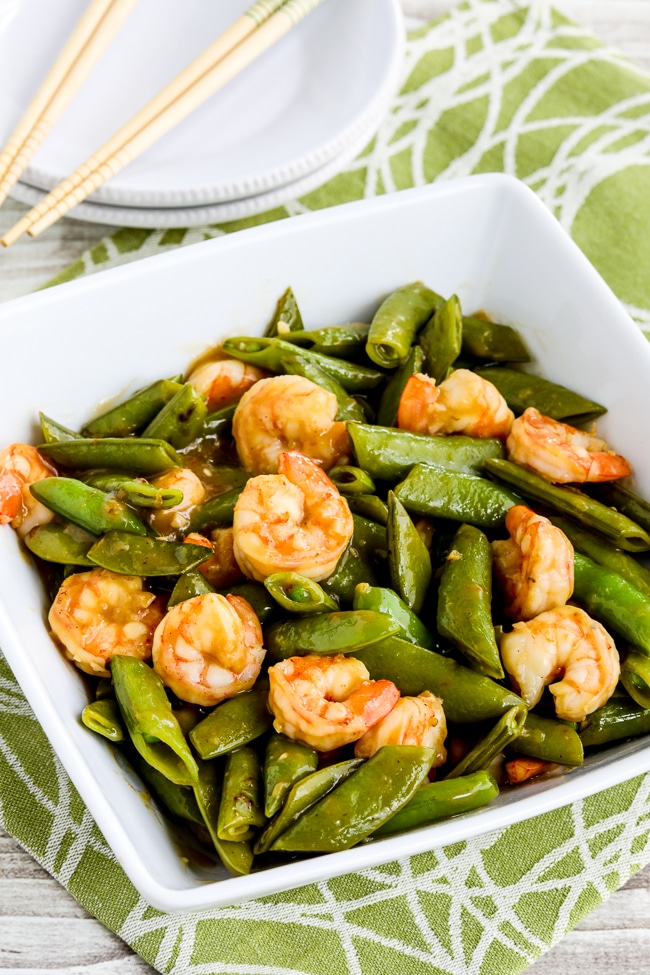 Stir-Fried Shrimp and Sugar Snap Peas is an amazing dinner idea and if you read my tips for stir-fry cooking this is really not that had to make!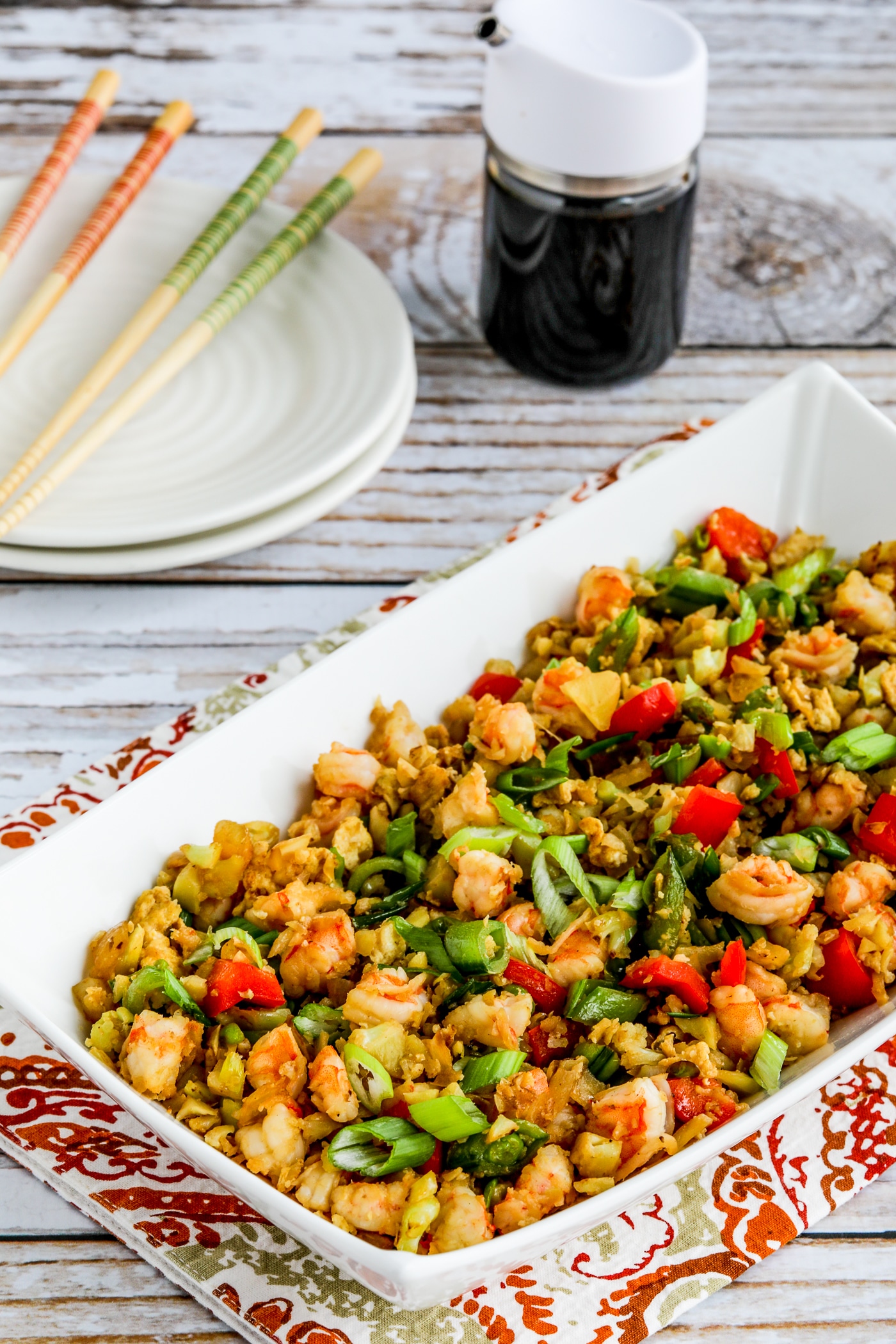 Cauliflower Fried Rice with Shrimp is an amazing dinner idea that can really help if you're craving fried rice!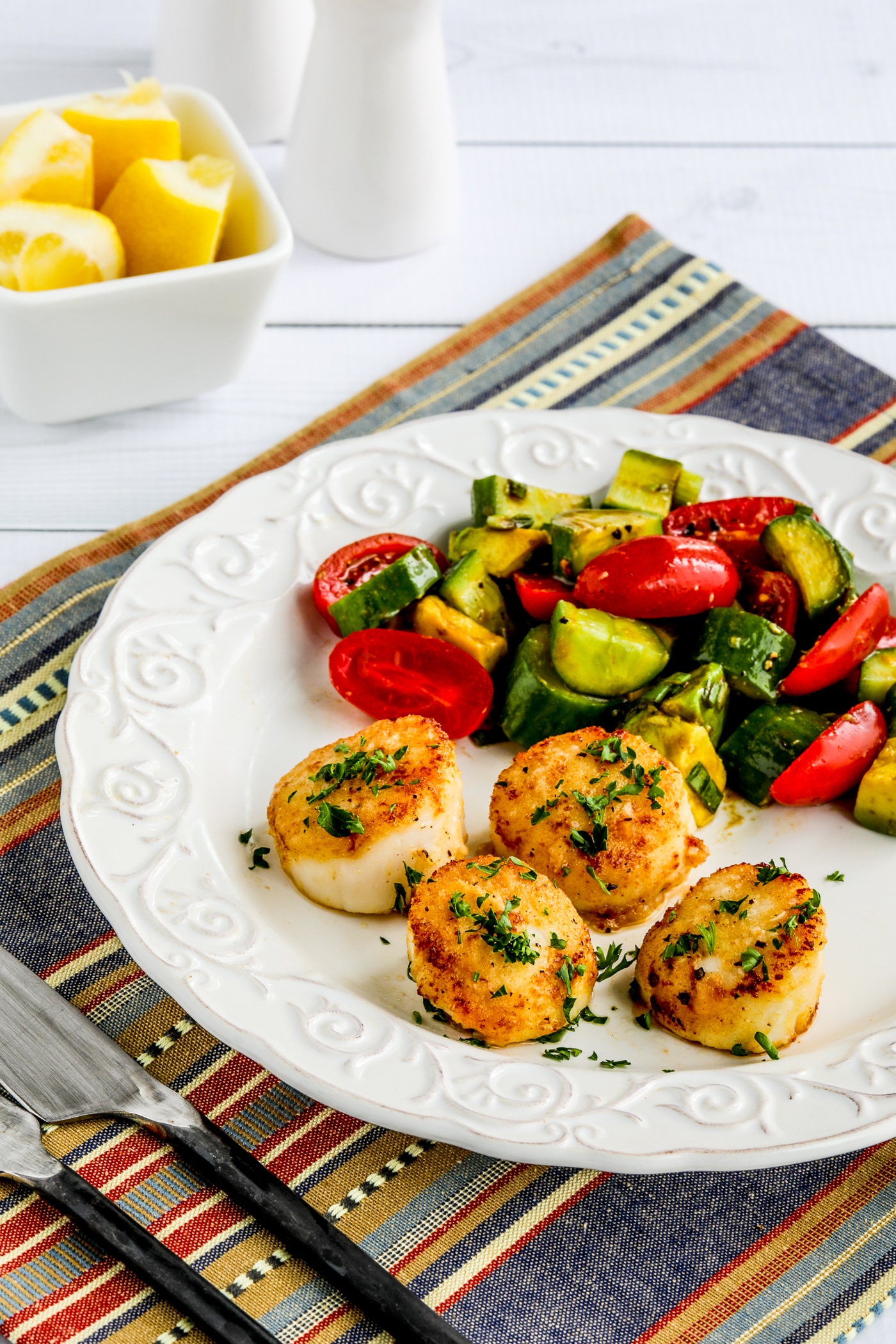 Sauteed Scallops with Garlic are going to remind you of the pan-fried scallops you might get in a fine-dining restaurant.
More Stir-Fried or Stovetop Cooked Fish or Seafood:
Fish Taco Cabbage Bowls
Easy Garlic and Lemon Shrimp
Coconut Milk Shrimp over Cauliflower Rice
Spicy Red Fish Stew
Salmon Patties with Tartar Sauce
Shrimp Avocado Tacos
Mediterranean Shrimp over Spinach
Zucchini Noodles with Tuna and Green Olives
White Fish with Parmesan Crust
Fish and Seafood Cooked on the Grill: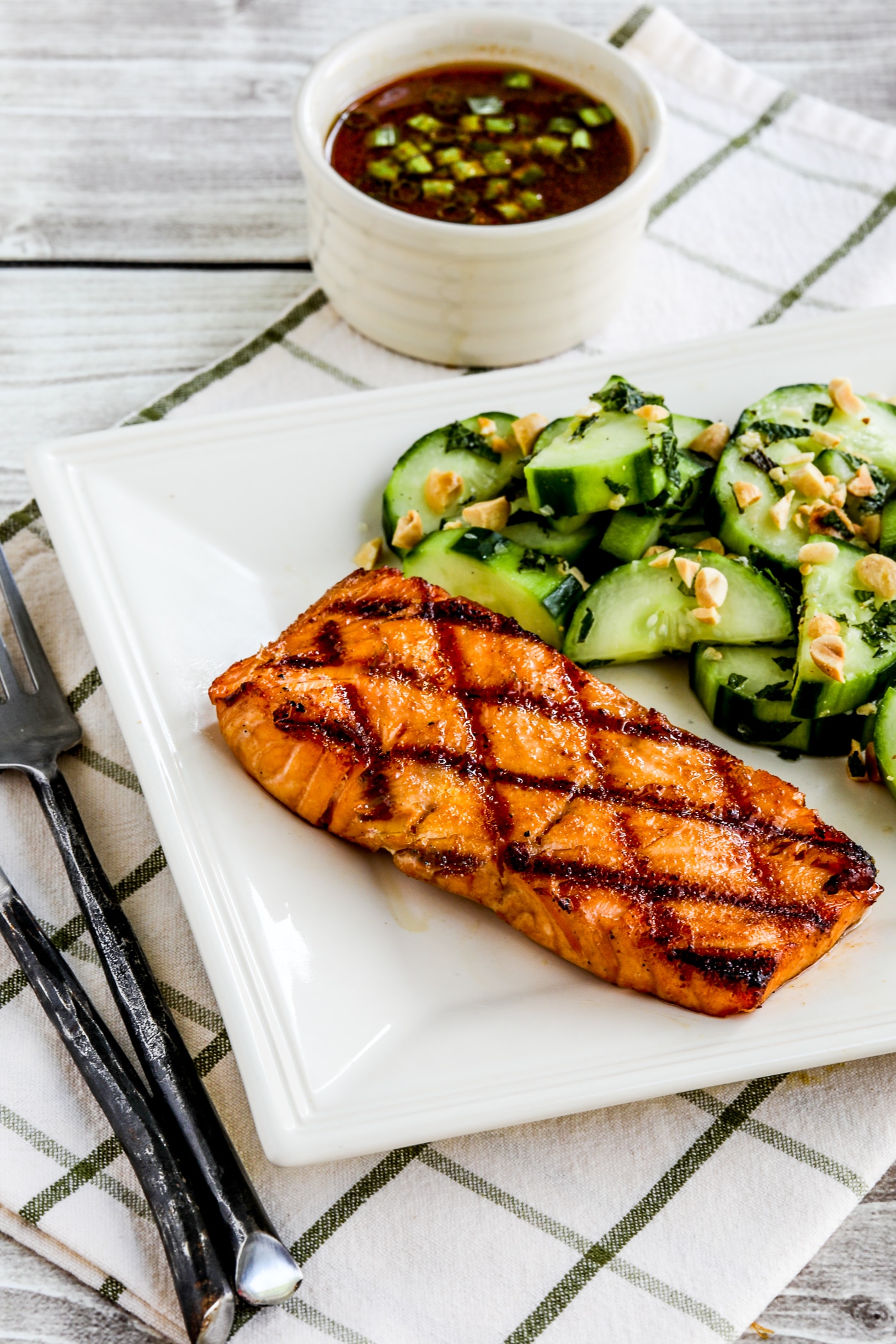 Korean Salmon with Dipping Sauce is delicious cooked on the grill but this can also be cooked on a stove-top grill pan, in the Air Fryer, or in the oven!
Grilled Shrimp Skewers are loaded with flavor and the shrimp are delicious served with a tasty low-carb salsa.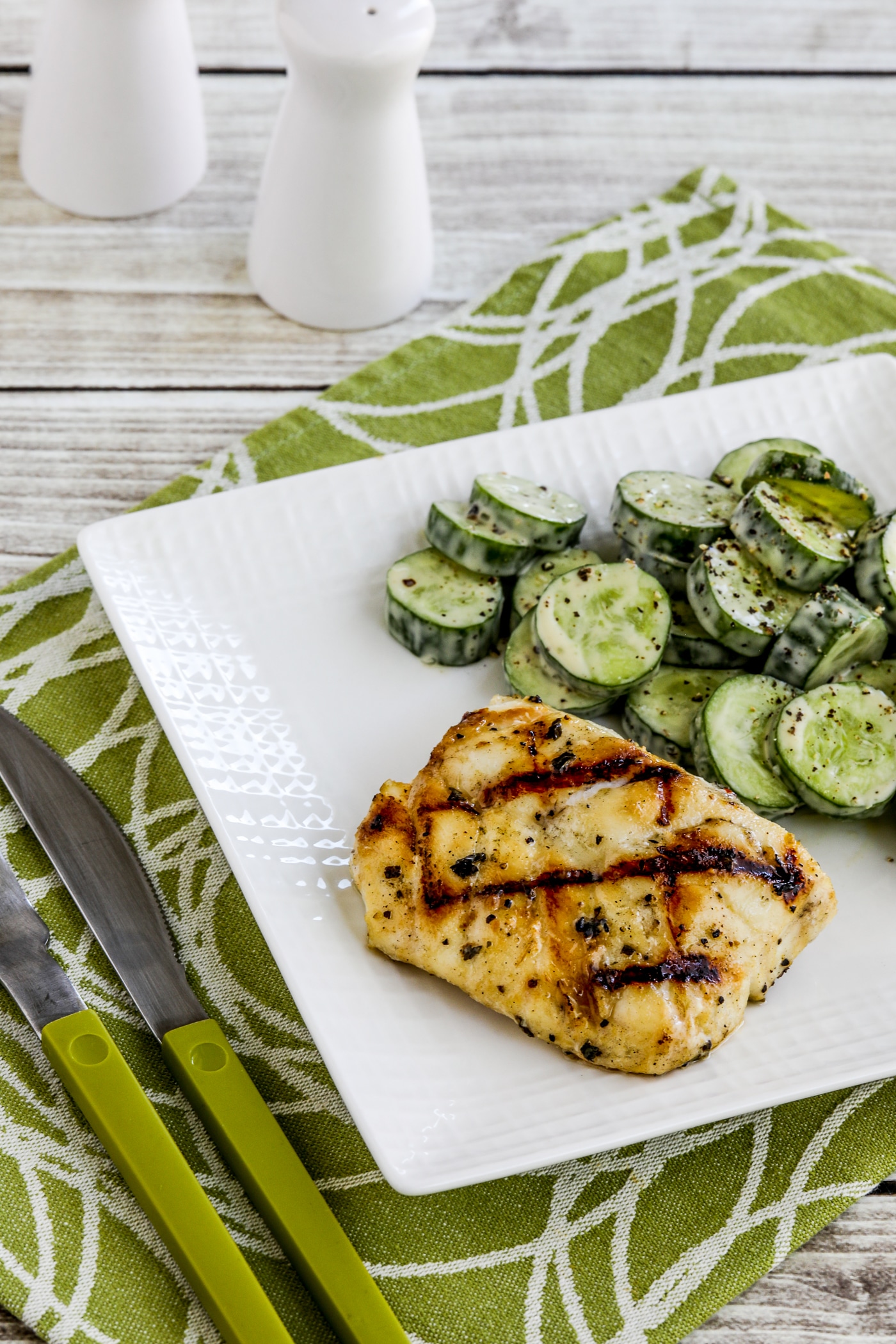 Grilled Cod with Garlic, Basil, and Lemon uses a delicious fish marinade that's good on any type of white fish.
More Grilled Fish or Seafood:
Salmon Foil Packets with Tomatoes and Olives
Kalyn's Lake Powell Fish Marinade
Grilled Halibut with Basil Vinaigrette
Grilled Mahi Mahi with Korean Dipping Sauce
Buffalo Salmon with Blue Cheese Slaw
Grilled Salmon with Maple-Sriracha-Lime Glaze
Grilled Halibut with Cumin and Lime
Grilled Salmon Burgers with Caper Mayo
Grilled Fish with Lemon and Capers
Grilled Halibut with Garlic Cilantro Sauce
Salads with Fish or Seafood: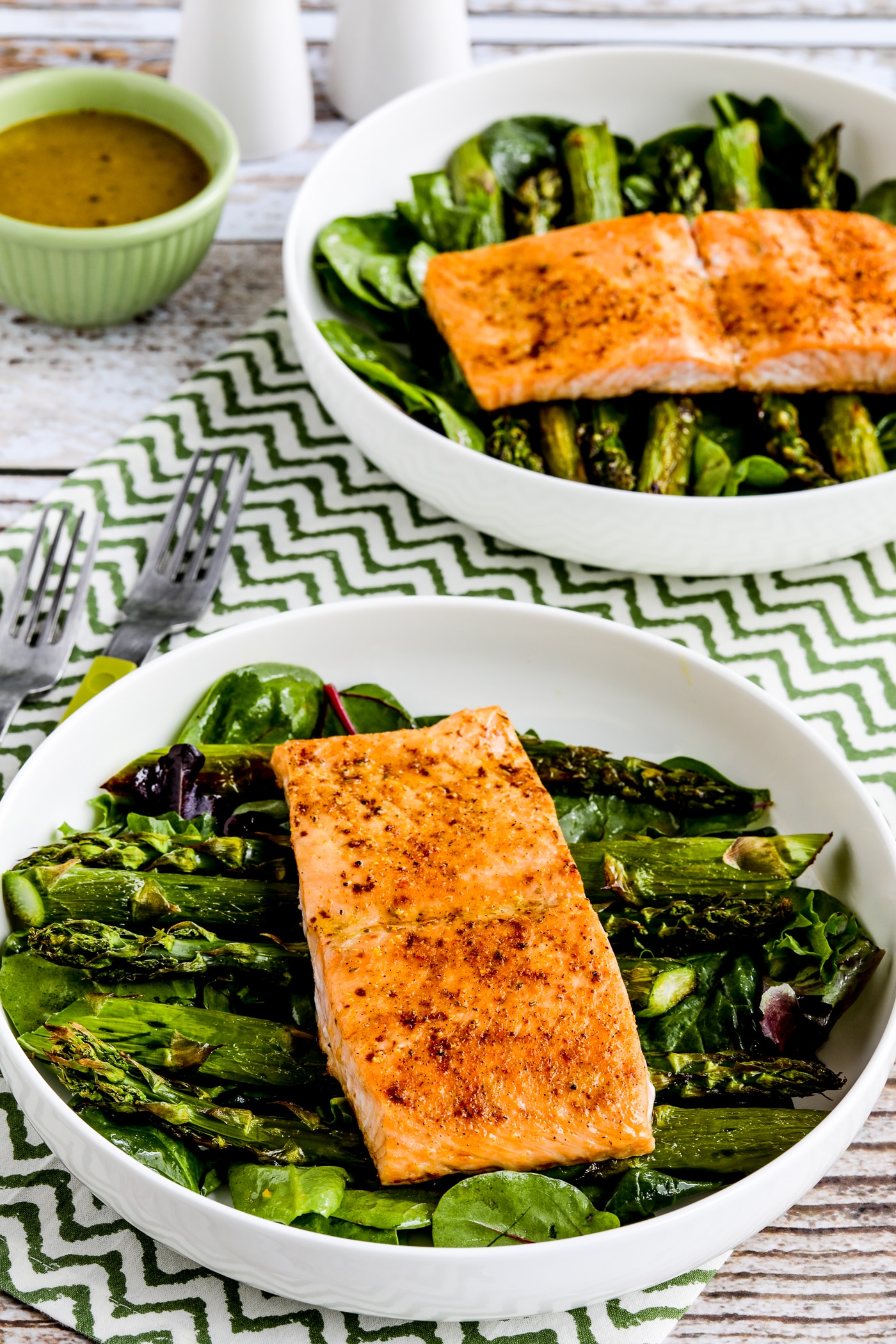 Salmon and Asparagus Salad is a perfect light meal, and this is one of my beloved Sheet Pan Meals because the salmon and asparagus are briefly roasted and then arranged on greens to make the salad.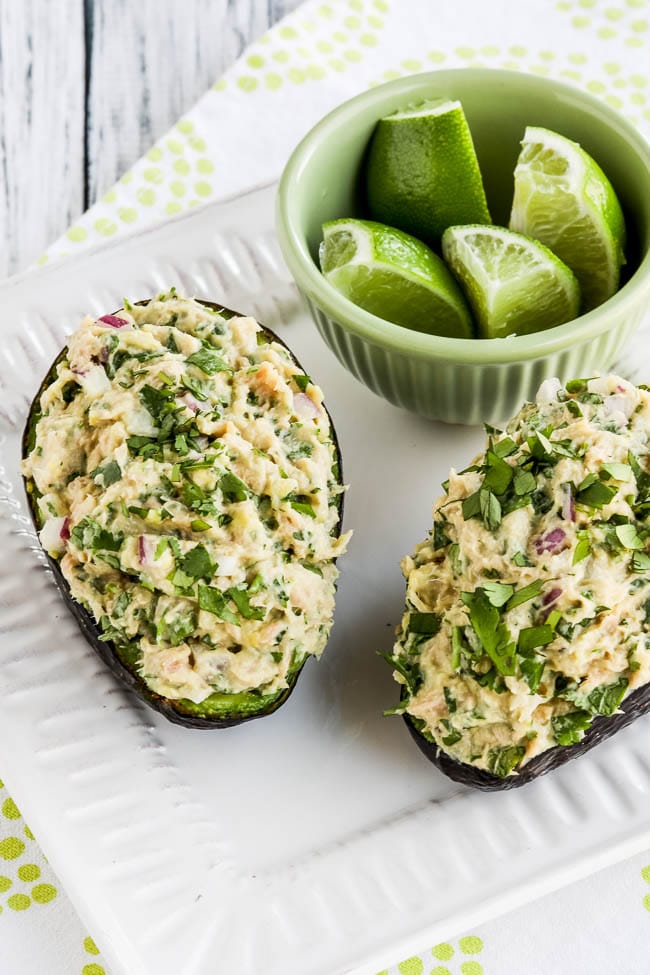 Tuna Stuffed Avocado is delicious for a quick lunch, but I think this would be an amazing idea for an appetizer too. You could cut the avocado in quarters to make smaller servings if you prefer.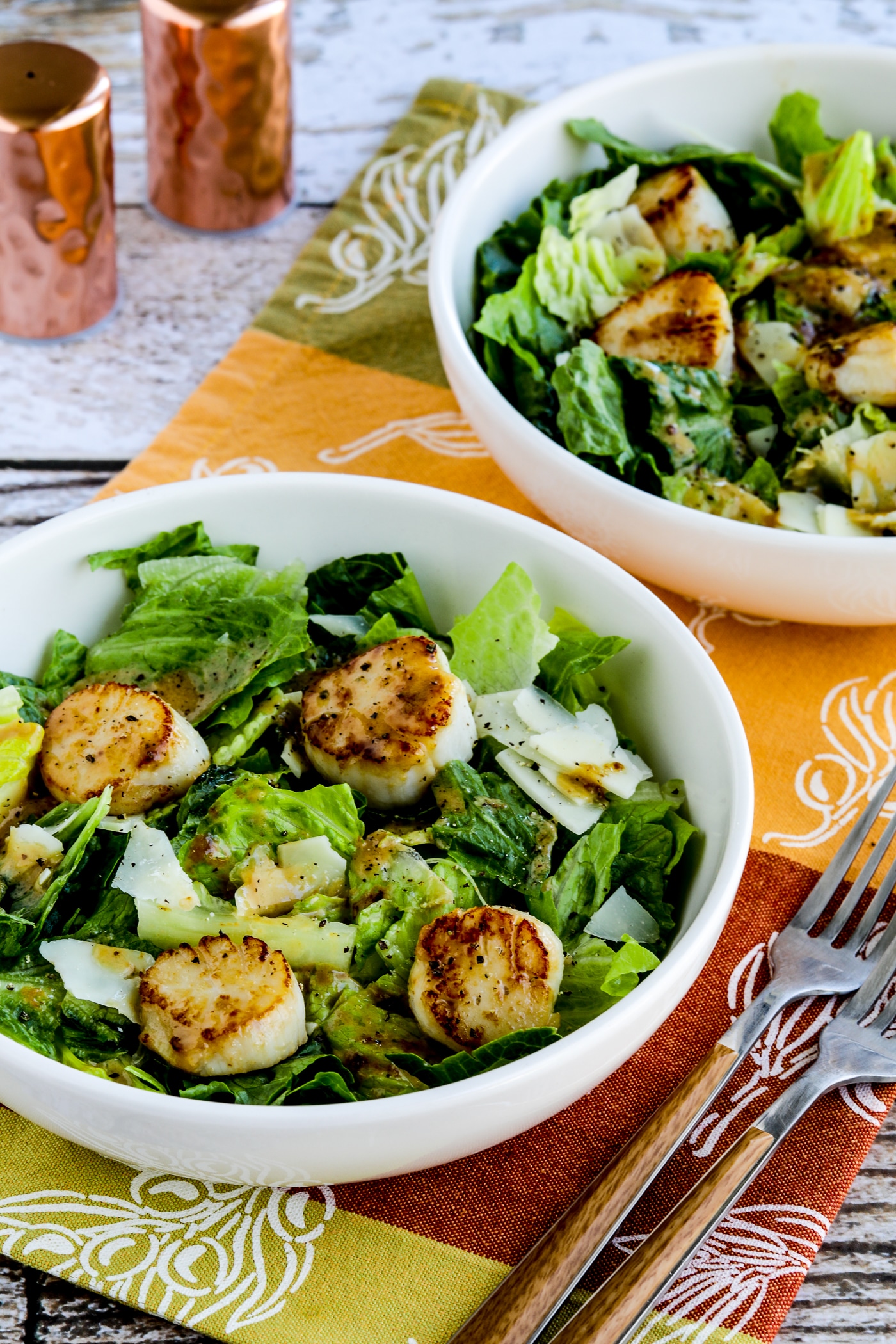 Warm Scallop Caesar Salad is a lunch or dinner idea that's always such a treat!
More Fish or Seafood Salads:
Tuna Salad Lettuce Wraps
Salmon Salad with Dill
Shrimp and Avocado Salad
Tuna Salad with Tomatoes, Cucumbers, Parsley, and Mint
Spinach Salad with Shrimp
Tuna Salad with Tomatoes and Peperoncini
Cucumber Noodle Salad with Shrimp
Tuna Avocado Tomato Salad
Lemony Shrimp Salad with Avocado, Hearts of Palm, and Feta
Cucumber Avocado Salad with Tuna
Cucumber Salad with Tuna and Basil
Tuna Tomato Salad
Tarragon Shrimp Salad
Shrimp Cucumber Salad
We are a participant in the Amazon Services LLC Associates Program, an affiliate advertising program designed to provide a means for us to earn fees by linking to Amazon.com and affiliated sites. As an Amazon Associate, I earn from qualifying purchases.