This website may contain affiliate links and advertising so that we can provide recipes to you. Read my privacy policy.
Italian wedding soup is warm and comforting and filled with tender chicken meatballs, veggies, and acini de Pepe. This classic Italian soup will become an instant family favorite!
We love a good warm bowl of soup at our house. It's perfect for cold winter days and, to be honest, I cook soups all year long because I love them so much! You need to try this chicken tortellini soup, this Pasta e Fagioli, or this broccoli cheese soup!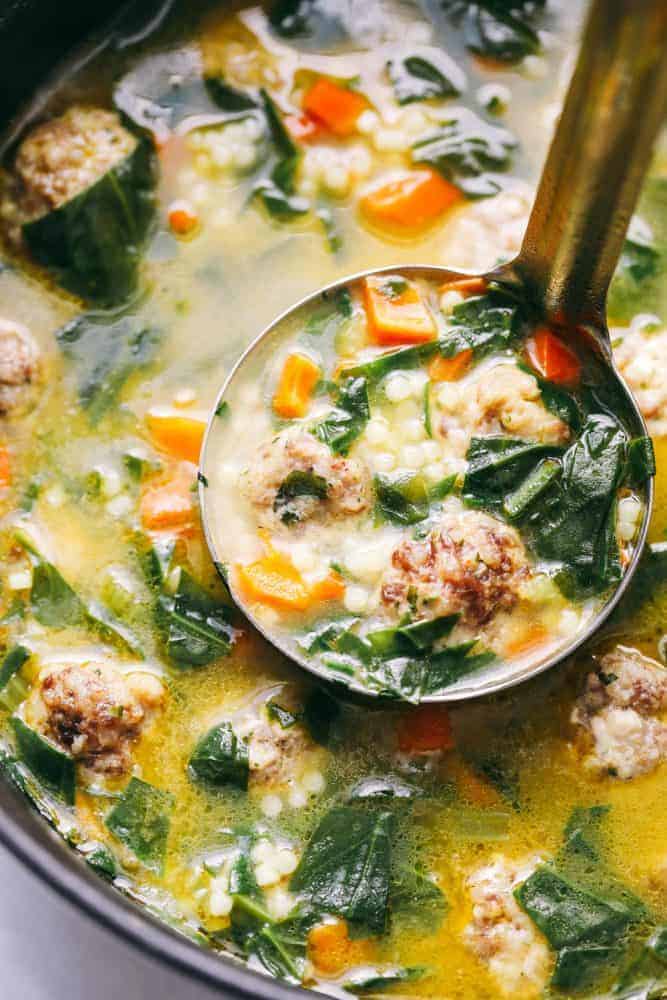 A Reader's Review
I found this recipe through Pinterest and it is my FAVORITE recipe, possibly ever! My family loves this soup. I've made it for a work luncheon also and it was eaten up so fast! I had lots of requests for this recipe. Thank you so much! It's amazing!
-Sarah
Italian Wedding Soup
We absolutely love traveling to new cities and trying out different foods. We recently went to a new Italian restaurant as a family and the waitress told me all about this Italian Wedding Soup and that it was her favorite. I can't believe that I had never heard of Italian wedding soup before. It honestly became one of my favorite soups with the first bite.
There is so much to love about this delicious soup. My favorite part was the chicken meatballs that were hidden throughout and the tiny acini de pepe pasta inside. The pasta and chicken meatballs make this so filling, plus it is packed with veggies. All you need are some delicious rolls or breadsticks and you have yourself an entire meal that will fill anyone up! Plus, this soup is actually really simple! It comes together within 30 minutes and has so much delicious flavor. You are going to LOVE it!
Ingredients in Italian Wedding Soup
This Italian wedding soup is full of flavor, comfort and all blended together for perfection! It's simple and the ingredients list is short! See the recipe card at the bottom of the post for exact measurements.
The Meatballs
Ground chicken and sausage: These are the meat that you combine to make the meatball. Remove the casing on the sausage before mixing the sausage in.
Breadcrumbs: This the gives the meatballs some texture.
Egg: The egg will bind the meats and the seasonings together so that you can form them into balls.
Italian seasoning: You can use storebought Italian seasoning or you can try out my 5 minute homemade Italian seasoning!
Salt and pepper: Use these to season the soup to your preferred taste.
The Soup
Olive Oil: This is to cook your vegetables in!
Vegetables: Onion, carrots and celery and spinach. Chop these up to be as small or as large as you like. Just make sure they are similar in size so that they cook evenly.
Garlic Cloves: If you don't have fresh cloves on hand then you can use minced garlic. ½ teaspoon equals about 1 clove of garlic.
Chicken Stock: This gives the base of the soup a rich flavor.
Uncooked Acini di Pepe Pasta: This is the pasta that you will use for this classic recipe! They are like little tiny pieces of dough. If you don't have them or can't find them then orzo will also work.
Parmesan: This will be sprinkled on top of this Italian wedding soup!
How to Make Italian Wedding Soup
You will love this simple comfort soup that is filling and delicious! Bite after bite of this soup leaves you wanting another bowl filled to the brim!
To make the meatballs: In a medium sized mixing bowl, add the ground chicken, chicken sausage, bread crumbs, egg,  Italian seasoning and salt and pepper. Stir until combined. Then, roll into one inch meatballs making about 25-30.
Cook soup and add meatiballs: In a large pot add the olive oil, onion, carrots, celery and garlic. Cook for 2-3 minutes or until tender. Add in the chicken stock, pasta and meatballs and bring to a boil. Then, you will reduce heat to a simmer and cook for about 10 minutes until meatballs are cooked through and pasta is tender. Stir in spinach and allow to wilt. Season with salt and pepper and then top it with freshly grated parmesan cheese.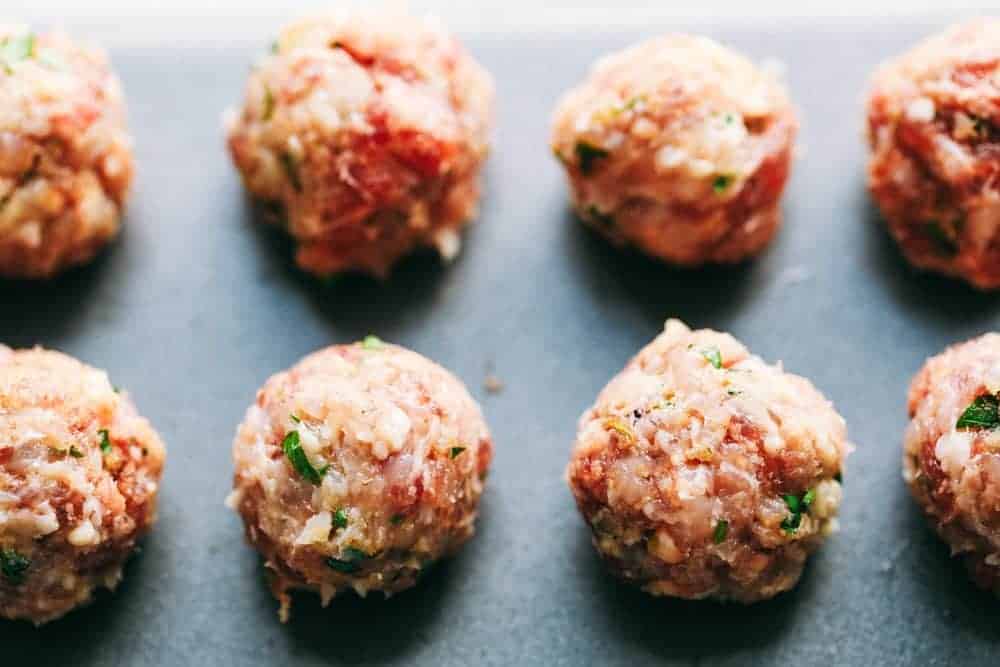 What is Acini de Pepe Pasta?
The name in Italian means "seeds of pepper." They are known as a symbol for fertility and that is why they are used in Italian wedding soup. They are also sometimes referred to as Pastina, (Italian for "tiny dough") but some pasta makers distinguish pastina as smaller than acini di pepe.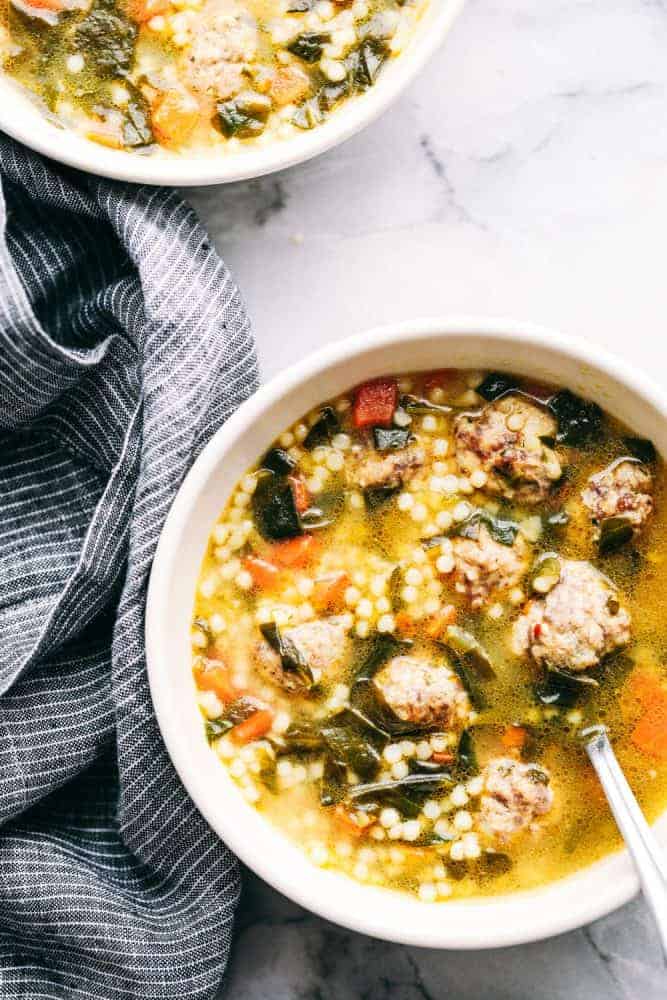 Can you freeze Italian Wedding Soup?
Yes! This soup works great as a frozen meal! You can freeze it in individual sizes or family sizes to reheat on those days you just need something warm and comforting.
How to Freeze: Place the cooled soup in an airtight container or a plastic bag (make sure to leave a few inches for the soup to expand when it freezes). Label it with the date. It can stay frozen for up to 3 months.
To Reheat: To reheat this soup, it is best to either thaw it by storing it in the refrigerator over night. When you are ready to eat it then you will warm the soup back up on the stove or in the microwave just before serving.