This Italian-inspired tomato ricotta salad is topped with zesty parsley lemon gremolata and a few drizzles of olive oil. It's light and nutritious and can be served as a gorgeous appetizer, side dish or a light meal. It requires no cooking and can be whipped up in no time at all. This recipe is low-carb, gluten-free and vegetarian.
---

This is a simple and delicious salad made with fresh tomatoes and ricotta. You can also add ricotta salata (salted ricotta) or feta cheese, however, I used plenty of sea salt to season this dish and the gremolata adds a lot of fresh, herby and lemony flavours.
What is ricotta cheese?
Ricotta is an Italian cheese made from leftover whey (a type of protein in milk). It has a creamy, crumbly, light texture. It's fresh cheese so it hasn't been fermented or salted and is thus has very mild in flavour. This makes it a great addition to many dishes and it can take on both savoury and sweet flavours (ricotta and honey, anyone?). Cottage cheese is similar to ricotta but is a little heavier. 
There are different types of ricotta: some are made with mostly whey and a little bit of milk, while others have a higher percentage of milk. Depending on how much whey or milk is used, the lactose level of ricotta varies. The more whey, the lower the lactose. In general, a 1/2 cup of ricotta can contain 1 to 5 grams of lactose. The best way to compare ricotta cheeses is to look at the label and see the carbohydrates (from sugars, which is lactose) and also which milk it's made from. 
Ricotta is gluten-free and is a good source of protein (12 g per 100 g), calcium, vitamins A and D and it's low in carbohydrates (3 g per 100 g).
HOW TO MAKE TOMATO RICOTTA SALAD
I recommend getting the best quality tomatoes you can find as they will be sweeter and more flavourful. You can use any type of tomatoes; slice them or dice them, it's up to you. 
I like to slice medium to large tomatoes and serve them in a single layer on a large platter like this.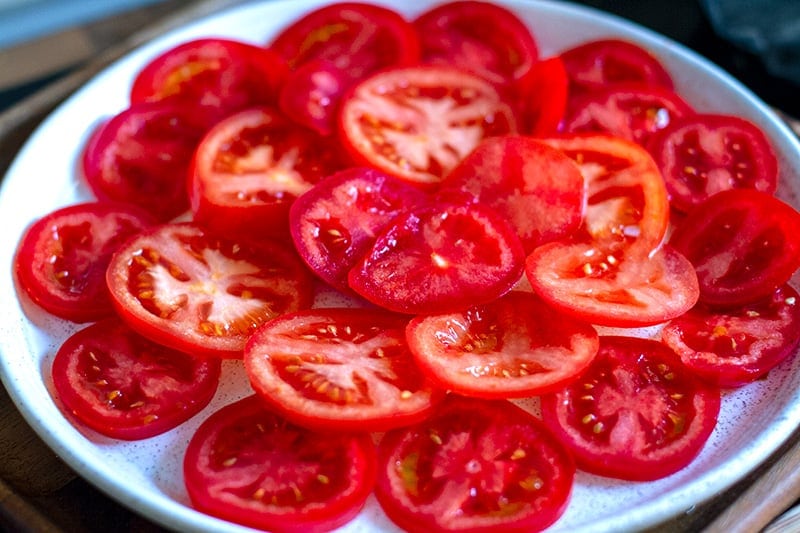 Ricotta is then broken into crumbs and scattered over the top. You can also serve these as individual portions for a dinner party.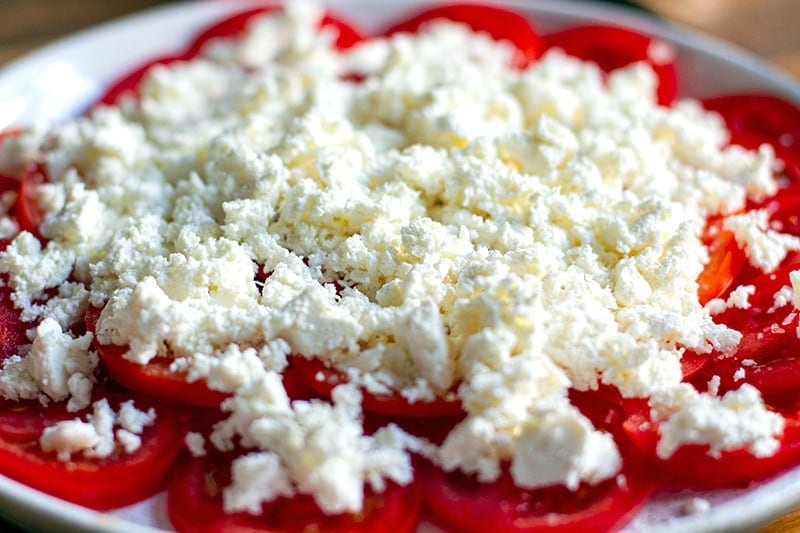 The final touch is the freshly prepared gremolata of chopped herbs like parsley (I am also using coriander), lemon zest and a touch of garlic (optional). Lemon and herbs make this dish very special and compliment the sweetness of tomatoes and creaminess of ricotta well. 
That's pretty much it! As you can see, this tomato ricotta salad is super easy to make and I love to serve it for a dinner party or a barbecue gathering. I hope you enjoy it, let me know in the comments if you make it and make sure to give this recipe a rating below.
MORE RECIPES YOU MIGHT LIKE
Print
---
Description
This Italian-inspired tomato ricotta salad is perfect as a side dishe, appetizer or a light meal. Sweet, nutritious tomatoes are topped with creamy ricotta and sea salt and zesty gremolata with lemon zest and a touch of garlic. It's vegetarian, low-carb and gluten-free.
---
---
Slice tomatoes and layer on a large platter. Sprinkle them with half a teaspoon of good quality salt.
Break ricotta apart and spread over the tomatoes.
Combine gremolata ingredients and sprinkle over the ricotta cheese.
Finish the salad by drizzling olive oil over the top. You can sprinkl some pepper if you like.
---
Notes
For this recipe, you can use regular whole milk ricotta cheese or if you can also mix it with ricotta salata (salted ricotta) or some feta.
Serves 2 as a larger side/appetizer or light lunch or 4 as a smaller side or appetizer.
Substitute for ricotta cheese
You can use cottage cheese or for a dairy-free or vegan version, try making your own tofu ricotta, cashew or macadamia nut ricotta. You can also make your own ricotta using goat or sheep milk.
Nutrition
Serving Size:

1/4 of the salad

Calories:

192

Sugar:

3.5 g

Sodium:

350.4 mg

Fat:

15.3 g

Saturated Fat:

6.2 g

Carbohydrates:

7.1 g

Fiber:

1.6 g

Protein:

8.2 g

Cholesterol:

31.6 mg
SAVE THIS TOMATO RICOTTA SALAD TO PINTEREST