This website may contain affiliate links and advertising so that we can provide recipes to you. Read my privacy policy.
Literally the BEST chicken noodle soup, this has thick chicken chunks, sliced carrots, and celery, wide noodles. It soaks in a smooth chicken broth filled with flavorful seasonings and cooked to perfection. It's the perfect warm and comforting soup for the winter!
Warm up to this savory soup this wintertime. If you love soup, here are your classic soup recipes to try some homemade tomato basil soup, broccoli cheese soup, or minestrone.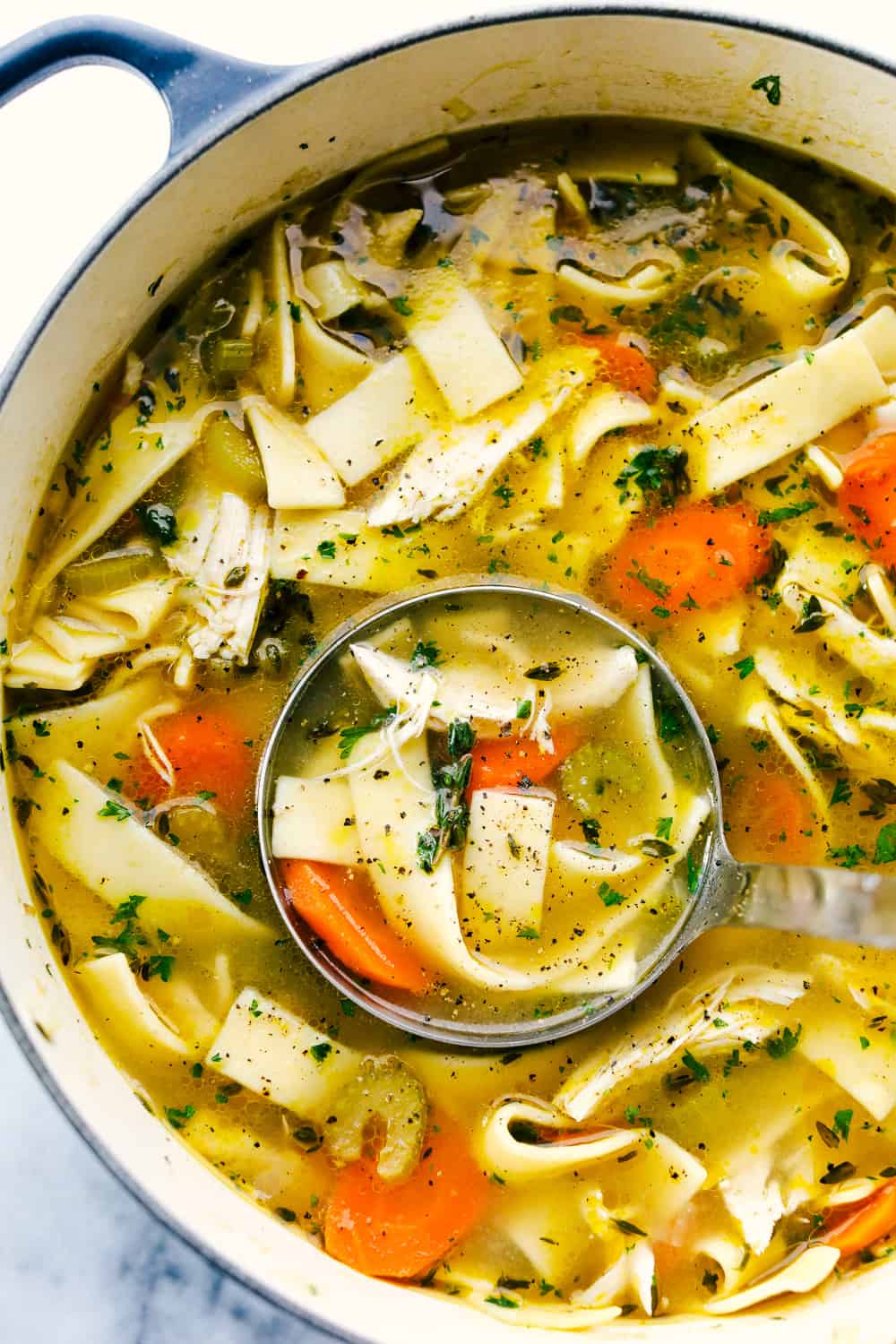 The BEST Chicken Noodle Soup
This is literally the BEST chicken noodle soup recipe EVER! The flavoring is absolutely incredible, and the ingredients are simple. Colder days are here and still ahead of us, and you know a good chicken noodle soup is going to be needed to get you through. This soup is perfect because it's so hearty and filled with chunks of chicken, thick slices of vegetables, and all the flavor you can imagine with simple and easy ingredients.
Chicken noodle soup is made for those days when you are sick and just need some comfort food to fill you up and warm your core. When I make this soup, my entire family loves it, and I know that yours will too! Pair this soup with some homemade bread or rolls, and you will be all set! Trust me when I say that you will want to double this recipe to have more often than not this winter season.
Ingredients to Make Chicken Noodle Soup
This chicken noodle soup is just what you need this winter season. Everything is so simple to throw together and perfect for that leftover chicken! See the recipe card at the bottom of the post for exact ingredient measurements.
Olive oil: Olive oil is great for sautéing your vegetables and making sure that they don't stick.
Carrots: Slice these up up as thick as you prefer.
Celery: You can cut these up into larger or smaller slices, depending on your preference. My kids always like all the vegetable chopped up into tiny pieces!
Onion: Chop this onion up into pieces that are the same size so that it cooks evenly.
Garlic Cloves: If you don'thave any fresh garlic cloves on hand then you can use minced garlic. ½ teaspoon equals about 1 clove of garlic.
Thyme: Fresh thyme stems really add in a deep flavor to the broth.
Salt and pepper: You only need a pinch to have these make an impact.
Chicken broth: The chicken broth adds a lot of depth and flavor to the base of the soup.
Egg noodles: Using egg noodles that are thick will help to soak up the broth when eating.
Chicken: You can use leftover chicken that you have on hand. Or make it easy on yourself and grab a rotissarie chicken from the store and shred that up to put in this recipe!
Parsley: The parsley pairs well with the thyme creating a very flavorful seasoning.
How to Make Chicken Noodle Soup
Chicken noodle soup comes together quickly and effortlessly with these few steps. Simply sauté your vegetables, add broth and noodles, then simmer with your leftover chicken- it is that simple! You will have a quick and easy dinner within 20 minutes.
Sauté vegetables and seasonings: In a large pot over medium high heat, add the olive oil, carrots, celery, and onion. Sauté until tender 4-5 minutes. Add the garlic, fresh thyme, and salt and pepper and sauté for 1 minute more.
Add broth and noodles: Pour in the chicken broth and egg noodles and bring to a boil on high heat. Reduce to a simmer and let the noodles cook until al dente for about 10 minutes.
Add chicken and simmer until ready to serve: Add in the chicken, and fresh parsley right before serving and continue to simmer until the chicken is heated throughout. Salt and pepper additionally to taste.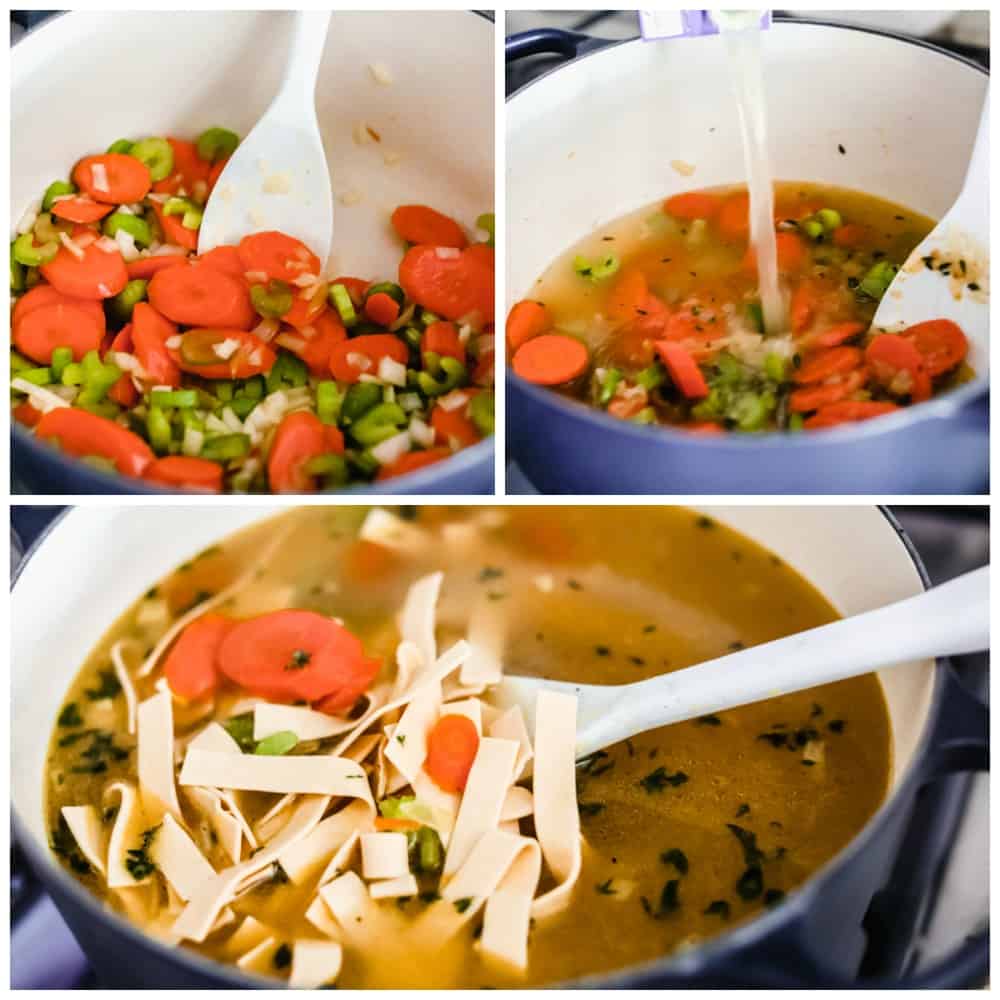 Variations to Try
I love my chicken noodle soup simple with just a few ingredients and flavorings. But here are more adventurous ways of making chicken noodle soup recipes! Substitute or add in to make this chicken noodle soup recipe your own.
Oil: Instead of oil you can use butter to sauté the vegetables.
Vegetables: Spinach, green beans, peas, zucchini, canned tomatoes, corn or even potatoes are some things to try.
Seasoning: Try adding or substituting any herbs to fresh or dry.
Meat: Leftover meat is always best and trying turkey, variations of chicken or shredded ham are always great.
Broth: Switch out your chicken broth for turkey broth or bone broth for different variations.
Noodles: Tortellini, bowtie pasta, small shell pasta or even spaghetti noodles are great to have if you don't have egg noodles on hand.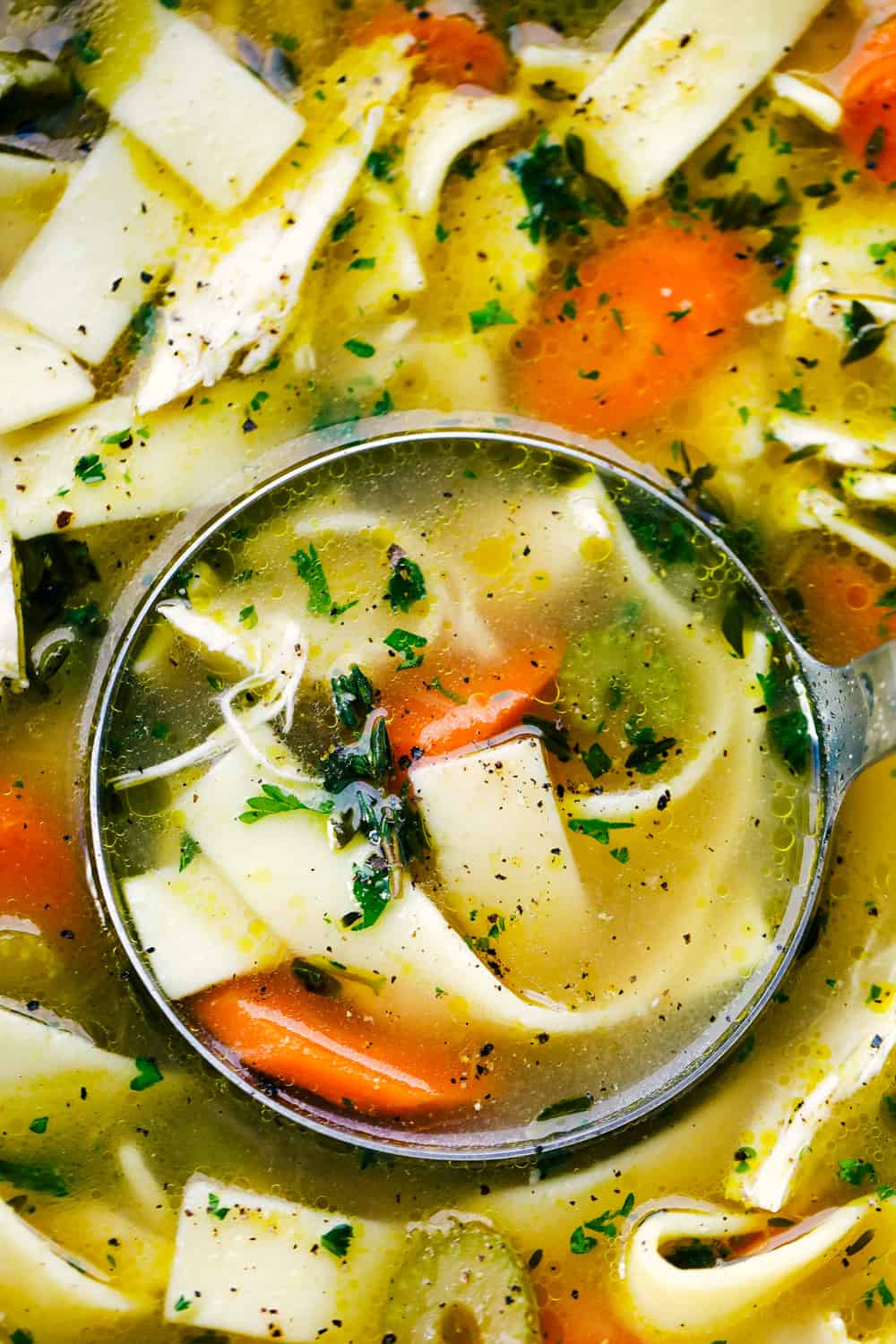 Cooking Tips
This chicken noodle soup recipe is simple and easy to make. And then, what is even better is how quick and easy it all comes together and tastes AMAZING! With these simple-to-use tips, you will have one fantastic chicken noodle soup! You will have your family and friends asking for more because it is one of the BEST chicken noodle soup recipes out there.
Cut vegetables ahead of time: To plan ahead, cut up your vegetables the night before or morning of before cooking. That way it just takes minutes to put everything in the pot.
Larger slices: Avoid your vegetables from getting soft and mushy by cutting them larger if you plan to simmer or use a slow cooker.
Use a slow cooker: Use a slow cooker for cooking your chicken noodle soup. Follow the recipe just leave out your noodles until ready to serve.
For thicker soup: To thicken you soup, add a starch like flour or cornstarch. In a seperate bowl, add about one tablespoon mixed with water and then continue to add more depending on the thickness and consistency you are looking for. If you plan to thicken your soup don't add the flour or cornstarch directly into the soup. It will clump up and won't work to thicken the broth.
Add more broth: As your noodles sit in the broth it will continue to absorb the broth and you will need to add more when warming up again.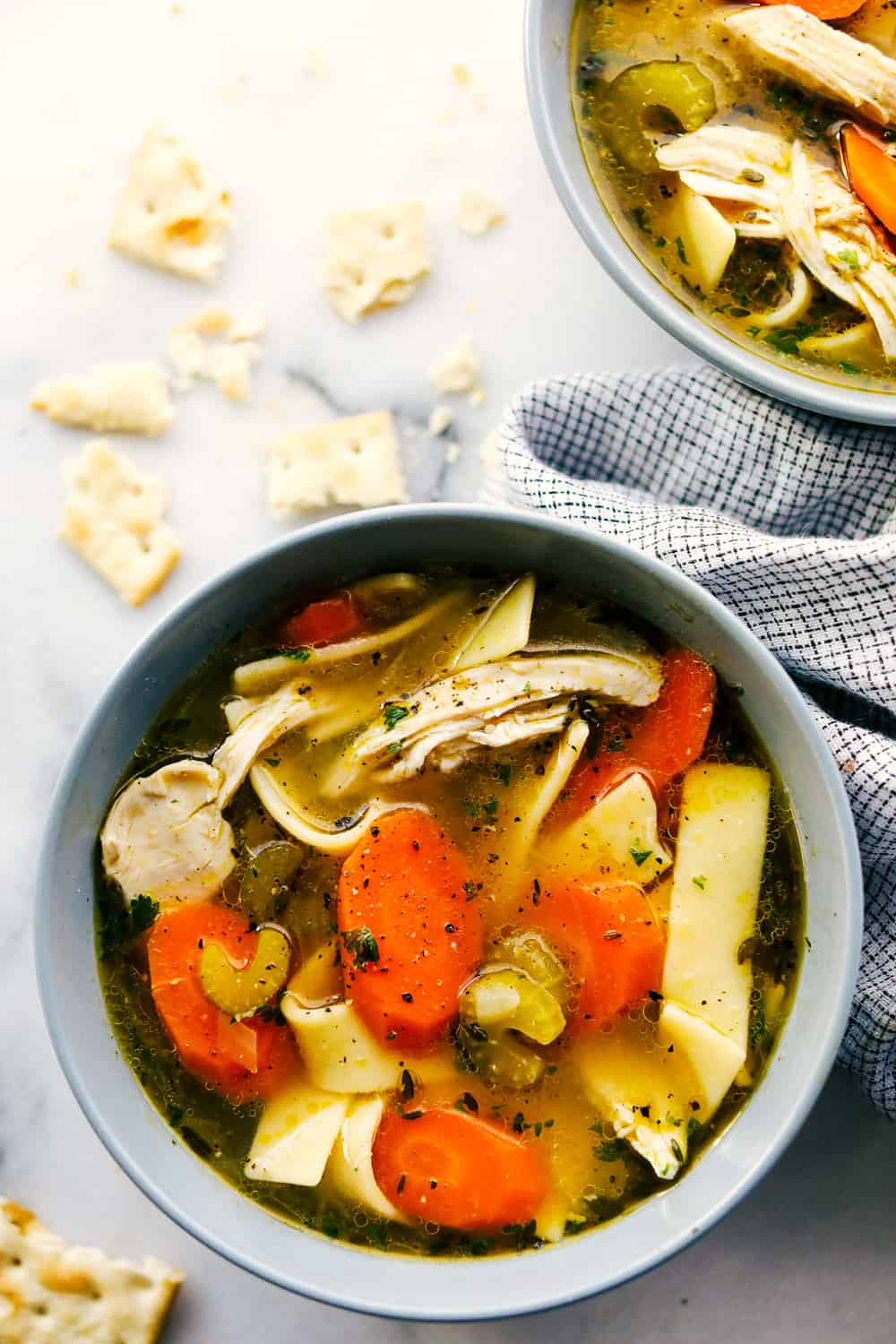 How to Store Leftover Soup
I love to double my chicken noodle soup recipe to have for now and then stored in the freezer. It will be the one soup everyone is raving about this winter season! It makes it perfect for warming up on the cold winter days or when I know someone is not feeling well.
In the refrigerator: Follow the recipe and let cool completely. Once your chicken noodle soup is cooled, place in an airtight container and store in the refrigerator for 3 to 4 days. When reheating you may need to add in more broth.
Can you make chicken noodle soup ahead of time? Yes! I love this recipe for that. Simply make and cook your chicken noodle soup. I like to leave out the noodles if I know I am making ahead of time. I even chop my vegetables thicken so they won't be mushy or too soft while cooking for a longer period of time. This is a great way to make it in a slow cooker too.
Can you freeze chicken noodle soup? Yes, this chicken noodle soup will freeze well. Follow the directions making the chicken noodle soup except skip adding in the noodles. Allow the chicken noodle soup to cool completely. Place in a ziplock bag and lay flat in the freezer. Make sure that you label the bag with the date! When ready to warm up then you can thaw it overnight in the refrigerator. When you are ready to eat then you can reheat iton the stove or in the microwave and add in the noodles at this time. This will last in the freezer for about one month.