This grain-free and low-carb Cauliflower Couscous recipe is flavoured with gorgeous pink beets, garlic and spices and topped with toasted hazelnuts. This is a delicious and healthy paleo alternative to couscous that is also vegan and Whole30 friendly.
---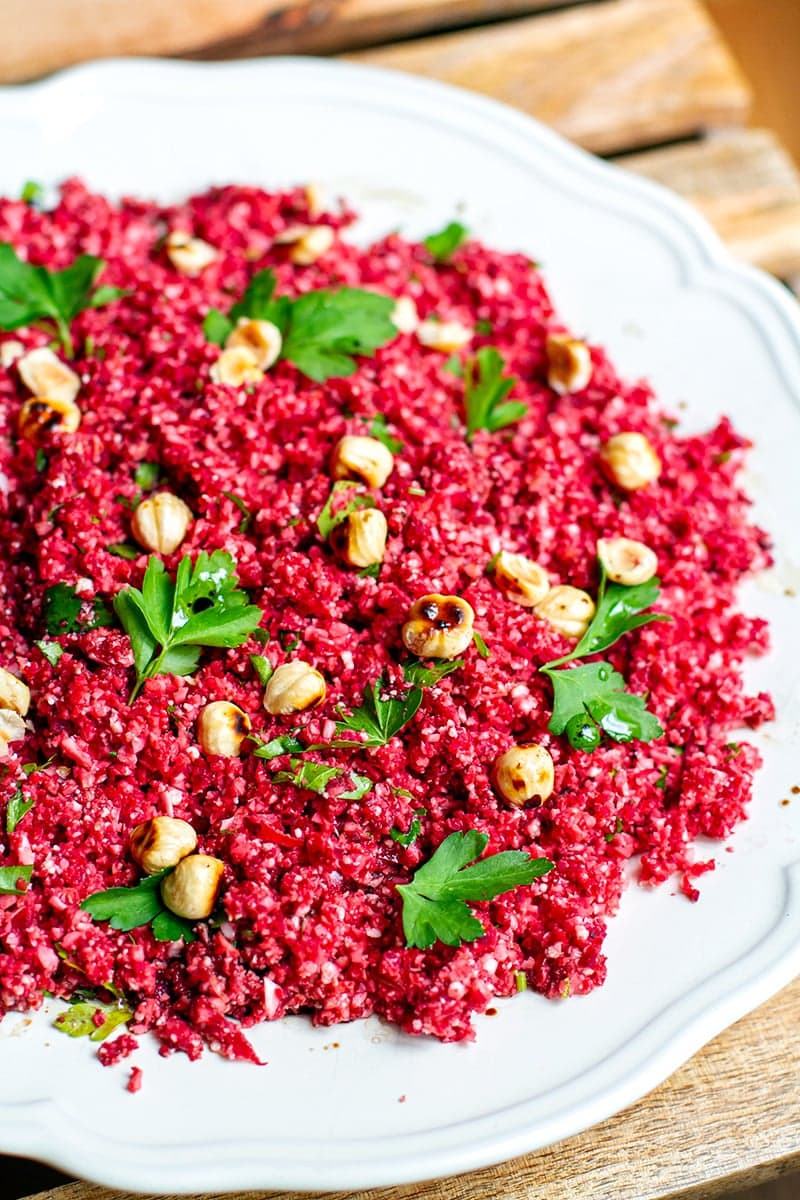 CAULIFLOWER COUSCOUS
This cauliflower and beet couscous recipe came about as I was thinking about a nice vegetable dish to go with our lamb cutlets. I often make a beetroot, mint and walnut salad with goat's cheese but I wanted something different and fun.
At first, I thought of making my yummy cauliflower couscous with pomegranate (recipe in my cookbook and I also shared it on the Balance Festival blog here) but I had some beets in the fridge and didn't have pomegranate, so a new dish was born.
I ended up with a warm salad made with finely diced or minced cauliflower and beetroot (like cauliflower rice) with roasted hazelnuts, garlic and parsley. It's such a perfect compliment to a lamb dish and is a fantastic little warm salad on its own. 
This cauliflower recipe is grain-free, low-carb and keto-friendly, paleo, Whole30 and vegan.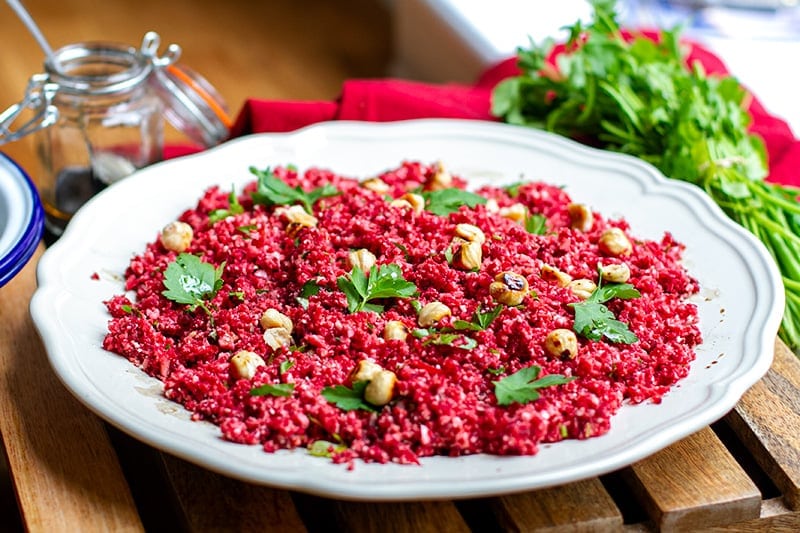 WHAT TO SERVE WITH CAULIFLOWER COUSCOUS
This particular cauliflower couscous recipe was designed to pair with lamb cutlets. It goes really well with any red meat and is a great side dish for grilled steak or lamb kebobs or liver skewers. Simple grilled, pan-fried or roasted chicken is another meat that is well complemented by this dish.
For a vegetarian version, serve this beet 'couscous' with grilled halloumi on top or veggie bean or lentil burgers or plant-based sausages.
It's really nice to bring to a barbecue or a picnic or as a potluck side for a Moroccan or Middle Eastern-inspired feast.
Print
---
Description
Grain-free, low-carb cauliflower 'couscous' flavoured with gorgeous pink beets, garlic and spices and topped with toasted hazelnuts. Paleo, vegan (sub honey) and Whole30 (omit the honey).
---
---
Heat a medium frying pan and toast the hazelnuts over medium heat for 2-3 minutes. Stir frequently to prevent burning. Transfer to a bowl and set to cool slightly. Then place them in a towel and rub together with your hands, the shells will peel off easily.
In the same frying pan, sauté the onion in olive oil and a little sea salt for 5-6 minutes, until golden brown and soft.
Place beetroot, garlic and most of the hazelnuts (reserve a few whole nuts for garnish) in a food processor and grind into small crumbs. Alternatively chop finely with a knife.
Add ground beetroot, garlic and hazelnuts to sautéed onion and cook together for a minute or two, add extra olive oil if needed.
Place cauliflower florets in the food processor and grind them together into small crumbs. Add to the beetroot mix in the frying pan and stir through for a minute. Transfer everything to a large salad bowl.
Whisk and pour the dressing over the salad, add parsley or mint and stir well together.
Taste for salt and acidity, add a little more lemon juice if needed. Garnish with whole hazelnuts, parsley and some extra grated lemon zest.
---
Notes
Other nuts can be used instead of hazelnuts. I recommend toasting or roasting nuts for extra flavour.
You can use carrots instead of beets for an orange coloured version. You will need a food processor or mad knife skills for this recipe, basically lots of fine chopping.
If you can't get a hold of hazelnut oil, simply use 4 -5 tablespoons of extra-virgin olive oil or macadamia oil.
Keywords: Cauliflower, Beets, Beetroot, Couscous, Side Dish, Low-Carb, Paleo, Whole30
MORE CAULIFLOWER & BEETROOT RECIPES