This website may contain affiliate links and advertising so that we can provide recipes to you. Read my privacy policy.
Grilled Teriyaki Chicken is the ultimate quick and easy, absolutely delicious dinner! Tender juicy chicken is soaked in the BEST Teriyaki Sauce then grilled to perfection!
It is grilling season and nothing tastes better on a warm summer day. Try these grilled recipes for your next BBQ, Steak, Asparagus, or Shrimp.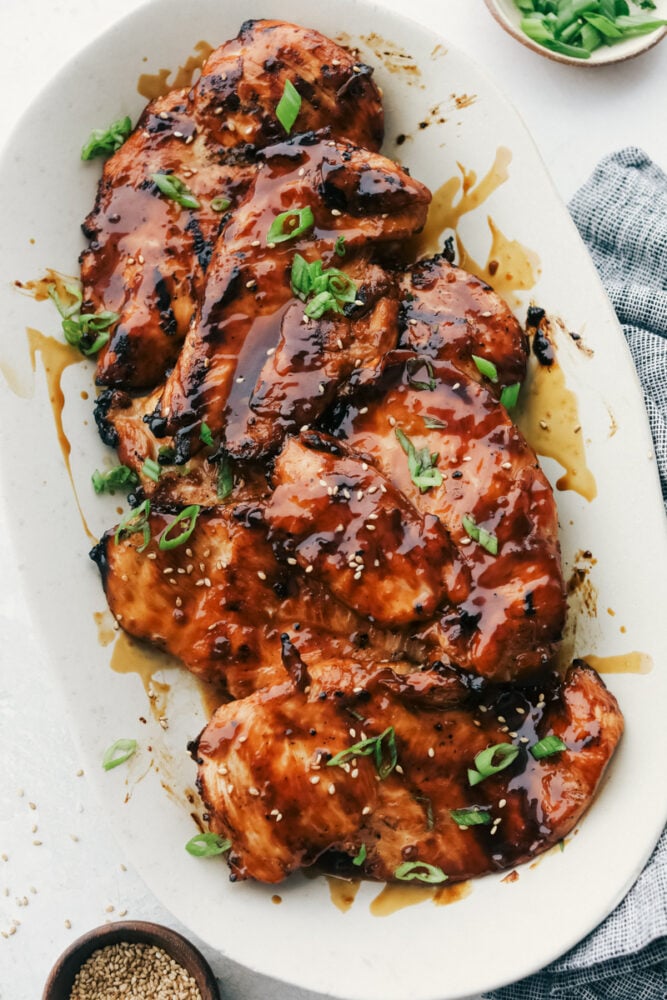 Teriyaki Chicken Recipe
This is one of the easiest most tasty dinners ever! The homemade teriyaki sauce is absolutely to die for, and super simple to make with this chicken. Let the chicken sit in the marinade for as long as possible but not longer than 24 hours or it can start to break down the chicken. I try to always do a few hours, so plan ahead. The teriyaki sauce with its sweet and savory flavors is a favorite flavor and soaks into the chicken leaving it juicy and amazing every time!
Grilling can seem intimidating but it couldn't be easier. Remember to heat the grill and clean it off before grilling. You do not want leftover food from your last grilling party to taint your chicken. Also don't forget to oil your grill! Super important, so that the chicken doesn't stick and rip when flipping. Use tongs to hold a wad of paper towels that have been dipped in some oil to grease your hot grill grates. This is one of my family's favorites and I know it will be yours too!
Ingredients for Teriyaki Chicken
Let the chicken marinate for at least 30 minutes and up to 24 hours.
Boneless skinless chicken breasts: For best flavor and grilling use fresh over frozen chicken breasts.
Homemade Teriyaki: You can use your favorite bottled or you can make this out of this world homemade Teriyaki Sauce
Green onions and sesame seeds for garnish: These are optional but they add both flavor and color.
How to Make Grilled Teriyaki Chicken
Marinated: In a medium-sized bowl add the chicken breasts. Add the prepared teriyaki sauce reserving ¼ cup.
Grill: Preheat your grill to high heat. Add the chicken to the grill and cook on each side for 3-4 minutes or until cooked through and no longer pink.
Cover and Enjoy: Baste the chicken with reserved glaze and put it on a plate and serve.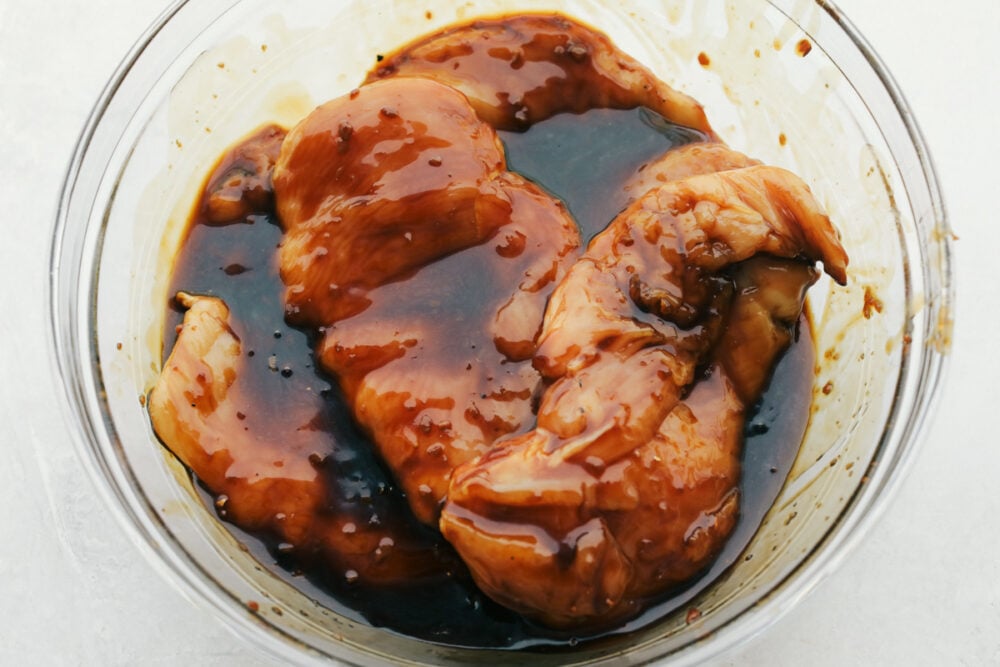 The Best Teriyaki Chicken Tips
This is succulent and juicy and full of flavor!
Chicken: Chicken breasts are easy to grill and can be juicy and tender, with just a few tips.
Pound: Pound the chicken to even thickness.
Marinate: Let the teriyaki sauce sit on the chicken for at least 30 minutes and as long as possible up to 24 hours. The sauce will help the chicken remain juicy and full of flavor.
Temperature: Cook the chicken till the temperature is 155 degrees. Remove it from the grill, cover it and let it sit for up to 10 minutes. It will raise to the perfect temperature of 165 while sitting. Making it safe to eat.
Baste After it's done grilling: Use the reserved teriyaki sauce (this is the part of the sauce that should not have come in contact with the raw chicken) to coat the chicken after it's been removed from the grill. The sugars in the sauce will cause burning on the outside of the chicken if put on while grilling.
Baked: You can bake this instead of grilling, follow the instructions that you can find here.
Other: Change out the chicken breasts for chicken thighs if you desire.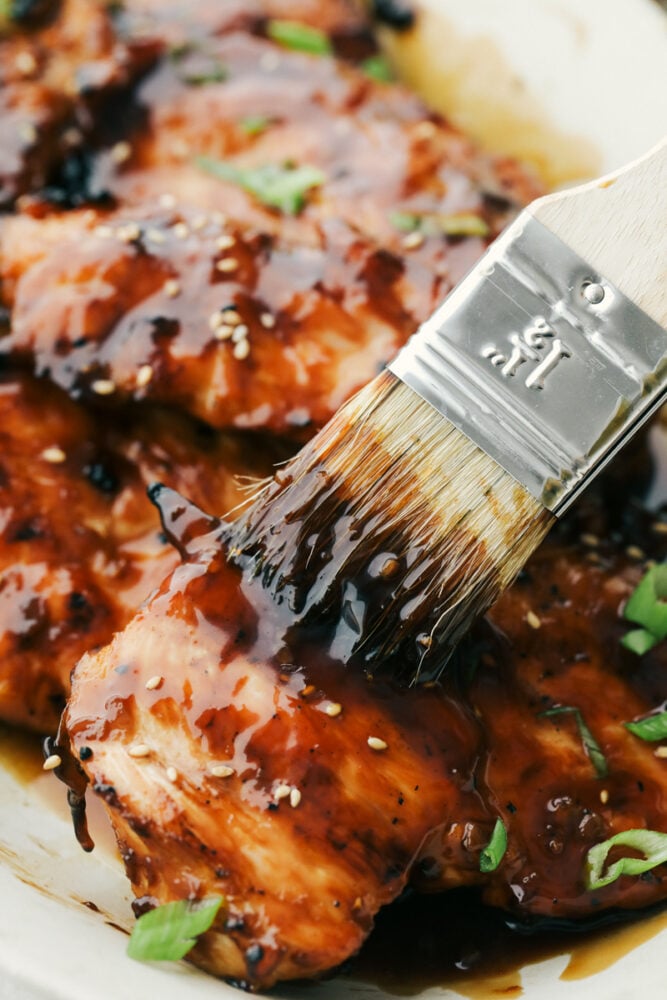 What to Serve with Grilled Teriyaki Chicken
Outdoor grilling is a wonderful way to keep the heat outside and the food delicious. We love to grill up extra teriyaki chicken and use it throughout the week in stir fry, this casserole, and salads. This chicken keeps beautifully in the fridge for up to 4 days. You can eat it warmed or cold. When we have it right off the grill I like to keep the rest of the sides light. It makes for a super refreshing meal. Top it off with a slice of this luscious lemon cake for the perfect meal.