This healthy chicken salad recipe is an absolute must-try! Grilled chicken is served on a bed of leafy greens and topped with gorgeous, spiced roasted cherry tomatoes and spring onions. It's a satiating, warm salad that can be served for lunch or dinner. It's gluten-free, paleo, and Whole30 friendly.
---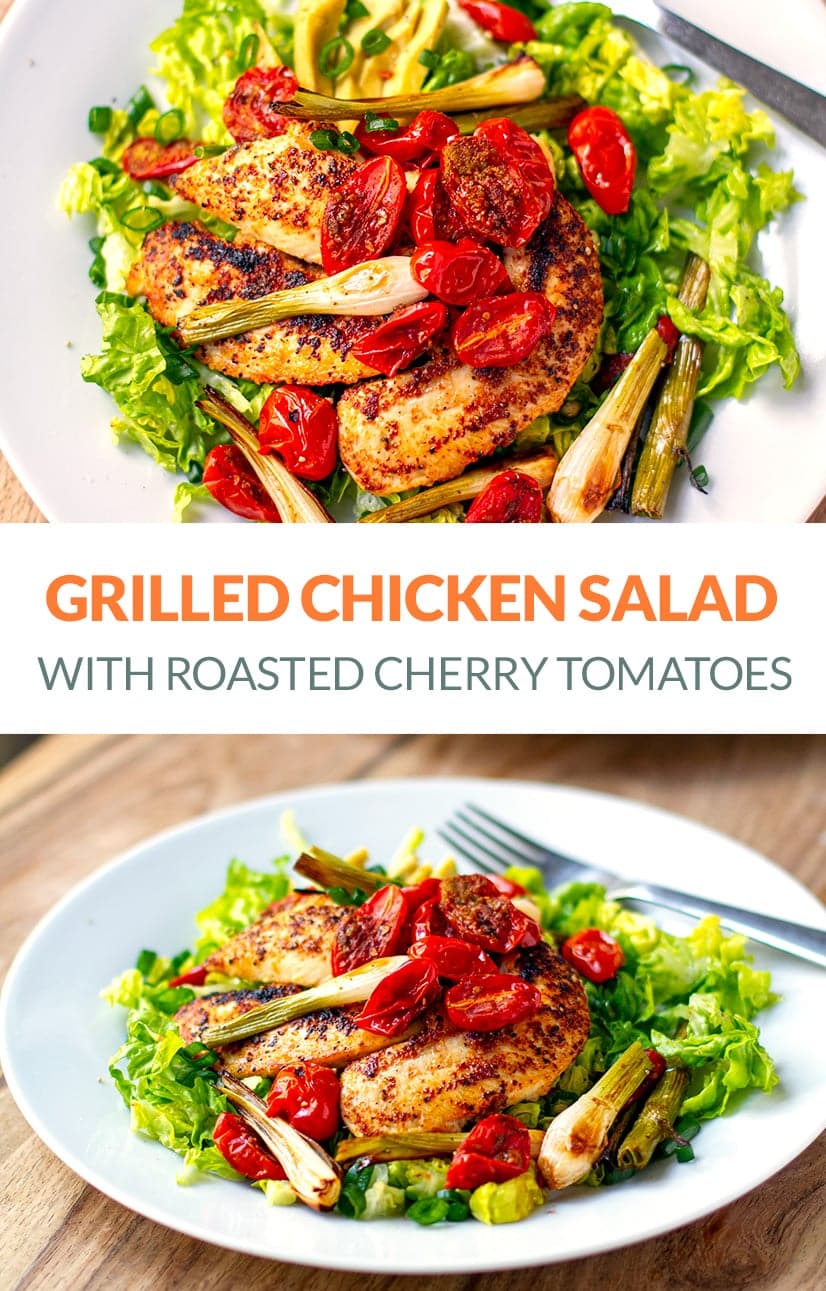 I love a good warm chicken salad but for this meal, I wanted to do something a little different. A little while ago, a friend of mine introduced me to cinnamon and cumin roasted tomatoes from Anna Jones' book. They are a revelation and you will never roast tomatoes differently!
Normally, I would roast cherry tomatoes this way to serve with poached eggs and smashed avocado (it's a beautiful trio!) but then I figured that they will probably go really well with something like fish or chicken. 
Spiced roasted tomatoes get all sticky and caramelised and have the most wonderful, intense flavour that pops in your mouth. As such, it acts almost as a condiment with any food you serve it with. And so, my grilled chicken salad has taken on a new form with the addition of roasted cherry tomatoes and some spring onions. I was going to use onions raw but then remember how much I love them roasted or grilled and they certainly worked like a dream.
Chicken Salad Nutrition Breakdown 
As with most chicken salad, the first thing to mention is the protein. There is plenty of it, which makes this salad filling and energising. Then, you've got antioxidant-rich tomatoes, which become even more nutritious once cooked. Onions (as well as garlic) are full of sulfur compounds and have long been studied for their cancer preventative properties.
Pair all of that with some leafy greens as a base and you've got yourself a damn nutritious meal! Find all the macros and micronutrients for this meal below the recipe.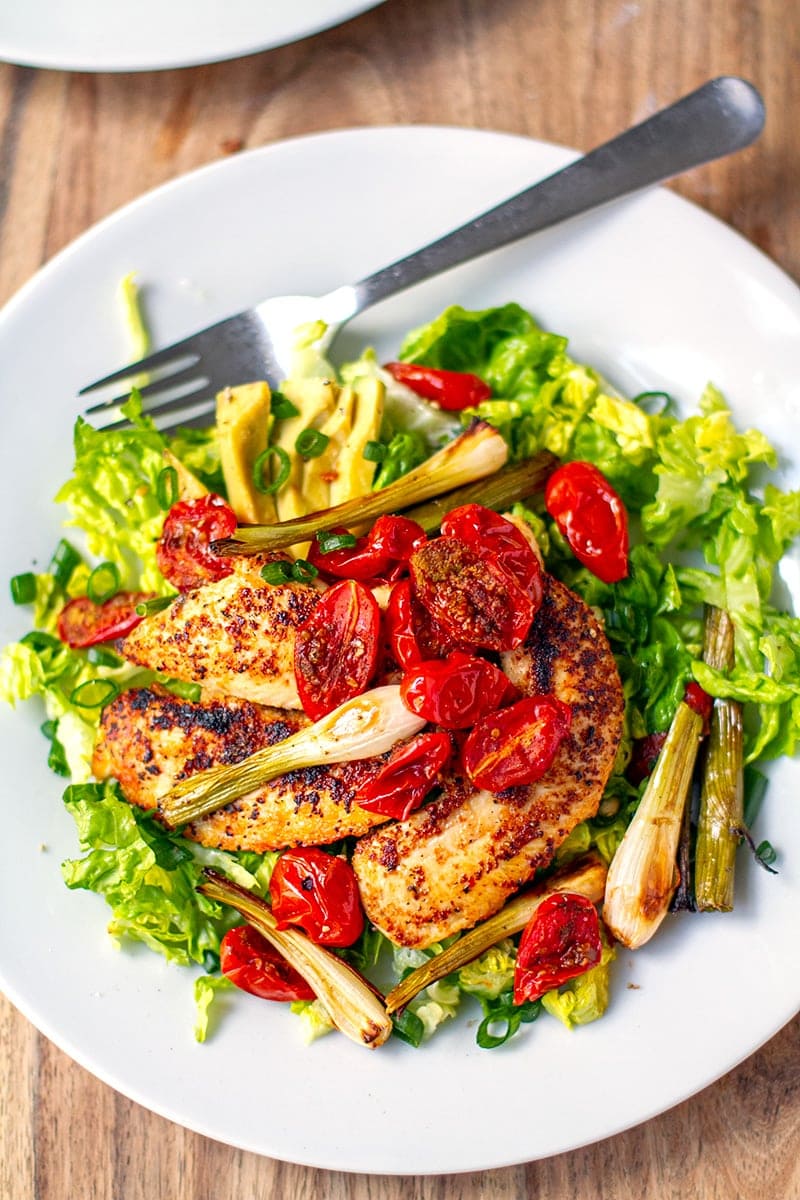 roasting cherry tomatoes
A little note on roasting cherry tomatoes. I personally find that cherry tomatoes work best for this method but you could also use regular Roma or round tomatoes and slice them thinly. Ideally, cumin seeds should be whole but I often used ground powder and it works just as well. Cinnamon is really the star here and it puts a magic spell on those tomatoes. It's an unlikely pairing that simply works. 
Grease a flat tray (not too deep) with olive oil. Place the halved cherry tomatoes face up and sprinkle with cinnamon and cumin seeds or powder. I like to add sea salt too as it really enhances the flavour of the tomatoes. You can grill or roast. I roast them for 25 minutes at 200 C / 400 F. They need to collapse and shrink a little and the bottom should brown and caramelise slightly.
You can do a big batch of roasted cherry tomatoes and store them in an airtight container or a Mason jar for up to a week in the fridge. Add them to eggs, salads or as a side to protein dishes.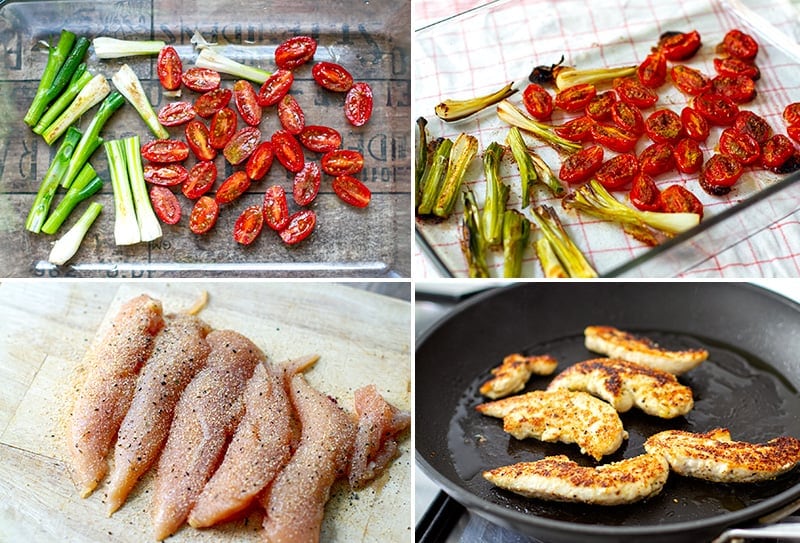 How to cook chicken for chicken salad
You have a few choices here. I seasoned and grilled the chicken pieces in a frying pan over medium-high heat. You can bake it or grill it in the oven, or fire up the BBQ. Up to you! 
I love using chicken tenderloins (a really tender muscle part of the chicken breast). They are thin and quick to cook and I find they rarely get tough or dry. But, chicken breast or chicken thighs can also be cooked. 
Make sure to season the chicken well. I like to use a combination of onion and garlic powder, sea salt, pepper and a little paprika. That's my go-to seasoning. I cook tenderloins or sliced chicken breast for 3-3.5 minutes each side. Thighs for 4-5 minutes. 
By the way, leftover roasted chicken or store-bought rotisserie chicken can also be used. It's all about those roasted tomatoes, to be honest, so it doesn't matter what chicken you use.
MORE RECIPES TO TRY
Superfood Fish Salad With Grilled Cajun Salmon & Kale
Chicken Kale & Apple Salad 
Turmeric Chicken, Kale & Broccoli Salad
Thai Chicken Larb Salad
Surf & Turf Salad With Creamy Dressing
Print
---
Description
This is healthy chicken salad recipe using grilled, seasoned chicken tenderloins, gorgeous, caramelised roasted cherry tomatoes and spring oinons served on a bed of gem lettuce. It's nutritious, gluten-free, paleo and Whole30 friendly.
---
---
Preheat the oven to 200 C / 400 F.
Drizzle an oven dish or a tray with olive oil. Sprinkle cherry tomatoes with cinnamon, cumin and a little salt and pepper and lay out on the tray skin side down.
Cut the green parts of the spring onions away (reserve for other uses) and cut the pale green and the white parts into two strips. If the white bulb is quite big, cut that in half (lengthways). Spread out the onion on the tray alongside the tomatoes (see image above). Pop the tray in the oven for about 25 minutes.
Sprinkle the chicken tenderloins with onion and garlic powder, salt and pepper and set aside.
When tomatoes are almost ready, heat a frying pan with 2 tablespoons of olive oil over medium-high heat. Add the chicken pieces and cook for 3 minutes on each side. Tenderloins are quite thin so they don't need much cooking time. After about 6 minutes, turn the heat off and leave the chicken to rest in the pan.
Assemble the lettuce leaves on two plates and top with sliced avocado. Drizzle with a little lemon juice and olive oil (about 1/2 tablespoon each). Arrange the chicken pieces over the lettuce and top with roasted tomatoes and onions. Sprinkle with fresh green onions and little more cracked pepper and sea salt if you like.
---
Nutrition
Serving Size:

2 bowls

Calories:

524

Sugar:

7.5 g

Sodium:

1371.8 mg

Fat:

34.6 g

Saturated Fat:

5.2 g

Carbohydrates:

20.6 g

Fiber:

7.5 g

Protein:

38 g

Cholesterol:

109.5 mg
|