Greek Dip with Tomatoes and Feta was a hit when I took it to a party, and when we ran out of the low-carb pita bread, people just ate it with a fork! 
PIN the Greek Dip with Tomatoes and Feta to try it later!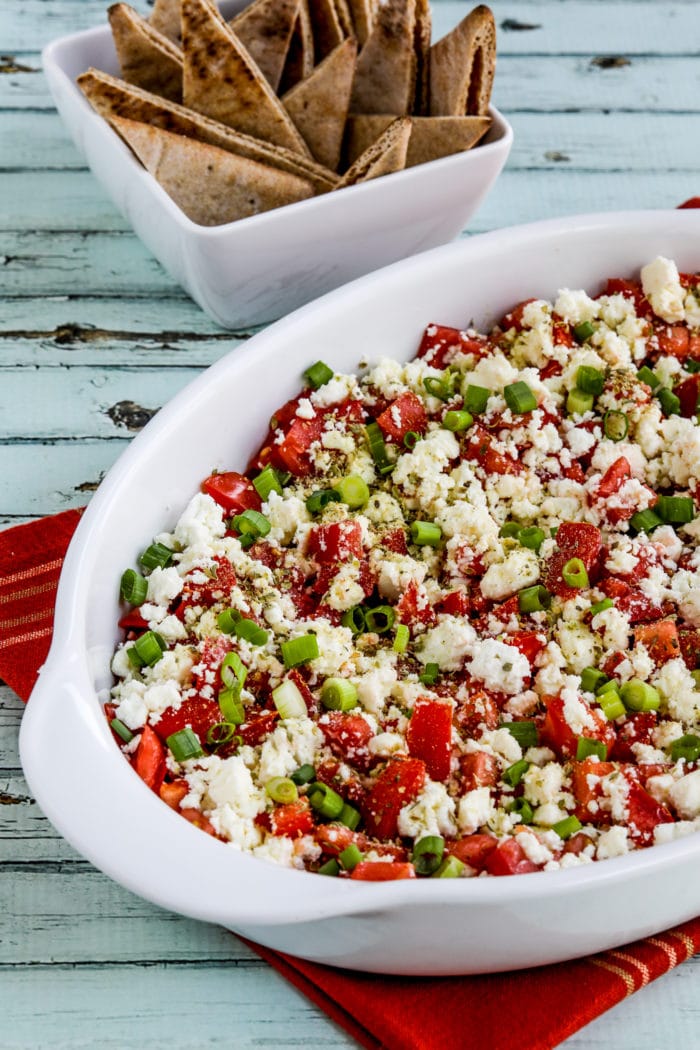 This week for Friday Favorites I'm reminding you about this amazing Greek Dip with Tomatoes and Feta, a recipe I got from my trainer Wendy after I told her I needed an appetizer for a party that night. Wendy told me about her favorite dip, and when I went to my car after the workout, I quickly wrote the ingredients on a piece of paper. I made it with some perfect fresh garden tomatoes and when I got to the party I realized the dish I took to assemble it in was too small for the amount of ingredients, and I didn't have nearly enough toasted pita. But not to worry! The dip that Wendy shared with me was a HUGE hit! In fact on a big table covered with more food than you can imagine, my dip was completely devoured in a few hours.
And when the pita bread ran out, people assumed it was a salad and spooned it onto a plate and ate it with a fork. It didn't hurt that I used heirloom tomatoes from my garden of course! But Wendy assured me that even if you make this in the dead of winter with cherry tomatoes, it will always be delicious. 
This recipe is Internet Famous!
Wendy didn't tell me where she found the recipe, and after I had made it for the party, made it again at home, taken photos, and edited the photos I thought of googling it to see if I could credit the source. I found so many blogs who had made something similar, but the earliest one I noticed was Feta Dip at Clover Lane, although I doubt that's where Wendy found it. Thanks Wendy, for the great workouts and this amazing new dip recipe. I can tell I'll be making it over and over again!
What ingredients do you need for this recipe?
high quality extra-virgin olive oil with good flavor
diced tomatoes
Feta cheese
sliced green onion
Greek Seasoning (affiliate link)
What Pita Bread did I serve it with?
There are a number of tasty things you could eat this with, but I used my favorite low-carb pita bread and it was perfect with the Greek Dip! I think it would be delicious with slices of cucumber, thinly-sliced jicama, or sweet mini-pepper scoops if you want even fewer carbs.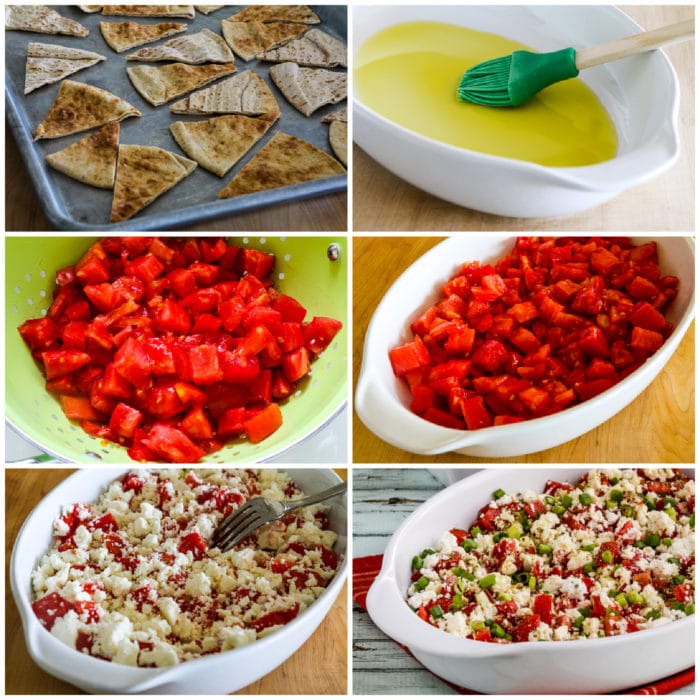 How to make Greek Dip with Tomatoes and Feta:
(Scroll down for complete recipe with nutritional information.)
I toasted my favorite low-carb pita bread for dippers; do that first if you want, or serve with pita chips, bread, or flatbread if you prefer. (Serve with gluten-free flatbread or crackers for gluten-free.)
Cover the bottom of a dish with a thin layer of olive oil, spreading around with a pastry brush.
Cut up tomatoes and drain for a few minutes in a colander if they're extra-juicy garden tomatoes.
Make a layer of chopped tomatoes in the dish.
Cover the tomatoes with a layer of crumbled Feta. (I wanted the tomatoes to show, so I took a fork and "stirred" gently to get some tomatoes to poke out.
Then make a layer of sliced green onion. 
Sprinkle with Greek Seasoning (affiliate link) and serve with something crispy to scoop up the dip.
Or for lowest carbs, serve as a salad and just eat with a fork! I promise, anyone who loves tomatoes and Feta will gobble this up!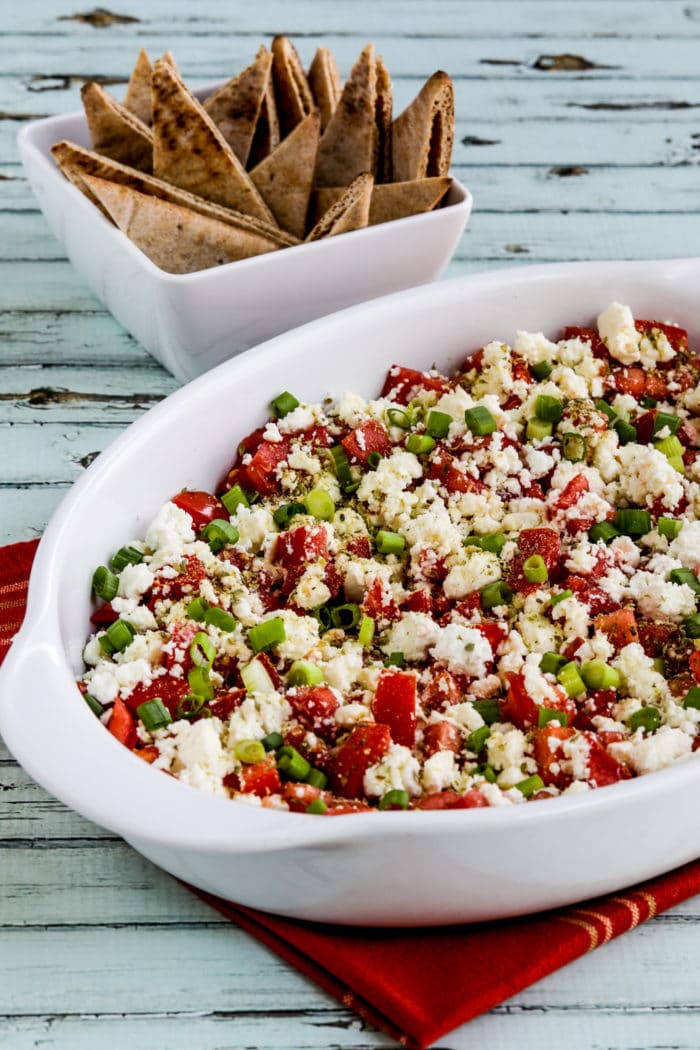 More Recipes for People Who Love Feta!
Baked Feta Cheese Dip ~ Lemons for Lulu
Sweet Potato Appetizer Bites with Feta ~ Kalyn's Kitchen
Avocado Feta Salsa ~ Garnish with Lemon
Spinach Salad with Bacon and Feta ~ Kalyn's Kitchen
Hot Bacon Feta Dip ~ The Cookie Rookie
Ingredients
2 T olive oil (use a high quality extra-virgin olive oil with good flavor for this recipe)
4 cups diced tomatoes
8 oz. block Feta cheese
1/4 cup sliced green onion 
1 T Greek Seasoning (or a bit more)
Instructions
If you're making the pita bread dippers, cut pita circles into eighths, lay out on baking sheet, and toast in a hot oven or toaster oven until it's just starting to brown. Watch carefully; pita bread only takes 5 minutes or less to toast at 400F/200C.
Spread a thin layer of olive oil in the bottom of the serving dish. (I used an oval-shaped dish that was 12 inches long and 8 inches wide at the widest part.)
Cut the stem end off tomatoes, then make 1/2 inch slices and dice each slice into small squares. (If you're using juicy garden tomatoes, you might want to let them briefly drain in a colander placed in the sink.)
Make a layer of tomatoes over the olive oil.
Then crumble the Feta over the tomatoes. If you want some tomato showing, take a fork and gently "stir" so the tomatoes are peeking out.
Slice desired amount of green onion into thin slices and sprinkle over the crumbled Feta.
Sprinkle with Greek Seasoning (affiliate link).
Serve the dip with toasted pita bread, bread, or flatbread, or just serve as a salad and eat with a fork! I doubt this will keep well in the fridge (refrigerating tomatoes destroys the flavor) but you probably won't have any left.
Notes
I toasted My Favorite Low-Carb Pita Bread to make the pita chips.
Nutritional information is for dip only, not including Pita Bread.
I got this recipe from my trainer Wendy.
Nutrition Information:
Yield:
8

Serving Size:
1

Amount Per Serving:
Calories: 127Total Fat: 10gSaturated Fat: 5gTrans Fat: 0gUnsaturated Fat: 4gCholesterol: 25mgSodium: 969mgCarbohydrates: 6gFiber: 3gSugar: 4gProtein: 5g
Nutrition information is automatically calculated by the Recipe Plug-In I am using. I am not a nutritionist and cannot guarantee 100% accuracy, since many variables affect those calculations.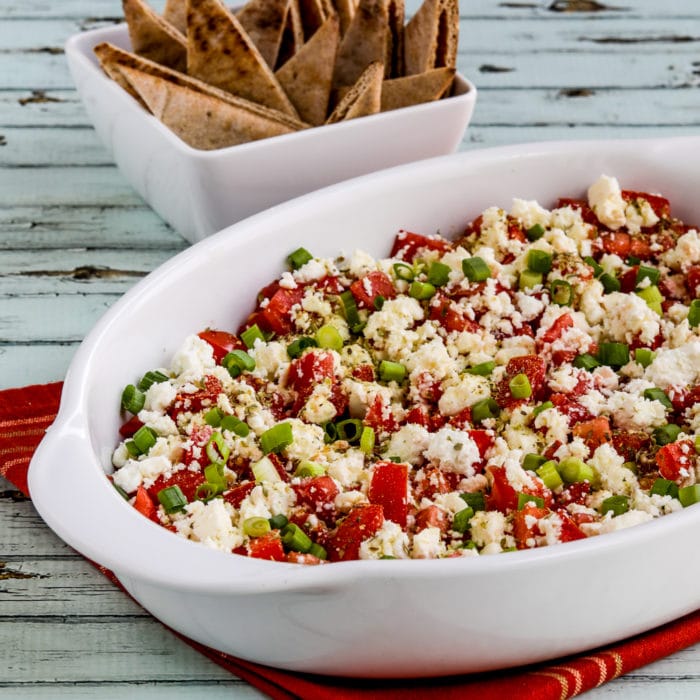 Low-Carb Diet / Low-Glycemic Diet / South Beach Diet Suggestions:
This dip is good for low-carb diet plans with the low-carb pita bread or one of the veggies suggested above as dippers. This recipe would be low-glycemic and good for the original South Beach Diet Phase Two with portion control.
Find More Recipes Like This One:
Use Appetizers to find more recipes like this one. Use the Diet Type Index to find recipes suitable for a specific eating plan. Or Follow Kalyn's Kitchen on Pinterest to see all the good recipes I'm sharing there.
Historical Notes for this Recipe:
This recipe was first posted in 2017. It was last updated with better photos and more information in 2021.
We are a participant in the Amazon Services LLC Associates Program, an affiliate advertising program designed to provide a means for us to earn fees by linking to Amazon.com and affiliated sites. As an Amazon Associate, I earn from qualifying purchases.