This website may contain affiliate links and advertising so that we can provide recipes to you. Read my privacy policy.
Cajun Garlic Shrimp and Grits are the PERFECT savory dish that you will want on your table. Best part is, it's easy and will make any busy week night delicious.
Shrimp and Grits Recipe
This meal fulfills so many wanted elements. It's got the Crispy Bacon, the Cajun shrimp that satisfies your hunger and the grits that pulls the whole meal together with it's hearty addition to the plate. I love this meal because kids also enjoy it and it gives the entire family a meal that tastes like a million bucks but only costs a few. I personally love that this meal is easy to make in big or small quantities. It's great for an easy week-night meal or a delicious Sunday dinner.
How do you make Cajun Shrimp and Grits?
First, in a medium sized skillet over medium-high heat. cook chopped bacon to desired crispiness. Remove with a slotted spoon and set aside. Drain Bacon Greece but leave approximately a tablespoon in the pan to cook the shrimp in.
Second, Add the shrimp to the skillet and sprinkle Cajun seasoning to taste. Add Garlic and cook shrimp for 3-4 minutes flipping until no longer pink.
Third, To make the Grits. (I used 1 cup Quick Grits) Add the water, Butter, Milk and Salt to a medium sized saucepan, and bring to a boil. Reduce the heat and slowly add in the Grits. Stir for about 5 minutes until the grits have reach your desired thickness.
LAST! Mix together shrimp and chopped bacon, and serve over grits.
How do I know when Shrimp is Done?
When the shrimp are no longer Pink in color and is taking on more of an opaque white color, is when I would consider them done. You do want to keep an eye on how white they do get and assure they do not overcook. Keeping an eye on size reduction in the shrimp as well is a great way to watch how "done" your shrimp are getting.
What makes it Cajun?
Cajun is a seasoning that comes in all kinds of ways. Finding your favorite Cajun seasoning is where it gets hard because there are so many great brands and varieties that you can choose from. The best way to find your favorite is trying multiple varieties. Keep an eye out for heat levels as well. Some may be spicier than others. The more Seasoning you add, the more heat it will have.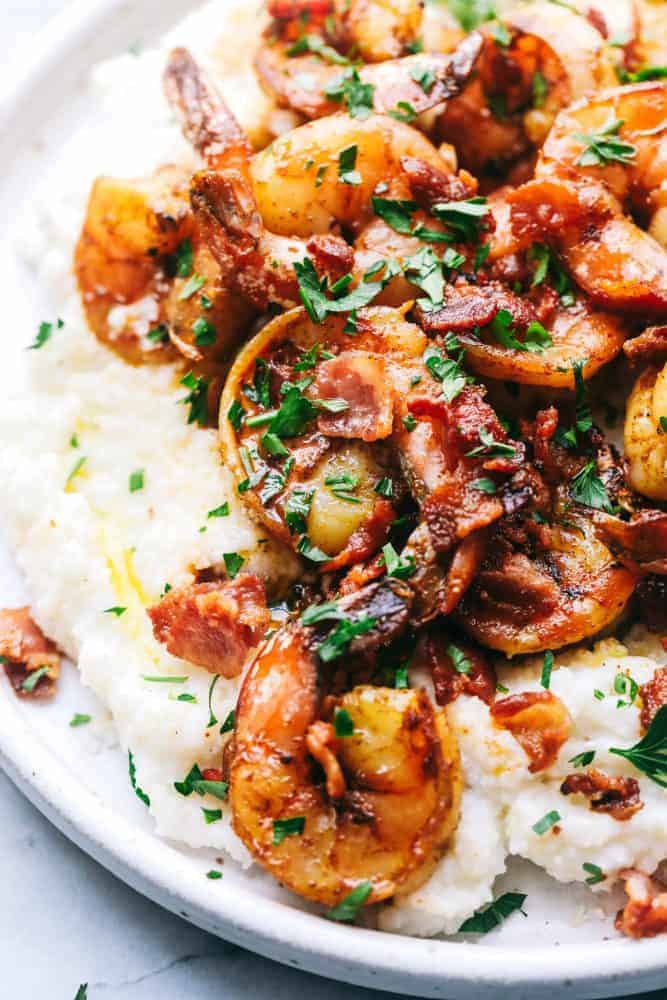 Looking for more Cajun recipes to try? Look no further!