I love shrimp cocktail, and these shrimp lettuce wraps with low-sugar cocktail sauce are delicious for a light meal or an appetizer!
PIN Shrimp Cocktail Lettuce Cups to try them later!
For this week's Friday Favorites pick I'm reminding you about Shrimp Cocktail Lettuce Wraps that are something I love for a light meal or appetizer! I grew up with a wonderful shrimp-loving dad, which might explain my own fondness for all things shrimp. Another flavor I learned to love from my dad is horseradish, the ingredient that gives that spicy kick to my low-sugar cocktail sauce.
This fun recipe combines those ingredients into a shrimp lettuce wrap meal that would be a healthy treat for anyone who's watching their carbs. And definitely you could make shrimp lettuce wraps a bit smaller and and serve this as an appetizer, and I bet this would disappear pretty quickly on a table filled with game-day foods! 
I know shrimp isn't a budget-friendly ingredient for some families, but I hope you'll splurge on it sometime when you're in need of a treat!
What ingredients do you need for this recipe?
sugar-free ketchup (affiliate link)
mayo (or more)
fresh-squeezed lemon juice
cream-style ground horseradish (affiliate link)
frozen cooked shrimp, thawed overnight in the fridge and drained well
celery
green onion
iceberg lettuce
How can you make Cocktail Sauce that's low in carbs?
Now that sugar-free ketchup (affiliate link) is widely available, it's perfect to use to make low-sugar cocktail sauce. If you prefer ketchup without artificial sweetener, look for low-sugar ketchups without artificial sweetener (affiliate link) which will add another one or two carbs per serving.
What Sugar-Free Ketchup did I use for Shrimp Cocktail Lettuce Cups?
I'm a fan of G. Hughes Sugar-Free Ketchup (affiliate link) which has only 1 carb in a tablespoon, and that's what I used for this recipe.
Can you mix the cocktail sauce with the other ingredients?
When I tested the recipe with Jake, we first mixed the cocktail sauce with the shrimp, celery, and green onion, but that watered down the sauce and we decided we liked this best when the lettuce cups are filled with the shrimp, celery, and green onion mixture with a dollop of sauce added on top.
Want more ideas for Low-Carb Lettuce Wraps?
If you like the idea of tasty low-carb food eaten wrapped in lettuce, check out my great assortment of Low-Carb Lettuce Wraps
How to make Shrimp Cocktail Lettuce Cups:
(Scroll down for complete recipe with nutritional information.)
Whisk together the sugar-free ketchup (affiliate link), mayo, lemon juice, and horseradish to make the cocktail sauce. 
Cut up one pound of cooked shrimp into pieces.
Slice celery and chop green onions; then combine them with the shrimp in a bowl. 
Cut a head of iceberg lettuce in half and make "cups" by peeling off 2-3 pieces of lettuce. (I confess, I trim the edges with kitchen scissors to make nice-looking cups to photograph, but you don't need to do that at home!)
Fill the lettuce cup with desired amount of the shrimp/celery/onion mixture.
Top with a generous spoonful of cocktail sauce and enjoy.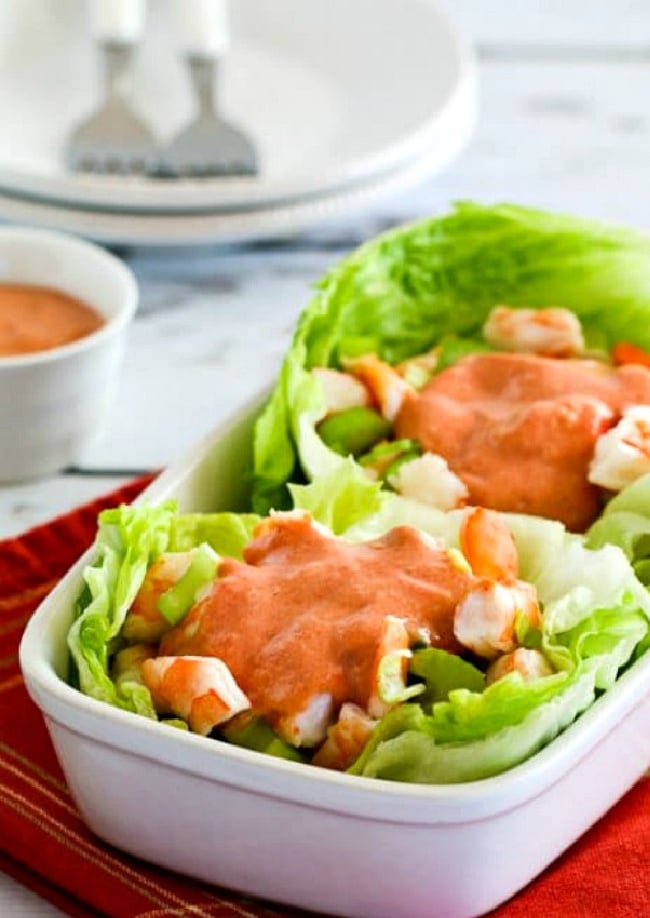 More Lettuce Wraps to Try:
If you'd like to make lettuce wraps using the Instant Pot or the Slow Cooker, you can find Slow Cooker or Instant Pot Lettuce Wraps or The BEST Instant Pot Lettuce Wraps on my Slow Cooker or Pressure Cooker site.
Ingredients
Low-Sugar Cocktail Sauce Ingredients:
1/3 cup Sugar-Free Ketchup
1 T mayo (or more)
1 T fresh-squeezed lemon juice (see notes)
2 teaspoons cream-style horseradish, or more (start with a smaller amount and taste to see how hot you want it)
Lettuce Cup Ingredients:
1 lb. frozen cooked shrimp, thawed overnight in the fridge and drained well
1 cup sliced celery
1/4 cup thinly sliced green onion
1 large head iceberg lettuce
Instructions
Remove shrimp from the refrigerator and let drain in a colander placed in the sink.
Whisk together the sugar-free ketchup, 1 T mayo, lemon juice, and 2 tsp. horseradish.
Then taste the cocktail sauce to see if you want more mayo (to make it creamier) or more horseradish (to make it spicier.) Add more as desired until it's as creamy/spicy as you like it.
When shrimp have drained well, pat them dry with paper towels.
Depending on what size shrimp you use, cut them into pieces as desired.  (I used 31-40 size shrimp and cut each one into three pieces.)
Slice the celery into thin pieces and thinly chop enough green onion to make about 1/4 cup.
Combine the shrimp, celery, and green onion in a bowl.
Cut the iceberg lettuce in half, cut out the core, and discard any wilted or damaged outer leaves.
Then peel off 2-3 pieces of lettuce at a time to form a "cup."  (I sometimes use kitchen scissors to trim the lettuce if I can't get a nicely-shaped cup.)
You may have to use two heads of lettuce to get enough cups to eat this much shrimp if your lettuce is small or doesn't separate well.
Scoop desired amount of the shrimp mixture into each lettuce cup and top with a couple of spoonfuls of the cocktail sauce.
Eat right away. You can keep the ingredients refrigerated separately if this makes more than you'll eat at one time.
Notes
I would use sugar-free ketchup (affiliate link) or low-sugar ketchup (affiliate link) for this recipe, but you can look for natural ketchup without added sugar if you don't want artificial sweetener. I love having fresh-frozen lemon juice for recipes like this.
This recipe created by Kalyn to satisfy her addiction to shrimp with cocktail sauce.
Nutrition Information:
Yield:
6

Serving Size:
1

Amount Per Serving:
Calories: 130Total Fat: 4gSaturated Fat: 1gTrans Fat: 0gUnsaturated Fat: 2gCholesterol: 162mgSodium: 877mgCarbohydrates: 5gFiber: 1gSugar: 2gProtein: 18g
Nutrition information is automatically calculated by the Recipe Plug-In I am using. I am not a nutritionist and cannot guarantee 100% accuracy, since many variables affect those calculations.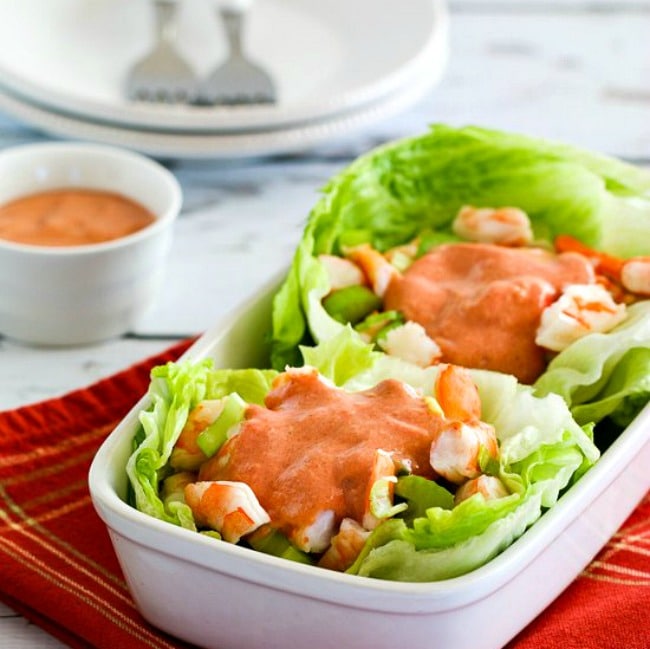 Low-Carb Diet / Low-Glycemic Diet / South Beach Diet Suggestions:
It's important to use Sugar-free ketchup, low-sugar ketchup, or no-sugar added ketchup if you're making Shrimp Cocktail Lettuce Cups for the original South Beach Diet or you want it to be a Low-Carb dish. With that caution, this would be approved for any phase of South Beach or any other type of low-carb eating plans.
Find More Recipes Like This One:
Use Lettuce Wraps to see more recipes like this one! Use the Diet Type Index to find recipes suitable for a specific eating plan. You might also like to follow Kalyn's Kitchen on Pinterest or on Facebook to see all the good recipes I'm sharing there.
We are a participant in the Amazon Services LLC Associates Program, an affiliate advertising program designed to provide a means for us to earn fees by linking to Amazon.com and affiliated sites. As an Amazon Associate, I earn from qualifying purchases.