If you love a little heat kick with your poultry, this Korean spicy chicken is a must-try recipe. It's inspired by the popular KFC (Korean fried chicken) and is gluten-free and paleo-friendly.
---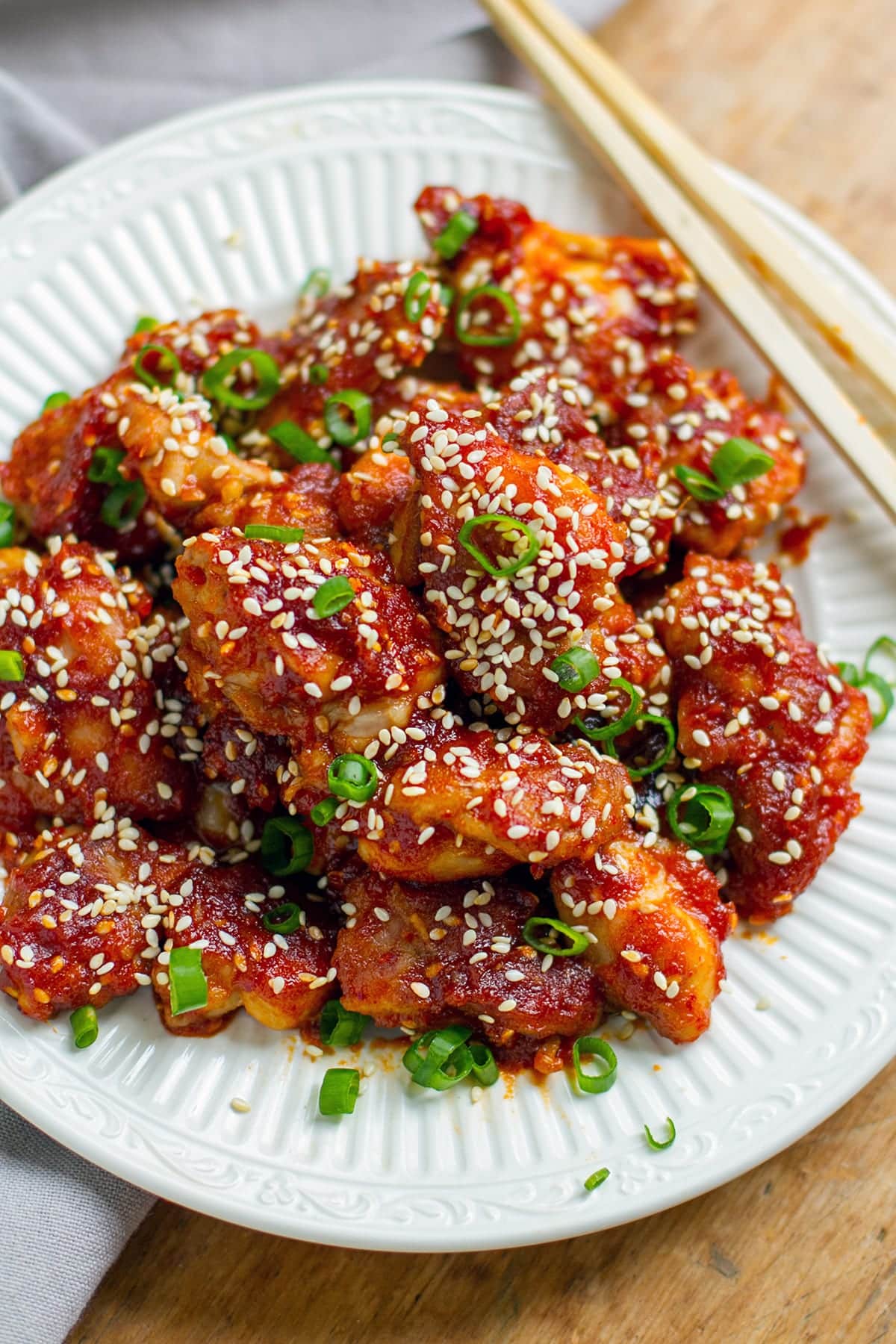 This dish is a total winner and will please both chicken and chilli lovers. It's inspired by the ever-so-popular Korean Fried Chicken (a different kind of KFC), which is crispy deep-fried chicken smothered in a spicy sauce made with gochujang paste (more on this one later).
This recipe is a healthier version. A) I'm not deep-frying the chicken in unhealthy vegetable oils, and B) my chilli sauce is made with much cleaner ingredients and less sugar.
The taste is still A-mazing, and although a little spicy, it won't make you break out in a sweat. It's a mild and warm kind of spicy, very flavourful and on par with the original Korean-style chicken recipe.
How To Make Korean Spicy Chicken
Using Korean Red Pepper
First, you have to make the sauce. Traditionally, gochujang paste is used as a base. It's a savoury, spicy, and pungent fermented condiment made from Korean red pepper – also known as gochugaru – plus glutinous rice, fermented soybeans, and salt. 
It's actually not so bad, especially as it uses fermented soy, but the problem is that many commercial brands of this paste also contain MSG and other added flavours and colours.
Instead, I am using Korean red pepper instead of the paste and adding other ingredients to mimic the flavour. You can find Korean red pepper in most Asian grocery stores and online on Amazon here.
It has smoky, fruity-sweet notes, with a hot kick but it's not too spicy in my opinion. For chilli lovers, the heat is similar to New Mexico or Poblano peppers, Indian Kashmiri red pepper is also quite similar.
Korean red pepper is a great addition to your pantry as it can be used to make kimchi or can be added to stir-fries and stews. You can use regular chilli powder as well but make sure to adjust the amount depending on how hot your powder is. Korean red chilli powder is mild.
Other Ingredients For Korean Chicken
The rest of the ingredients are pretty accessible and once you have everything you need, the recipe is very easy. If you're shopping on Amazon, I like this brand of fish sauce and this Tamari sauce.
I used chicken thigh meat as it's more affordable but you can easily make this recipe with chicken wings or drumsticks (you could bake the meat in the oven first and then toss it through the sauce), or you can make kebabs with chicken breast meat, grilled on the BBQ and brushed over with the sauce.
Grilled prawns or pork chops will also go well with this spicy Korean sauce. Basically, it's super versatile and you can always make a bigger batch to store in the fridge.
More Healthy Asian Chicken Recipes
Print
---
Description
Enjoy a little heat and lots of flavour with this Korean spicy chicken that is paleo, gluten-free and low in sugar. Serve with cauliflower rice, steamed Asian greens or a salad. Regular rice or rice noodles for non-paleo sides.
---
For the spicy sauce
Garnishes
---
Season the chicken with a little sea salt and set aside.
Add the sauce ingredients to a blender or a food processor. Blend together until fairly smooth, then scrape into a small saucepan. If you don't have a blender, grate the onion, ginger and garlic and mix well with the rest of the ingredients.
Add the sesame seeds to a clean frying pan. Heat over medium heat. Toast for a minute or two, stirring frequently, until the seeds brown slightly. Remove to a bowl.
Heat a dollop of coconut oil in a large skillet. Add the chicken pieces and cook over medium-high heat for 5 minutes on each side.
In the meantime, place the pot with the sauce over medium heat. Bring to simmer and cook for about 2 minutes, stirring frequently. This will thicken the sauce and cook some of the ingredients such as onion, garlic and ginger, making those flavours more subtle.
Once the chicken has cooked on each side, add the sauce over the top and stir through. Cook together for 2-3 minutes, stirring a few times. The sauce will caramelise and get even more sticky. Finally, sprinkle with some of the sesame seeds and stir through. Then top with green onion and the rest of the sesame seeds.
Serve with cauliflower rice or white rice if you wish and some greens.
---
Notes
The spicy sauce in this recipe uses Korean red pepper but you can use another type of mild red chilli powder. Make sure it's mild! Otherwise, reduce the amount to 1-2 teaspoons.
Nutrition
Serving Size:

200 g of chicken

Calories:

401

Sugar:

16 g

Sodium:

1899.7 mg

Fat:

15.5 g

Saturated Fat:

5.3 g

Carbohydrates:

21.5 g

Fiber:

1.8 g

Protein:

43.3 g

Cholesterol:

188 mg