This website may contain affiliate links and advertising so that we can provide recipes to you. Read my privacy policy.
These air fryer fajitas are packed to the brim with flavor but only take a few minutes to make! They are perfect for those on-the-go, busy nights, and everyone will go crazy over them!
The air fryer is a great kitchen appliance to use whenever you need a delicious dinner in a jiffy! Try out this perfect steak, this tender and juicy chicken, and this amazing salmon in your air fryer, and you will never go back!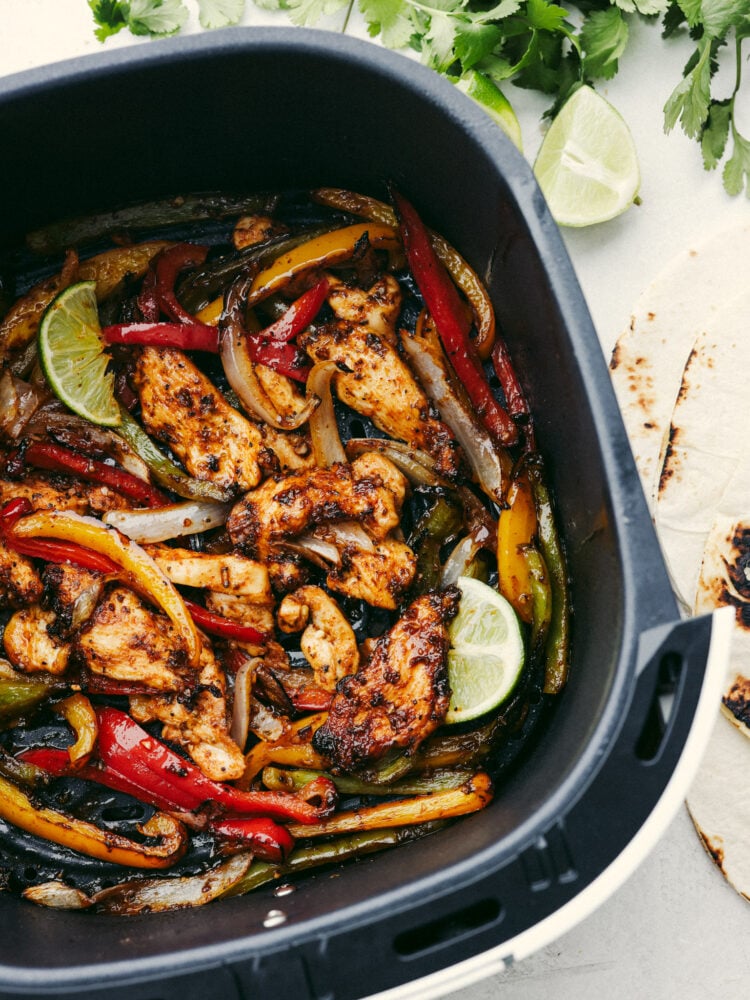 Can I Make Chicken Fajitas in the Air Fryer?
You have no idea how happy it makes me to tell you, YES! You can cook chicken fajitas in the air fryer, and not only are they quick and easy, but they are insanely delicious! The chicken is juicy and the vegetables are charred with flavor on the outside and tender on the inside. And the simple homemade fajita seasoning used to flavor them is out of this world!
The air fryer is tan awesome appliance because it not only makes foods taste as if they are straight from a restaurant, but the cleanup is easy, and the cooking is fast. These fajitas are done after only ten minutes. All you need to do is chop up the veggies and meat, drizzle them with some oil, add in the seasonings and cook! Flip everything over in the middle so that it cooks evenly, and before you know it, you have a delicious meal on your table and ready to devour! Eat these fajitas with some homemade tortillas and they will become a family favorite!
What's in Air Fryer Chicken Fajitas?
Ths ingredients are super simple and easy. Grab some of your favorite veggies from the store, along with some chicken, and you will be just about ready to go! Check out the recipe card at the bottom of the post for exact measurements.
Chicken Breast: Cut these up into sized that are the same so that they cook evenly.
Vegetables: Red, yellow, green peppers and an onion all sliced to the same size.
Olive Oil: Drizzle this on top so that the seasoning sticks!
Seasoning: You can use this super easy homemade fajita seasoning or you can use the store-bought kind that you love!
Tortillas: Make some flour tortillas or buy some at the store to serve with these delicious chicken and veggies.
How to Cook Chicken Fajitas in the Air Fryer
If you have 20 minutes, then you have time to make these fajitas! I love any meal that is delicious and easy (who doesn't??) so this recipe is a win in my book!
Cut: To start, cut the chicken breast into thin slices. Add it to a medium-sized bowl with bell peppers and onion.
Toss and Coat: Add in the olive oil and fajita seasoning and toss to coat.
Cook: Add it to the basket of your air fryer. Cook at 390 degrees for 10 minutes or until cooked throughout and no longer pink. Serve with homemade tortillas if desired.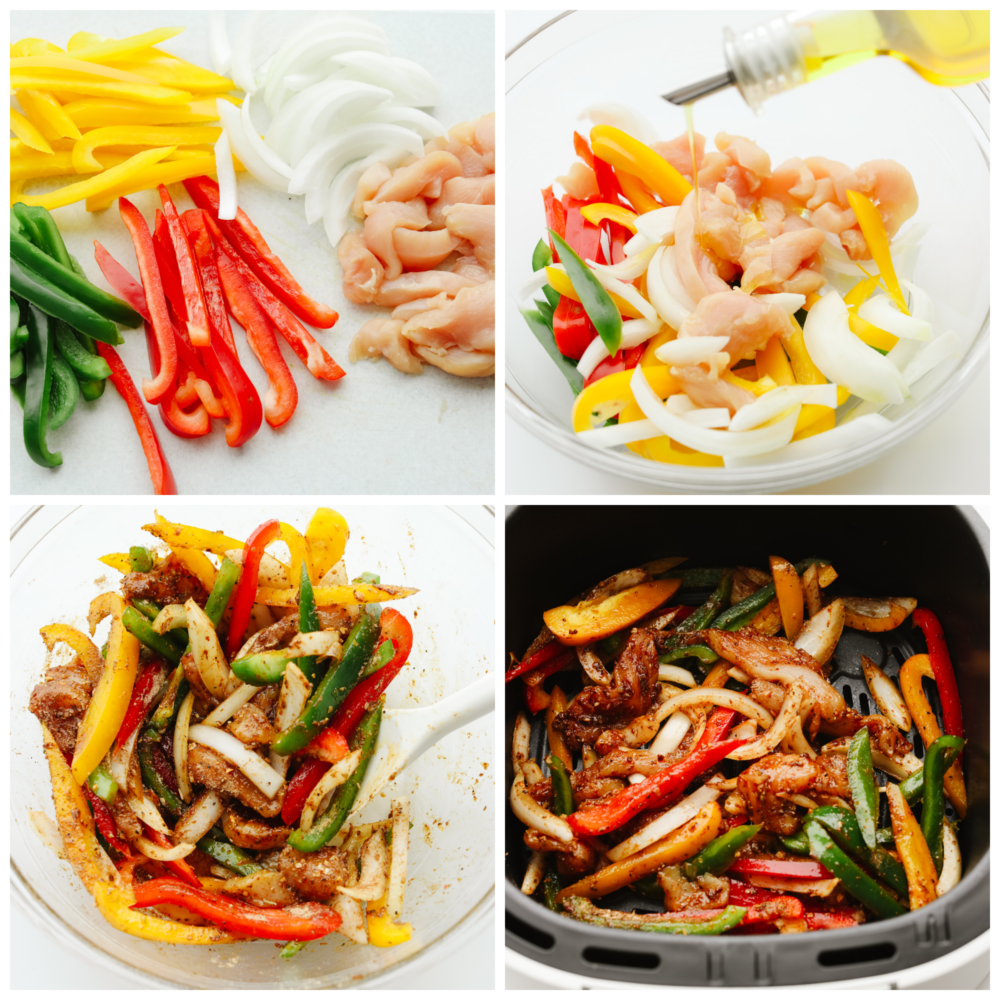 Tips for Cooking in the Air Fryer
If you are new to cooking with an air fryer, then I have some tips for you! These will help to make sure that your air fryer chicken fajitas cook evenly and turn out delicious every time!
Don't Overcrowd the Basket: If you put too much food on top of one another in the air fryer then it won't cook evenly! It will "steam" rather than bake your food and you will never get that delicious, charred edge on your meat. It's better to do a few smaller batches (if you have a smaller air fryer) than try to crowd everything in at once. Make sure that you just have one layer on the bottom of the basket.
Preheat: This step isn't necessary but I like to do it so that my cooking time is perfect. If your air fryer has a preheat button then go ahead and use that. If it doesn't, then while you are preparing your food, turn the air fryer on to 390 degrees fro about 3-4 minutes. Then, by the time you add your food in, the air fryer is all ready to go!
Variations
Change up these air fryer chicken fajitas by adding in different veggies or toppings! Here are some ideas that you can try to switch things up.
Protein: If you are not a fan of chicken, try some steak instead! It's super delicious and I love cooking steak bites in the air fryer.
Veggies: This is where the possibilies are endless! Try adding in some purple onion, a few mushrooms or you can even add or take out certain bell peppers. I love orange bell peppers in this too!
Toppings: Try topping your fajitas with some guacamole, salsa or sour cream. You can even switch out the flour tortilla for a corn tortilla if you are gluten free!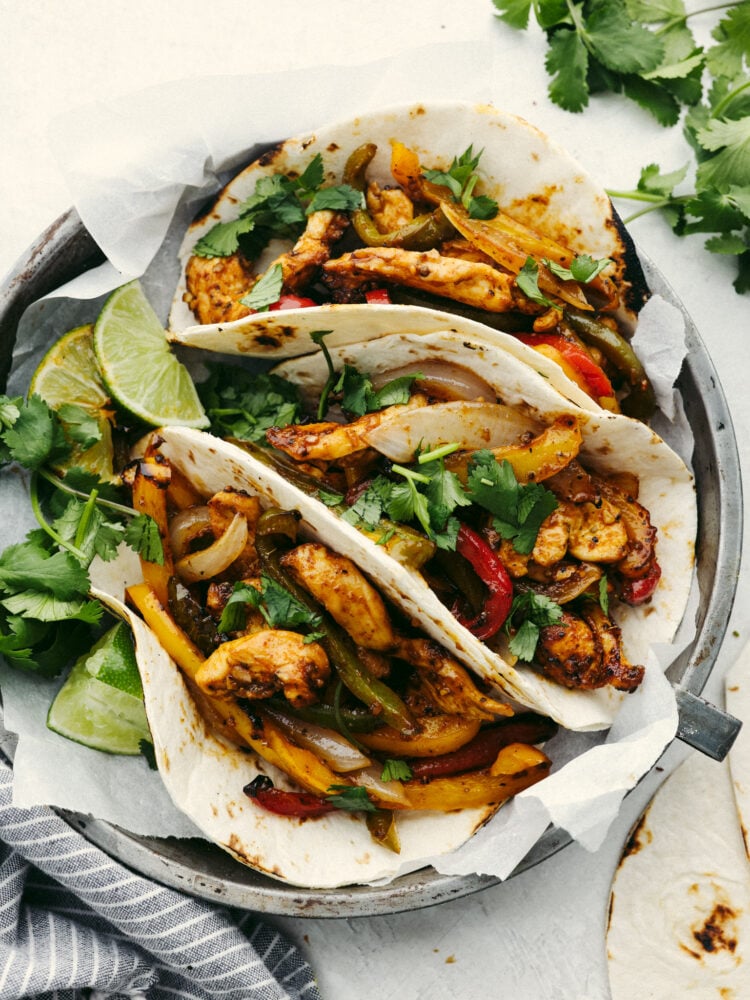 How to Store Leftovers
If you have leftover air fryer chicken fajitas then you are in luck! You can use your air fryer to heat those back up the next day and they will be as good as new!
Storage: Once your fajitas have cooled off then place it in an airtight container in your fridge. It will last 3-5 days!
Reheat: Put the leftover chicken fajitas in the air fryer and set it to 350 degrees. Cook for 3-5 minutes until it is heated through.
More Delicious Fajita Recipes
Fajias are the best because there are so many ways to cooke them and so many variations in all of the ingredients. They are different every single time! I've rounded up a few more of my favorites for you to try. The hardest part will be trying to pick out which recipe is your favorite. Good luck!