This website may contain affiliate links and advertising so that we can provide recipes to you. Read my privacy policy.
A quick and easy 30 minute meal that has all of the things that you love about a fajita. Bell Peppers, onions, pasta, and shrimp are in the most flavorful and creamy sauce that you are going to love!
I am so excited to be working with McCormick again this year and creating delicious and flavorful recipes to share with you! Some of you may be observing meat- free Fridays this month during Lent and I have a quick and easy recipe for you today.
Whether or not you are observing Lent this month, seafood is an easy swap to make and adds delicious flavor and texture to your dish. Shrimp is low in fat and high in protein and vitamin D. I also love cooking with all types of fish including salmon and it makes a great swap to meats with higher fat content.
I don't know about you guys but my pantry is full of McCormick Recipe Mixes. They are great to use to when creating a quick meal and add such delicious spices and flavor.
I wanted to create a 30 minute meal using the Fajita Seasoning Mix. They have so many different varieties and the possibilities are endless in creating a quick and easy meal! Friday nights can be so busy  and a delicious flavorful meal doesn't have to be complicating.
The great thing about shrimp is that they cook within minutes. You can even buy shrimp that is pre-cooked from the grocery store and pan sear it for a couple of minutes. You add some fajita seasoning on top of the shrimp and the flavor is amazing!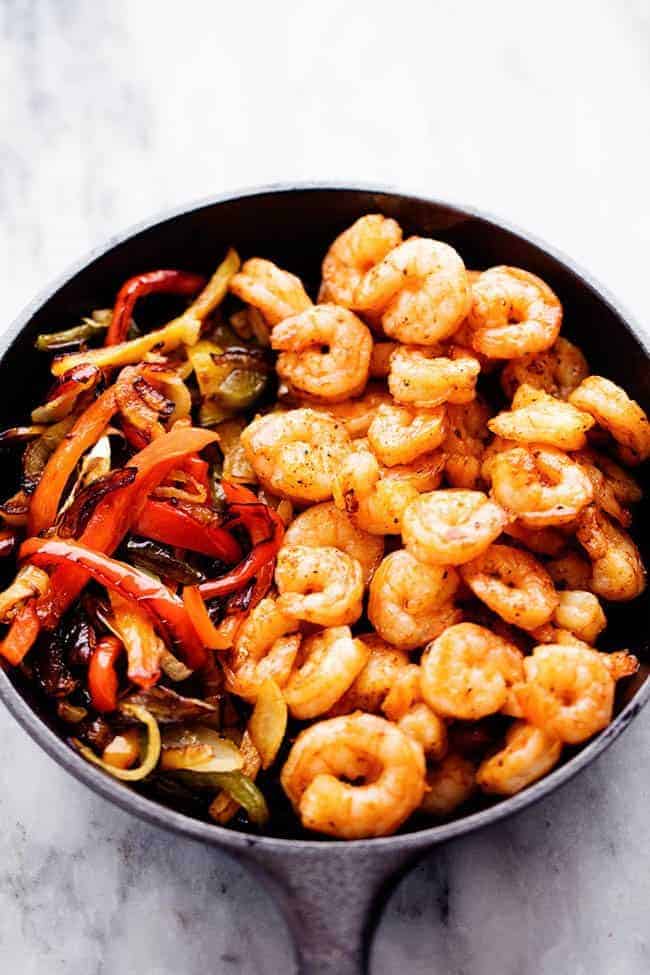 Once the peppers and shrimp are cooked you make the creamy fajita sauce. And oh my word. I can't even rave about this sauce enough! It is thick and creamy and coats everything perfectly in the dish. I love how the shrimp is hidden inside.
My hubby raved about this dish! He said it was one of the best things that I have made. He loves shrimp and said that this needs to go into the regular rotation. And I have to agree! I know that you will not be disappointed about this meal. It has all of the things you love about fajitas with a fun pasta twist. It is phenomenal!
Not to mention it is quick and easy to make and on the dinner table within 30 minutes. You guys are going to love this one and want to make it all year long!
For more delicious seafood recipes and inspiration for Lent be sure to visit McCormick.com! 
This post was sponsored by McCormick®. I love working with brands that I am passionate about and use in the kitchen for myself. All opinions expressed are my own.