This website may contain affiliate links and advertising so that we can provide recipes to you. Read my privacy policy.
This buffalo chicken salad is packed with fresh vegetables, feta cheese, and the perfect buffalo chicken. Layer this with some homemade dressing, and you'll have your new go-to salad recipe!
Salads have quickly become my very favorite things to make because there are so many to choose from! A few of my favorites are this wedge salad, this California spaghetti salad, and this fresh antipasto salad recipe.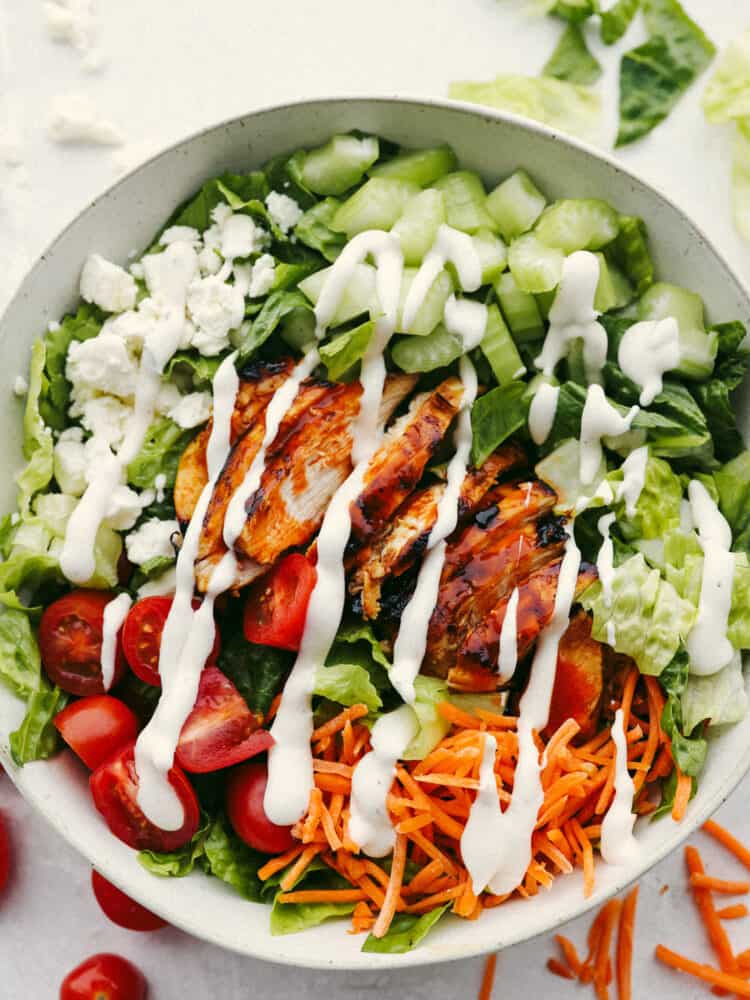 Buffalo Chicken Salad Recipe
This buffalo chicken salad recipe packs a punch and brings together the best of both worlds… Buffalo chicken and healthy and fresh lettuce. I love anything buffalo chicken flavored! This means that Superbowl parties and potlucks are some of my favorite gatherings because they always have buffalo chicken, whether that's wings or dip. Everything is so good smothered in that classic sauce that can have a little kick to it!
Enter in this salad, and suddenly, I can have my favorite buffalo chicken flavors all year long. It doesn't get much better than that! This salad has a fresh, cool taste with lettuce, carrots, celery, and ranch dressing. And then, the chicken not only adds protein and flavor, but it adds a bit of heat to every single bite. Trust me when I tell you that you cannot miss out on this dish! Because it's just too good!!
Ingredients in Buffalo Chicken Salad
This salad is fresh and insanely delicious. You will never go back to anything else when you need a delicious salad on the fly! Check out the recipe card at the bottom of the post for exact measurements.
Buffalo Chicken
Boneless, Skinless Chicken Breasts: Cut these so that they are thin (or you can pound them thin) (cut thin or pounded thinner). If you want to make it more simple, then you can even heat up some precooked chicken tenders and then coat them with the sauce.
Ranch Powder Seasoning: This adds easy and delicious seasoning to the dressing.
Frank's Hot Sauce: The hot sauce provides some heat. Use a little bit more if you want to crank that up a notch.
Honey: The honey helps with the texture and flavor.
Salad
Romaine Lettuce: Chop this up or rip it into bite size pieces.  
Grape Tomatoes: Even though these are small, you'll still want to cut these in half. 
Carrots: Just buy a bag of matchstick carrots to make your life simpler!
Feta Cheese: You cannot ever go wrong adding feta cheese to a salad! You could substitute these for blue cheese crumbles as well.
Celery: Dice this up into small pieces.
Ranch Dressing: You can drizzle this with homemade ranch dressing or blue cheese dressing!
How to Make Buffalo Chicken Salad
This salad comes together quickly and easily! It's a delicious lunch or mid-day snack! Make enough so that you can have leftovers the next day…
Buffalo Chicken
Whisk Marinade: Prepare your marinade by combining the buffalo sauce, ranch seasoning, and honey. Whisk until combined.
Coat Chicken: Place the prepared chicken in a sealable plastic bag, add the marinade, and move the bag around to coat the chicken. Then, allow it to marinate for 25 minutes or a few hours.
Cook Chicken: Grill, cook it up on a skillet or frying pan or bake the chicken until the juices run clear. The internal temperature should reach 165 degrees fahrenheit.
*TIP* I like to add extra buffalo sauce on top to give it an extra bold flavor!
Salad
Assemble: To assemble your salads, divide the salad ingredients evenly between 2 bowls. Or, combine them all into a large bowl and then make one salad to share!
Cut Meat: Slice the chicken and then add it to the salad.
Drizzle: Top with ranch dressing or blue cheese dressing. You can even sprinkle it with a little salt and pepper to enhance the flavors. Enjoy!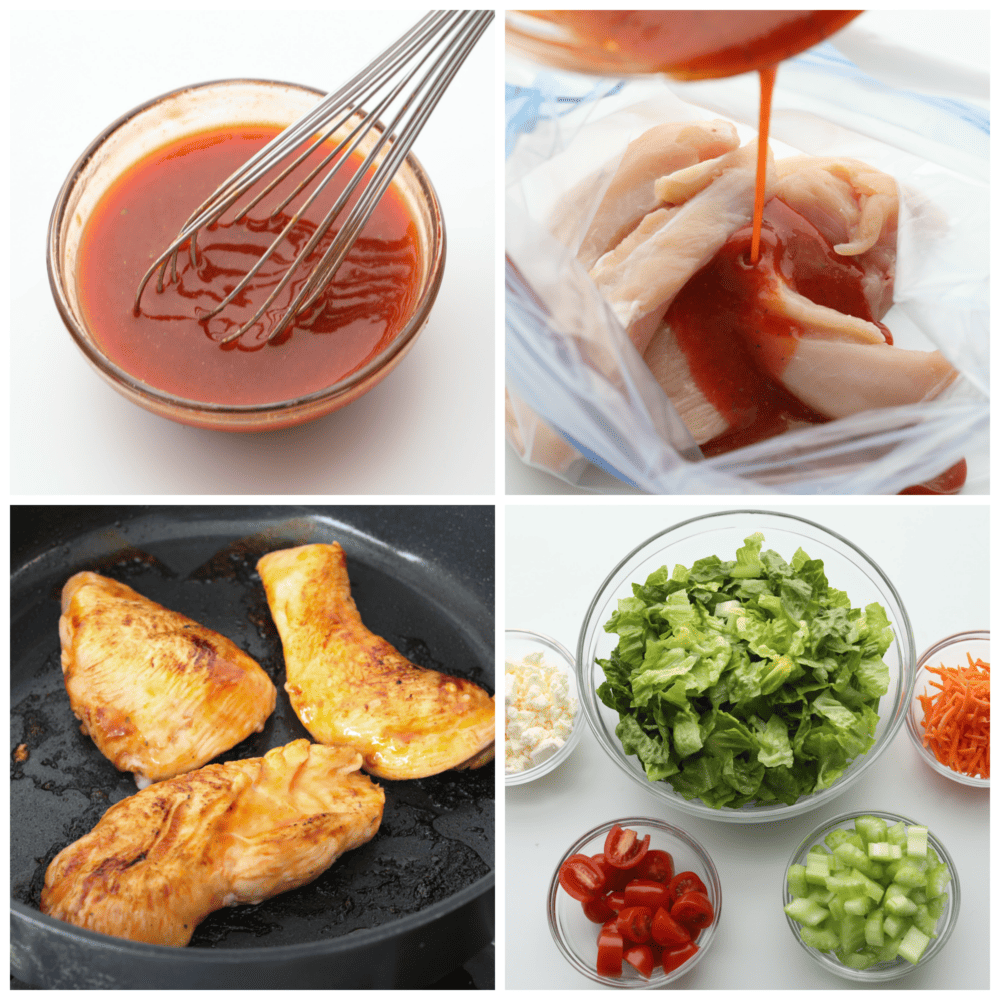 Variations
You can change this buffalo chicken salad up so quickly with different toppings and mix-ins! Here are a few ideas that you can try.
Nuts: Try adding in some nuts. I like using almonds, pecans or walnuts!
Vegetables: You can add in some avocados, cucumbers, green onions or corn into this salad and it will taste amazing!
Greens: Feel free to use spring greens, regular spinach or baby spinach in this salad. They are all delicious!
How to Store Leftovers
If you have enough of this buffalo chicken salad to save for leftovers then I recommend storing the lettuce/vegetables and the dressing separately. Just add the dressing on when you are ready to eat again so that the lettuce doesn't get soggy! Store everything in airtight containers in your fridge. They will last 2-3 days. Combine everything when you are ready to eat!