Stretch out summer with a tasty low-carb dinner cooked in foil; here are 18 Amazing Low-Carb Foil Packet Dinners! And depending on what time of year it is these can be cooked on the grill, in the oven, or even over a campfire.
PIN the Foil Dinners to try some later!
This round-up of Amazing Low-Carb Foil Packet Dinners has tasty dinner ideas that are wrapped in sheets of foil and cooked, and for most of these you can cook the foil dinner on the grill, in the oven, or even over a campfire! These wrapped-in-foil dinners that are sometimes called Tin Foil Dinners or Hobo Dinners are great when you want an easy meal without much clean up! And foil dinners are easy to personalize so every family member ends up with the ingredients they prefer.
Some of the foil packet dinners featured here are a complete meal wrapped in foil, and some are a main dish that's cooked in foil, but all are easy, fun to make, and delicious! You can use Low-Carb Round-Ups to find more round-ups like this one.
Tips for Making Foil Packet Dinners:
Whether you're cooking on the grill, in the oven, or over a campfire, wrapping ingredients in a double layer of foil is always a good idea. Heavy Duty Foil is best.
Spraying or brushing the inside piece of foil with olive oil or non-stick spray will help prevent food from sticking.
Put ingredients that take more time to cook at the bottom of the packet and quicker-cooking ingredients closer to the top.
If you have ingredients that take more time to cook, cut those in smaller pieces.
Season the food well before you seal the foil packet shut. Add something like oil, butter, or liquid to keep the ingredients moist inside the foil.
For best results, don't make foil packets too big.
Lay out the two pieces of foil and add ingredients. Then lift the inside piece of foil to the center and make several short folds to seal the foil shut. Then make several short folds on each end to seal the ends. Repeat the same folding process with the outside piece of foil.
You can cook foil packet dinners directly on the oven grates or grill grates, but for cooking over a campfire don't cook directly over fire. You can cook over coals that have burned down if you're careful to turn the dinners often, or use those standing grill grates that some campgrounds have.
Timing for foil packet dinners will depend on the ingredients you use, but generally cooking time will be the same for the grill or the oven, and slightly shorter for cooking on a campfire.
For most recipes, add cheese after the foil packet is opened.
You can make foil packet dinners ahead and refrigerate until you cook, but for best results let them come to room temperature before you put them on the grill, in the oven, or cook over a campfire.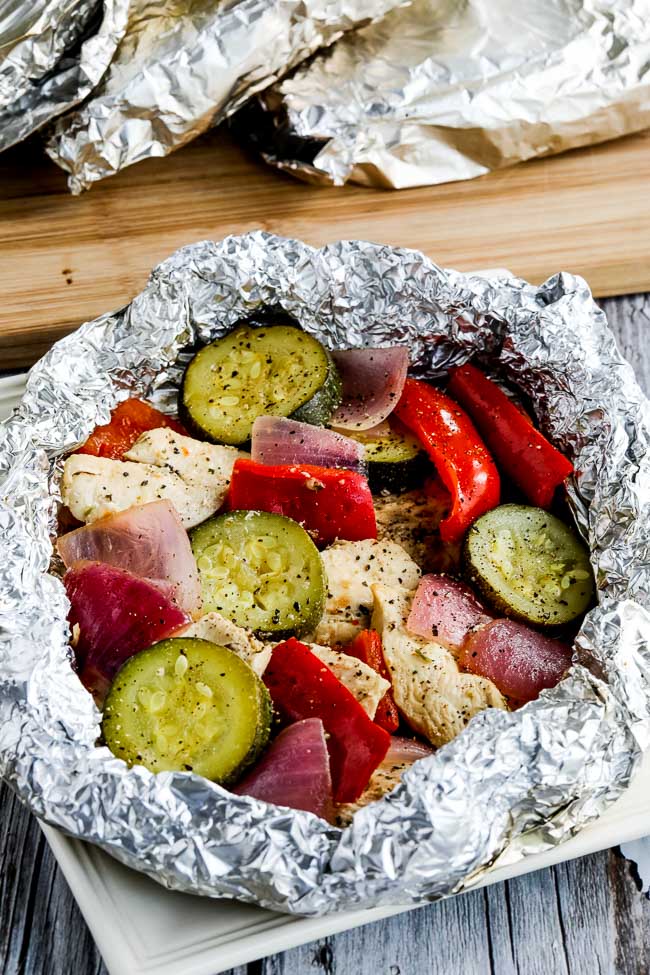 This Low-Carb Foil Packet Dinner from Kalyn's Kitchen is something I made for years when we used to have an annual Denny Family Campout, even though no one had ever heard of low-carb back in those days. And this was when it was called tin foil, although now it seems it's been officially shortened to foil!
Sausage and Shrimp Campfire Packets from All Day I Dream About Food look like a dinner that would be a hit whether you're camping or eating at home!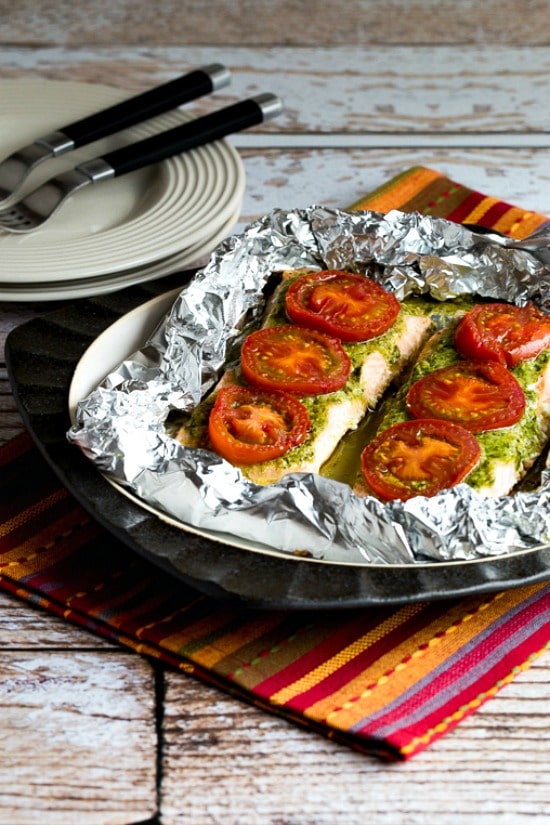 Baked Salmon with Pesto and Tomatoes from Kalyn's Kitchen is a recipe I have made many, many times for guests, and this has always been a hit.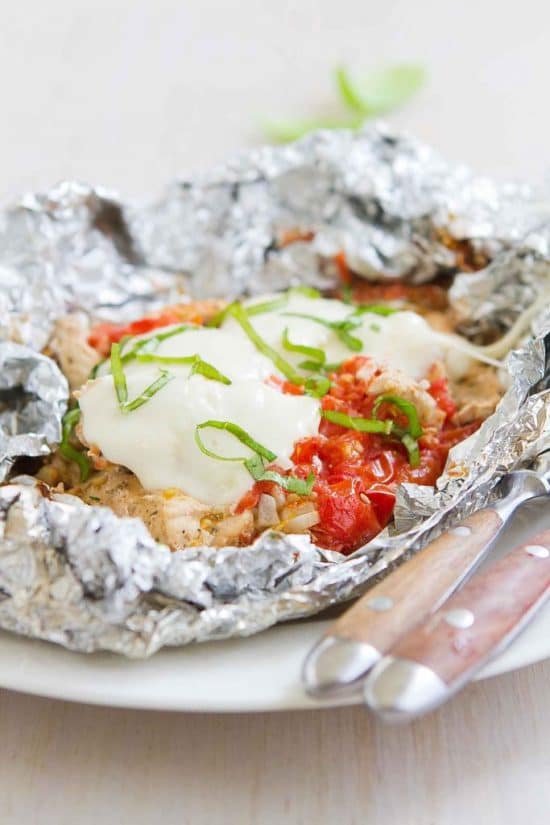 Dara from Cookin' Canuck says these Caprese Chicken Foil Packets can be cooked on the grill, in the oven, or over a campfire, and this sounds like a dinner just about anyone would like!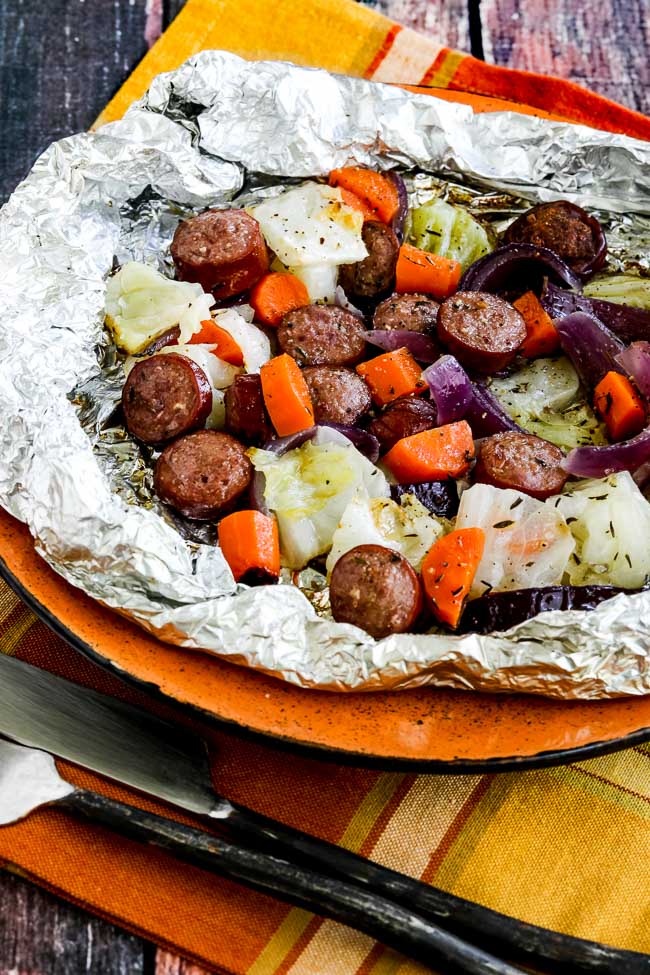 Autumn Tin Foil Dinners from Kalyn's Kitchen have autumn ingredients like cabbage and carrots, but you can certainly eat this any time of year. Use less carrots and maybe a bit less cabbage for fewer carbs.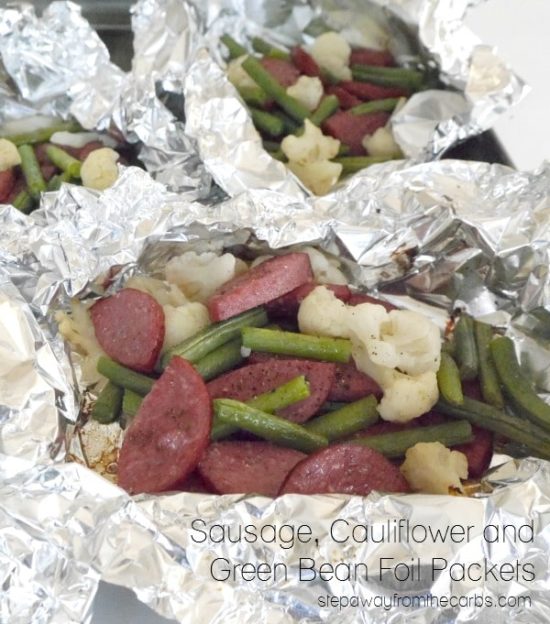 Another foil packet dinner that sounds like it would taste great any time of year is these Sausage, Cauliflower, and Green Bean Foil Packets from Step Away from the Carbs.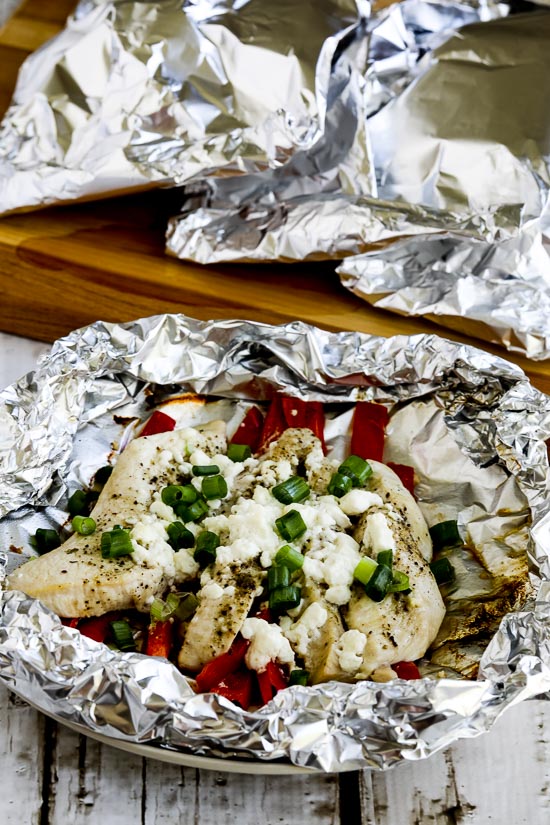 Greek Chicken Foil Packets from Kalyn's Kitchen have all those Greek chicken flavors I love, with melted Feta cheese, yum!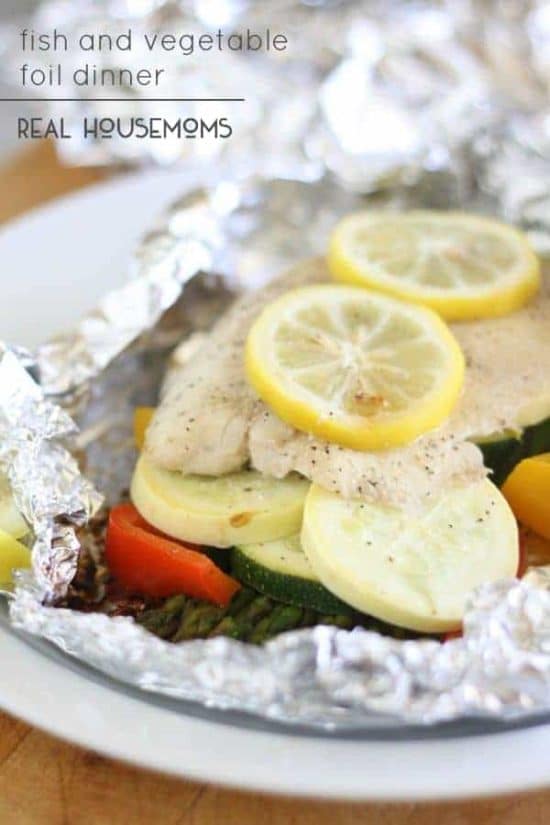 You could use the veggies you prefer for this Fish and Vegetable Foil Dinner from Real Housemoms, but the recipe as written has some great low-carb veggie choices.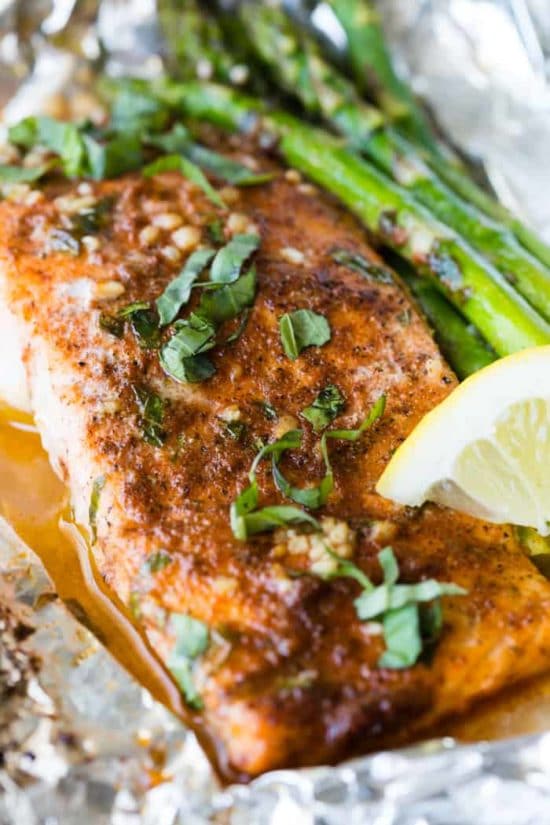 Asparagus and Salmon Foil Packets from Spend with Pennies sound easy and amazing, and I'm always up for a dinner with salmon and asparagus!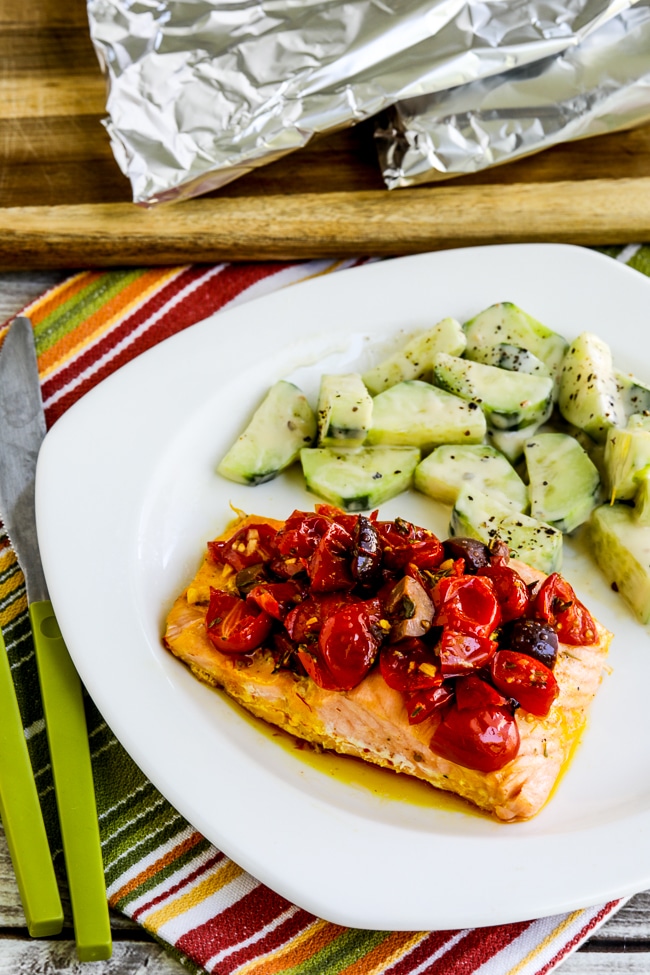 These Salmon Foil Packets with Tomatoes and Olives from Kalyn's Kitchen are a recipe I've enjoyed for many years! Don't worry if you don't have saffron; this will be delicious without it!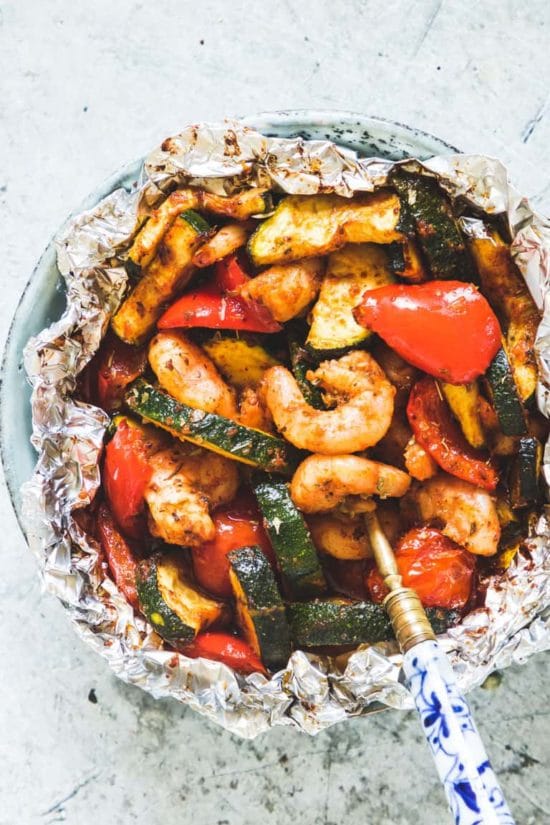 And I absolutely love all the flavors in these Shrimp Foil Packets with Zucchini from Recipes from a Pantry, and I bet any shrimp fan would love this dinner.
More Ideas for Cooking in Foil:
Baked Fish in Foil with Pesto and Tomatoes ~ Kalyn's Kitchen
Sausage and Veggie Grill Packets ~ The View from Great Island
Foil-Wrapped Grilled (or Baked) Butternut Squash with Sage ~ Kalyn's Kitchen
Maple-Dijon Chicken Foil Packets with Veggies ~ Cupcakes and Kale Chips
Baked Salmon in Foil ~ Low-Carb with Jennifer
Keto Salmon in Foil Packets with Pesto ~ I Breathe I'm Hungry
We are a participant in the Amazon Services LLC Associates Program, an affiliate advertising program designed to provide a means for us to earn fees by linking to Amazon.com and affiliated sites. As an Amazon Associate, I earn from qualifying purchases.