These Almond Flour Cheese Crackers are amazing, and this is a perfect cracker to make for a holiday treat, although they're delicious any time of year! 
PIN Almond Flour Cheese Crackers to try them later!
These Almond Flour Cheese Crackers were so addictive it turned out to be a good thing I only made half the recipe when I first tried them! But this is the time of year when you want more treats and nibbles, so I'm reminding you about these delicious crackers for my Friday Favorites suggestion this week! The use of almond flour that makes the cheese crackers low-carb and Keto also makes them gluten-free as well.
The crackers are not terribly difficult to make, but starting with freshly-grated cheese is important here. Pre-grated cheese has a coating that keeps the cheese from sticking together in the package, and that makes the crackers not hold together as well too. So use and old fashioned grater and grate some cheese! And then make these delicious cheese crackers for a treat! 
What ingredients do you need for this recipe?
Almond Flour (affiliate link)
salt
baking soda
cheddar cheese
oil
egg
Want a fancier cheese cracker made with Almond Flour?
Check out Low-Carb and Gluten-Free Cheddar Pecan Almond Crisps if you'd like a slightly fancier idea for a nibble made with cheese.
Love cooking with Almond Flour?
You can use My Favorite Low-Carb Almond Flour Recipes for lots more delicious ideas for using almond flour. You can also find more appetizers or snacks in my round-up of 50+ Low-Carb and Keto Appetizer Recipes.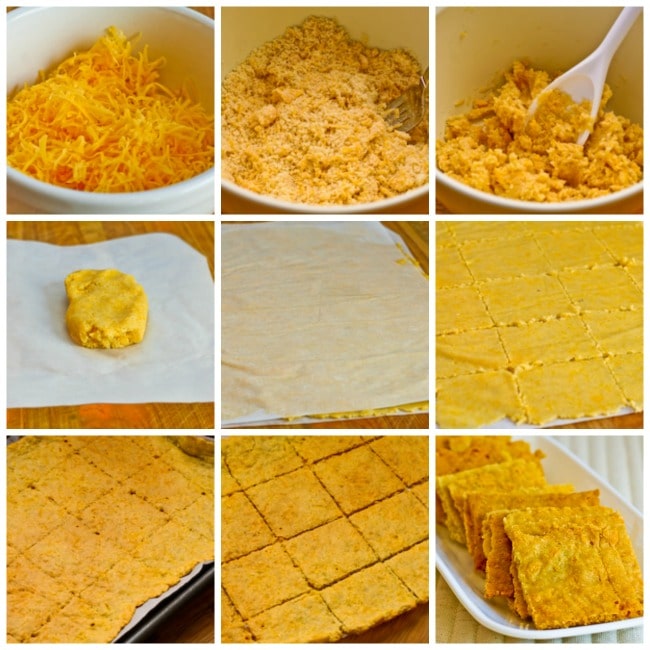 How to Make Almond Flour Cheese Crackers :
(Scroll down for complete recipe with nutritional information.)
Another reminder that it's important to use freshly grated cheese for this recipe (not cheese in a package that comes already grated.) I used extra sharp cheddar for the crackers in these photos.
You need  Almond Flour (affiliate link), and it's fairly available; even Costco has it now.
For this recipe, start by mixing almond flour, salt, baking soda and cheese.
In a different bowl, whisk together the oil and egg, then stir that into the almond flour mixture. Here is where you want that clumping action I mentioned!
I doubt you can successfully make Low-Carb and Gluten-Free Cheese Crackers with Almond Flour without parchment paper sheets (affiliate link), which you can buy in any grocery store. You need two sheets, cut to the size of your baking sheet.
My rolling pin skills leave a lot to be desired, so I started out with half the dough, roughly in the shape of the parchment.
Put the second sheet of parchment on top of the dough, then roll out so the dough exactly covers the parchment. (Or if you're rolling pin impaired like me, do the best you can!)
Remove the parchment and cut crackers into pieces about 2 inches square. I did a messy job of cutting them, a pizza wheel would have been good for this but I don't have one.
Slide the parchment on to the baking sheet and bake at 350F/175C for 12-15 minutes.
Let them cool on the baking sheet for 30 minutes. 
These were a delicious snack, and they'd be perfect to serve as a nibble for a party.
More Gluten-Free Baking with Almond Flour:
Almond Flour Pumpkin Muffins
Olive Bread
Savory Almond Flour Bread
Ingredients
1 1/4 cup blanched almond flour (not the same as almond meal)
1/8 tsp. salt (I used fine grind sea salt)
1/4 tsp. baking soda
1/2 cup freshly grated cheddar cheese (see notes)
1 1/2 T neutral-flavored oil
1 large egg
Instructions
If you store your almond flour in the freezer like I do, you'll need to take it out and let come to room temperature for a few minutes before using in the recipe. Preheat oven to 350F/175C.
Grate 1/2 cup cheddar cheese. In a medium-sized bowl, combine almond flour, salt, baking soda and cheese.
In a smaller bowl, whisk together the egg and oil. Pour the egg mixture into the dry ingredients and stir until well-combined.
Cut two pieces of parchment paper the size of your baking sheet. Put one piece of parchment on cutting board and put dough on top, or half the dough if baking on small baking sheet. (I made the dough into the shape of the parchment.)
Put second piece of parchment on top of the dough and roll out with rolling pin until dough covers the parchment sheet. (It's fairly important to roll it out the same thickness or the thinner pieces will burn, a lesson I learned the hard way.)
Remove top parchment and cut dough into pieces 2 inches square. (A pizza cutter would be perfect for this if you have one.)
Slide the parchment with the cut dough onto baking sheet and bake crackers 12-15 minutes, or until lightly browned.
Let crackers cool on the baking sheet for 30 minutes.
Crackers will keep for a few days in a plastic container, if you can manage to keep them around that long!
Notes
I used extra sharp cheddar for this and lightly packed it into measuring cup.
This recipe from The Gluten-Free Almond Flour Cookbook (affiliate link) by Elena Amsterdam. I received a review copy of the book.
Nutrition Information:
Yield:
30

Serving Size:
1

Amount Per Serving:
Calories: 43Total Fat: 4gSaturated Fat: 1gUnsaturated Fat: 3gCholesterol: 8mgSodium: 35mgCarbohydrates: 1gFiber: 1gSugar: 0gProtein: 2g
Nutrition information is automatically calculated by the Recipe Plug-In I am using. I am not a nutritionist and cannot guarantee 100% accuracy, since many variables affect those calculations.
Low-Carb Diet / Low-Glycemic Diet / South Beach Diet Suggestions:
Almond Flour Cheese Crackers would be approved for most low-carb and Keto eating plans. They would be a personal choice for the original South Beach Diet, due to the amount of fat, but they're certainly healthier than a lot of foods that you get tempted by during the holidays!
Find More Recipes Like This One:
Use Appetizers to find more recipes like this one. Use the Diet Type Index to find recipes suitable for a specific eating plan. You might also like to Follow Kalyn's Kitchen on Pinterest to see all the good recipes I'm sharing there.
Historical Notes for this Recipe:
This recipe was posted in 2009, and it's been made many times since then. It was last updated with more information in 2021.
We are a participant in the Amazon Services LLC Associates Program, an affiliate advertising program designed to provide a means for us to earn fees by linking to Amazon.com and affiliated sites. As an Amazon Associate, I earn from qualifying purchases.