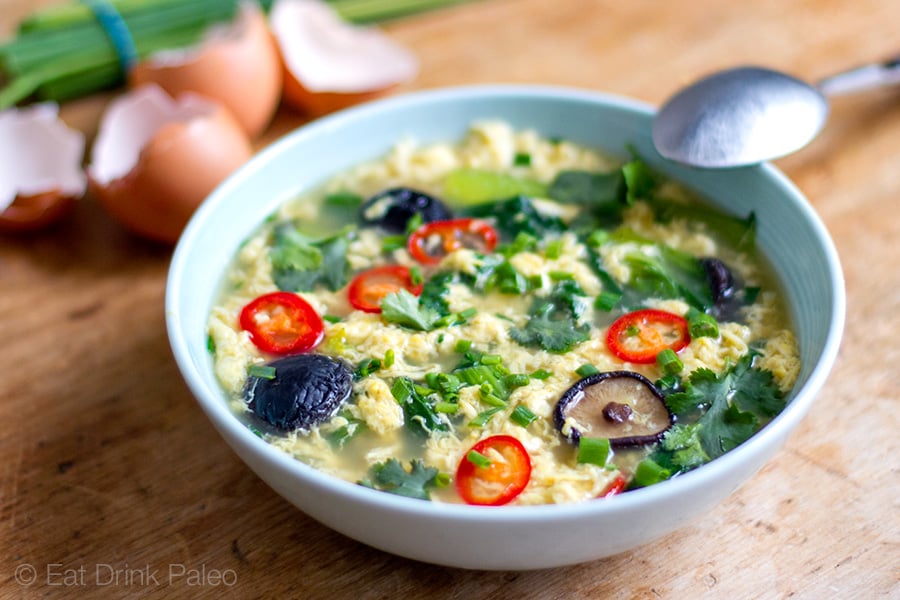 A few days ago I made chicken bone broth from the leftover roasted chicken carcass (great way to use up the whole bird!). Oftentimes, having bone broth on its own is a little uninspiring so I like to use it to cook some vegetables in or to make a soup or a stew with. One very simple and nutritious way to use up something like chicken broth is to make an egg drop soup. In today's post, I am going to share my take on this Chinese classic, which turns the egg drop soup into a complete, well balanced meal.
My favourite part about this soup is how easy it is to make. My version has a few extra ingredients compared to the traditional soup but it still only takes 15 minutes to put together. You get all the benefits of the bone broth plus the protein from the eggs (and all the other good stuff), mushrooms, lovely herbs and spices, and a bonus serving of leafy greens.
And it's so delicious and comforting! I had it for breakfast/brunch but it would be a great meal for any time of the day, and especially you're feeling a  under the weather.
Cook's notes
Corn starch is used in the traditional egg drop soup, which thickens the soup slightly and gives it that gelatinous viscosity, however I didn't feel like I needed to add that texture to my soup. I think it's delicious without it. But if you like it that way, then feel free to use some arrowroot starch instead of corn starch. Simply add a teaspoon of starch to a bowl with 2-3 tablespoons of warm water, whisk and stir into the soup right at the end.
Also, feel free to use non-chicken bone broth for this recipe.
I've got a little video with step-by-step instructions on my new YouTube Channel. Make sure to subscribe as I'll be posting more new stuff on there.
Print
---
Description
Shiitake mushrooms can be replaced with regular sliced mushrooms or dried porcini mushrooms, or they can be omitted. Use any other greens you like.
---
---
Add two cups of bone broth, dried mushrooms and ginger to a small pot. Place over high heat and bring to boil.
Once boiling, reduce to medium heat and add the chilli, fish sauce, coconut aminos, white pepper and bok choy. Cook over for a minute.
Finally, whisk the eggs in a small bowl. Add the chives to the soup and turn the heat down to gentle simmer. Pour the egg mixture slowly and gradually into the pot (over a fork) and stir in. The egg will cook right away. Turn the heat off and add the coriander.
---
Let me know what you think of this recipe. It's my favourite way to consume bone broth.
Pin this recipe for later from here