For everyone who loves soup but wants to limit their carbs, here are amazing Keto Cauliflower Soup Recipes for you to try! This collection has all my favorite soups with cauliflower, plus cauliflower soup recipes from blogs around the web.
PIN the Keto Cauliflower Soup Recipes to try some later!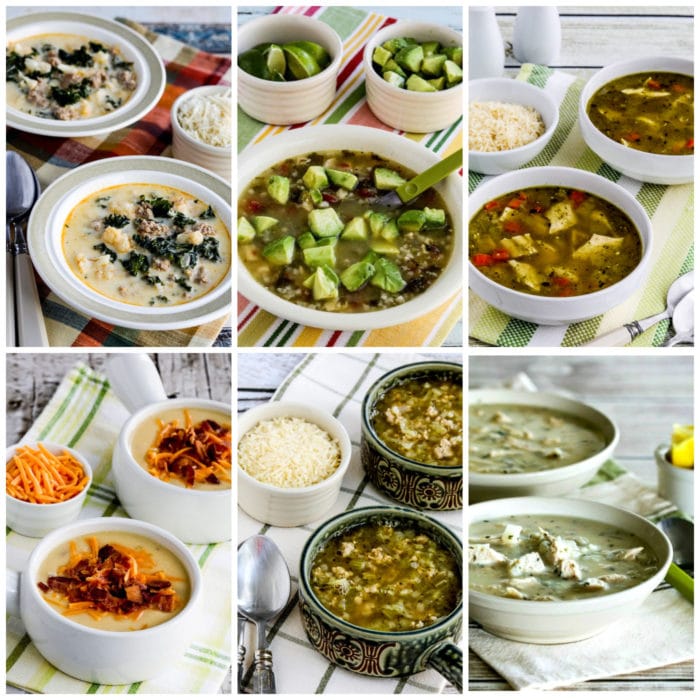 I know Cauliflower Soup is a favorite with low-carb eaters because a low-carb loaded cauliflower soup recipe is one of the most popular recipes on my blog! And you can never have too many great low-carb cauliflower soup recipes, right? So I'm giving you 25 different soups in this collection of Keto Cauliflower Soup Recipes!
And healthy and tasty low-carb cauliflower soup is the perfect thing to make over the weekend and eat during the week, so this round-up has been added to the category called Weekend Food Prep  where you'll find recipes you can prep or cook on the weekend and eat during the week! I hope you'll try one or two of these low-carb cauliflower soups, and if you do please let us know which ones are a winner for you.
What kinds of Keto cauliflower soup will you find here?
There are tasty soup recipes here with cauliflower and soup recipes using cauliflower rice. You'll find cauliflower soups with ground beef, cheesy cauliflower soup, soup with curry flavors, cauliflower soup with bacon, cauliflower soup with lemon and chicken, creamy soups, and more. There are interesting ingredients with the cauliflower like Italian Sausage, kale, leeks, green chiles, broccoli, mushrooms, ham, and peppers!
How do you get the cauliflower soup recipes?
Just click any recipe title  to get the complete recipe on the blog that posted it. You can also use Recipe Round-Ups to find more low-carb round-ups like this one.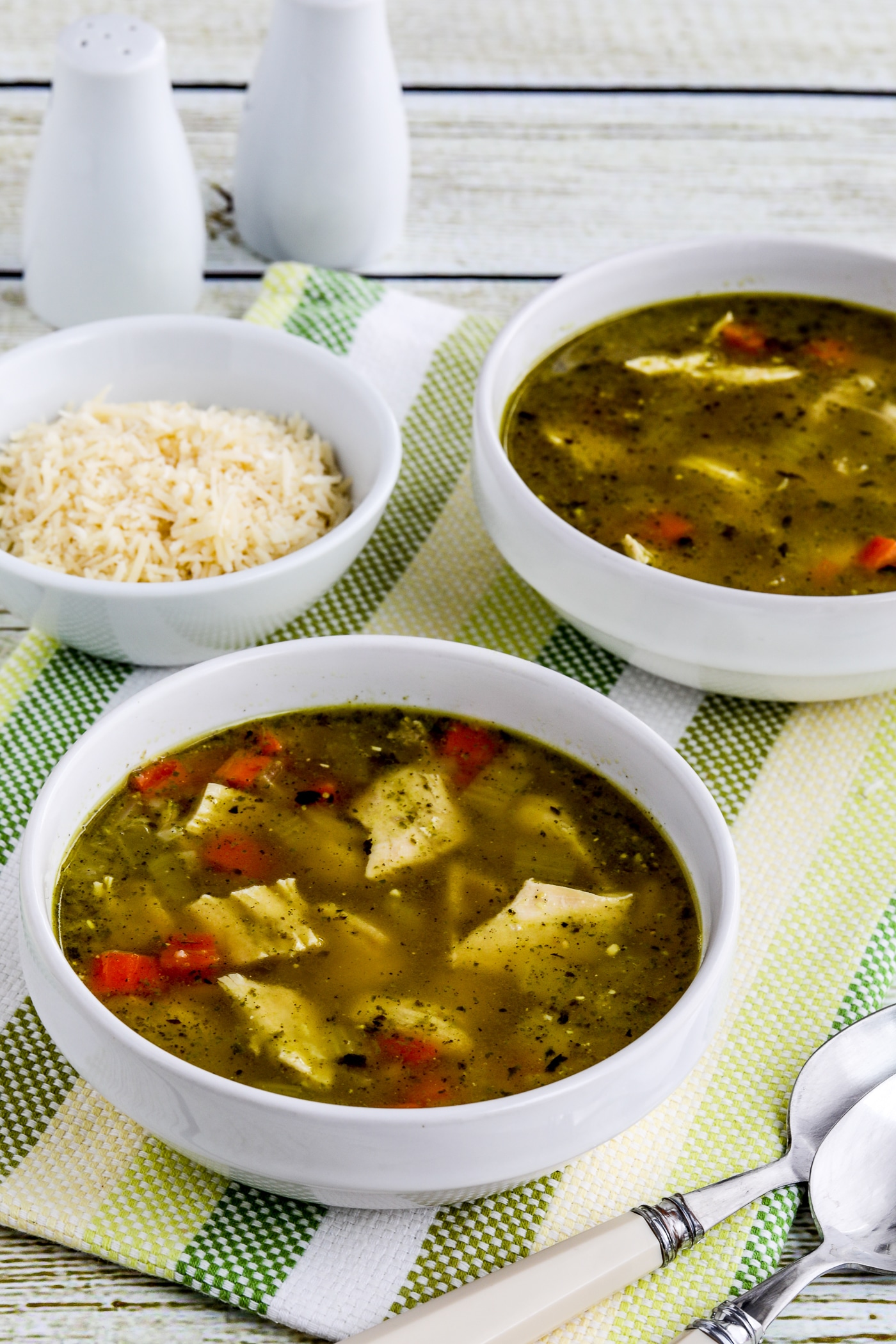 Chicken Pesto Soup is thickened with cauliflower rice and this has all the comfort food appeal that makes chicken soup such a popular dish, plus extra flavor from pesto and lemon juice!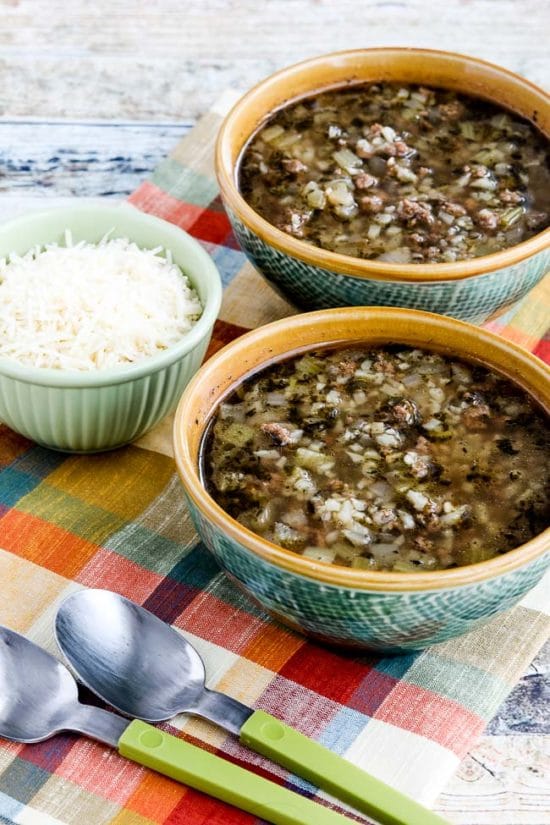 Instant Pot Low-Carb Ground Beef Cauliflower Soup is a low-carb version of a soup I used to make with barley.
Low-Carb Stuffed Pepper Soup switches out the rice that's traditional in stuffed peppers for cauliflower rice, and this recipe has been really popular.
Instant Pot Loaded Cauliflower Soup has been one of the most popular soup recipes on the blog and if you like cheesy loaded baked potatoes you're probably going to love this soup.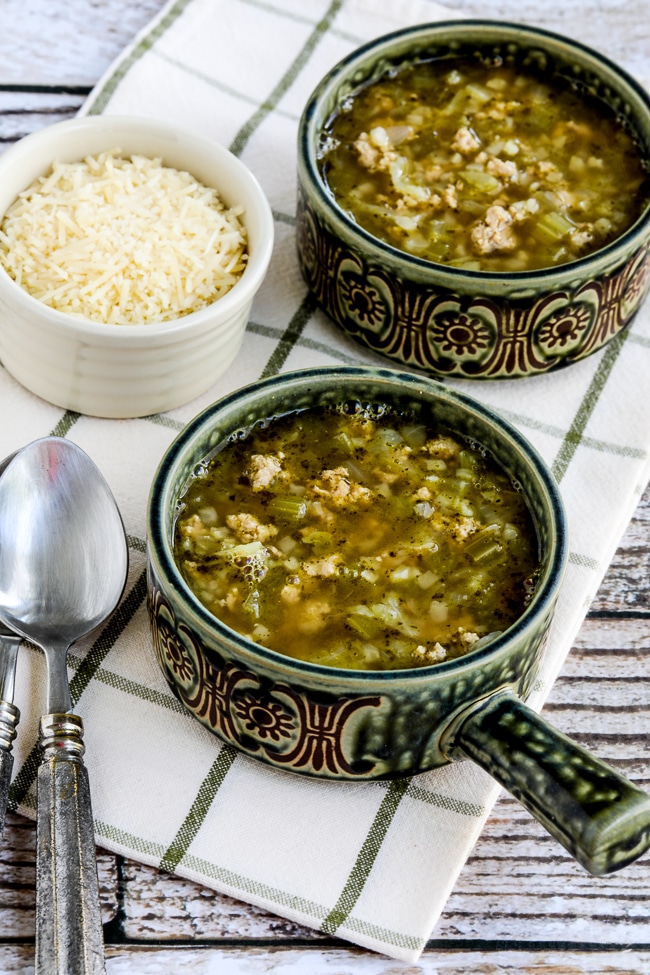 Instant Pot Turkey Rice Soup with Cabbage uses ground turkey and frozen cauliflower rice, and this is a delicious soup to make with leftover turkey too if you have some of that!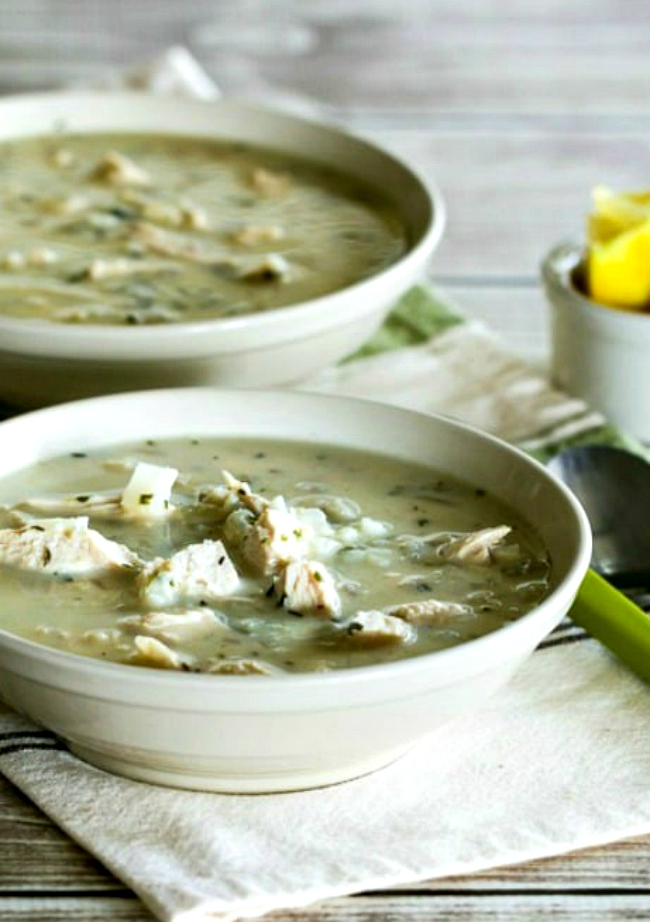 Greek Egg-Lemon Chicken Soup with Cauliflower Rice has all the flavors that make Greek Egg Lemon Soup such a popular traditional dish!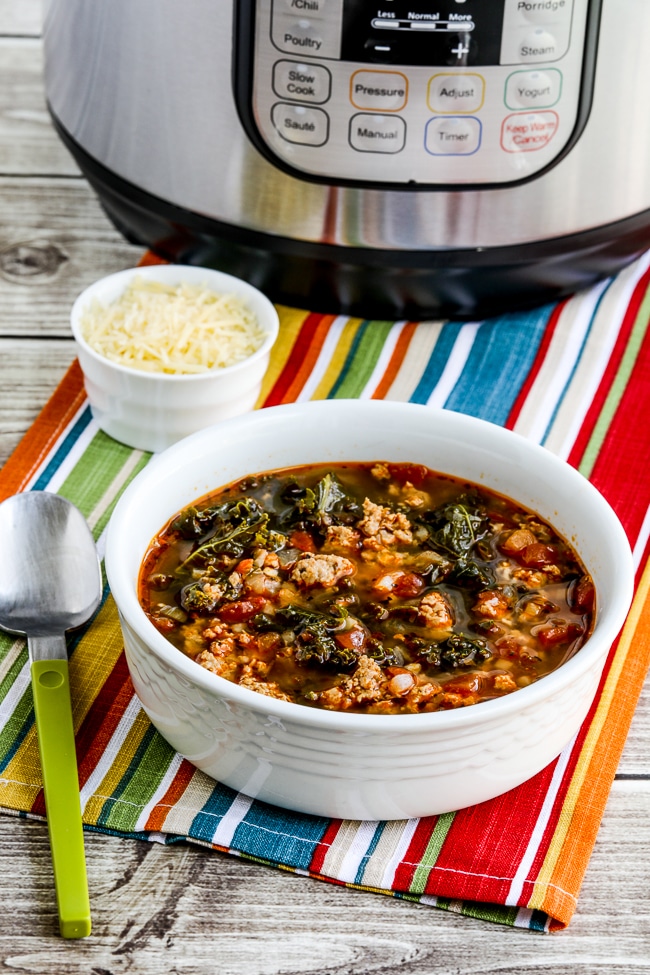 Instant Pot Sausage and Kale Soup replaces the traditional beans with cauliflower rice, and I love soup with these ingredients!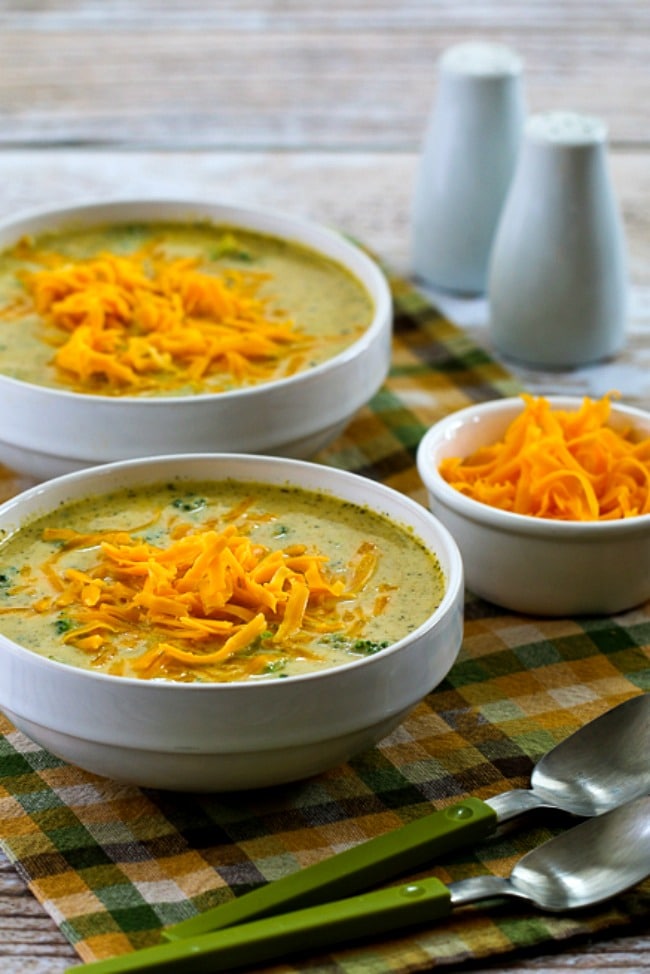 CheesyBroccoli and Cauliflower Soup uses sharp cheddar to add lots of cheesy flavor and this soup is thickened by pureeing and then some steamed pieces of broccoli are added for texture.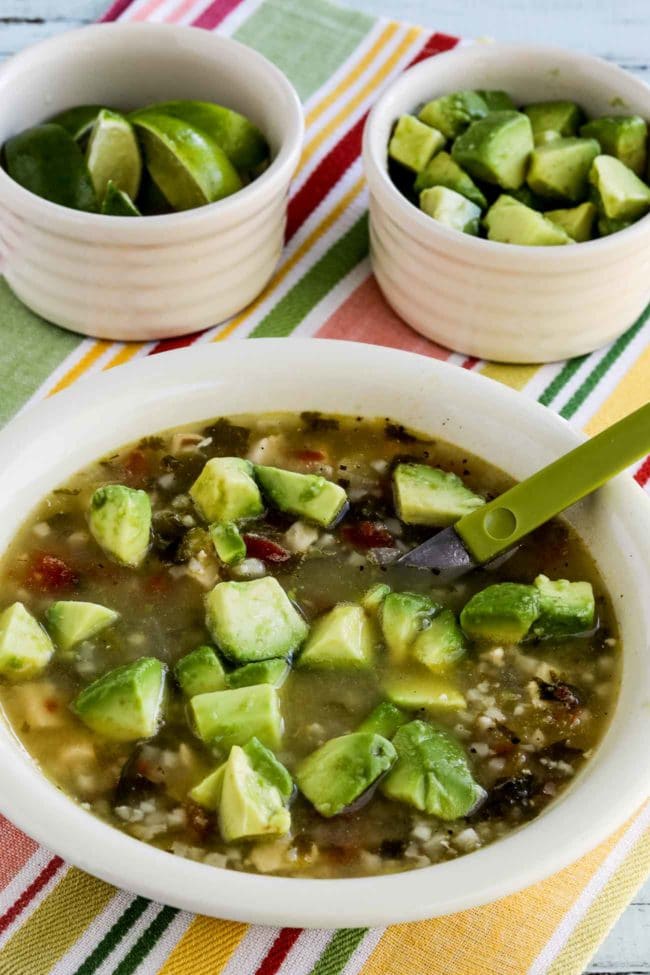 Instant Pot Low-Carb Chicken Tomatillo Soup is a tasty soup with Mexican flavors that replaces the traditional beans with cauliflower rice! And this is amazing served with avocado.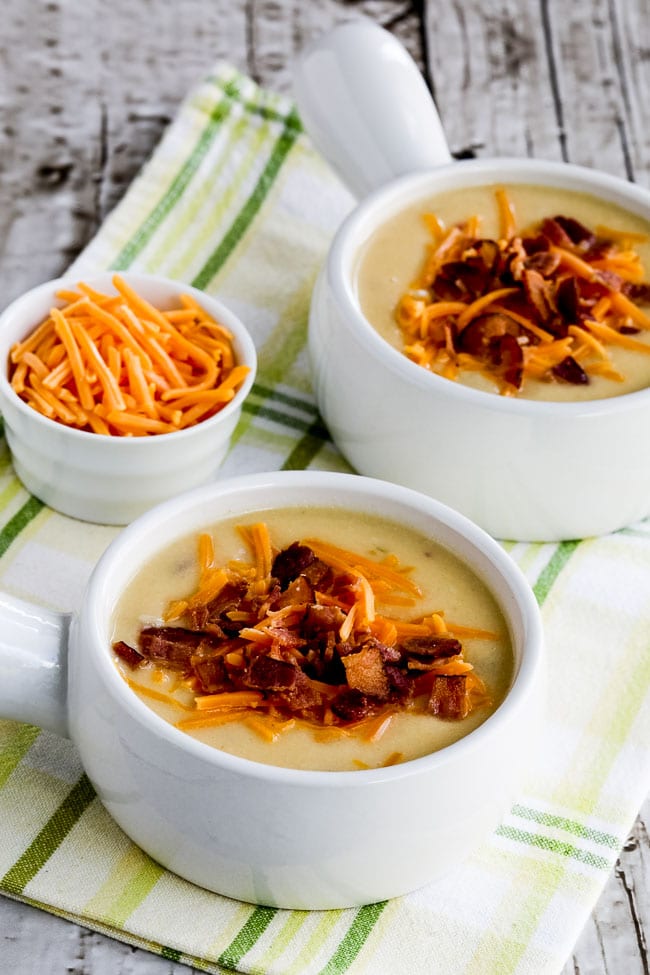 Cheesy Cauliflower Soup with Bacon and Green Chiles has just a touch of spicy with the cheesy cauliflower and bacon flavors, and this is perfect for Keto!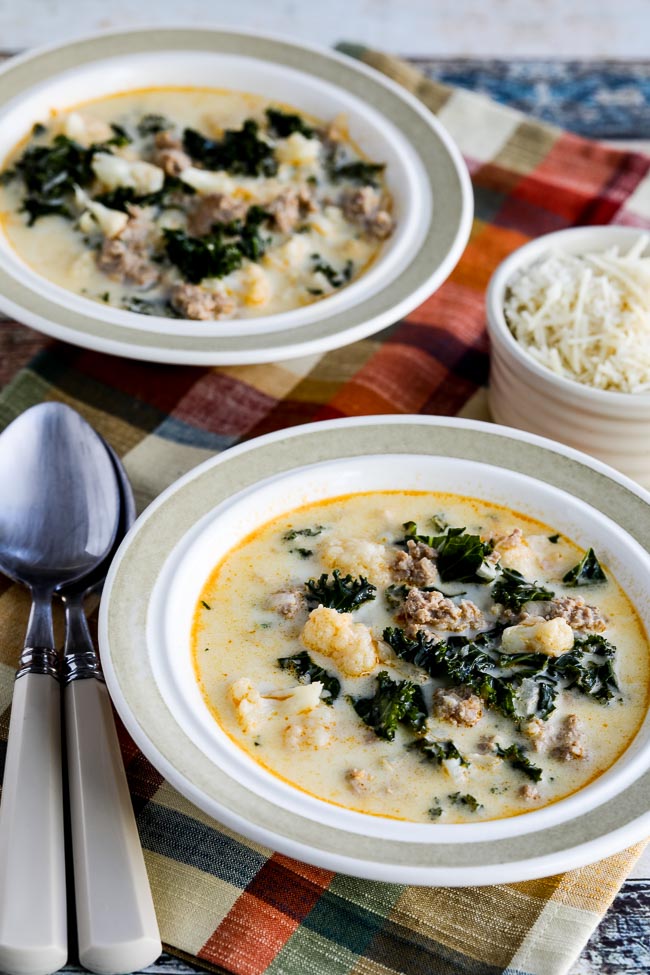 Instant Pot Zuppa Toscana Soup has been a big favorite of some of my friends, and if you've ever enjoyed the Zuppa Toscana Soup at The Olive Garden you will absolutely love this low-carb version.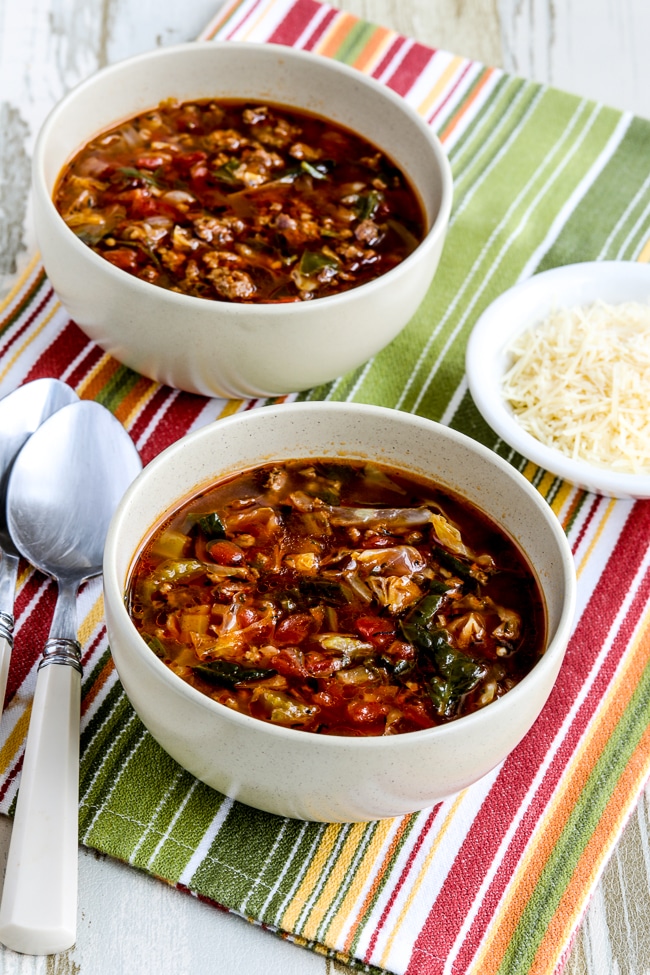 Ground Beef Vegetable Soup is a low-carb stovetop soup that has tomatoes, cabbage, spinach, and cauliflower rice.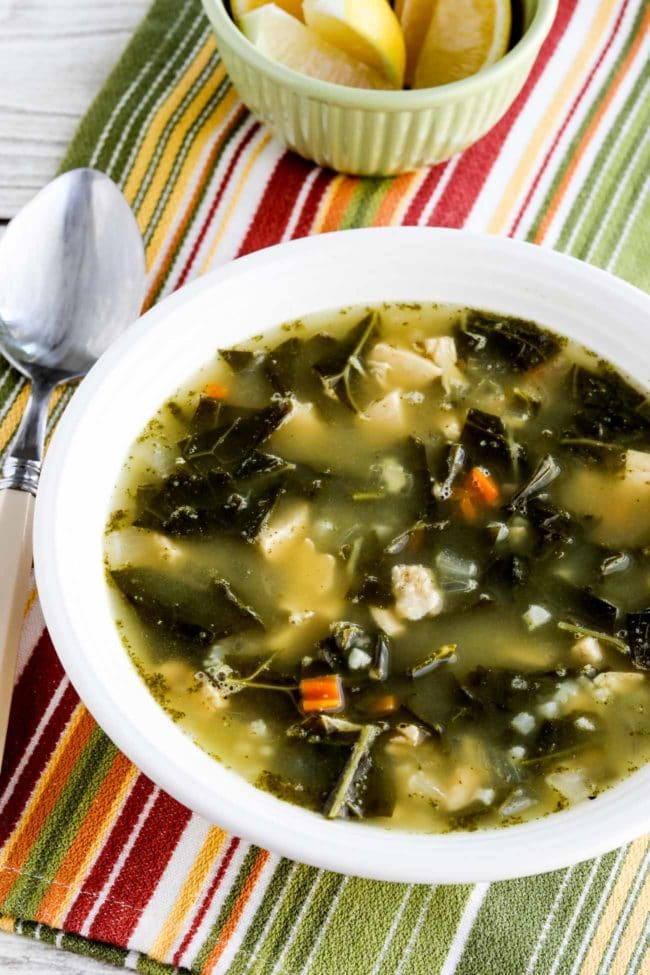 Chicken Soup with Collards and Lemon is a tasty soup that uses cauliflower rice, and this is good with leftover tu
Instant Pot Cauliflower Soup with Mushrooms is an old recipe that could probably use new photos, but don't let that stop you from trying this tasty soup!
More Keto Cauliflower Soup from other bloggers!
Keto Curried Cauliflower Soup ~ I Breathe I'm Hungry
Slow Cooker Low-Carb Ham and Cheese Cauliflower Soup ~ Lauren Kelly Nutrition
Curried Cauliflower Soup (with coconut milk!) ~ Running with Tweezers
Creamy Cauliflower Soup with Bacon and Gorgonzola~ Steamy Kitchen
Instant Pot Cheesy Cauliflower Soup ~ I Breathe I'm Hungry
Italian Wedding Soup with Cauliflower Rice ~ All Day I Dream About Food
Instant Pot Low-Carb Unstuffed Cabbage Roll Soup ~ Pink
Creamy Cauliflower Soup ~ Joy Filled Eats
Creamy Creamless Cauliflower Soup with Crispy Shallots ~ Sugar-Free Mom
Low-Carb Cauliflower Cream Cheese Soup~ Iowa Girl Eats
Cauliflower Leek Soup ~ Recipe Girl
Want More Low-Carb Soup Recipes?
The Top Ten Low-Carb Soup Recipes ~ Kalyn's Kitchen
50 AMAZING Low-Carb Instant Pot Soup Recipes ~ Slow Cooker or Pressure Cooker
The BEST Low-Carb Instant Pot Soup Recipes ~ Kalyn's Kitchen
We are a participant in the Amazon Services LLC Associates Program, an affiliate advertising program designed to provide a means for us to earn fees by linking to Amazon.com and affiliated sites. As an Amazon Associate, I earn from qualifying purchases.