Grandma Denny's Homemade Ranch Dip was a Denny family favorite long before anyone heard of Ranch Dressing! And this family favorite Ranch Dip is a delicious low-carb and keto dip recipe, or see below for a lower-fat variation made with blended cottage cheese and fat-free Greek yogurt if you prefer that version!
PIN Grandma Denny's Homemade Ranch Dip to try it later!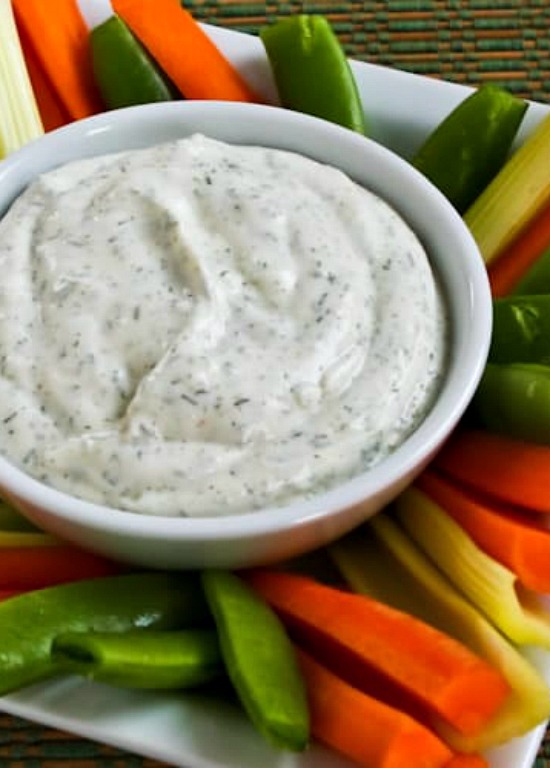 Grandma Denny's Homemade Ranch Dip is one of my big memories from childhood! When I was a kid, my Grandma Denny made a fantastic dip that she served with carrots and celery as an appetizer at family dinners. In those days we called Grandma's homemade ranch dip just *Vegetable Dip* as if there was only one kind of dip that could possibly be served with veggies. This was long before the introduction of Ranch Dressing to the American culinary scene, and obviously my Grandma Denny was ahead of her time, because  now people all over the country are eating Ranch Dip with veggies.
There's nothing wrong with making Ranch-Style Vegetable Dip using a package mix. But Grandma Denny's Homemade Ranch Dip is a bit fresher tasting as well as being low in carbs, and if you usually use the mix but don't have a package on hand I bet you'll love my Grandma's recipe.
Grandma always used full-fat mayo and sour cream, but for anyone wanting lower fat you can obviously make this with reduced-fat products if you prefer. Or if you don't like mayo, you might prefer the variation below for Greek Yogurt Ranch Dip, made with Greek yogurt and blended cottage cheese for a higher protein, lower-fat dip.)
What ingredients do you need for this recipe?
Can you make this dip with onion powder?
I love the flavor the grated onion gives to my Grandma Denny's dip. But if you prefer, just use 1 tsp. onion powder.
Can you make this dip with Greek Yogurt?
I sometimes make a variation of this that I call Greek Yogurt Ranch Dip that's lower in fat and higher in protein. For that variation follow this recipe but replace the sour cream with one cup of cottage that's blended in the food processor until it's nearly smooth and replace the mayo with one cup fat-free Greek Yogurt.
Want a version of this dip with more texture?
You can make a variation of this recipe with a little chopped red onion, finely diced cucumber, and finely diced red pepper if you'd like a chunkier dip. I would use about 2 T of each.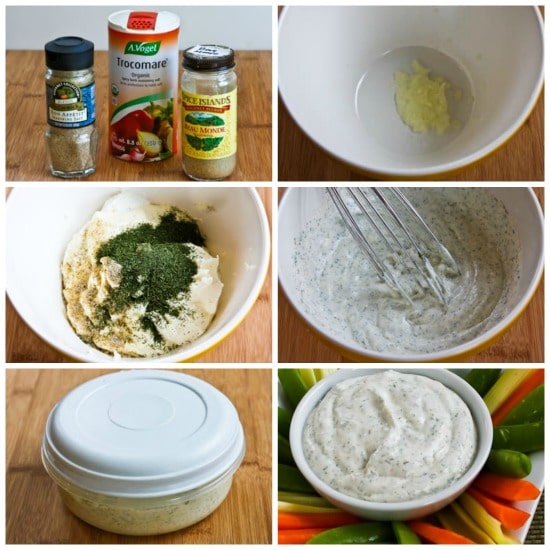 How to Make Grandma Denny's Homemade Ranch Dip:
(Scroll down for complete printable recipe)
My Grandma always used Bon Appetit Seasoning Salt as the secret seasoning in her vegetable dip, but it's no longer being made (sob!) If you still have Bon Appetite, use it, but now I use Beau Monde Seasoning (affiliate link). If you're in Europe you can also use Trocomare Seasoning. (affiliate link)
Grate a small amount of raw onion into a bowl.  (I use the large side of a box grater; don't use a microplane grater which just turns the onion to liquid.)
Add mayo and sour cream to bowl.
Then add Beau Monde Seasoning and dried dill weed (affiliate link).
Mix all ingredients together well with a whisk. You can use a food processor as well, but the whisk is quicker.
Let the dip chill in the refrigerator for at least an hour or two for best flavor.
Serve with raw vegetables like celery, sugar snap peas, bell pepper strips, jicama, radishes, broccoli, or cauliflower.
This is also good with carrots or as a dip for baked sweet potato fries for those who don't mind more carbs.
I tested this out on my friend Robin and she gave it two thumbs up!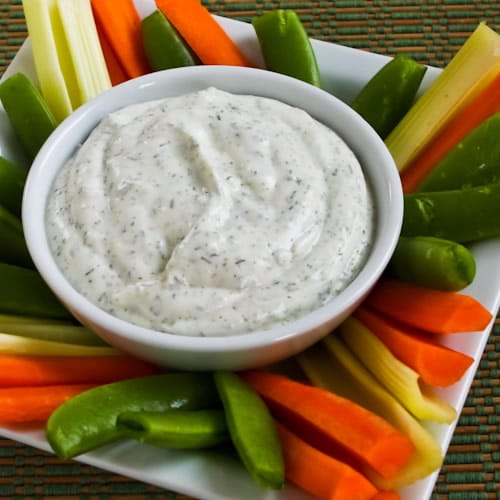 More Tasty Vegetable Dips You Might Like:
Sheila's Low-Carb Shrimp Dip 
Greek Yogurt Dip (with Tahini)
Roasted Red Pepper Dip with Feta 
Weekend Food Prep:
This recipe has been added to a category called Weekend Food Prep  to help you find recipes you can prep or cook on the weekend and eat during the week!
Ingredients
1 cup sour cream (see notes)
1 cup mayo (see notes)
1 tsp. grated onion
2 tsp. dried dill weed
2 tsp. Beau Monde Seasoning (see notes)
Instructions
Grate onion into a bowl, using the large side of a box grater or flat grater (not a microplane grater.)
Add all other ingredients to the bowl and stir together with a whisk (or you can use a food processor, but it's not necessary.)
Chill an hour or so before serving.
Notes
I only use Daisy full-fat sour cream and full-fat mayo for this recipe but if you prefer to make a lower-fat version of the recipe you can definitely use reduced fat sour cream and mayo.
My Grandma always used Bon Appetit Seasoning for this. When that was discontinued I started making it with Beau Monde Seasoning (affiliate link), which is almost identical in flavor.
This will keep in the refrigerator for several weeks. Nutritional information doesn't include vegetables and is calculated on 1/4 cup serving size.
Recipe from my Grandma Denny, who was a wonderful cook!
Nutrition Information:
Yield:
8

Serving Size:
1

Amount Per Serving:
Calories: 245Total Fat: 26gSaturated Fat: 6gUnsaturated Fat: 18gCholesterol: 29mgSodium: 564mgCarbohydrates: 2gFiber: 0gSugar: 1gProtein: 1g
Nutrition information is automatically calculated by the Recipe Plug-In I am using. I am not a nutritionist and cannot guarantee 100% accuracy, since many variables affect those calculations.
Low-Carb Diet / Low-Glycemic Diet / South Beach Diet Suggestions:
Grandma Denny's Homemade Ranch Dip is great for low-carb diets, but if you're making this for the original South Beach Diet the Greek Yogurt Ranch Dip variation above is better for South Beach. Eat with low-carb vegetables like celery, sugar snap peas, jicama, bell pepper strips, radishes, broccoli, or cauliflower for low-carb diets.
Find More Recipes Like This One:
Use Appetizers to find more recipes like this one. Use the Diet Type Index to find more recipes suitable for a specific eating plan.  You might also like to Follow Kalyn's Kitchen on Pinterest to see all the good recipes I'm sharing there.
Historical Notes for this Recipe:
Kalyn was making this dip recipe long before the existence of the internet, and it was first posted on this site in 2005 (probably without a single photo in those days.) The recipe was last updated with more information in 2021.
We are a participant in the Amazon Services LLC Associates Program, an affiliate advertising program designed to provide a means for us to earn fees by linking to Amazon.com and affiliated sites. As an Amazon Associate, I earn from qualifying purchases.