This low-carb Chicken Salad with Basil also has grated Parmesan, and this is one of the first salads I think of when basil plants show up in the stores! 
PIN the Chicken Salad with Basil to try it later!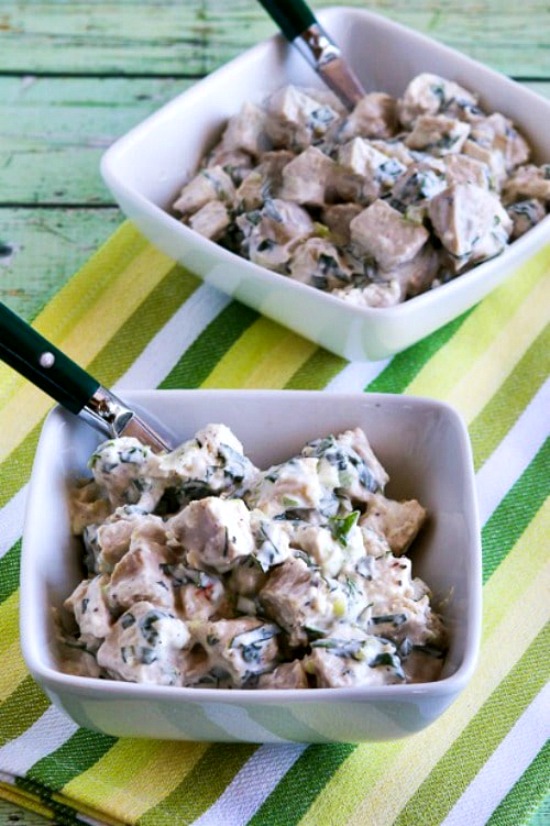 For this week's Friday Favorites pick I'm reminding you about this amazing Chicken Salad with Basil that I think is something you should make as soon as you see basil plants showing up in the grocery store or have basil growing in your garden, and then keep making it all summer long! 
I'm a huge fan of fresh basil, and I've been growing basil and freezing the basil for many years now! So of course I'm excited when basil season gets started every year, and this basil-loaded chicken salad recipe is one of my favorite summer salads. And through the years I've decided you just can't put too much chopped basil in this salad.
And yes, I used the word SUMMER, but please don't hesitate to make this tasty chicken salad any time you have chicken and fresh basil on hand! If you're not growing basil and have to buy it in the grocery store you can certainly get away with using less in this recipe. But please try it if you're a fan of these flavors. I could eat this over and over again and never get tired of it!
What ingredients do you need for this recipe?
diced cooked chicken, or see notes below to cook the chicken
mayo
buttermilk
green onion
fresh basil leaves
coarsely grated Parmesan Cheese
salt and fresh ground black pepper to taste
If you have to buy fresh basil, here's how to make it last longer:
If you don't have a basil plant growing in the window or basil in the garden, you might want to check out how to preserve fresh basil for weeks on the countertop. If you haven't tried this before, I promise you will be amazed!
More Tips for Cooking with Fresh Basil:
I'm such a fan of basil that I wrote a post about Cooking with Fresh basil. That has all my favorite recipes using basil as well as my ideas for making pesto, making basil vinaigrette, and freezing fresh basil!
See all my favorite Chicken Salad Recipes:
Salads made with leftover chicken are something I make all summer long, and you can see 24 different chicken salad recipes in my huge round-up of Low-Carb and Keto Chicken Salads; enjoy!

How to make Chicken Salad with Basil:
(Scroll down for complete recipe including nutritional information.)
You can make the salad with leftover rotisserie chicken, but if you're starting from scratch, trim the chicken breasts and cut into thirds lengthwise. I used a mixture of canned chicken broth and water to cook the chicken, combined with 2 teaspoons of Italian Herb Blend(affiliate link). You could use poultry seasoning if you don't have the Italian blend.
When the liquid comes to a boil, add the chicken and cook at the barest simmer until it's cooked through, about 15 minutes.
Drain the chicken into a colander and let it drain very well.
Then cut the chicken into cubes about 3/4 inch square.
I used Herb Scissors (affiliate link) to cut the basil into thin strips. If you're using basil from the garden, give it a wash in a Mini Salad and Herb Spinner (affiliate link).
After you slice the fresh basil, chop green onions, and prepare freshly-grated Parmesan.
Whisk together the mayo and buttermilk so it's smooth; then stir in the basil strips, chopped green onion, and a Parmesan. Gently stir the dressing into the cubes of chicken, season to taste with salt and fresh-ground black pepper, and serve.
This salad can also be chilled for a few hours before serving; enjoy!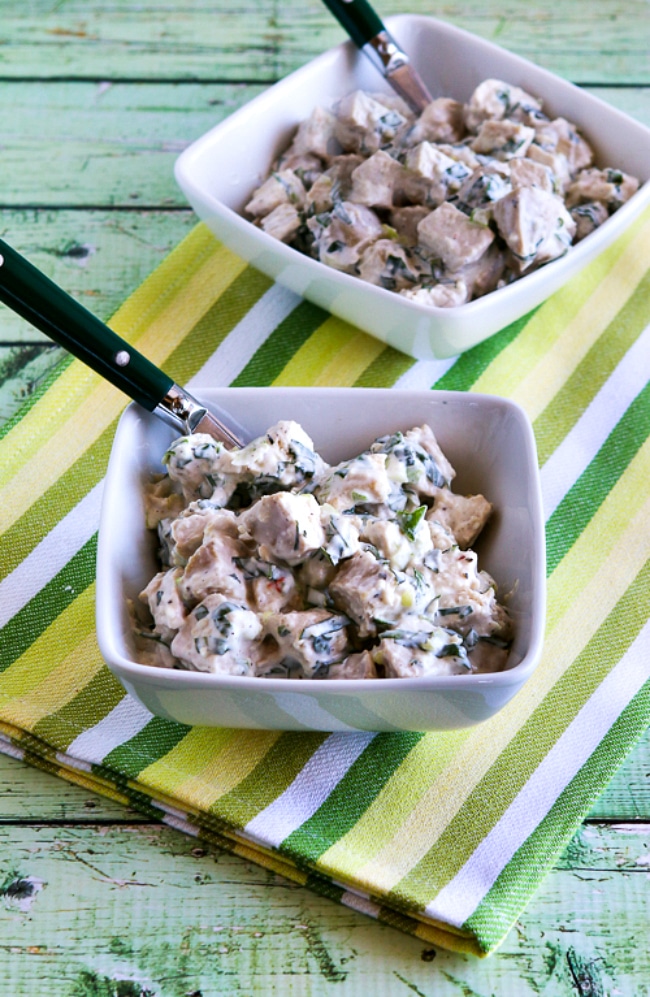 More Tasty Chicken Salad Recipes:
Tarragon Chicken Salad ~ Kalyn's Kitchen
Hummus Chicken Salad ~ Aggie's Kitchen
Chicken Salad with Hearts of Palm ~ Kalyn's Kitchen
Bacon Avocado Chicken Salad ~ Wonky Wonderful
Chicken Salad with Green Olives& ~ Kalyn's Kitchen
Ingredients
4 cups diced cooked chicken, cut in 3/4 inch pieces (If you're cooking the chicken for this recipe, see notes below.)
3/4 cup mayo
1/4 cup buttermilk
1/2 cup sliced green onion
1/2 cup sliced fresh basil leaves (or more)
3 T coarsely grated Parmesan Cheese
salt and fresh ground black pepper to taste
Instructions
If you're cooking chicken for this, trim visible fat from 4 chicken breasts, then cut the chicken lengthwise into thirds.  Put the can of chicken stock, 2 cans of water, and the Italian Herb Blend (affiliate link) or poultry seasoning into a small sauce pan and bring to a boil.  When it boils add chicken breasts, turn heat to low, and  let simmer 15 minutes, or until the chicken is cooked through.  Drain the chicken into a colander placed in the sink and let it cool.
While the chicken cools, slice the basil leaves or cut with Herb Scissors (affiliate link) and wash if needed, chop green onions, and measure the freshly-grated Parmesan.
When chicken is cool, dice it into pieces about 3/4 inch square and place into medium-sized bowl.
Combine mayo and buttermilk, whisking until it's smooth.  Then stir in green onion, Parmesan, and basil.
Add dressing to the chicken in the bowl and gently mix until chicken is well coated with dressing. Season with salt and fresh ground black pepper.
This can be served immediately or chilled slightly before serving.  This will keep in the fridge for about a day, but it's best freshly made.
Notes
This recipe adapted by Kalyn from one that appeared on the Best Foods site.
Nutrition Information:
Yield:
6

Serving Size:
1

Amount Per Serving:
Calories: 404Total Fat: 33gSaturated Fat: 7gTrans Fat: 0gUnsaturated Fat: 24gCholesterol: 99mgSodium: 401mgCarbohydrates: 2gFiber: 0gSugar: 1gProtein: 23g
Nutrition information is automatically calculated by the Recipe Plug-In I am using. I am not a nutritionist and cannot guarantee 100% accuracy, since many variables affect those calculations.
Low-Carb Diet / Low-Glycemic Diet / South Beach Diet Suggestions:
This Chicken Salad with Basil is great for any low-carb or low-glycemic diet plan, including Keto, and also for any phase of the original South Beach Diet. South Beach would recommend you use light mayo and use portion control due to the amount of fat; other low-carb diets will prefer full-fat mayo.
Find More Recipes Like This One:
Use Salad Recipes to find more low-carb salads like this one. Use the Diet Type Index to find more recipes suitable for a specific eating plan. You might also like to follow Kalyn's Kitchen on Pinterest, on Facebook, on Instagram, or on YouTube to see all the good recipes I'm sharing there.
Historical Notes for this Recipe:
This salad was first posted in 2005! I've made it so many times since then, and it was last updated in 2022.
We are a participant in the Amazon Services LLC Associates Program, an affiliate advertising program designed to provide a means for us to earn fees by linking to Amazon.com and affiliated sites. As an Amazon Associate, I earn from qualifying purchases.