This website may contain affiliate links and advertising so that we can provide recipes to you. Read my privacy policy.
This asparagus stuffed chicken is incredibly juicy and tender. Flavored with the most delicious spices and stuffed with the incredibly healthy vegetable, asparagus, you will want to lick your plate clean!
Chicken is a go-to in our house for dinner. It's delicious, and everyone loves it! For more chicken dinner ideas, try out this chicken Madeira, air fryer chicken, or this absolutely delicious grilled honey balsamic chicken.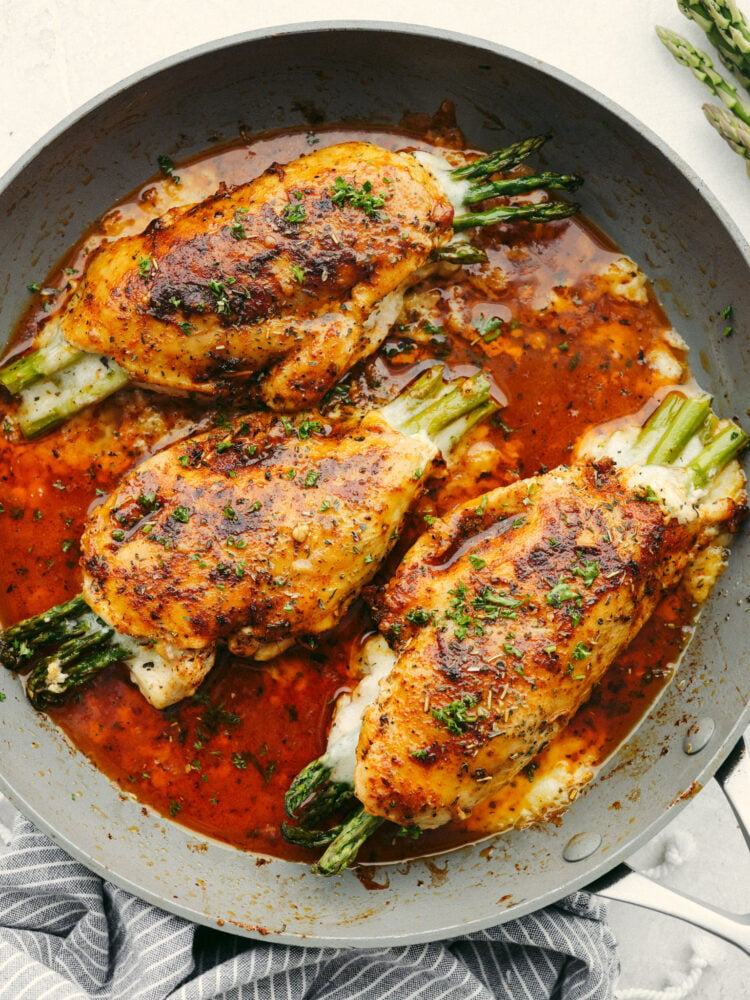 What is Asparagus Stuffed Chicken?
Exactly as the title says, this is chicken stuffed with asparagus. But that's not all… It's so much more than that! There is the cheese that melts and becomes the base of the filling. Then, you put in your stalks of asparagus. The best part is the seasoning rub that goes on top! Made with some spices like chili powder, garlic powder, brown sugar, and more, this seasoning really takes the flavor of this chicken to the next level!
Not only do the spices brings in a delightful array of flavors, but it carmelizes with the brown sugar and creates a sauce while it cooks that adds so much moisture to the chicken. When you bite into it, it's so juicy and tender! Even your kids will love this meal and be asking you for seconds! Make it a meal by serving this with some delicious dinner rolls, some potatoes, and a salad.
Ingredients in Asparagus Stuffed Chicken
Once you have your chicken and your asparagus all ready to go, the rest of these ingredients are simple and easy. Gather up your spices because this chicken packs a punch when it comes to flavor! Check out the recipe card at the bottom of the post for exact measurements.
Chicken Breasts: I like to use large chicken breast for this recipe. Make sure that they are all similar in size so that they will cook evenly and at the same time.
Mozzarella Cheese: I used sliced mozzarella cheese because it completements the other flavors so well and adds in a great texture too!
Asparagus Stalks: Your asparagus stalks should be firm and the tips shouldbe tightly closed when you are picking your asparagus.
Brown Sugar: This adds in a sweet, deep flavor.
Chili Powder: The chili power adds in a lot of flavor. To crank up the heat, add a little more!
Paprika: Paprika is sweet and blends so well with the other spices.
Italian Seasoning: You can use store-bought or, if you want, you can try out this homemade Italian seasoning instead!
Garlic Powder: I love using garlic any chance that I get and this subtle flavor tastes delicious with the chicken.
Salt and Pepper: The final seasonings to take this chicken to the next level!
Olive Oil: You will use this to cook the chicken in as you sear each side.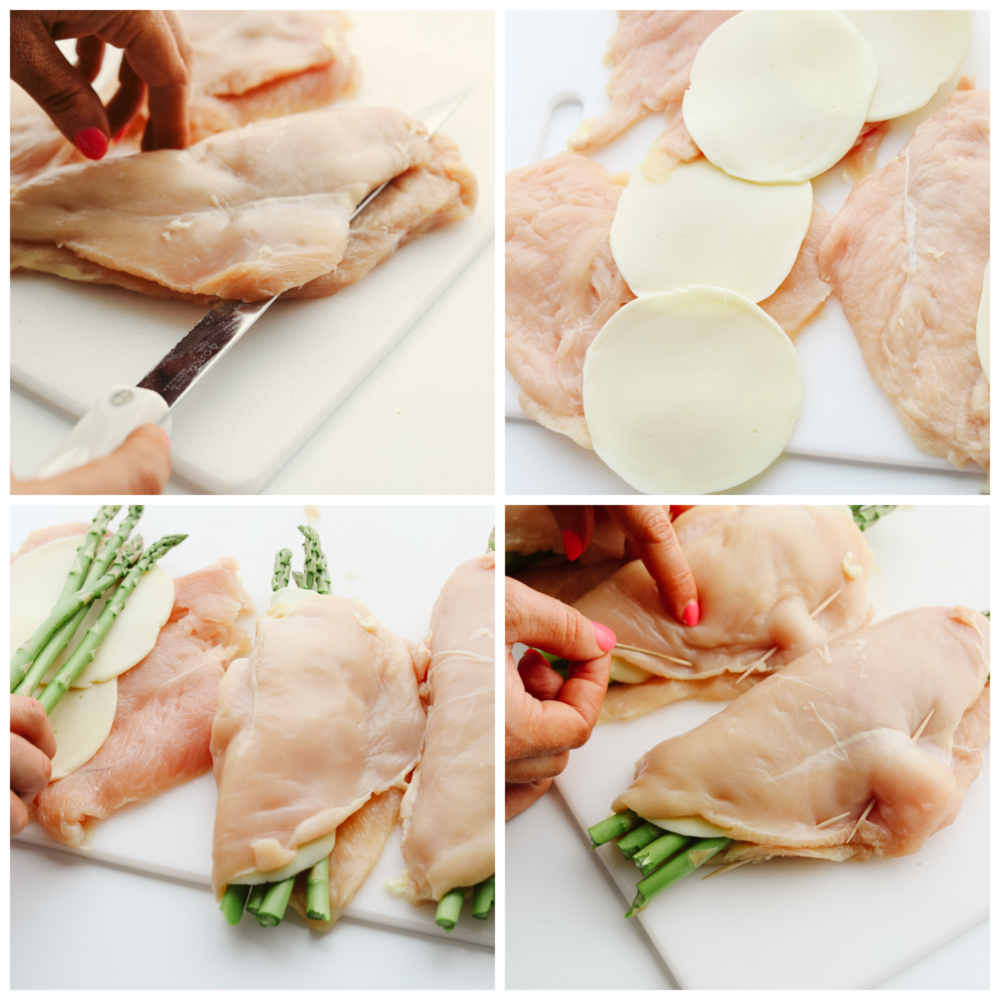 How to Make Asparagus Stuffed Chicken
This whole recipe takes less than 30 minutes from start to finish! So it's an excellent meal for any of those busy, on-the-go nights, but it tastes like you spent all day working in the kitchen!
Preheat Oven and Pound Chicken: Preheat oven to 375 degrees. Slice the chicken in half about ¾ of the way. Open the chicken and pound each side to be about ¼ inch thick.
Stuff the Chicken: Stuff the chicken breasts each with 2 slices cheese, and 3 asparagus stalks. Fold the chicken oven and secure with toothpicks around the edges.
Rub with Seasoning: In a small bowl combine the brown sugar, chili powder, paprika, italian seasoning, garlic powder, salt and pepper. Rub generously on each sides of the chicken.
Cook: Add the olive oil to a medium sized skillet and turn to medium high. Add the chicken and sear on each side for 2-3 minutes. Cover the pan with foil and put into the oven. Cook for about 15-20 minutes or until the chicken is cooked throughout.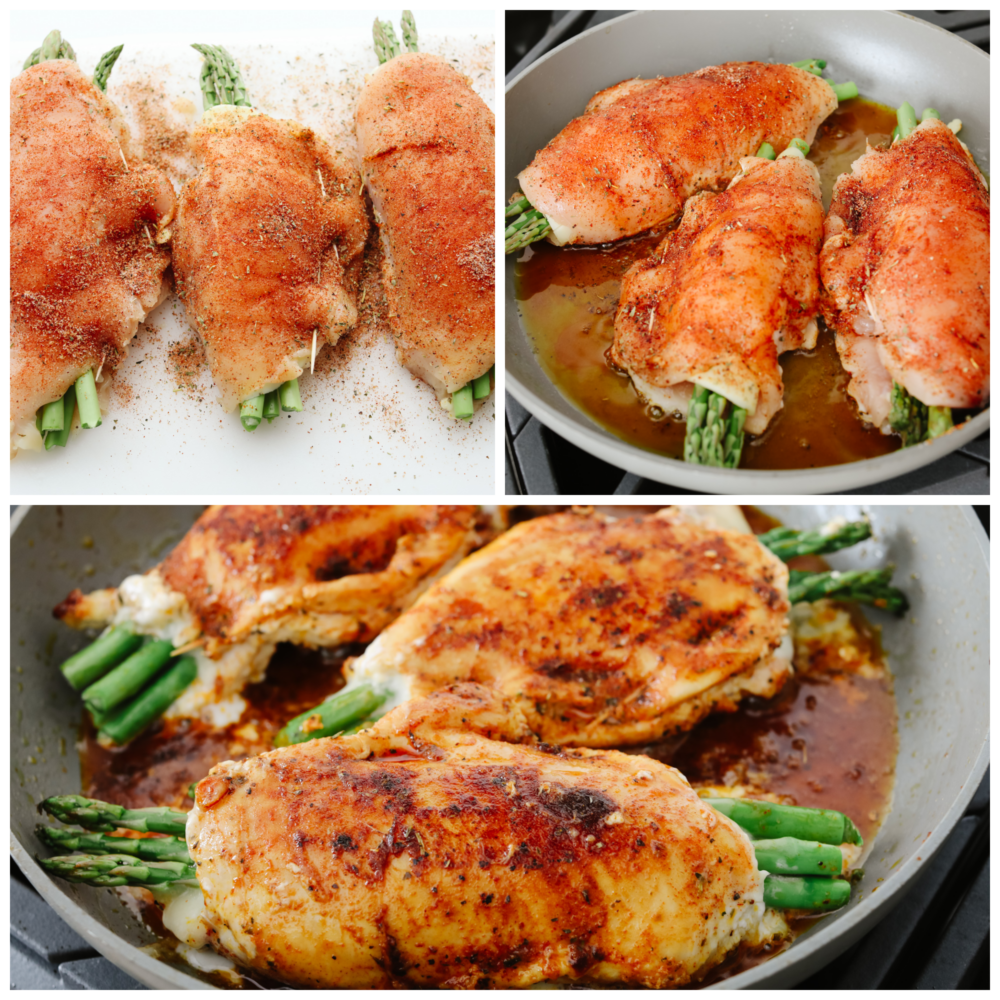 How to Know When Chicken is Safe to Eat?
When cooking meat, it's always important to check the internal temperature before eating. An internal digital meat thermometer can help you do just that! Stick the meat thermometer into the thickest part of the breast. Chicken is safe to eat at 165°F.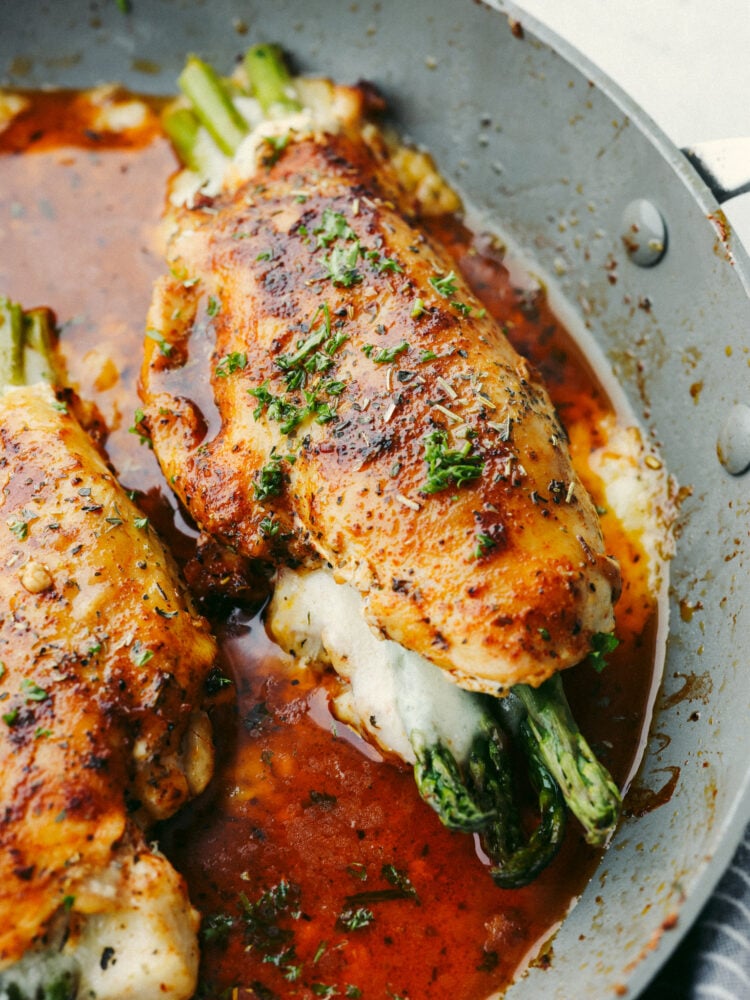 Chicken Cooking Tips
When you cook this asparagus stuffed chicken, there are a few things that you should do to make sure that it turns out perfectly. Here are some suggestions for you!
If you want the best, let it rest! A lot of times, people will skip this part… Don't! It's so easy and SO important! Once your meat is done cooking and out of the oven, leave it alone! This is the moment where your meat is locking in all of the juice and can dry out if you cut into it soon.
High Temperature: If you are worried about drying out your chicken or burning it, don't be tempted to lower the temperature. A lower temperature means that you have to cook your chicken longer, therefore drying it out! The high temperature and lower cooking time is what will deliver on the juicy, tender inside!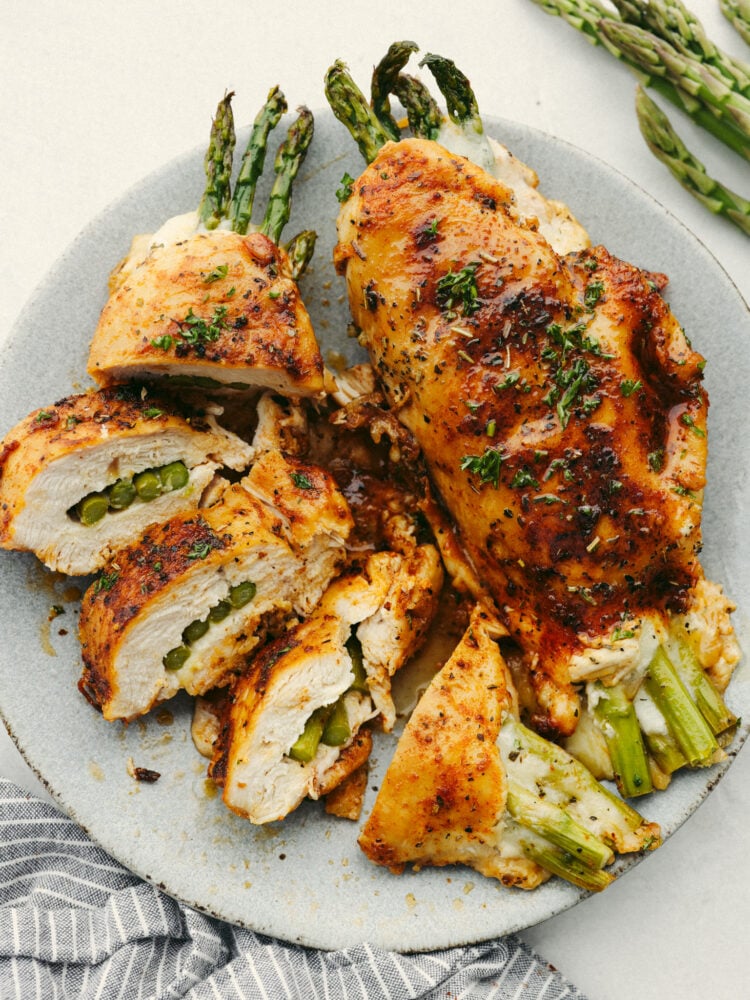 How to Store Leftovers
This tender and juicy asparagus stuffed chicken makes fantastic leftovers! You can have it the next day for dinner or even lunch!
Refrigerate: Wait until the chicken has cooled completely and then place it into an airtight container. It can be stored for up to 3 days in the fridge.
To Reheat: You can place your chicken in the oven and bake it at 350 degrees for about 10 minutes or until it's heated through.