Buffalo Chicken Tacos are topped with blue cheese coleslaw in this easy recipe made in the Instant Pot or the slow cooker. I used low-carb tortillas, but if you eat the tasty Buffalo Chicken in lettuce wraps, this low-carb recipe can easily be Keto or gluten-free!
PIN Buffalo Chicken Tacos to make them later!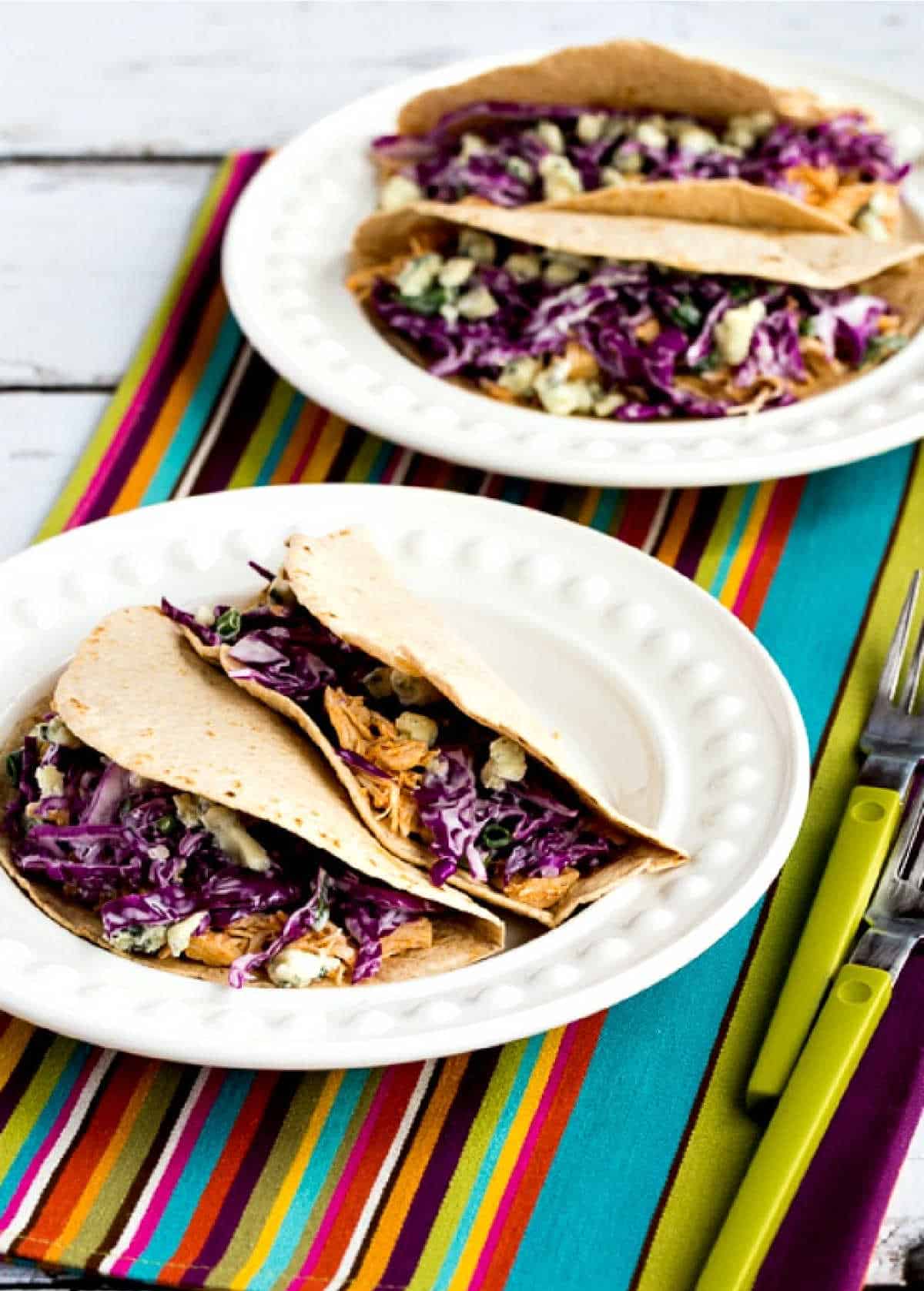 This recipe for Buffalo Chicken Tacos is going to be a hit with everyone who likes spicy buffalo chicken! And did you know that Frank's Red Hot Sauce has zero carbs, so this is extra easy to make into a low-carb meal.
Kara and I loved these tacos with the Blue Cheese Coleslaw you see in the photos! But if that doesn't sound like your thing, see other ideas below for slaw to go with the buffalo chicken. 
And if you have an Instant Pot (or a slow cooker) and you like Frank's Red Hot Sauce, I'm betting you'll enjoy these tacos!
What ingredients do you need for this recipe?
What Tortillas did I use for Buffalo Chicken Tacos?
I'm a huge fan of Mission Carb Balance Low-Carb Tortillas (affiliate link), and I've shared lots of recipes using them. But lately I am also really loving the Mr. Tortilla 2 Net Carb Multigrain Tortillas (affiliate link) that I used in my recipe for Salmon Tacos with Mexican Slaw. Use any tortilla or low-carb tortillas you prefer for these tasty tacos with Buffalo Chicken! Or eat the chicken inside lettuce wraps for Keto if you like that idea.
How can you make this in the slow cooker?
If you'd prefer to make these tasty buffalo chicken tacos in a slow cooker, just use the chicken instructions from my recipe for Slow Cooker Buffalo Chicken Cauliflower Rice Bowl!
Want more Buffalo Chicken recipes for the Instant Pot?
Check out Low-Carb Instant Pot Buffalo Chicken Recipes on my slow cooker / pressure cooker site if you're really a Buffalo Chicken fan! You'll find so many good ideas there to help you get your fix of Buffalo Chicken flavor!
Love Your Instant Pot?
I use a Six Quart Instant Pot (affiliate link) for all my Instant Pot Recipes. Check out my growing collection of Instant Pot Recipes. Click here for Pressure Cooker / Slow Cooker Recipes on my other site!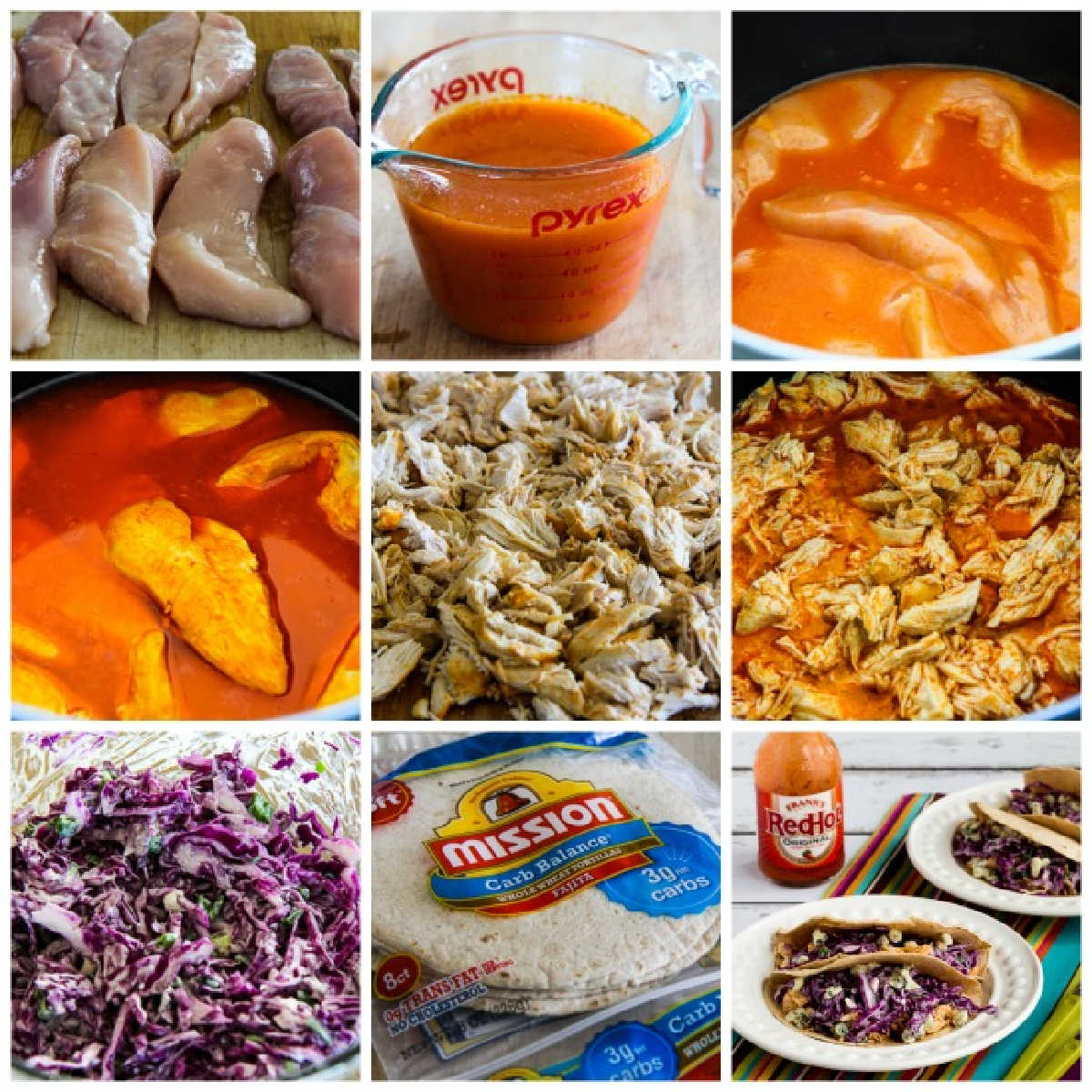 How to make Buffalo Chicken Tacos in the Instant Pot:
(Scroll down for complete recipe including nutritional information.)
Trim chicken breasts and cut in half lengthwise.
Melt butter and mix in the chicken stock and Frank's Red Hot Sauce.
Add the chicken and sauce to the pressure cooker, lock the lid, and cook on MANUAL,  HIGH PRESSURE for 5 minutes, then let the pressure release naturally.
When the pressure has released, unlock lid, remove chicken breasts to a cutting board, and after they cool for a few minutes shred the chicken apart with two forks. 
Check how much liquid is in the pressure cooker, and simmer to reduce and thicken the sauce if you think it needs it.
Put the chicken back into the sauce and keep warm while you make the blue cheese coleslaw.
Heat tortillas one at a time on a dry cast iron pan or griddle and fill each tortilla with some of the spicy chicken, some slaw, and a few extra crumbles of blue cheese if desired.
Serve right away, with extra hot sauce to add at the table for those who want it.
Other Slaws you could use for the Buffalo Chicken Tacos:
Personally I love the combination of Buffalo Chicken and creamy Blue Cheese! But I know not everyone is a blue cheese fan, so if you'd like other options for a slaw for these tacos I'd recommend Spicy Mexican Slaw, Spicy Lime Coleslaw, or Kalyn's Low-Carb Coleslaw to go in the tacos.
,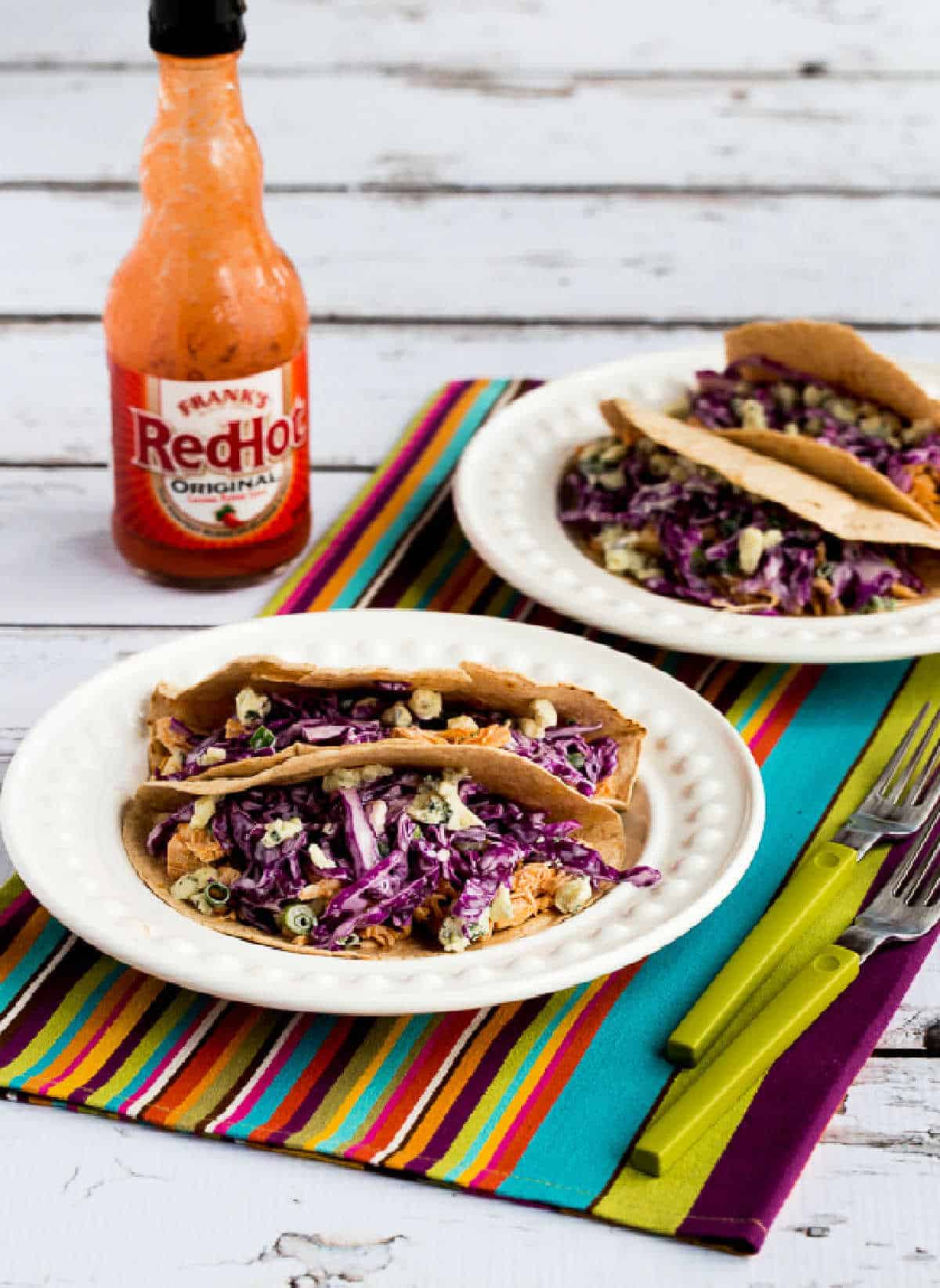 More Low-Carb Dinners with Buffalo Chicken Flavors:
Weekend Food Prep:
This recipe has been added to a category called Weekend Food Prep  to help you find recipes you can prep or cook on the weekend and eat during the week!
Ingredients
Chicken Ingredients:
6 large boneless, skinless chicken breasts
6 T butter, melted (see notes)
1/4 cup chicken stock
1/2 cup Frank's Red Hot Sauce (see notes)
Blue Cheese Coleslaw Ingredients:
6 cups thinly sliced red cabbage (see notes)
1/2 cup sliced green onion
1/3 cup blue cheese salad dressing (see notes)
salt and fresh-ground black pepper to taste
1/4 cup crumbled blue cheese
Other Ingredients:
8 Mission Carb Balance Low-Carb Tortillas
additional crumbled blue cheese if desired, optional
Instructions
Trim fat and any undesirable parts from the chicken breasts and cut each one in half lengthwise.
Melt the butter, then stir in chicken stock and Frank's Red Hot Sauce to make the cooking liquid. (You could melt butter and mix the sauce right in the pressure cooker.)
Put the chicken and cooking liquid into the pressure cooker, lock lid, and cook on HIGH PRESSURE for 5 minutes; then let the pressure release naturally.
While the chicken cooks and pressure releases, use a Mandoline Slicer with the 3mm blade to thinly slice the red cabbage.
Slice green onions, then mix the cabbage and green onions.
Stir in the blue cheese dressing, then the crumbled blue cheese, and season the slaw to taste with salt and pepper.
When the pressure has released, use a slotted spoon to remove chicken from the pressure cooker and place on a cutting board. (Check the liquid left in the pressure cooker and if it seems like too much liquid or it seems too thin, simmer to reduce the liquid while you prepare the rest of the recipe. You may not need to do this, depending on how much liquid is released by the chicken you use.)
Let the chicken cool for a minute or two; then use two forks to shred the chicken apart.
If you are simmering the cooking liquid to thicken it, wait until the liquid has reduced as much as you'd like it to, then add the shredded chicken back into the pressure cooker, stir to combine with the sauce, and keep warm.
Heat tortillas one at a time for a minute or so in a dry cast-iron frying pan.
Fill each tortilla with a generous amount of shredded chicken, some blue cheese coleslaw, and additional sprinkles of crumbled blue cheese if desired.
Serve right away, with extra Frank's Red Hot Sauce to add at the table if desired.
Notes
I originally used my Cuisinart Electric Pressure Cooker for this recipe, but you can also use an Instant Pot or a stovetop pressure cooker if that's what you have. (affiliate links)
The inspiring recipe used a whole cup of butter; go for it if you want to use more! Frank's Red Hot Sauce is fairly spicy; if you want it milder use a bit more chicken stock and a little less hot sauce.
I used Lighthouse Original Bleu Cheese. You could make Ridiculously Easy Blue Cheese Coleslaw to use in these tacos if you wanted to instead of blue cheese crumbles. You could use a mix of green and red cabbage for this recipe if you prefer.
Recipe adapted from Buffalo Chicken Sandwiches in The Easy Pressure Cooker Cookbook. (affiliate link)
Nutrition Information:
Yield:
8

Serving Size:
1

Amount Per Serving:
Calories: 351Total Fat: 20gSaturated Fat: 9gUnsaturated Fat: 9gCholesterol: 109mgSodium: 799mgCarbohydrates: 11gFiber: 4gSugar: 5gProtein: 33g
Nutrition information is automatically calculated by the Recipe Plug-In I am using. I am not a nutritionist and cannot guarantee 100% accuracy, since many variables affect those calculations.
Low-Carb Diet / Low-Glycemic Diet / South Beach Diet Suggestions:
If you use low-carb flour tortillas, this recipe should be approved for most low-carb eating plans. This shredded Buffalo chicken would also be delicious served over salad or inside lettuce wraps if you want a Keto or gluten-free option. For the original South Beach Diet, this would be considered Phase Two because of the tortillas.
Find More Recipes Like This One:
Use Instant Pot Recipes to find more recipes like this one. Use the Diet Type Index to find recipes suitable for a specific eating plan. You might also like to follow Kalyn's Kitchen on Pinterest, on Facebook, on Instagram, on TikTok, or on YouTube to see all the good recipes I'm sharing there.
Historical Notes for this Recipe:
This recipe was posted in 2016. It was last updated with more information in 2022.
We are a participant in the Amazon Services LLC Associates Program, an affiliate advertising program designed to provide a means for us to earn fees by linking to Amazon.com and affiliated sites. As an Amazon Associate, I earn from qualifying purchases.