This website may contain affiliate links and advertising so that we can provide recipes to you. Read my privacy policy.
Juicy chicken is coated in lemon pepper seasoning and baked to tender perfection in this easy recipe. The brown butter garlic lemon sauce on top is absolutely incredible!
Lemon pepper is one of my favorite seasoning combos because it's both savory and zesty! You can find it in some of my other favorite recipes like these wings, pan-seared salmon, and grilled chicken!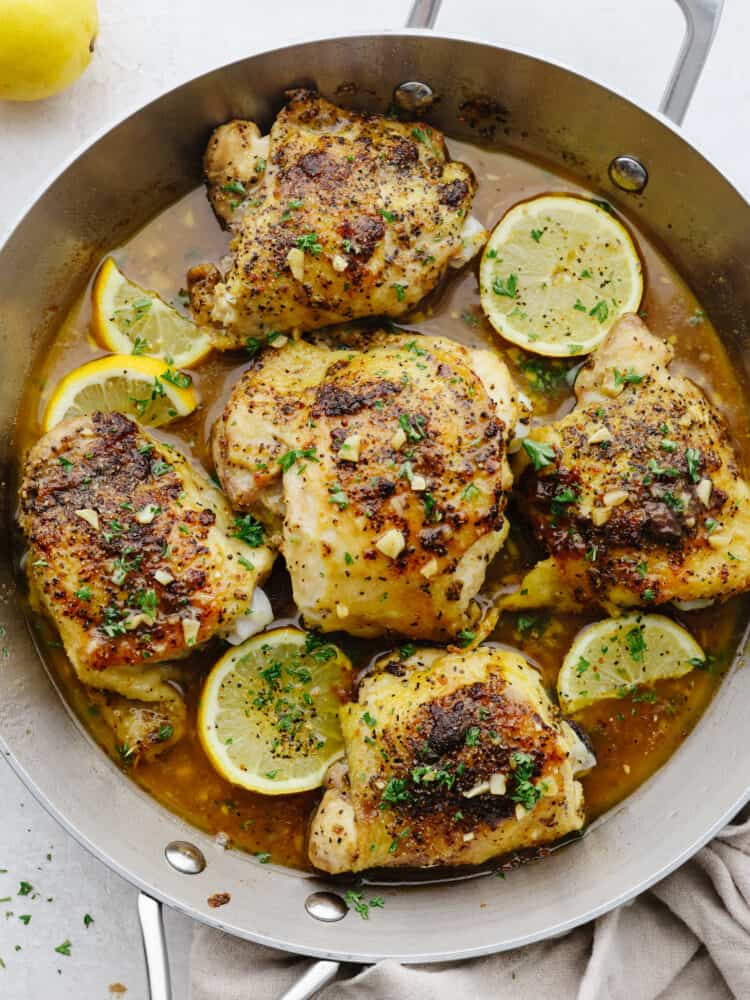 Brown Butter Lemon Pepper Chicken Recipe
Spring is here so I like to break out all of my lemon recipes to welcome in the warmer temperatures! Actually, I love lemon all year round but I like to take advantage of it while it is popular. Lemon pepper is one of my favorite seasonings to use and is so easy to make at home! It really takes this chicken dish to a whole different and delicious level.
This recipe is so easy to make but so impressive! I bake the chicken in the oven and then broil the tops so they can get that nice crisp edge and tender and juicy center. It tastes absolutely amazing. It's savory, it's zesty, and has the most amazing texture! This lemon pepper chicken with brown butter garlic lemon sauce is everything you could want from a spring dinner. Serve it with some fresh veggies like this perfect steamed asparagus and a side of brown rice for a hearty dinner your family won't forget!
Baked Lemon Pepper Chicken Ingredients
It only takes a handful of simple ingredients to make this amazing brown butter lemon pepper chicken. It's packed with so much flavor, it's the kind of meal the whole family will go crazy over! All measurements can be found in the recipe card below.
Chicken: I used chicken thighs because they're nice and juicy, but chicken breasts will also work!
Lemon Pepper Seasoning: This is what is going to give your chicken its perfect flavor, so you don't want to skimp when adding it! You can buy this premade or make it at home for a more customized blend.
Olive Oil: Used for searing the chicken in.
Butter: You can use salted or unsalted butter here! This acts as the base of the delicious sauce.
Chicken Broth: Adds a boost of flavor and helps thin out the sauce.
Minced Garlic: Because nothing complements lemon quite as well as savory garlic! It's a match made in heaven.
Lemon Juice: This can be fresh lemon juice or bottled, it just adds a pop of zestiness to your brown butter sauce. Note: if you're using fresh lemon juice, save your rinds for a bit of lemon zest for garnish at the end!
How to Make It
Right before the chicken was done, I made the amazing brown butter garlic lemon sauce. Holy yum! The brown butter is just one extra step and is absolutely amazing. All of the flavors in the sauce came together so well and it was the perfect finishing touch to the lemon chicken.
Preheat Oven, Sear Chicken: First, preheat your oven to 375 degrees Fahrenheit. Season the chicken thighs with lemon pepper seasoning. Add olive oil to a medium-sized skillet. Sear the chicken on each side for 2-3 minutes until each side is golden brown. Remove and set aside on a plate.
Prepare Brown Butter Sauce: Melt the butter in the skillet and cook over medium-high heat. Continue to whisk for a few minutes until the butter starts to become frothy and brown. Add in the chicken broth, garlic, and juice of one lemon. Add the chicken thighs to the skillet and coat in the lemon butter sauce.
Bake: Next, bake in the oven for 20 minutes or until chicken is cooked throughout and no longer pink.
Tips and Tricks for Making the Best Lemon Butter Chicken
Brown butter lemon pepper chicken is a quick and easy recipe that is full of such delicious flavor! It's one that you are going to love! Here are a few ways to make sure it turns out perfectly every time.
Check Temperature: To keep your chicken from overcooking and becoming dry, use a thermometer to check internal temperature. Once your chicken reaches 165 degrees F internally, it's ready to eat!
Make Sauce Thicker: If you want your sauce to be more like a glaze, mix a tablespoon of flour together with cold water to create a thickening agent, then stir it into your sauce.
Make Sauce Creamier: If you want your sauce to be richer, add a tablespoon of heavy cream in at a time until you reach your desired consistency.
Serve With: The flavors of this dish pair well with so many different sides! Mashed potatoes, green beans, noodles, white rice, and cauliflower steaks are just a few of my favorites. A green salad is also great for contrasting flavors.
Storing Leftovers
Lemon pepper chicken with brown butter lemon garlic sauce is great for leftovers! You're going to love having it for a quick lunch.
In the Refrigerator: You'll want to store both your chicken and sauce in the fridge in airtight containers. The lemon pepper chicken will last for 3-4 days and your brown butter sauce will last for up to 1 week.
Reheating: I like to reheat my chicken and sauce over the stove on medium heat until warmed through. Once your chicken has reached an internal temperature of 165 degrees, it's ready to eat!