This website may contain affiliate links and advertising so that we can provide recipes to you. Read my privacy policy.
Alfredo Roll Ups are cheesy, perfectly portioned servings of deliciousness. This is going to be one of the best meals you will ever make!
Anything with lasagna noodles is just fun to make and delightful to eat! You have to try these favorites, Classic Lasagna, Zucchini Lasagna and Lasagna Soup!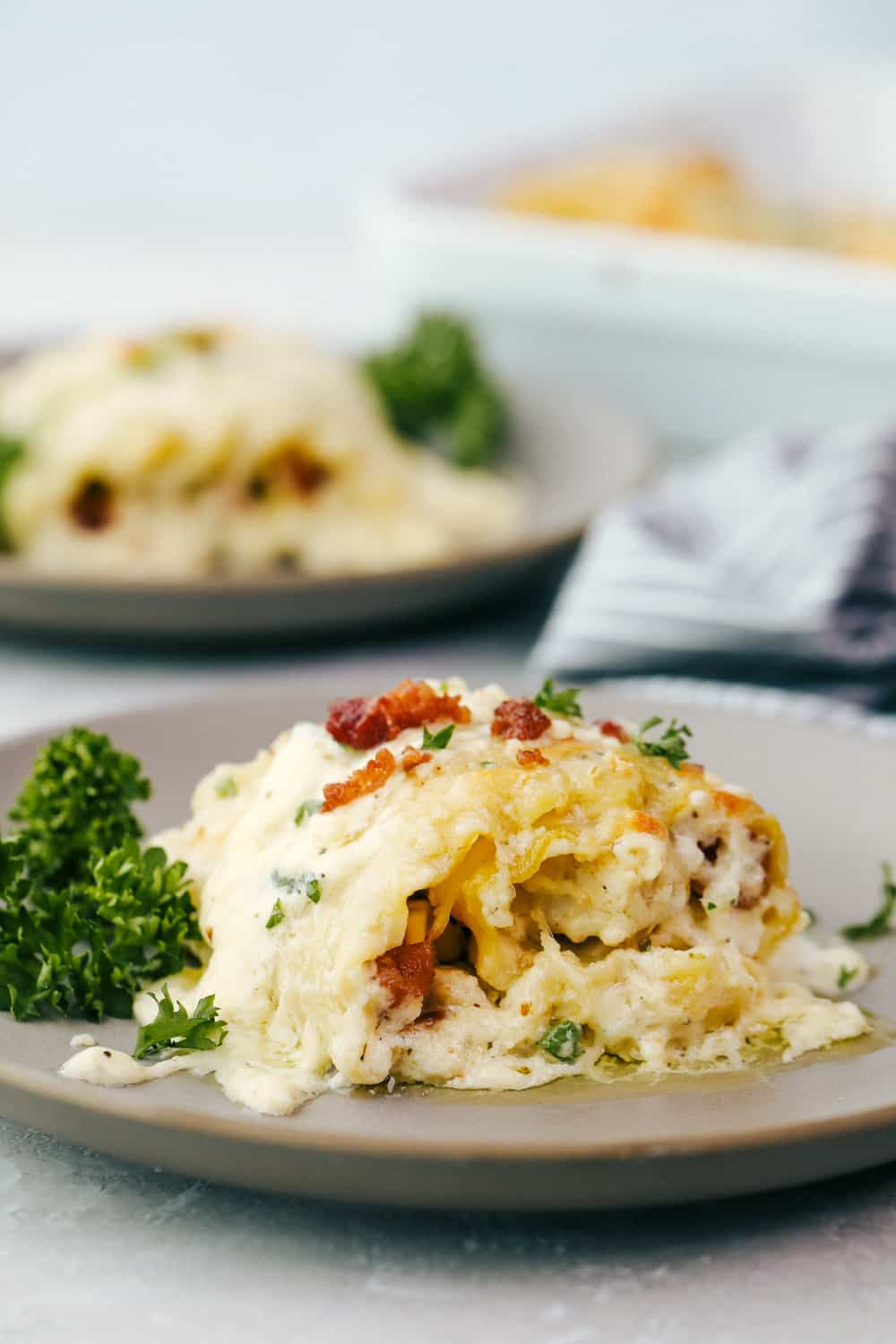 Easy Chicken Alfredo Roll Ups
Some things I make on the blog that I really hope everyone tries. This is one of those recipes. I have already made it twice in one week. And because I loved it so much I invited my family over for Sunday dinner. They had to experience how amazing this meal was, and they could not get enough. This will turn your ordinary roll ups upside down. It is different, creamy, decadent and full of flavor!
It all started with these Alfredo Roll Ups. An early recipe on the blog that I've been tweaking over the years and have now perfected. The homemade alfredo sauce is absolutely perfect,  I promise you won't find a better one out there. Then I added the bacon, because bacon makes everything better. It was a simple addition that turned these into divine individually portioned bites of heaven. This is a dish the whole family will love! I bet you will make them again and again!
Ingredients for Chicken Roll Ups
All of these ingredients can be easily found at the grocery store. I used a rotisserie chicken or use chicken from this incredible whole chicken in the instant pot recipe. So good!
Lasagna Noodles: Precooked but just to al dente. Drain and rinse your noodles in cold water and separate to avoid sticking together.
Chicken: Cooked and shredded. Rotisserie chicken works well here.
Bacon: Cooked and crumbled, use the air fryer for a quick way to cook your bacon.
Mozzarella Cheese: Grated, but shred your own to avoid cheese that has anti caking agents on it.
Garlic Alfredo Sauce Ingredients 
Butter: Adds a bit of salt and tons of flavor.
Heavy whipping Cream: Creates a creamy decadent sauce.
Cream Cheese: Not only adds flavor but helps to thicken it as well.
Garlic: Freshly minced garlic works best.
Garlic Powder: This will add more flavor without the chunks.
Italian seasoning: A great seasoning with all the best herbs. Make your own here.
Salt and Pepper: Add to taste
Parmesan Cheese: Grated fresh will give you the best flavor.
How to Make Chicken Lasagna Roll Ups
This may seem hard, but it is not! It is actually quite simple. My kids love to help me roll the noodles up, they also love to eat the filling.
Prep: Preheat the oven to 350 degrees. Spray a 9×13 inch pan with cooking spray and set aside.
Cook: In a large pot cook the lasagna noodles according to the package directions until al dente. Drain and rinse the noodles with cold water and lay them on a paper towel to remove excess water.
Alfredo: In medium saucepan add butter, heavy whipping cream and cream cheese. Cook over medium heat and whisk until melted.
Season: Add the minced garlic, garlic powder, Italian seasoning, salt and pepper. Continue to whisk until smooth.
Cheese: Add the grated parmesan cheese. Bring to a simmer and continue to cook for about 3-5 minutes or until it starts to thicken.
Bottom of Pan: Line the bottom of the 9×13 pan with 1 cup of the alfredo sauce.
Layer Noodles: Spread 2 Tablespoons of the alfredo sauce over each noodle. Take 1/8th of the shredded chicken and bacon and spread evenly over each noodle and top with about 3 tablespoons shredded cheese.
Roll it: Carefully roll up each lasagna noodle and place seam side down in your 9×13 prepared pan. Repeat.
Cover: Once they are all in the pan, pour the remaining alfredo sauce over the top and sprinkle with the remaining cheese.
Bake it: Bake at 350 for about 30 minutes until heated through and cheese is bubbly.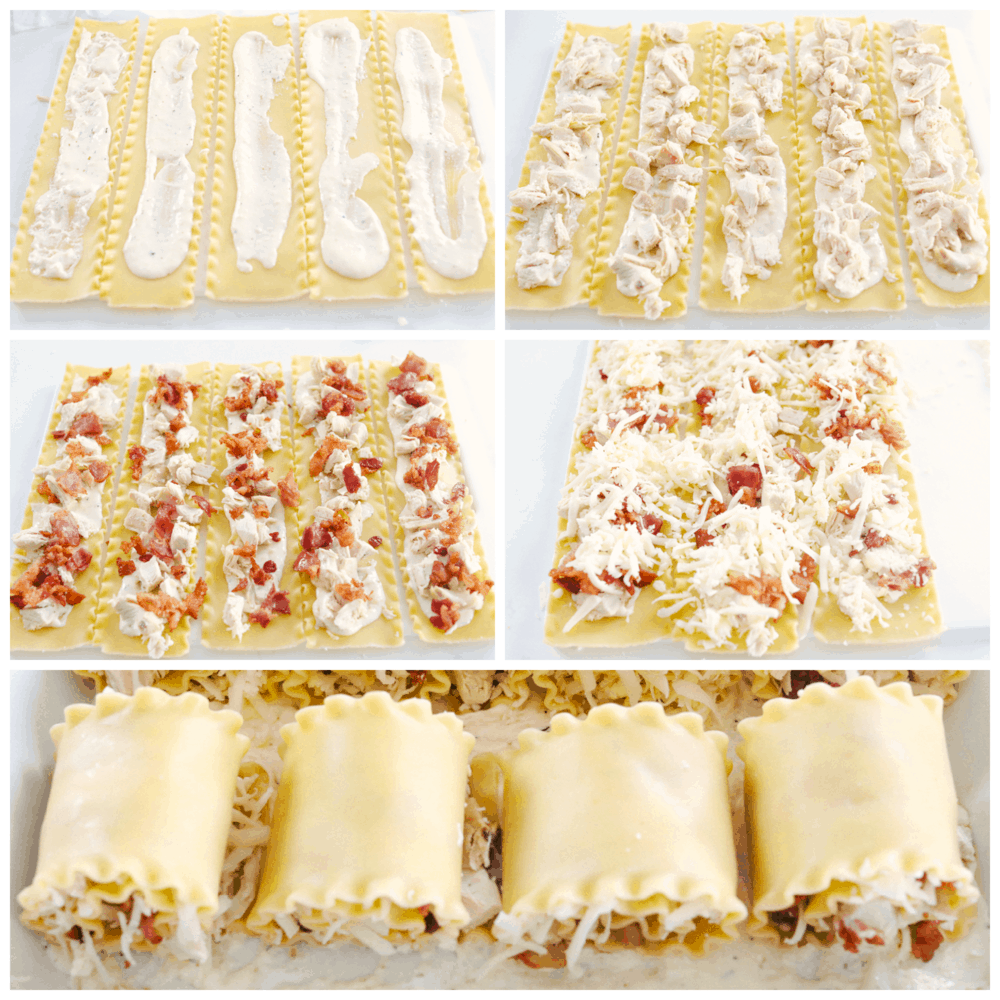 Tips for the Best Chicken Alfredo Roll Ups
These roll ups are absolutely divine. They are fun and different and are going to be a family favorite for sure.
Noodles: Make sure you cook your noodles al dente. You want them to soft and pliable but firm enough to roll. I do not recommend using no boil noodles. They just do not work with this recipe.
Chicken: This is a great recipe to use up extra chicken you may have from another dinner. I like to cook thighs and breasts in the air fryer to use for recipes. They both would be amazing in this recipe.
Cheese: Mozzarella is a classic cheese for this lasagna dish, be sure to grate your own. It will melt easier and more evenly. Other cheese you could use is provolone or gouda.
Alfredo Sauce: If you want a lighter alfredo you can use half and half, it will still you all the flavor and creaminess. Also try subbing out the parmesan for romano, asiago or pecorino romano.
Cover while cooking: If you are worried about the noodles exposed edges becoming crunchy, cover the dish with foil before placing it in the oven. Everything is already cooked so you essentially you are heating the insides. Uncover the roll ups the last 5-10 minutes to brown the cheese.
Double it and Freeze!
One of the best things about this meal is that it is so easy to prep ahead of time and or freeze for another day. Since I am making one batch of these roll ups, I might as well make two. It is just as easy and i can freeze one to have later or to give away. It just makes sense.
Make ahead:  Make these chicken bacon alfredo roll ups up to a day ahead and place in the fridge tightly covered. When ready to bake, remove from fridge half hour before cooking. Bake for regular time and uncover the last 5-10 minutes.
Freeze: To freeze, make the chicken bacon roll ups and place in the pan. Tightly cover with plastic wrap and then with foil. Freeze for up to 2 months. Remove from freezer and let thaw in the fridge. Bake as directed. Note: Dairy does not freeze well so you might notice a bit of separation in the sauce. It will not change the flavor, just the look.  It is totally normal and still good to eat.
Leftovers: Store leftovers in the fridge for up to 5 days. Reheat in the microwave.
More Roll up Fun to Have with Your Food
Rolling your food up isn't just a fun way to play with your food, it is a fun way to eat your food too. You can either unroll them bite by bite or just cut into them. Roll up food can include so many different foods from sweet to savory. If you want to have more fun with your food, try these tried and true roll up recipes today!