This website may contain affiliate links and advertising so that we can provide recipes to you. Read my privacy policy.
Slow cooker BBQ chicken slow cooks to perfection in the best sweet and tangy homemade BBQ sauce. The chicken is so tender and just melts in your mouth with the most amazing flavor!
Slow cooker meals are great at this time of year as we transition into spring and summer because you don't have to heat up your house with your oven! This pork roast, honey soy chicken, or these Pork Carnitas are some more great slow cooker meals to try!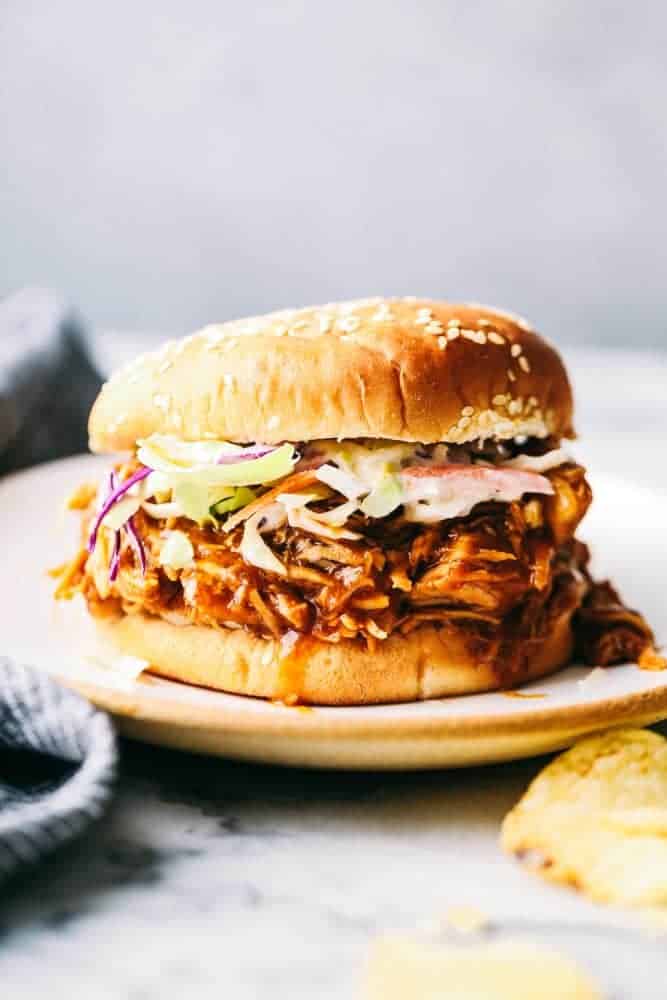 A Reader's Review
So easy to make and delicious!!
-Nadine
Slow Cooker BBQ Chicken
You guys!! This is seriously melt in your mouth GOOD! There were so many "MMMM" and "AHHH" at our dinner table that no other words were spoken until halfway through the meal. My boys and hubby were in complete heaven! I got a few giggles out of them once they noticed bbq sauce on each other's lips and cheeks from going to town with the sandwich and not stopping. It was one of those moments you laugh at and always want to remember. My girls were enjoying it and then licking their fingers after every bite. Everyone was happy, and so was this mama!
It is a simple recipe that we can't get enough of! It makes enough to even have leftovers. The sauce is thick and flavorful! You mix it all together in one bowl, pour on top of the chicken, and then let the slow cooker finish the rest. Your home will be filled with a sweet bbq smell that is mouth-watering in itself. This is one recipe that your family will be begging for.
Ingredients in Slow Cooker BBQ Chicken
This ingredients list is simple and delicious. You probably already have most of these items in your kitchen. If you do then you must make this for dinner tonight! See the recipe card at the bottom of the post for exact measurements.
Chicken Breasts: Boneless, skinless chicken breasts are exactly what you need for this recipe!
Ketchup: The taste and texture are perfect for this sauce.
Molasses: It adds a delightful flavor.
Brown Sugar: You know me, I love putting brown sugar in anything that I can! This deep, sweet flavor is hard to miss and is so good!
Cider Vinegar: Adding vinegar breaks down the texture of the molassas and also adds a slight tangy flavor to the sauce.
Worcestershire Sauce: No one can every say this word correctly but we all have it in our houses! It mixes well with the ketchup.
Seasonings: Smoked paprika, chili powder, onion powder, salt, and liquid smoke make the perfect blend of flavor!
Water and Cornstarch: These are used together to thicken the sauce.
How Do You Make Slow Cooker BBQ Chicken?
It only takes about 10 minutes of prep, and then the rest of the time, it's just cooking in the slow cooker! This recipe is so simple and easy it will be on your dinner rotation for years to come!
Mix Sauce: Add the chicken to the bottom of your slow cooker.  Then, in a medium sized bowl, whisk together the ketchup, molasses, brown sugar, cider vinegar, Worcestershire sauce, paprika, chili powder, onion powder, salt and liquid smoke.  
Cook and Shred: Pour the sauce on top of the chicken and then cook on low for 4-6 hours or high for 3-4 until chicken is tender enough to shred.  Shred the chicken and then mix water with cornstarch.  Add to the bbq sauce and let the sauce thicken up for about 30 more minutes.  
FAQs for Cooking Chicken
How do you shred cooked chicken? Remove from pot and let cool for a few minutes. Once the chicken is cool enough to handle then use two forks and pull breasts apart. If you want smaller pieces of shredded chicken, you can shred the larger chunks with your hands.
Can you OVER cook chicken in the slow cooker? Because cooking anything really lean for a long time can result in super dry meat, you still have to be careful even with a slow cooker. Chicken breasts have little fat and little connective issue. The same goes for a lean beef roast. You can do chicken breasts in a crock pot – just not all day, more like a few hours on low.
Can you put frozen chicken in the slow cooker? Yes! Just add another hour onto the cooking time if you are using frozen chicken.
How do I defrost chicken properly? You'll need to change the water every 30 minutes to ensure that it stays sufficiently cold. Using this thawing method, small packages of frozen meat or poultry (about a pound) can defrost in one hour or less. For larger items, you should estimate about 30 minutes of defrosting time per pound of food.
Can You Freeze BBQ Chicken?
Yes! We like to shred the chicken instead of leaving it in whole pieces because the smaller pieces thaw more quickly. We freeze the shredded chicken in one cup portions and label the package. This will freeze well up to 3 months.