This website may contain affiliate links and advertising so that we can provide recipes to you. Read my privacy policy.
Crispy Air Fryer "Fried" Chicken is what Air Fryers were created to do! Crunchy golden seasoned outside, and tender, juicy, full of flavor inside! This is how the chicken was meant to be eaten.
Air Frying is sweeping the culinary world and with good reason. Food is done quicker, it's juicer and has beautiful crusts. Try yours out with these absolutely delicious air fryer recipes. Salmon, Steak with Garlic Herb Butter, and this Chicken Breast.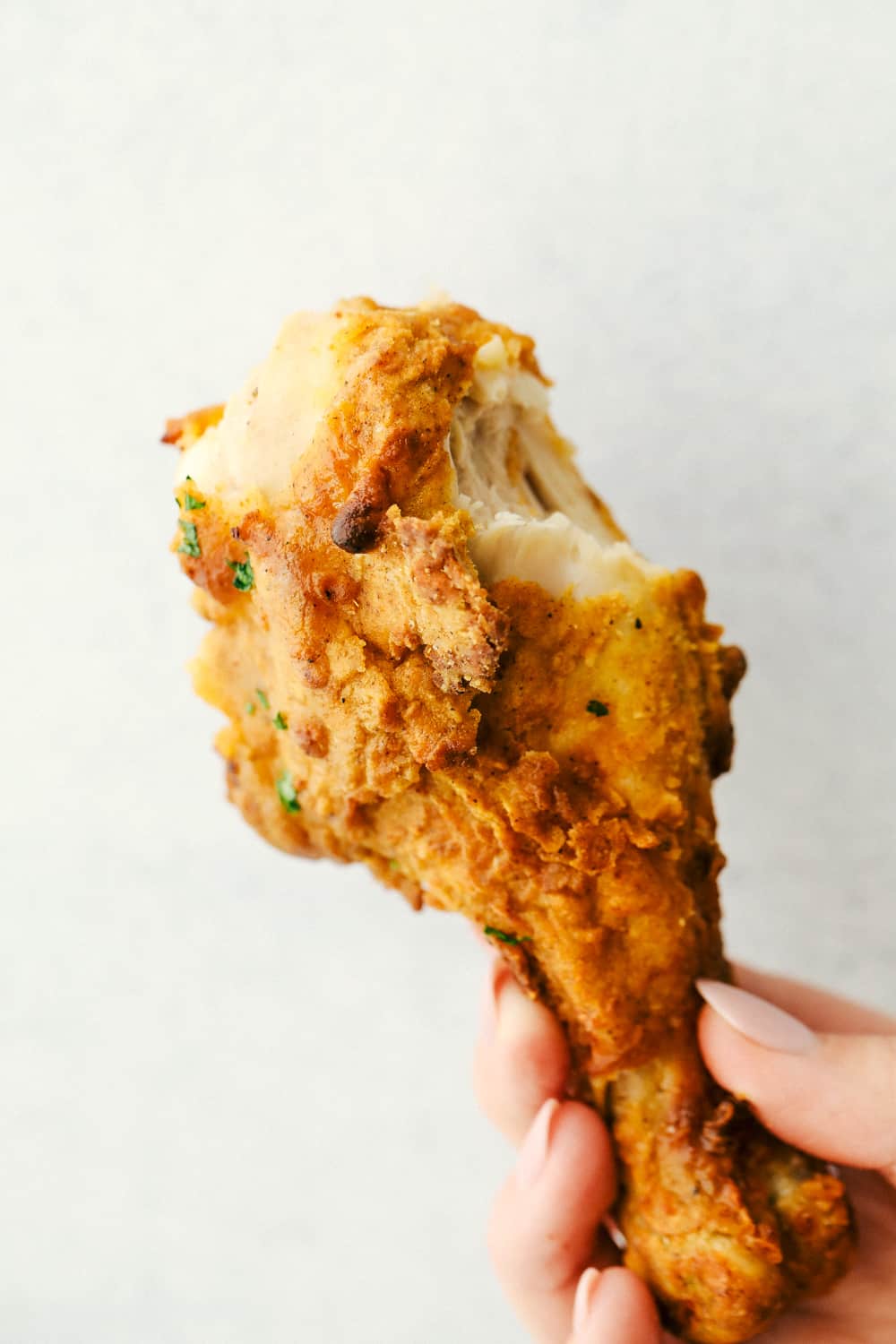 Perfect Air Fryer Fried Chicken
This fried chicken is going to change your life! It's one of the best air fryer recipes ever! If you love fried chicken but hate the mess and the extra fat, then this recipe is for you!  Succulent tender chicken surrounded by a crunchy, mouthwatering, seasoned coating. Air frying chicken is much healthier than deep fat frying it and you'll still get that amazing outside that we all love. You may never buy fried chicken out again. It's just that good.
Using the air fryer eliminates not only the need for extra oil to fry it in, but it will also eliminate the mess. No more oil splatters all over your kitchen. And you won't have to worry about hot oil hitting you or anyone else who might be walking by. The mess, which is minimal, is contained in your air fryer. Genius! All of the best parts of fried chicken at your fingertips are in this recipe. It's going to become a quick family favorite for sure. And using the air fryer also just makes this so much easier to make. I'll confess the thought of making fried chicken before seemed daunting. With this air fryer recipe, I can make it every night!
Easy Fried Chicken Ingredients
Simple ingredients boast a huge flavor in this air-fried chicken. If you don't have cajun seasoning feel free to sub it out for your favorite spices or you can leave it out altogether. If you don't have buttermilk don't fret, I have the solution for you, you can make your own. Get the recipe here.
Chicken: bone in chicken thighs and legs
Salt and Pepper: To taste
Buttermilk: Adds flavor and helps the flour mixture adhere to the chicken.
Eggs: Another binding agent.
Flour: The base of the crunchy coating.
Cajun Seasoning: Full of flavor, it's perfect for chicken.
Garlic Powder and Onion Powder:  Adds extra flavor
Paprika: Provides color and flavor
Salt and Pepper: Add more or less to taste.
Olive Oil spray: This will help "fry" any of the leftover outside coating.
How to Make Crispy Air Fryer Chicken
This is pretty straightforward. The spray oil is used to help any coating that doesn't get "fried" get cooked. No one wants to bite into a mouthful of flour.  In step 6 you'll open the basket to flip the chicken, you can spray any dry spots then.
Season the Chicken:  Salt and pepper chicken thighs and legs.
Mix: In a medium sized bowl add the buttermilk and eggs and whisk.
Coating: In another medium sized bowl add the flour, cajun, onion powder, garlic powder, paprika, salt and pepper.
Dredge: Using tongs, dredge the chicken in the flour, then the buttermilk, and then lastly in the flour.
Cook: Place in the bottom of the air fryer basket and cook at 360 degrees for 15-20 minutes.
Oil if needed: Open the basket and spray any flour with cooking spray. Turn the chicken and cook for another 5-10 minutes until internal temperature registers 165 degrees and is no longer pink.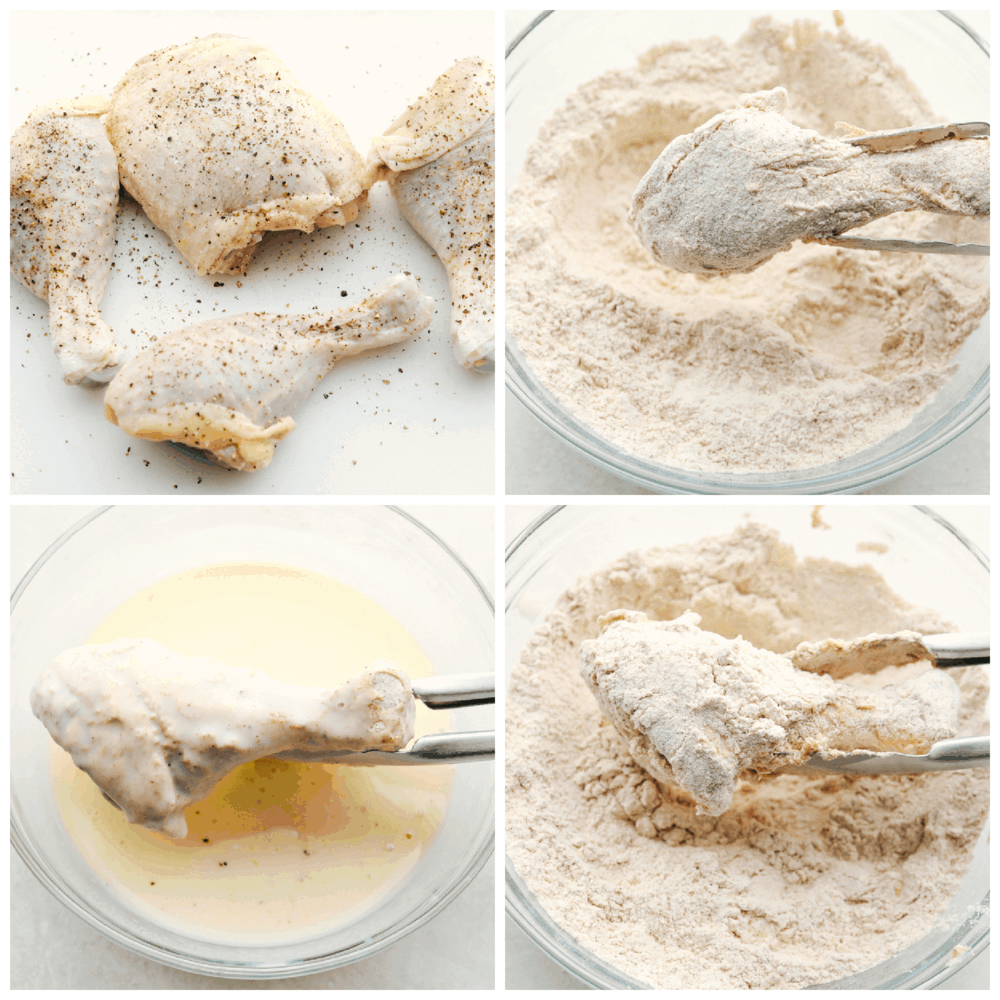 Can you Substitute the Chicken?
Can I use boneless skinless chicken? I don't recommend using boneless skinless chicken. The skin helps the coating stick to the chicken, creating that luscious crispy outside. Having the bone in also adds moisture and flavor. You can use boneless chicken, you might need to adjust the cooking time, but look for chicken with skin for the best results.
Can I use Chicken Breasts? I like using chicken pieces that are closer to the same size for more even cooking. If you use bone-in skin-on chicken breasts you'll have success by adjusting the time. Again check your fried chicken with a thermometer. Also cook them separately from the smaller pieces.
Tips for the Best Air Fried Chicken
Just like any air fryer recipe, there are a few things to keep in mind to make this the most perfect air-fried chicken ever. The most important thing to remember is to know your air fryer. There are so many out on the market now. Yours might be bigger or smaller than mine and so you can cook more or less. Your air fryer might also come with recommendations for cooking fried chicken. It'll be best to follow your manufacturer's instructions.
Overcrowding: Do not over crowd your air fryer. Circulating air is how the air fryer cooks, and if you don't leave enough space between the food for the air to penetrate, it won't cook the same. You'll have undercooked spots in your dish. If you need to cook your chicken in batches to make sure it's not over crowded. Keep cooked chicken warm in a 200 degree oven while you cook the other batches.
Know Your Air Fryer: Not all air fryers are the same and not all chicken is the same size. The times I used in this chicken recipe is a guideline. Make sure your chicken is cooked through. Insert an instant read thermometer into the thickest part of the chicken and make sure it reads 165 degrees.
Yes, you need the cooking oil spray:  This is important in creating that crunchy fried chicken. You'll want to spray the bits of chicken that are still covered in uncooked coating. You don't want the chicken to taste like flour instead of amazing.
Parchment liners:  If you want to eliminate some of the mess from the coating in your air fryer, they now sell air fryer specific parchment liners that have holes in them. Let me know how they work for you, if you use them.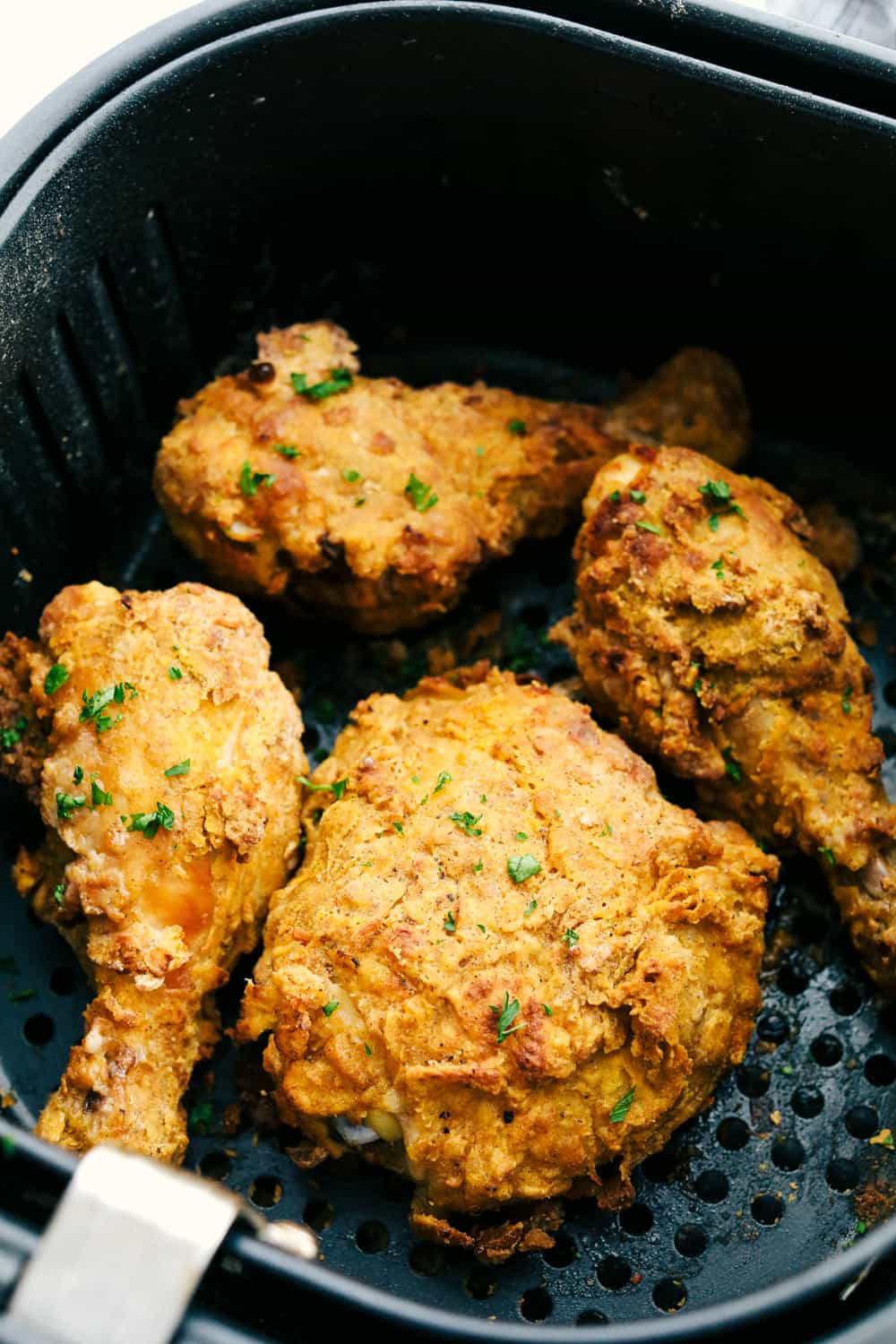 Do I have to Use Buttermilk?
Yes, you really should! Not only does it add flavor but it actually helps the chicken maintain its juiciness inside while helping to create a crispy outside. If you have time you can even let the chicken sit in the buttermilk from an hour up to overnight. If you don't have buttermilk on hand you can make your own using lemon juice or vinegar using this How to Make Buttermilk recipe.
How Come my Coating Won't Stick?
If your coating is falling off try letting the mixture air dry on the chicken before air frying it. Place the chicken on a wire rack after you've to dredge it to let the coating really adhere to the skin. 10 minutes is all it will take.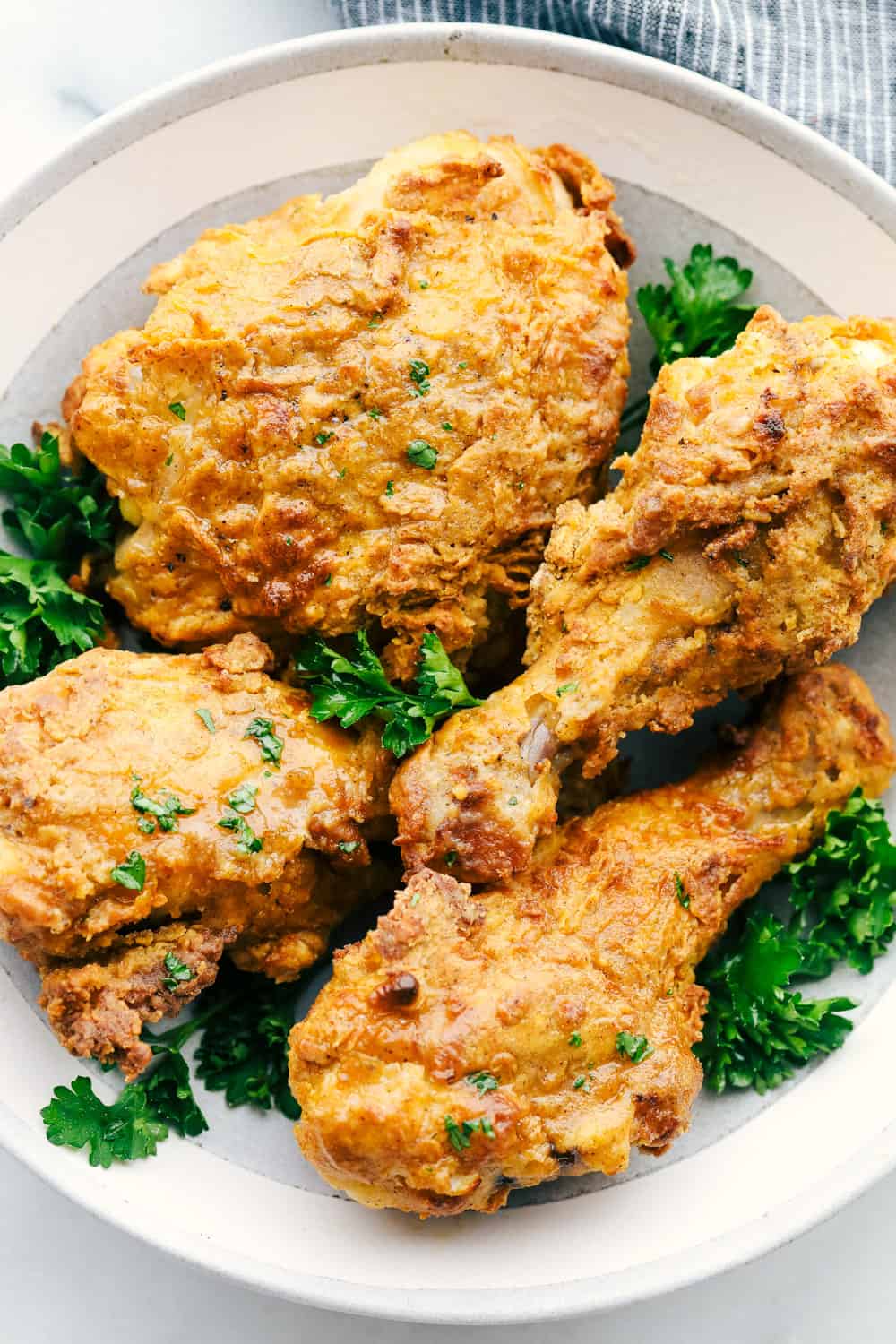 More Chicken Recipes to Love
Chicken is fabulous! It is a marvelous ingredient to work with. It has a mild flavor on its own, so it's easy to marinate and flavor any way you like it. Whether your air frying it, put it on the grill, in the slow cooker or instant pot, it's just wonderful.  Try these other incredible chicken recipes.