Asparagus Wrapped in Ham is a treat for a low-carb appetizer to nibble on while you're watching sports or waiting for a holiday meal. 
PIN Asparagus Wrapped in Ham to try it later!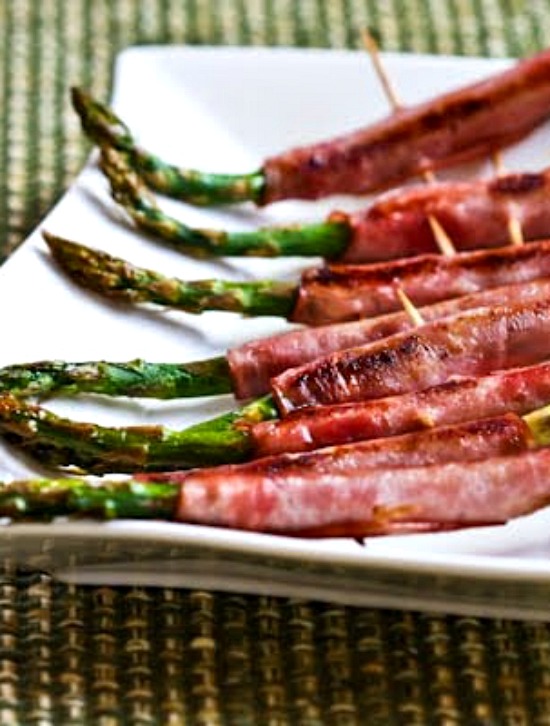 When you want a special appetizer that's a treat but also low in carbs, this Asparagus Wrapped in Ham is something that's always going to be a hit. And asparagus is turning into a year-round vegetable, even if it's slightly more expensive during the winter.
The smoked and slightly browned ham paired wonderfully with the barely roasted asparagus, and Asparagus Wrapped in Ham is something that is going to be popular with all the asparagus fans! And who doesn't love the idea of an easy appetizer that only has two ingredients!
Give this a try and see if it's a hit with the asparagus lovers in your life.
What ingredients do you need?
thick asparagus spears
smoked ham, thinly sliced
What else can you wrap around asparagus?
I've seen recipes using asparagus wrapped with prosciutto or bacon, so that's white inspired me to try this asparagus roasted with sliced ham! And I wouldn't mind trying it wrapped in thinly sliced corned beef either! And look in the comments for other ways people have experimented with this idea.
Want more ideas for appetizers with Asparagus?
Check out Asparagus with Tahini-Peanut Dipping Sauce for another fun idea with asparagus that's perfect to serve as an appetizer!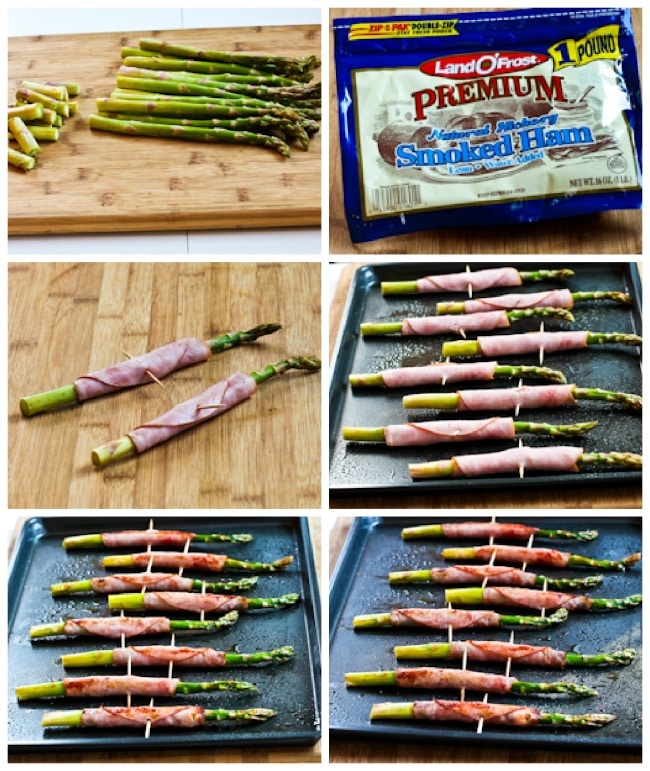 How to Make Asparagus Wrapped in Ham:
(Scroll down for complete recipe including nutritional information.)
I made this twice, and it's definitely best with asparagus spears that are a bit thicker.
Cut off the woody ends of the asparagus, making the pieces all the same size.
For this recipe packaged ham (where the pieces are all the same size) will work best.
Roll a piece of ham around each asparagus spear, securing it with a toothpick.
Spray the baking sheet with non-stick spray or olive oil before you put the asparagus on.
I staggered the pieces on the baking sheet so it wouldn't be too hard to turn them.
Roast the spears 8-10 minutes on the first side, until the ham is barely starting to get browned.
Then turn and roast 5-7 minutes more, until the asparagus is barely tender-crisp and the ham is lightly browned on both sides.
Serve hot.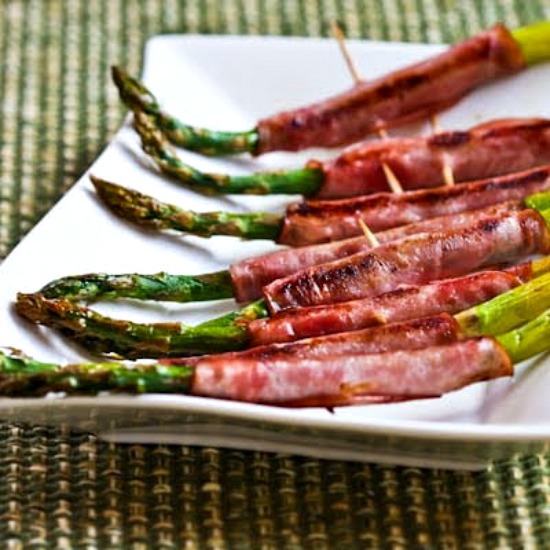 More Recipe Ideas with Asparagus:
Chicken and Asparagus with Three Cheeses
Asparagus and Tomato Salad with Hearts of Palm
Baked Eggs and Asparagus with Parmesan
Ingredients
1 lb. thick asparagus spears, woody ends trimmed
1 lb. smoked ham (see notes)
Instructions
Preheat oven to 400F/205C.
Spray a baking sheet with non-stick spray. (If you have two or more baking sheets, and room in the oven, you can cook all the wrapped asparagus at once.)
Trim the woody ends of asparagus spears, making all pieces the same size.
Roll a piece of ham around each piece of asparagus, securing with a toothpick inserted horizontally so the piece of asparagus will lay flat on the baking sheet.
Lay asparagus on the sprayed baking sheet, staggering the pieces so you'll be able to turn them.
Roast asparagus for 8-10 minutes on the first side, or until the ham is lightly browned.
Turn asparagus pieces over and roast 5-7 minutes more on the second side, until asparagus is barely tender-crisp and ham is lightly browned on both sides.
Repeat with more asparagus pieces if you're only using one baking sheet.
Serve hot, with mustard dipping sauce on the side if desired.
Notes
Packaged ham that's cut into same-size pieces will work best for this recipe. Be sure to choose ham without added sugar if you want it to be low in carbs.
Recipe created by Kalyn.
Nutrition Information:
Yield:
20

Serving Size:
1

Amount Per Serving:
Calories: 33Total Fat: 1gSaturated Fat: 0gUnsaturated Fat: 0gCholesterol: 5mgSodium: 207mgCarbohydrates: 1gFiber: 0gSugar: 0gProtein: 5g
Nutrition information is automatically calculated by the Recipe Plug-In I am using. I am not a nutritionist and cannot guarantee 100% accuracy, since many variables affect those calculations.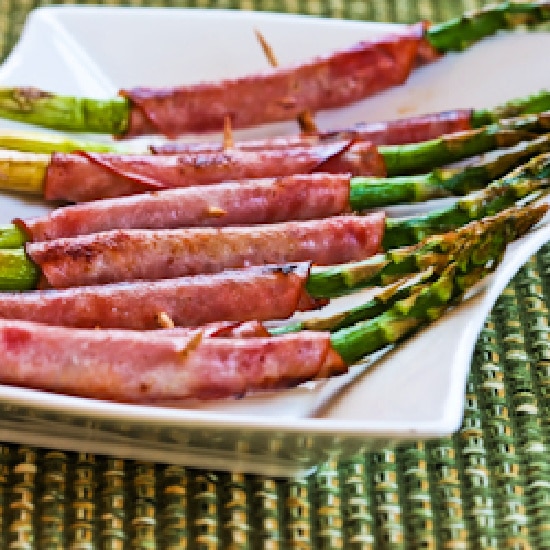 Low-Carb Diet / Low-Glycemic Diet / South Beach Diet Suggestions:
Asparagus Wrapped in Ham is low-carb, Keto, low-glycemic, and original South Beach Diet friendly, and it's also Paleo if you use ham that doesn't have added sugar or honey.
Find More Recipes Like This One:
Use Appetizers to find more recipes like this one. Use the Diet Type Index to find recipes suitable for a specific eating plan. You might also like to follow Kalyn's Kitchen on Pinterest or on Facebook to see all the good recipes I'm sharing there.
Historical Notes for this Recipe:
Asparagus Wrapped in Ham was posted in 2010 and I've made it so many times since then! The recipe was last updated with more information in 2022.
We are a participant in the Amazon Services LLC Associates Program, an affiliate advertising program designed to provide a means for us to earn fees by linking to Amazon.com and affiliated sites. As an Amazon Associate, I earn from qualifying purchases.