Want chicken curry in a hurry? Well, dinner meals don't get simpler and quicker than this cheat's tomato and coconut chicken curry. Get in on the table in 15 minutes using simple ingredients and clever tricks. This Indian-inspired curry is gluten-free, paleo, and Whole30 friendly.
---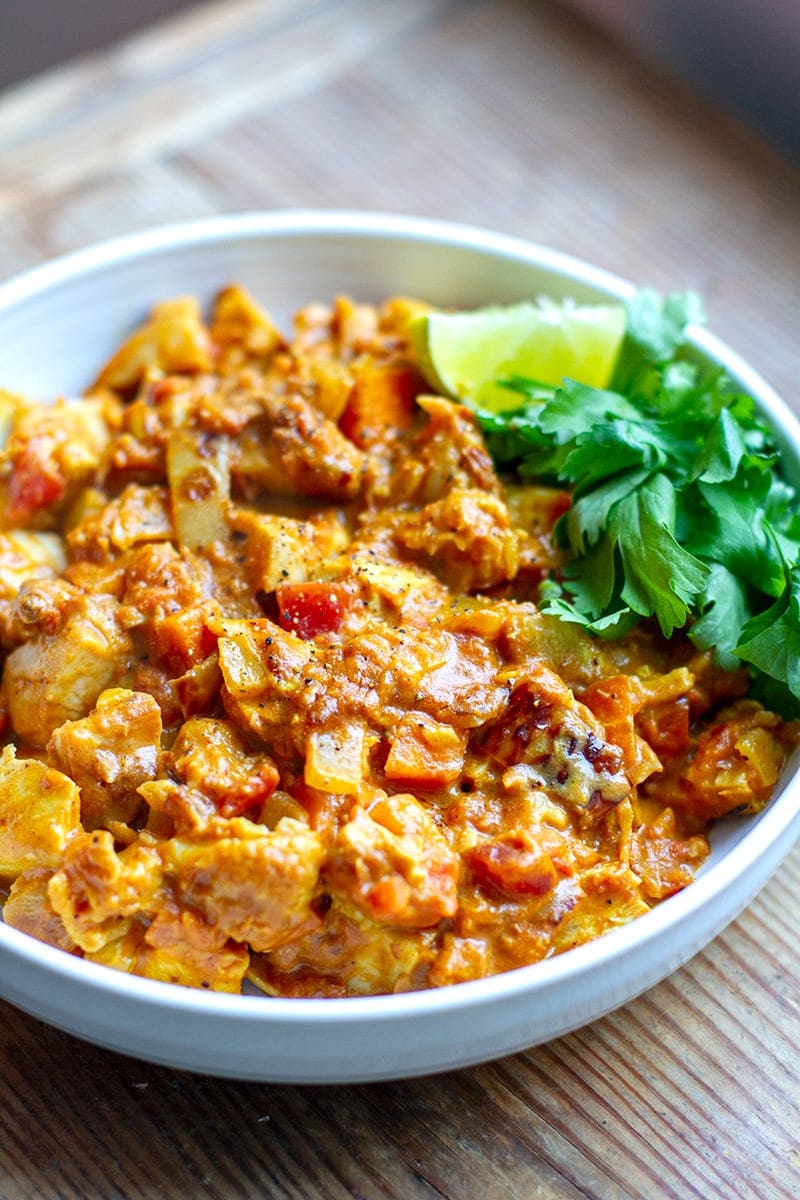 This 15-minute chicken curry is one of the recipes I originally developed for a quick and easy weeknight option during my paleo reset program. It's one of those meals that you don't need to plan for too much as you can pick up most of the ingredients from the supermarket on the way home.
It's inspired by Indian curries like chicken tikka masala or butter chicken. The sauce has a tomato coconut base, which works superbly well with chicken. It has a little kick but isn't too spicy; it's lovely and mild. You can always add more chili if you like.
This is a perfect quick dinner meal to make during the week when you're short on time. Kids will love it, partners will love it and your granny will enjoy it.
WHAT YOU NEED FOR A CHICKEN CURRY IN A HURRY
As I mentioned, this curry only takes about 15 minutes. How? Well, the secret is using pre-cooked chicken. And, when it comes to easy meals, chicken is one of the easiest pre-cooked proteins on the market. Most supermarkets and delis sell cooked chicken breast or Rotisserie-style chicken. 
For DIY, simply bake a few chicken breasts or thighs over the weekend and store them an airtight container for 2-3 days or freeze for up to 3 months. 
There are three key spices in this curry. Garam masala is a common Indian spice mix that can be found in most supermarkets. You can order it online and reuse in curries and stews. Mild curry and turmeric powder are also easy to find and are very versatile.
If you can't find garam masala, use 1/2 teaspoon of cumin and 1/2 teaspoon of coriander seed powder. 
The rest is simple: some fresh ginger and garlic, tinned tomatoes and coconut milk.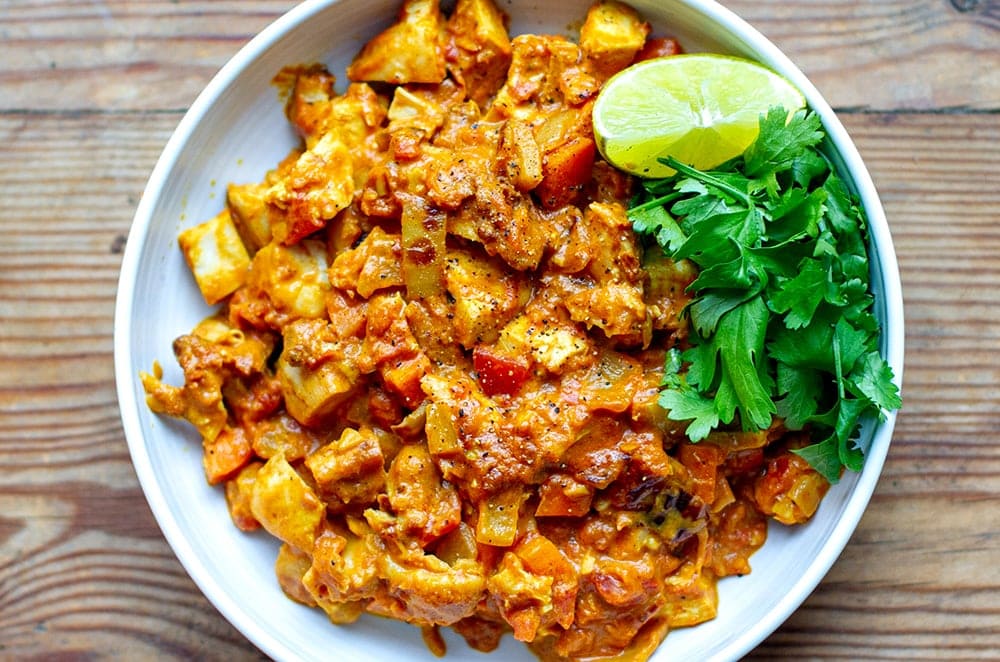 HOW TO MAKE A QUICK CHICKEN CURRY
Not having to cook the chicken is going to save you loads of time. My other trick to making quick meals is to do things in parallel. In this case, once you dice the onions and carrots, get them in a frying pan and start cooking as soon as possible. They will take 5 minutes to sauté, which will give you enough time to prepare the other ingredients.
I do the ginger next and add it to the pan, then garlic and spices, and finish with tinned tomatoes and coconut milk. I let it all simmer for a few minutes, while I dice the cooked chicken I picked up in the supermarket. 
I throw in the meat right at the end and stir everything through. It only needs to reheat, so this last part takes no time at all. I prep some fresh coriander and lime to serve while the chicken is getting hot.
That's it, guys! It is SO, SO, SO simple and easy to make. The finished curry is aromatic, spiced, creamy and delicious.
If you plan to serve this with rice or cauliflower rice, there are simple hacks to make those quicker. You can get those 2-minute rice packets if you're really short on time or get started on the rice just before the curry. It will take about 10 minutes to cook, so you can time them perfectly.
To make cauliflower rice, I have this small hand-operated food processor and it saves so much time. I throw the chopped up cauliflower into a pan for 2 minutes with a little butter or olive oil and that's it (you can also microwave it if you like). These days, you can often find pre-chopped cauliflower rice in the shops.
WHAT TO SERVE WITH THIS TOMATO COCONUT CURRY
Depending on your dietary needs, these chicken curry can be served with a variety of sides. Cooked rice is the first obvious choice but it could also be quinoa, cauliflower rice (the way I love it), zucchini noodles or finely diced and flash-fried zucchini, gluten-free naan bread or chapatis, or some steamed greens.
More Chicken Curry Recipes
Fast & Easy Chicken Pumpkin Curry
Homemade Japanese Chicken Curry
Chicken Tikka Masala With Cranberries & Spinach
Banana Chicken Korma Curry
Print
---
Description
This quick and easy tomato coconut chicken curry takes about 15 minutes and uses pre-cooked chicken and readily available ingredients to create a superb dinner in no time. Paleo, gluten-free, Whole30.
---
---
Prepare the onions and carrots first. Heat coconut oil in a frying pan over medium-high heat and add the diced onions and carrots. Sprinkle with salt and cook for 5 minutes stirring a few times, until softened.
In the meantime, prepare the rest of the ingredients.
After 5 minutes, add the ginger and garlic and stir through for 10-15 seconds. Add the turmeric powder, garam masala and curry powder and stir in allowing the aromas to release. Now add the canned tomatoes and coconut cream (thickened part of the coconut milk) and stir through.
Finally, add the diced cooked chicken and stir for a minute, until well heated through. Drizzle with a little lime juice and top with some fresh coriander.
---
Notes
Coconut milk: Use the thickened part of the coconut milk you get in a can. Choose full-fat coconut milk, about 50-60% coconut content. NOT the coconut milk drink!!!
Nutrition
Serving Size:

1 chicken breast worth

Calories:

462

Sugar:

5.8 g

Sodium:

758.8 mg

Fat:

15.4 g

Saturated Fat:

8.1 g

Carbohydrates:

13.4 g

Fiber:

4.3 g

Protein:

63.1 g

Cholesterol:

198.6 mg