This website may contain affiliate links and advertising so that we can provide recipes to you. Read my privacy policy.
Grilled Hawaiian Teriyaki Chicken Skewers marinate in the very best homemade hawaiian teriyaki sauce! Loaded with peppers, fresh pineapple and red onions, these make an incredible and vibrant meal! 
These look so pretty and vibrant waiting to go onto the grill! Grilled Hawaiian BBQ Chicken, Hawaiian Macaroni Salad or Hawaiian Style Garlic Shrimp are some fun recipes that will add to your next barbecue.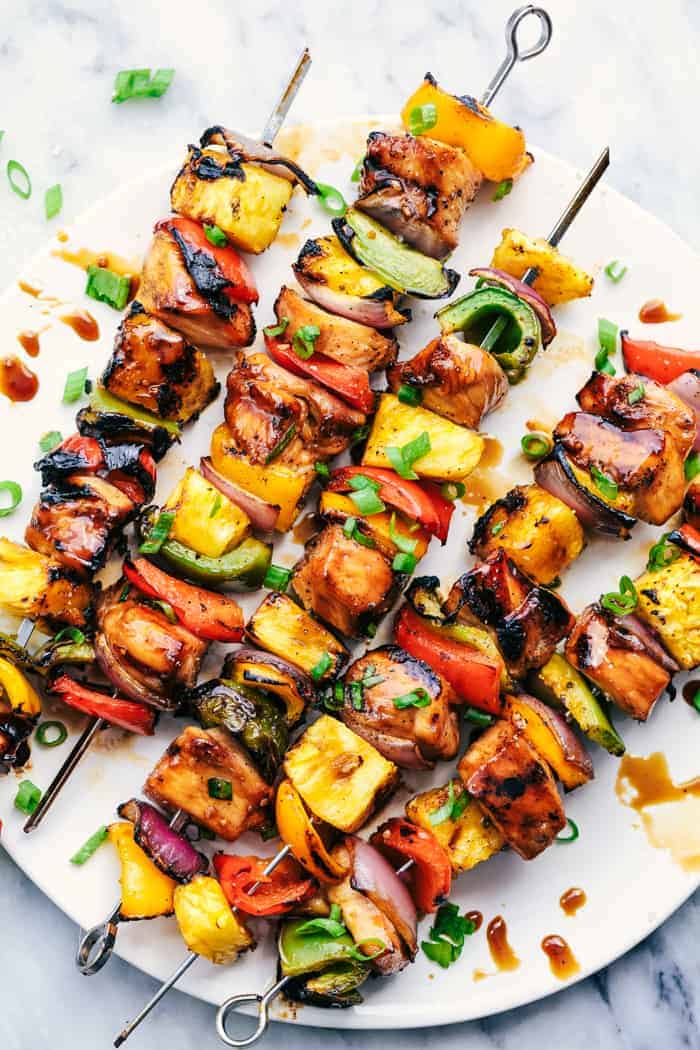 Grilled Hawaiian Teriyaki Chicken Skewers
Spring finally decided to make its debut here this past week and we were so excited to come out of hibernation. Spring time here in Utah can be quite difficult. You get just a little glimpse of warmth and sun and then it snows. But last week it was sunny and nice for an entire week! So nice that we had to crank the air conditioner on.
We spend as much time outside when the sun comes out and we especially look forward to throwing something delicious on the BBQ. My homemade hawaiian teriyaki sauce is the bomb. I have never tasted anything so good and my family always raves over it. It is a definite tried and true recipe at our house and took these Hawaiian Teriyaki Chicken Skewers to the next level!
I love cooking skewers on the grill and wanted to add bright colored peppers, red onions, and pineapple with this delicious chicken. I love, love, love grilled peppers and grilled pineapple so you know that this was an instant favorite for me!
As soon as they came off of the grill you slather some more of this thick and delicious Hawaiian teriyaki sauce on top and serve them right away. You guys. These were SO good!! Your tastebuds are going to be missing out if you don't give these a try. Make sure that you put them on your list of delicious things to grill right away. You will NOT regret it!
How Do You Make Grilled Hawaiian Teriyaki Chicken Skewers?
In a small saucepan, whisk together the brown sugar, soy sauce, pineapple juice, garlic, pepper, and salt. In a small bowl, whisk together the water and cornstarch. Slowly whisk into the mixture.
Bring to boil and boil about 1-3 minutes until the mixture just starts to thicken. Remove from heat and reserve ¼ cup of the sauce for later.
Marinate the chicken in the sauce in the fridge for at least 30 minutes. Thread the chicken on skewers along with the peppers, red onion, and pineapple.
Grill for 8-10 minutes until the meat is done to desired liking. Remove from the grill and baste with reserved sauce. Garnish with green onions if desired.
What is a Skewer?
A skewer is a thin metal or wood stick used to hold pieces of food together. The word may sometimes be used as a metonym, to refer to the entire food item served on a skewer, as in "chicken skewers". Skewers are used while grilling or roasting meats and fish, and in other culinary applications.
How Long Do Skewers Need to Soak in Water?
While 30 minutes is the minimum, it's best to plan ahead and soak your bamboo skewers overnight in water. It takes a long time for the skewers to soak up the water, but well-soaked skewers, which are slow to give up their moisture, will last longer on the grill without burning up.
Can You Prepare the Skewers the Night Before?
Yes! Place the skewers in the dish or pan, cover with plastic wrap and marinate in the refrigerator for at least 2 hours, preferably longer. I often prepare the shish kebabs the night before a dinner, so they have marinating almost 24 hours.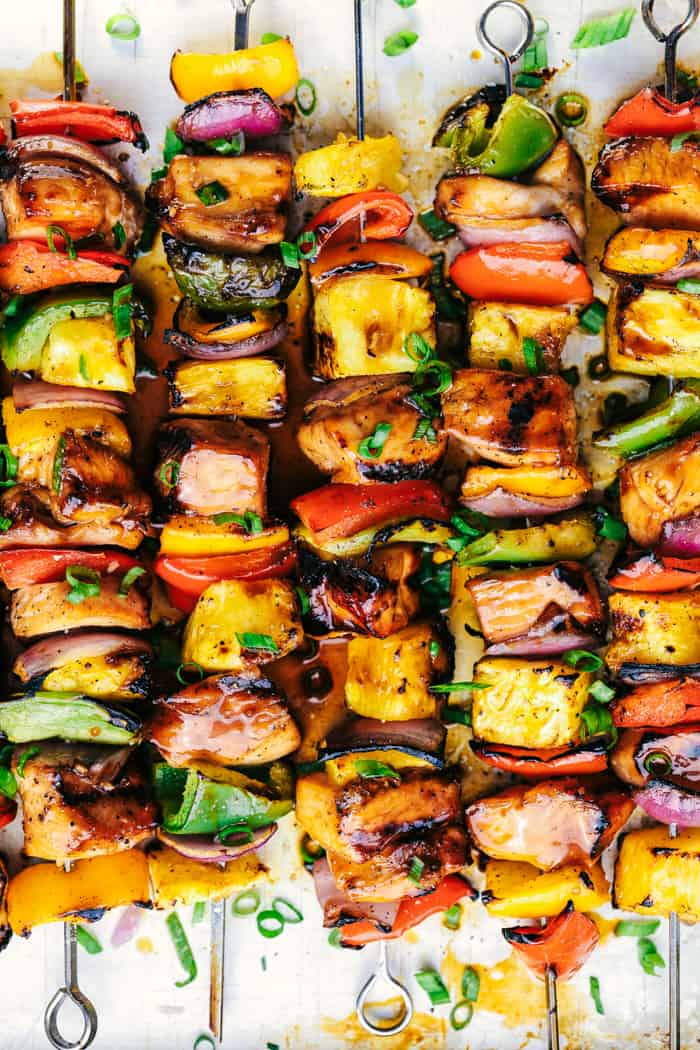 How long Do You Cook Grilled Chicken?
You will want to grill the chicken a few minutes on each side. You do not want to overcook chicken. It is best to check the temperature after a few minutes and rotations.
What Temperature is Chicken Grilled at?
Test for doneness. There are two common methods of testing grilled chicken breasts for doneness. The safest and surest method is to use a digital meat thermometer. Insert the tip into the thickest part of the breast and when the internal temperature reaches 165°F, remove it from the grill.
Looking for more Skewer Meals?! Here are some!
You will also love these grilling recipes:
Grilled Asian Garlic Steak Skewers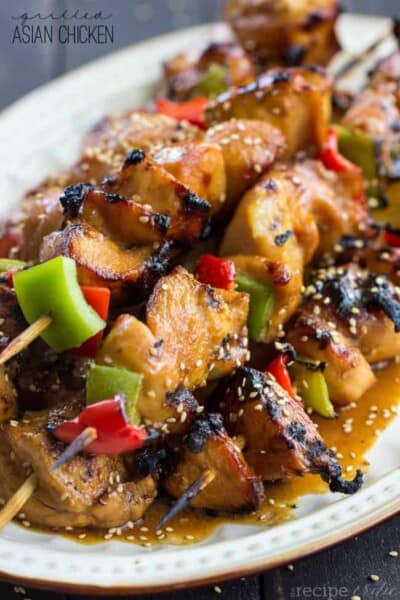 Grilled Asian Chicken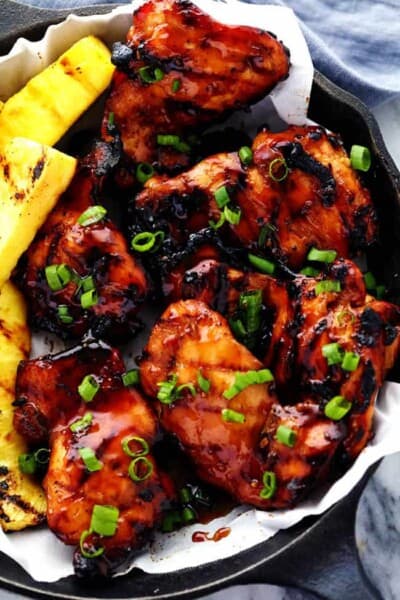 Grilled Huli Huli Chicken