You will fall in love with this Middle-Eastern, Yotam Ottolenghi-inspired recipe for grilled chicken quinoa salad with honey harissa and tahini yoghurt. I make it with tender spiced chicken tenders but you can use any poultry meat and I also provide a vegetarian and pescatarian alternative. It's very delicious, healthy and gluten-free and you can have it for dinner or lovely weekend lunch. Make sure to rate this recipe and leave your comments and feedback at the bottom of this page, I really appreciate them!
---
Chicken Quinoa Salad With Honey Harissa & Tahini Yoghurt
This chicken and quinoa salad is one of my fridge surprise meals. I wanted to make a recipe with chicken tenders I had in the fridge and I also had some leftover harissa paste. I decided to go with a Middle-Eastern theme and after scavenging through the fridge and pantry, the first iteration of this salad meal was born. We loved it so much that I made it again a few days later with a couple of extra ingredients I thought would go well in it and voila!
I hope you enjoy the amazing combination of spiced grilled chicken, quinoa, spinach and herb salad, honey harissa (OMG, what a revelation!), tahini yoghurt and pistachios. It's gluten-free, healthy and nutritious.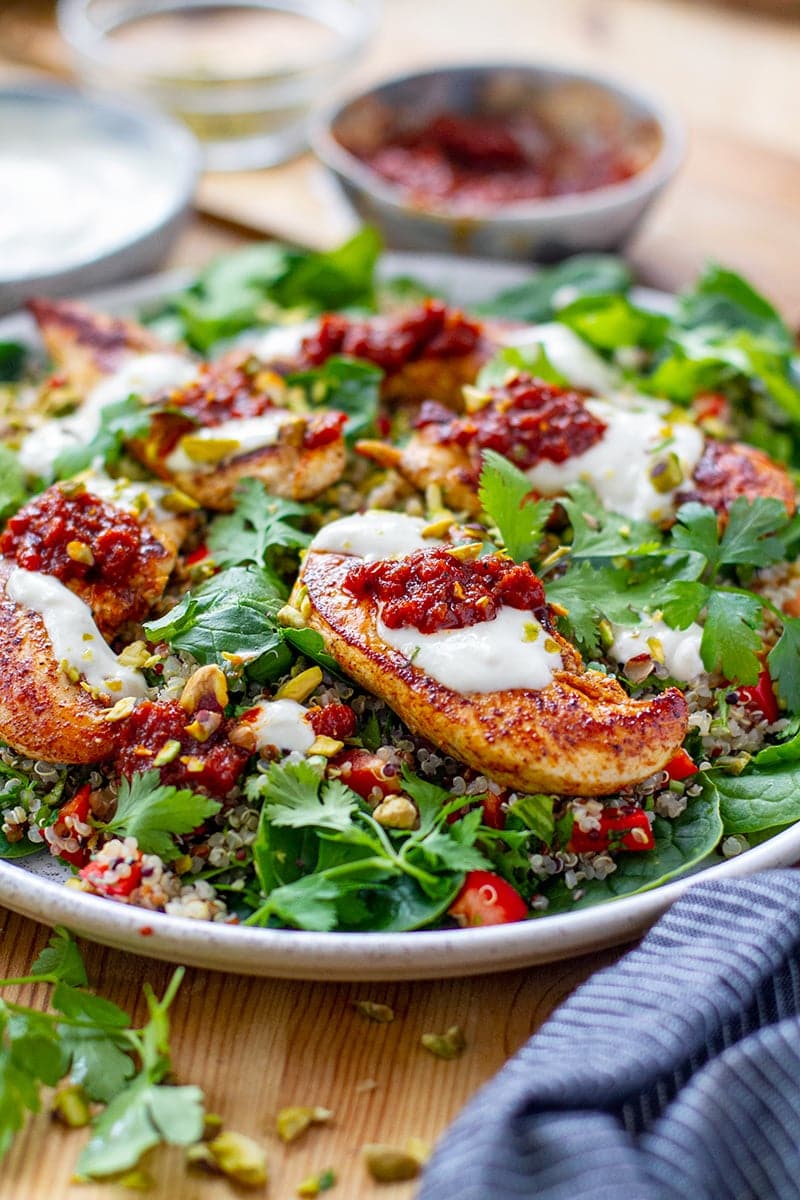 Below you will find the recipe for this quinoa and chicken salad followed by some step-by-step photos. There are a few parts to this dish and it might seem like a little bit of effort BUT trust me when I say that it's absolutely worth it!
The good thing is that it's also a bit of a template recipe that is flexible enough to play around with the ingredients you have on hand. I've included vegetarian, pescatarian and grain-free variations.
Print
---
Description
Middle Eastern inspired chicken and quinoa salad with fresh herbs, red peppers and pistachios. Finished with honey harissa and tahini yoghurt sauce. Gluten-free, healthy and delicious. Step-by-step photos included after the recipe.
---
---
If using uncooked quinoa, prepare as per packet instructions. You can also make quinoa ahead of time as part of meal prep.
Marinate the chicken. Sprinkle the chicken tender the spices, salt and pepper, drizzle with lemon juice and olive oil and rub well together. Set aside to 10 minutes to come to room temperature. If using chicken breasts, slice them into 3 long pieces first.
Make the sauces. In a small bowl, combine honey, harissa paste and lemon juice and set aside. In another bowl, whisk together the tahini yoghurt sauce and set aside.
Cook the chicken. Preheat a large frying pan over medium-high heat. Add a little oil and cook the chicken pieces for 3 minutes each side. Set aside for a minute to rest. You can use cooked tenders whole or cut them into smaller pieces. Please note, the tenderloins are more tender than the rest of the breast meat and they also need less time to cook as they are not as thick.
Prepare the salad. Depending on how you want to plate it, you can arrange the salad on one large platter in a layered fashion or in individual bowls. You can also mix it all in one big bowl. For my version, I arranged spinach leaves on the bottom, followed by mixed quinoa, red peppers and herbs. Drizzle with a little lemon juice and season with a little sea salt and pepper. Place chicken pieces over the top and drizzle those with the honey harissa and tahini yoghurt (serve the remaining sauces on the side). Finish with a few extra fresh herbs and crushed pistachios or another type of nut (if using).
---
Notes
Honey alternative: The salad is pretty low in sugar but if you want to omit the honey, feel free to use a sugar-free liquid sweetener such as Sukrin's golden syrup alternative or malt syrup.
Harissa: This red spice paste is popular in Middle-Eastern and North African cooking and you can usually purchase in most big supermarkets or online. It's also easy to make at home, here is the recipe. Quick alternative would be using tomato paste with a little olive oil, lemon, some ground cumin, paprika, chili and honey mixed in.
Vegetarian: You can top the quinoa salad with spiced chickpeas or grilled tofu or paneer.
Pescatarian: Shrimp or prawns or white fish fillets can be marinated in the same spices and grilled to use on top of the quinoa.
Grain-free/Paleo: Instead of using quinoa, briefly pan-fry some cauliflower rice. Fresh zucchini noodles would also work well. Diced and roasted or steamed sweet potatoes would also work.
Nutrition
Serving Size:

3 chicken tenders with quinoa salad and sauce

Calories:

610

Sugar:

17.2 g

Sodium:

1281.9 mg

Fat:

30.2 g

Saturated Fat:

5.2 g

Carbohydrates:

46.1 g

Fiber:

8 g

Protein:

42.3 g

Cholesterol:

97 mg
HOW TO MAKE CHICKEN QUINOA SALAD
Grilled Chicken Tenders
Marinate and cook the chicken tenders, also known as mini fillets or chicken tenderloins. This is that super tender piece that often comes on a whole chicken breast. It's more tender and juicy when cooked than the breast meat. I pan-fried mine but you can also grill them on a barbecue or under broil. I used simple spices of paprika, cumin, salt and pepper. You can use a pre-mixed spice blend like Ras-el-hanout. 
Honey harissa
Guys, this was such a pleasant surprise! I winged it and decided to try this combination and it's really tasty. I actually first tried honey harissa as a sauce over baked salmon but it works just as well with chicken. Honey is mixed with harissa paste and a little lemon. You can use any store-bought harissa paste or make your own. Some of them can be quite spicy and you can dilute them with some tinned tomatoes or tomato paste and water.
Tahini Yoghurt Sauce
This is a staple in many Middle Eastern dishes and is super simple to make. Light tahini is best used for this recipe and you can use any type of plain yoghurt. I love a little garlic in it but you can also go without. I often make a larger batch of this as it keeps for a few days in the fridge and I use it as a dressing on salads.
Spinach Quinoa Salad
The final step is to prepare the salad. I already had some pre-cooked quinoa but if using raw, make sure to start by cooking it first. You can do this as part of make-ahead meal prep or use one of those 2-minute quinoa packets for a speedy version.
Quinoa is mixed with sweet red pepper (capsicum), parsley and coriander (cilantro). As you can imagine, you can use a variety of veggies here: tomatoes, cucumbers, radish, blanched green beans, fennel, and so on. Baby spinach or any other leafy greens can be used as a base.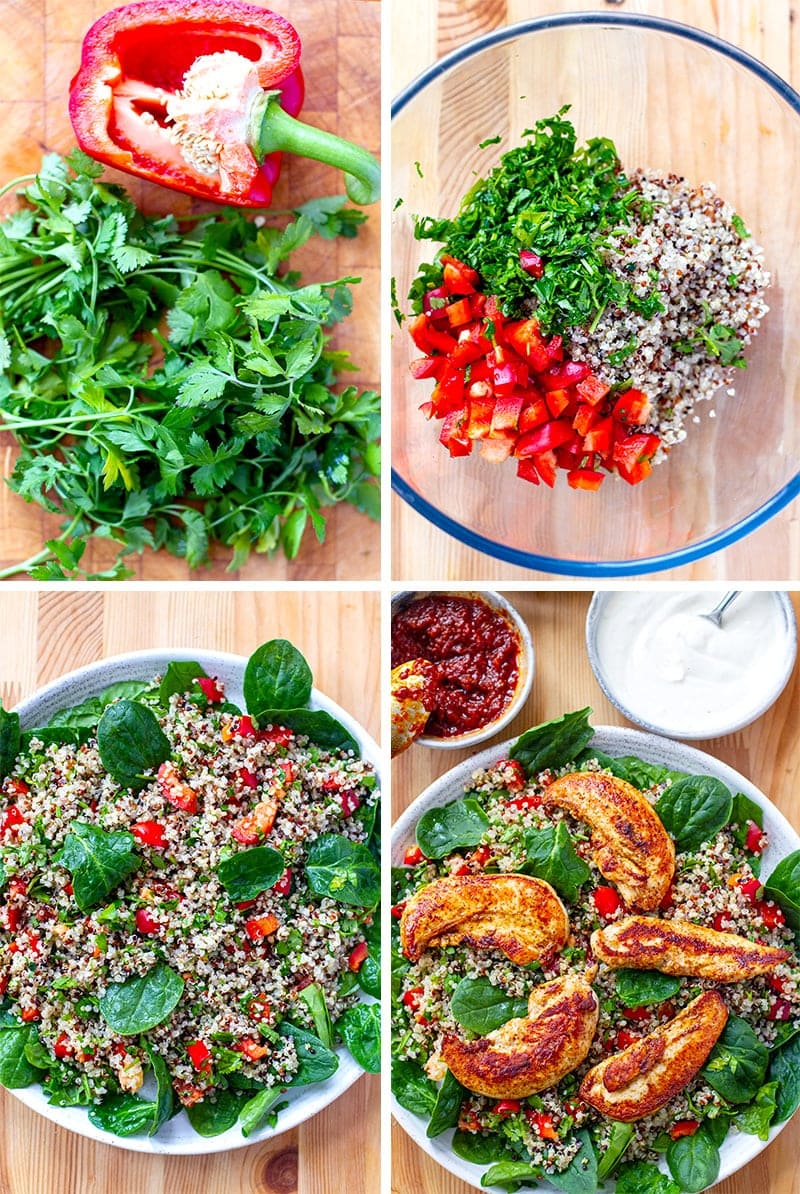 That's pretty much it! Assemble everything on a platter or mix in a large bowl and enjoy. Leave your comments, feedback, questions below and please rate this recipe if you try it! It helps other people discover it.
SAVE THIS CHICKEN QUINOA SALAD TO PINTEREST