Want to know how to use bone broth to reap the health benefits? These clever and tasty ideas and recipes using bone broth will help you get more of this nutritious food in your diet every day. From stews to mashed potatoes and even desserts, you get pretty creative with bone broth!
---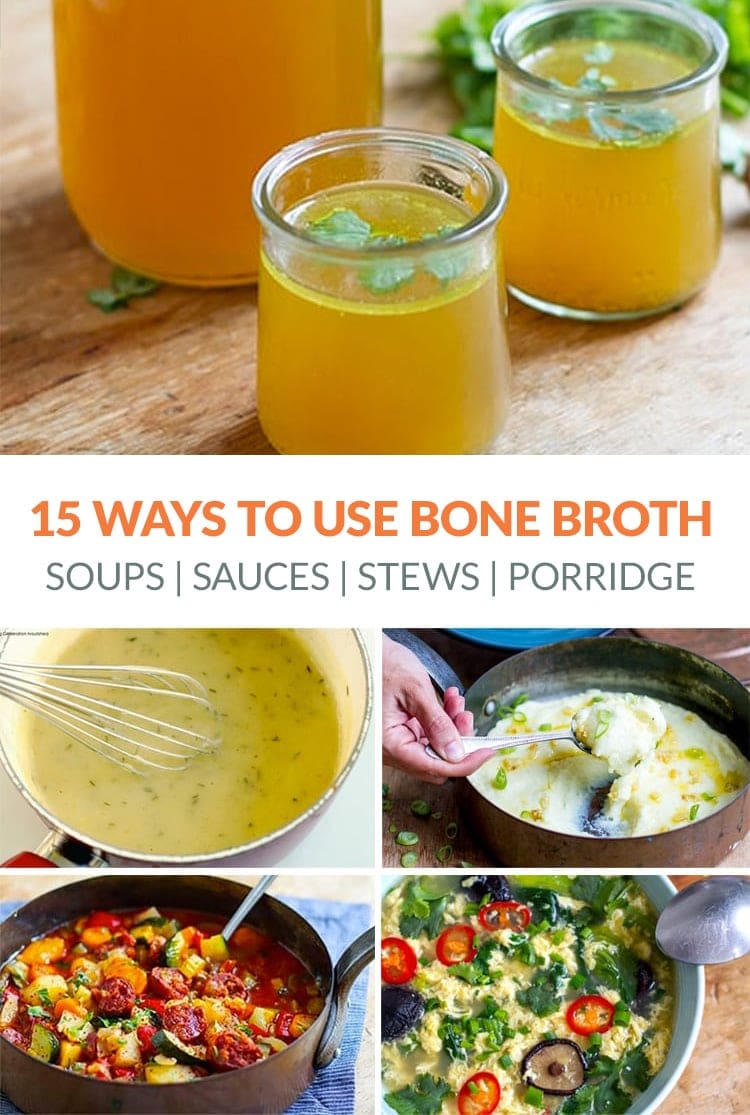 Do you love bone broth or realise that you should be having more of it but have trouble coming up with creative ways to use it up? This roundup post is for you! From stuffing to soups and stews, I've put together 15 ideas and recipes using bone broth so you can incorporate this nutritious food into your daily routine.
Bone broth benefits
Bone broth is rich in collagen and minerals and is fantastic for digestive health, relieving joint pain and osteoarthritis, detoxifying the liver, aiding in wound healing, and preventing ageing skin amongst other things. It's a good idea to incorporate as much of it into your diet as possible to reap the benefits and that's why you need a variety of ways to use it up besides just sipping on it.
While it's best to make your own bone broth on a regular basis (I have a recipe for beef bone broth here), it's not always possible. If you don't have the time to make your own, you can buy bone broth online and in some stores.
Here is a link for how to make Instant Pot chicken bone broth.
Kettle & Fire is a fantastic brand of ready-made bone broth in the U.S. (you can use this code to get 15% off 'cravecollective'). In Australia, I like The Stock Merchant brand – they make free-range chicken and grass-fed beef bone broths. My UK readers might like to check out Borough Broth Co.
Without further ado, here are 15 ways how to use bone broth in your kitchen!
1. Just sip on it
Let's start with something simple and straightforward. Heat the broth, pour it into a mug and sip it slowly. A lot of people hit a cup of warm broth first thing in the morning in place of coffee; I prefer to have a small bowl seasoned with a little garlic and fresh coriander before my main meal at dinner time.
You can add any seasoning you like to flavour the broth: grated ginger and spring onion; cracked pepper and celery salt; a little lime juice and fish sauce; tomato paste, garlic and basil; miso and seaweed, and the list goes on.
2. Use bone broth in a soup
This is an obvious go-to use of bone broth but I thought I should mention it anyway. Any soup that calls for ready-made stock or stock cubes can be upgraded into something much more nutritious with some heavy-duty bone broth.
Try my zucchini, turmeric and coconut soup with some lovely chicken or beef bone broth for a seriously healing and nourishing meal.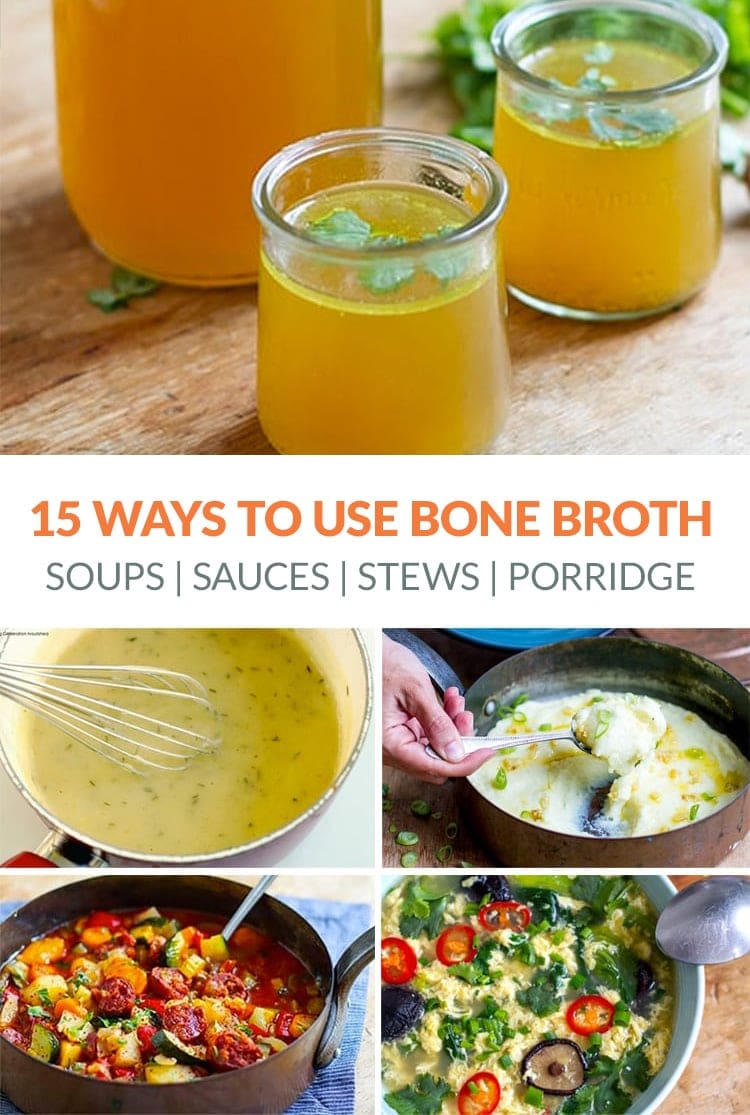 For an Asian-inspired meal, check out my egg drop soup with greens and shiitake mushrooms. It can be made with chicken or beef bone broth. Vietnamese beef pho or Thai Tom Kha Gai are also tasty choices for using up the bone broth.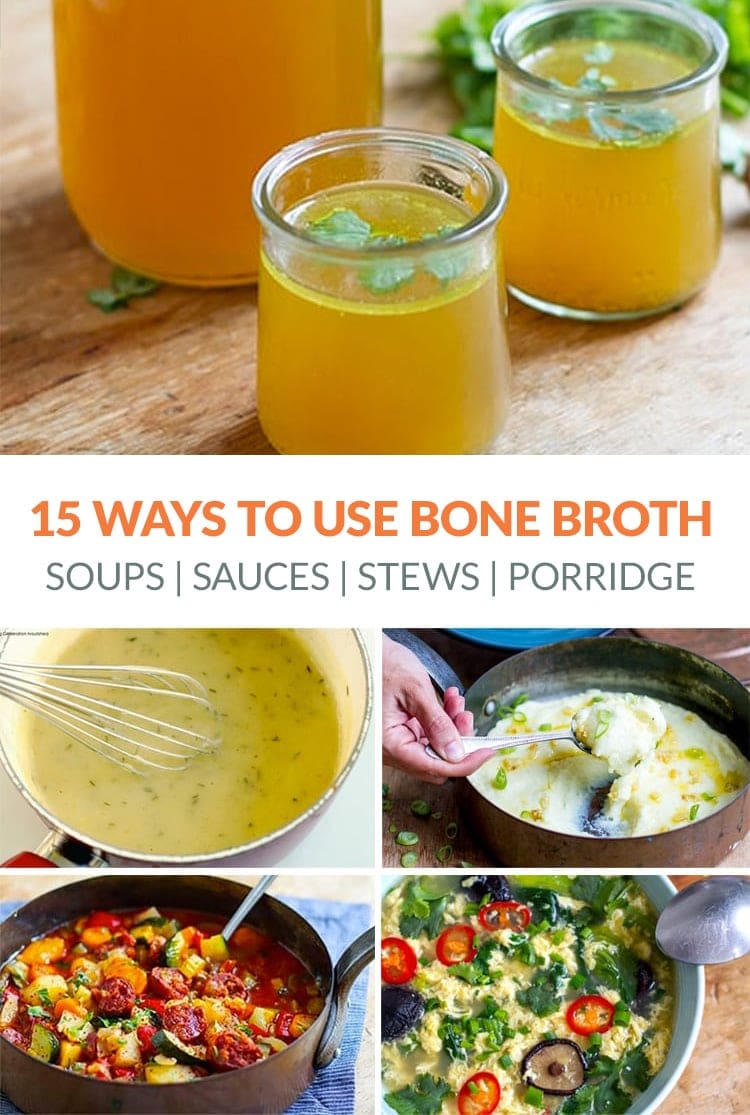 3. In a stuffing
While traditional Thanksgiving stuffing isn't something you'd consider the healthiest item on the menu, it can be nutrient-dense and beneficial. This innovative, gluten-free stuffing from Kitchen With Broth uses bone broth as an integral ingredient, making it very tasty and gut-friendly.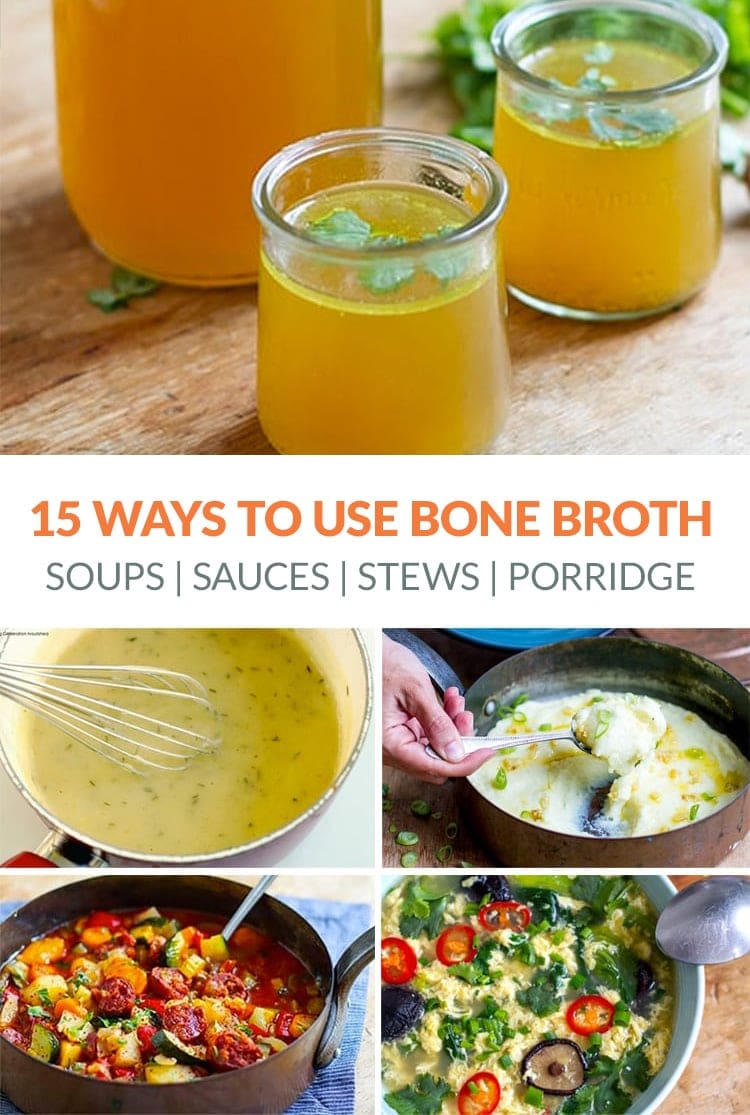 4. Use bone broth in a gravy
A Thanksgiving classic just got a little healthier with this recipe from Raising Generation Nourished. This 5-minute gravy with bone broth contains collagen – one of the many beneficial elements which will help to heal your body and gut. Not to mention, it tastes delicious.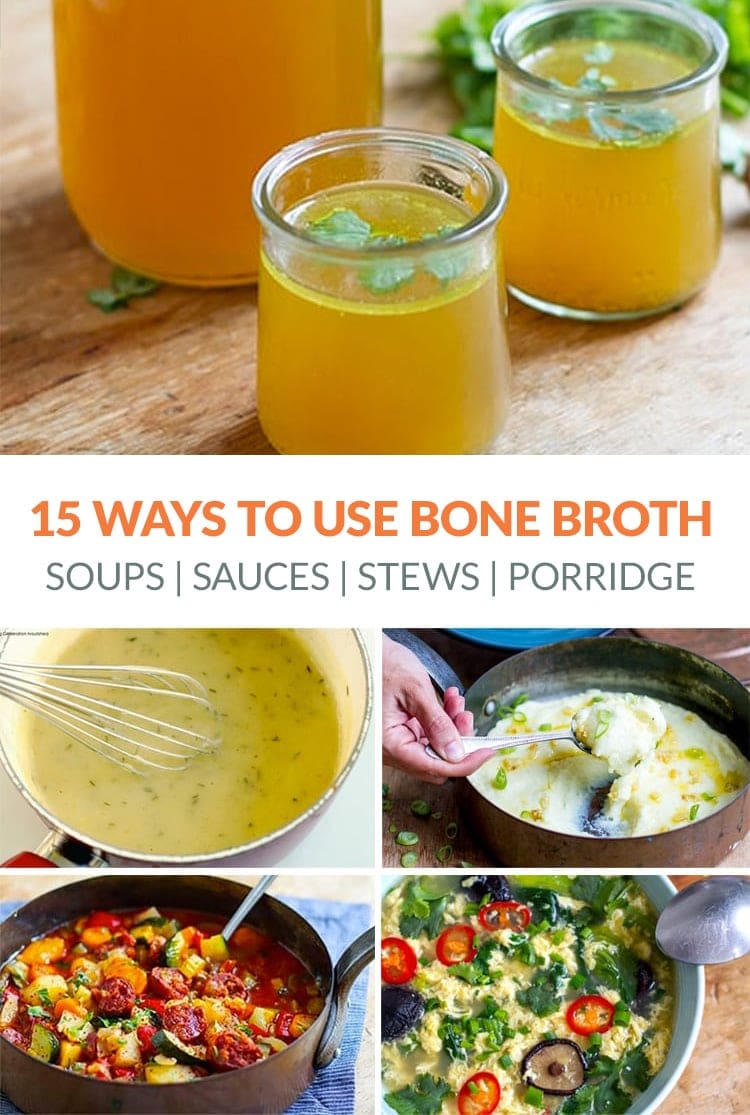 5. Make cauliflower rice with it
Cauliflower rice is a healthy staple side dish these days, and for a good reason. It's rich in vitamins C, K, B and folate, and packs enough fibre to keep you on schedule. Using bone broth to cook the cauliflower is a great way to add both some flavour and nutrients to this dish.
Check out this simple recipe from Don't Mess With Mama. I love making my cauliflower rice by first sautéing some onion and garlic, which you can also do in a little bone broth.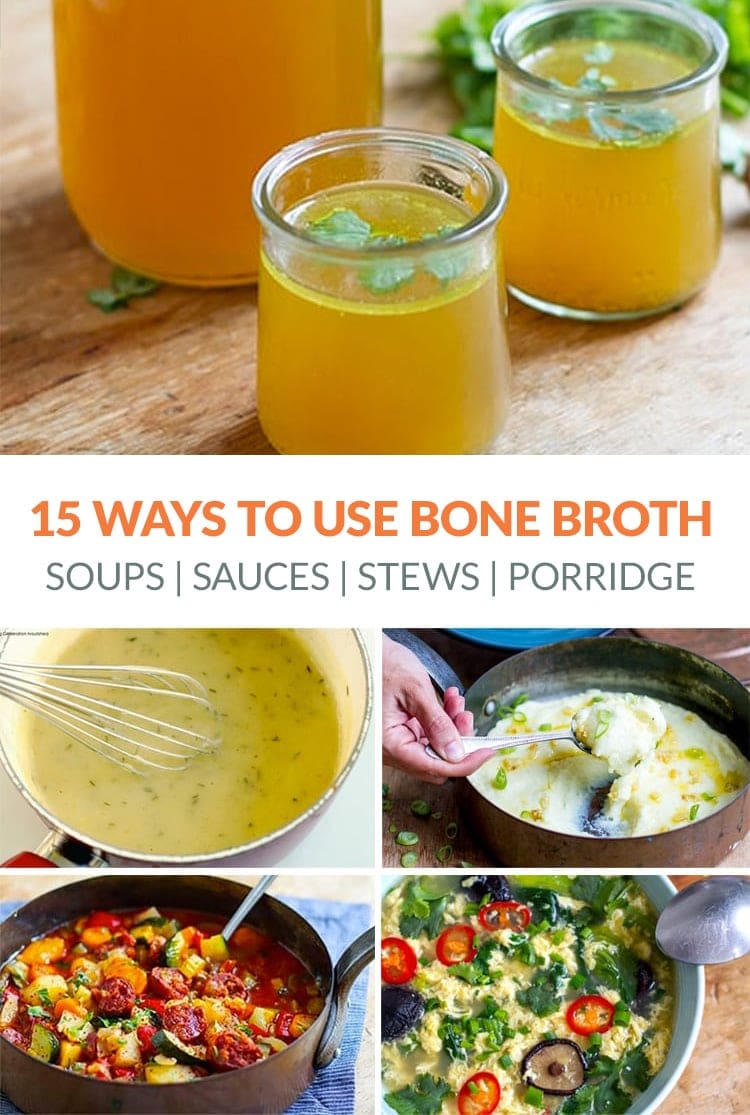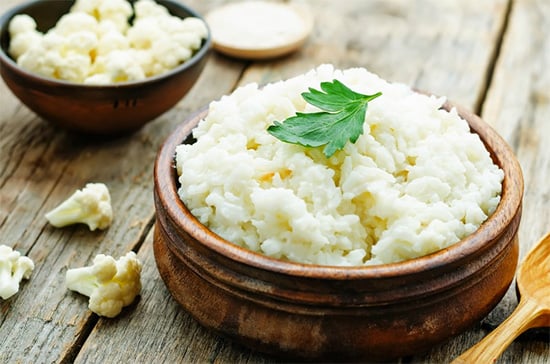 6. In mashed potato 
My personal favourite comfort food – mashed potatoes – is fantastic with added bone broth. The dish becomes a little tastier – and a lot healthier! Pair with some grass-fed beef and veggies for a nutrient-dense dinner. Simply add half a cup of bone broth to whatever veg you want to mash. Try my parsnip and cauliflower mash with garlic butter.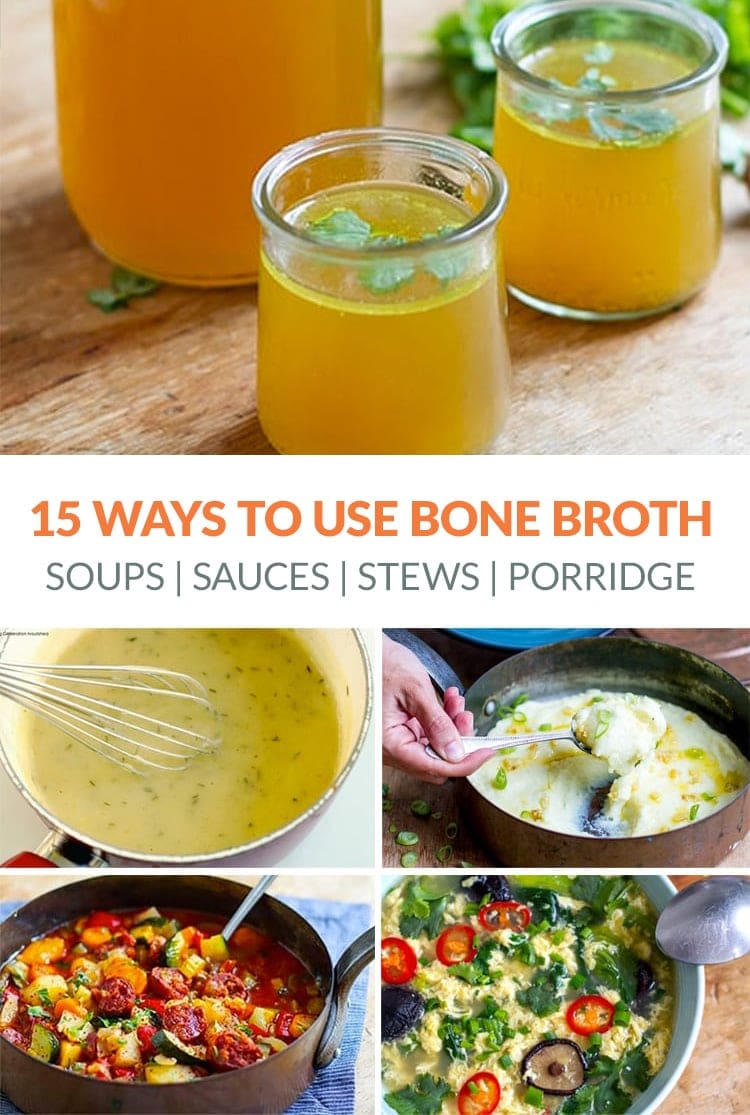 7. In a marinade
This bone broth marinated chicken from Bare Bones Broth Co. packs an entire day's worth of protein into one meal, as well as many other nutrients (like B vitamins, selenium and choline). Pair it with some green vegetables like kale or spinach, to round out a great meal.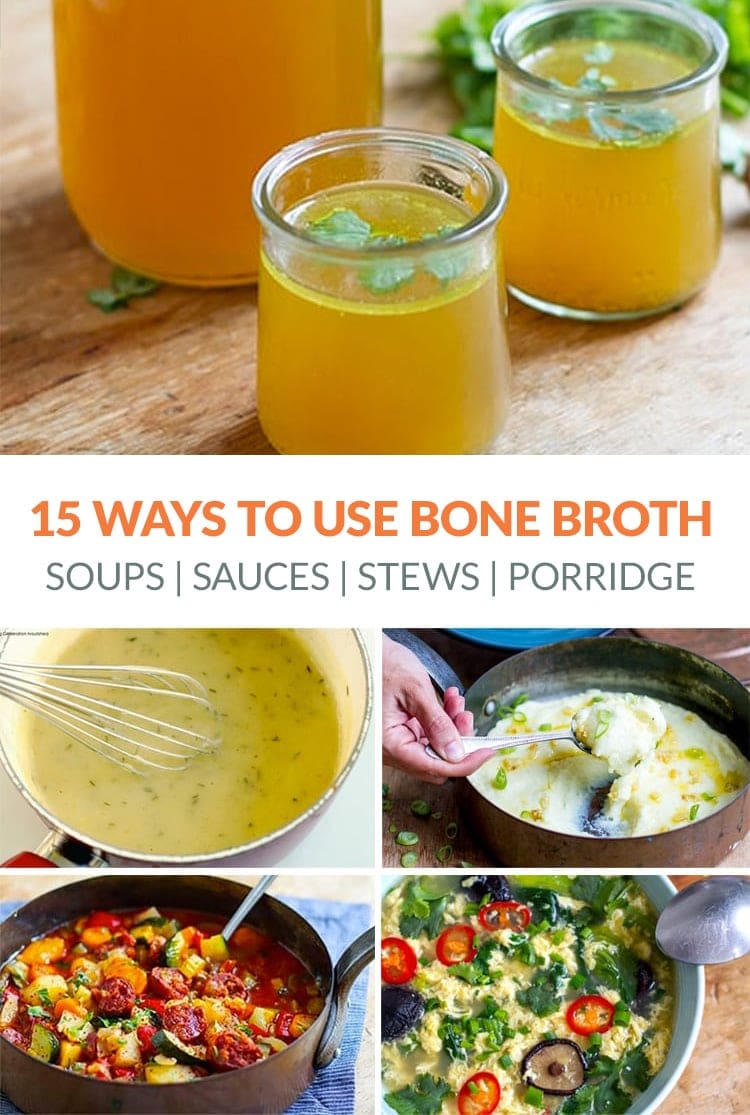 8. Use bone broth in stews
Stews are traditionally rich in nutrients, and the addition of bone broth only adds more health benefits. Whenever you make a stew, try adding some bone broth to the mix. I find that beef and chicken bone broths are often interchangeable and you can often use meat broth in vegetable-based stews. Try my hearty beef stew or this chorizo and vegetable stew.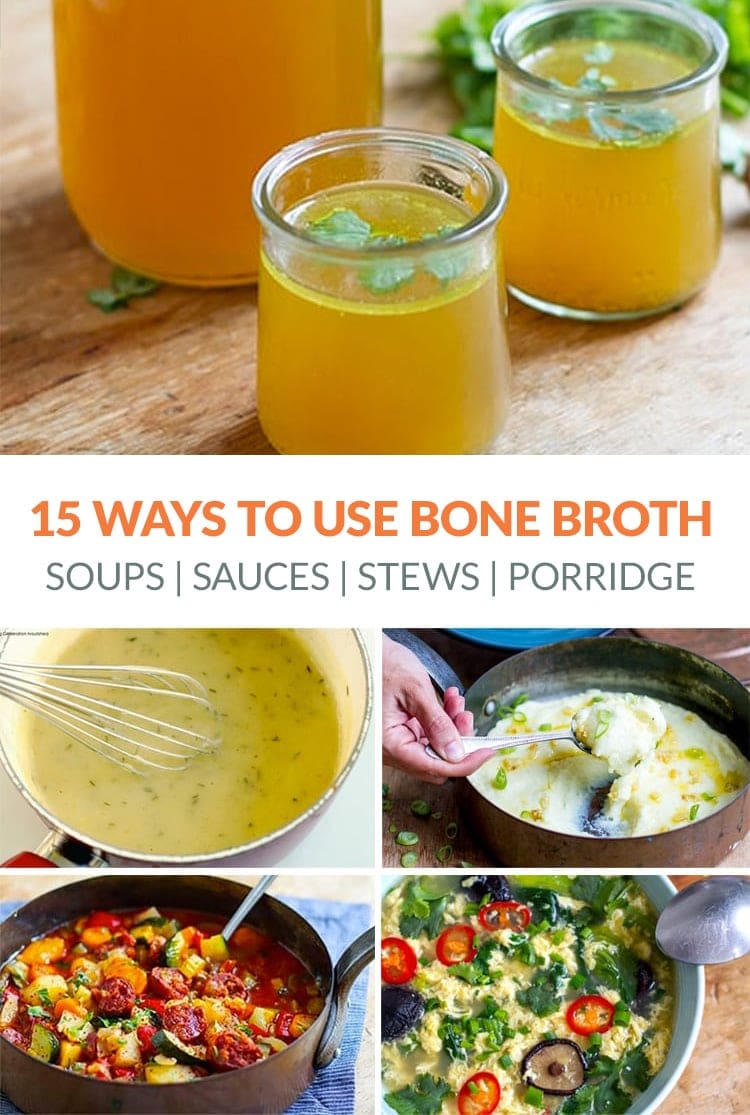 9. With poached eggs
A great recipe for breakfast, this bone broth-based meal also works for dinner and features the beneficial nutrients found in kale. Try this dish of poached eggs in bone broth from Well Nourished.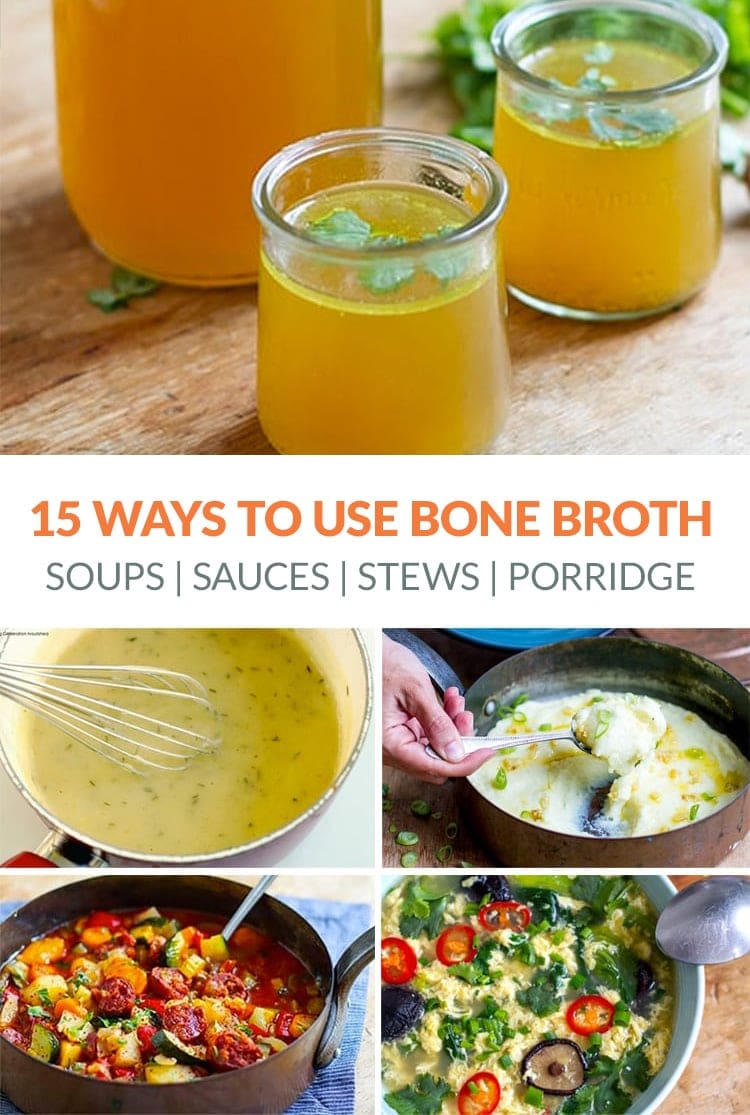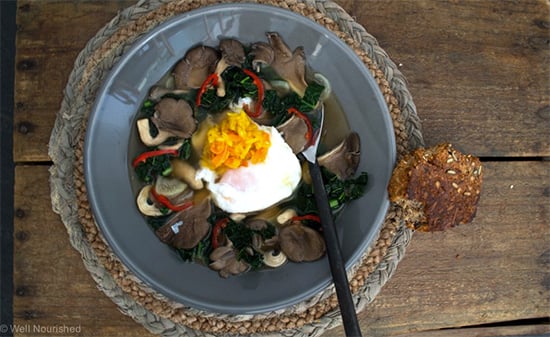 10. With scrambled eggs
While we're talking about eggs, why not try adding a little bone broth to your morning scrambled eggs.  For a perfect healing breakfast, add some turmeric powder and chopped coriander (cilantro) to the mix as well.
11. In a HOMEMADE tomato sauce
This one should have been staring you right in the face. Of course! Why not add some bone broth to the next batch of your homemade tomato sauce. Serve with crunchy zucchini noodles or over gluten-free pasta. Try this simple recipe from the Food Renegade website.
12. Bone broth in a smoothie
Seriously, I have never thought of adding bone broth to my smoothie but apparently, it's a thing. A very healthy thing! This bone broth protein mocha fudge smoothie (that was a mouthful) from Dr. Axe brings the delicious taste of bananas and chocolate, plus a big boost of protein. All in addition to the gut-healing amino acids found in a bone broth that's hiding inside. Genius!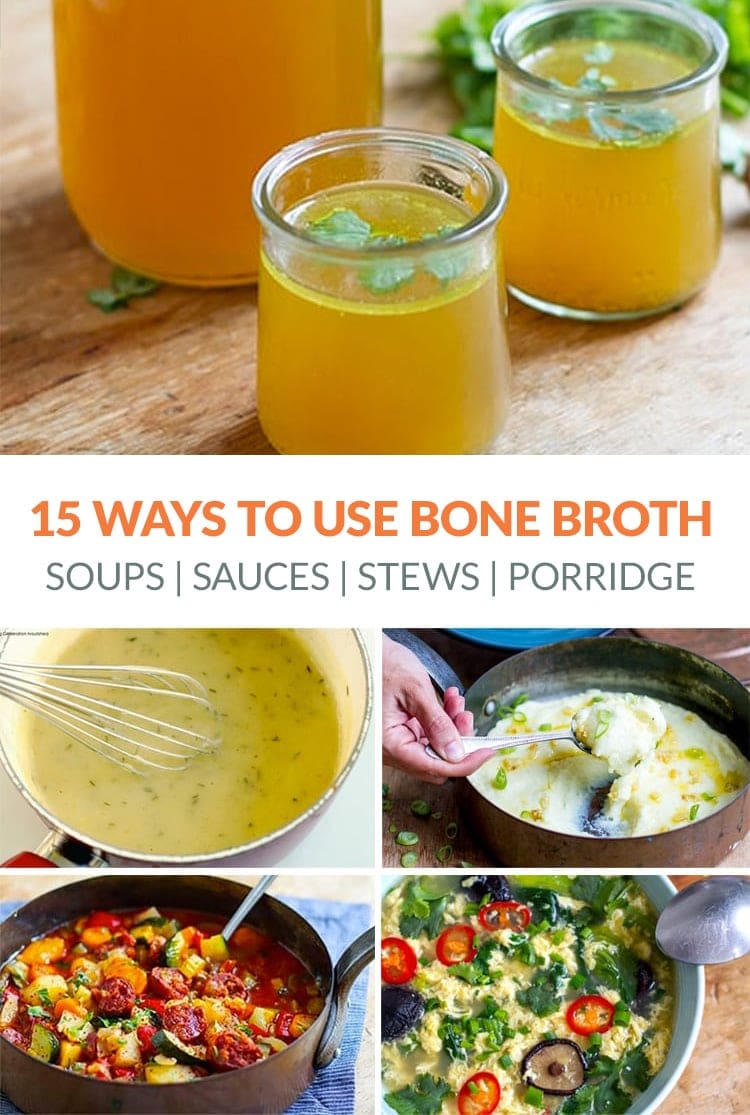 13. Use it in braised meat dishes
Braising any type of meat in bone broth is a delicious way to get your meat tender while packing in the extra nutrients. Think braised short ribs, pulled pork, shredded beef, or an exotic lamb tagine. This braised maple and balsamic chuck roast from Paleo Leap might take your fancy tonight.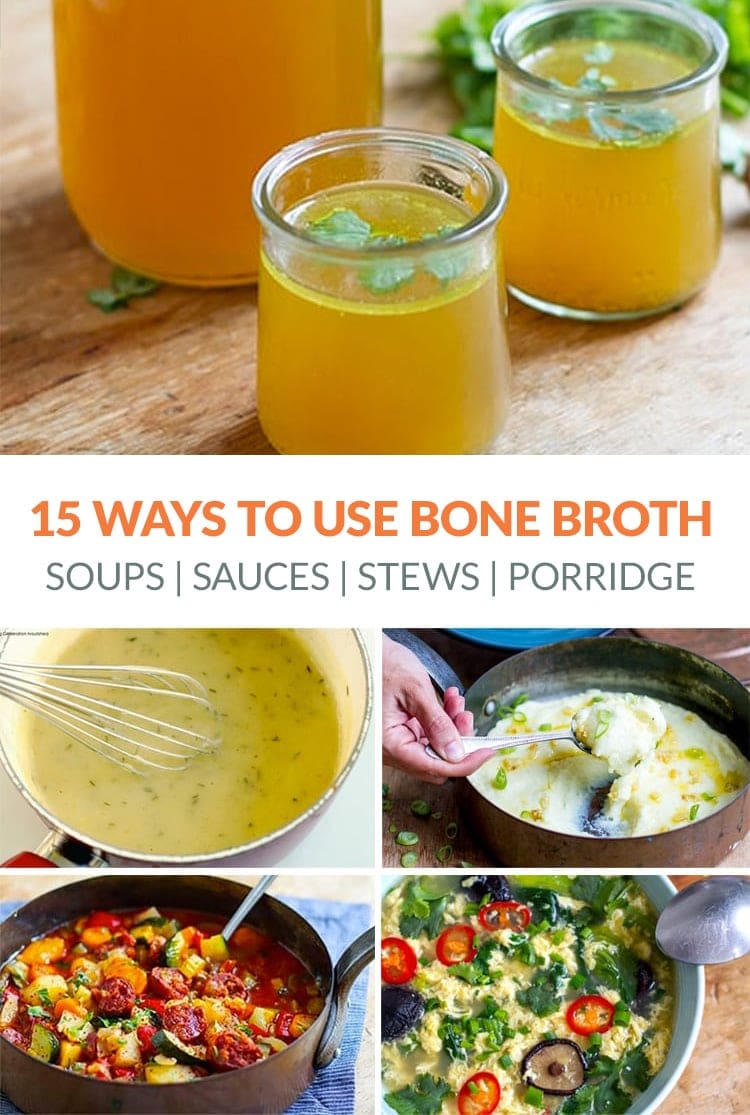 14. To steam and sauté vegetables
Veggies will absorb nutrients from whatever they're cooked in – so why not cook them in bone broth? And when it comes to veggies, I recommend broccoli, spinach, kale, carrots, green beans, cauliflower, asparagus or Brussels sprouts. Add a few cloves of garlic and a dollop of butter at the end, and voila – your perfect side dish is ready.
15. Use it IN dips and pâté
Making some paleo hummus, pumpkin dip or liver pâté? Why not add a little bone broth? This paleo and AIP friendly turkey and chicken liver terrine from Provincial Paleo is a great example of how you can use up the bone broth in a pretty creative way.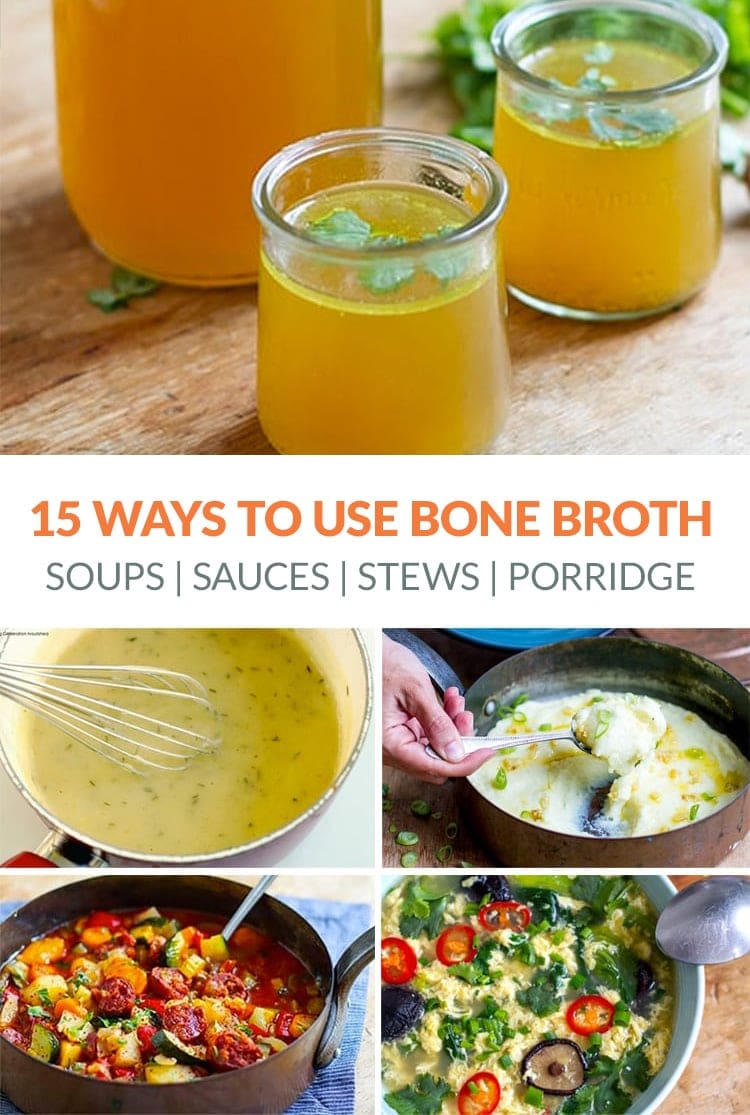 ---
That's my list of bone broth ideas, guys! What's your favourite way to get more bone broth in your daily meals? Share below in the comments. Don't forget to share, if you find this interesting.